Healthy Grilled Turkey Burgers
This grilled turkey burger recipe shows you how to make delicious ground turkey patties that are healthy and full of flavor with the perfect blend of seasonings! Prep these in under 10 minutes!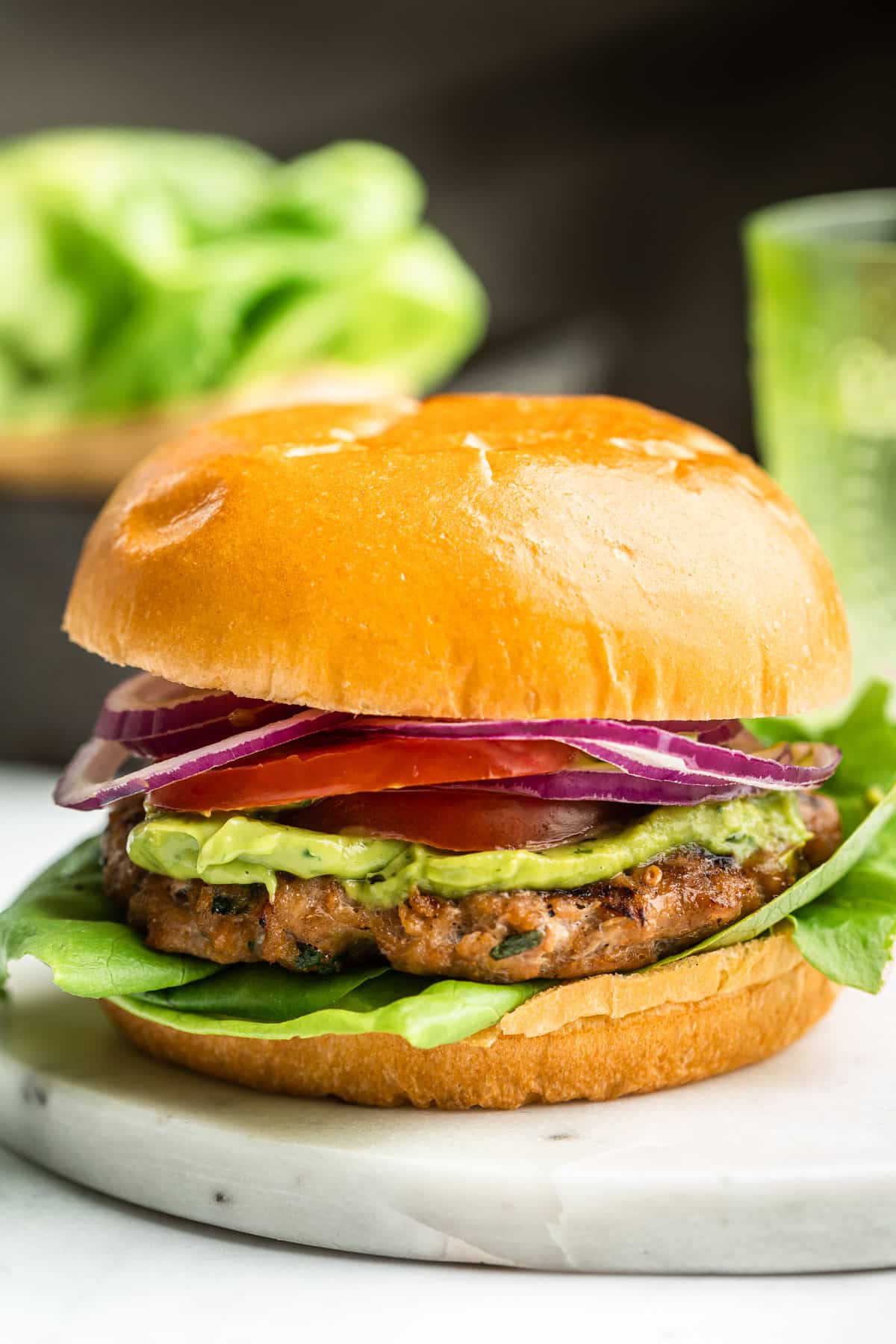 Update: This recipe was originally published in 2018 and has been republished with all new photos.
Think that beef burgers are the best burgers? Well you clearly haven't tried these Healthy Grilled Turkey Burgers yet!
In 2018 my husband was diagnosed with alpha-gal which means he developed a red meat allergy as a result of a tick bite. Pretty wild, right? We didn't even know this was a thing that existed until his diagnosis.
I immediately set out to make a turkey burger that we could love every bit as much as a beef burger. And oh boy we did it. Please know that this is coming from someone who really loves a beef burger and has been hesitant about turkey burgers. So when I say this is just as good and satisfying I really mean that.
The biggest takeaway for us in all our experimenting was that it's all about what flavors you add to the turkey. If you don't want a boring burger you need a good marinade, lots of seasoning, and incredible toppings.
Serve this Healthy Grilled Turkey Burger however you like! I've had it in a lettuce wrap and on a smashed potato several times. It's a delicious and light entree that won't leave you feeling hungry.
Buns work great too. But that didn't need to be said, right?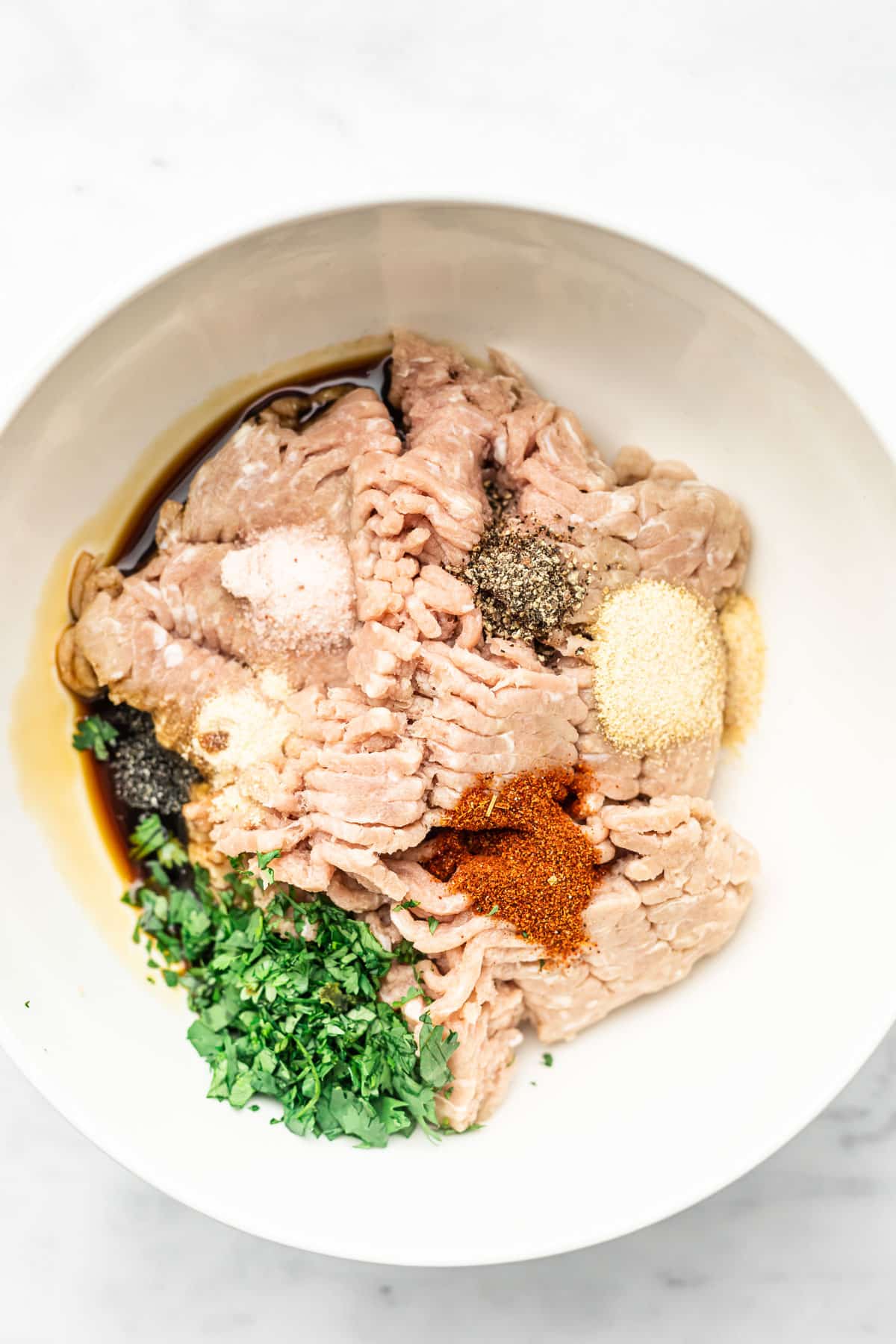 Healthy Grilled Turkey Burger Ingredients
Ground turkey: Turkey is naturally very lean so I like to choose an option for burgers with some fat in it. 75% or 80-85% lean ground turkey is the best option for juicier results. You can use 93% if you like but I wouldn't do any leaner than that.
Soy sauce or coconut aminos: The slightly sweet and bold flavor of soy sauce or coconut aminos adds so much yumminess to these burger patties. Use whichever you have.
Fresh cilantro: I love plenty of fresh chopped cilantro in these burgers. It helps bind everything and is a great balance for the natural softness of the ground turkey.
Seasonings: Salt, pepper garlic powder, chili powder and onion powder all create the perfect seasoning blend for these tasty burgers. Don't skimp on the seasonings! They make a huge difference.
How to Top these Turkey Burgers
There are so many topping options when it comes to delicious turkey burgers. Here are a few of my favorite toppings.
Let's start with what you see in the recipe photos. I opted for red onion for crunch, tomato and lettuce for that bite of freshness, and my Creamy Avocado Dressing & Dip. It's incredibly simple to whip up. Just toss a few ingredients in the blender!
If you're wanting that classic burger flavor you'll love topping these patties with a thick slice of cheddar cheese, lettuce, tomato, pickles, mayo, mustard, and ketchup.
Feeling like doing something special? Spread creamy goat cheese on the bun (or top of the burger if you're skipping the bun), pile on some peppery arugula, and add a dollop of your favorite store-bought red pepper jelly.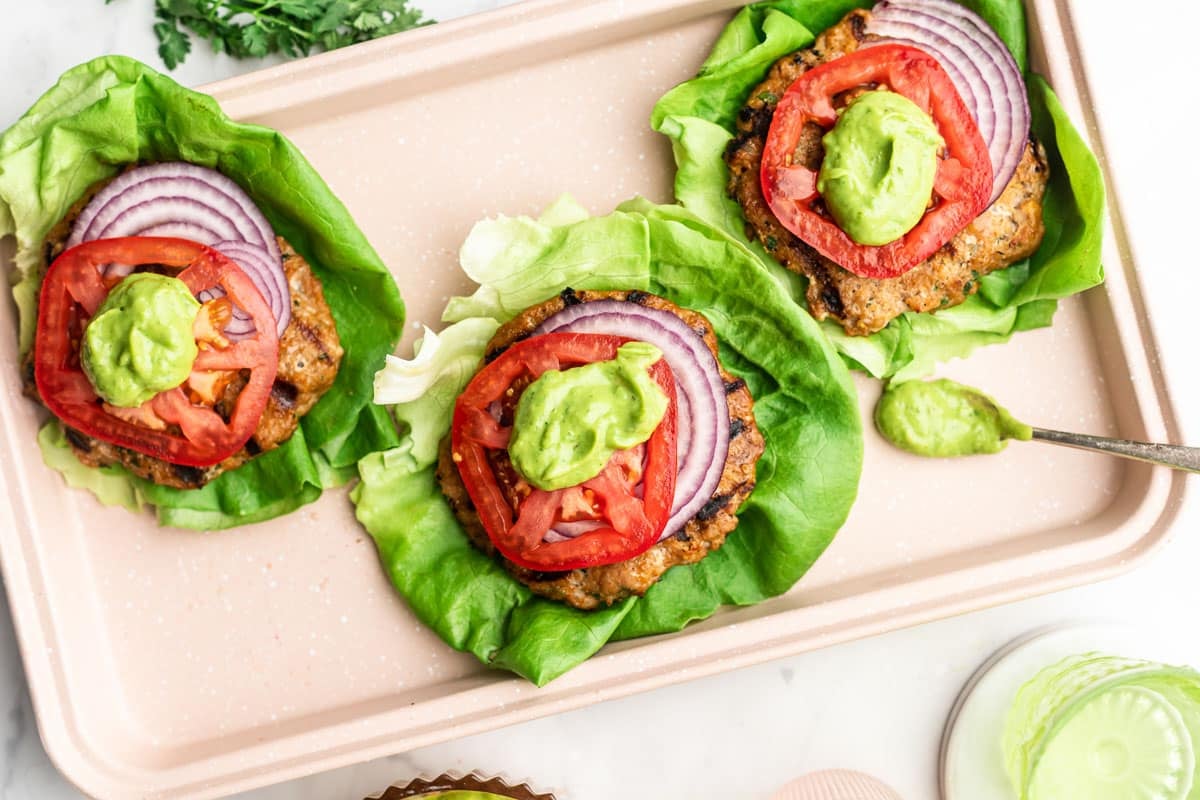 Recommended Side Dishes for Turkey Burgers
Grilling season means its time for all the yummiest grilling sides! You can obviously serve these burgers with your favorite chips but if you're in the mood to cook something extra yummy I recommend these recipes below.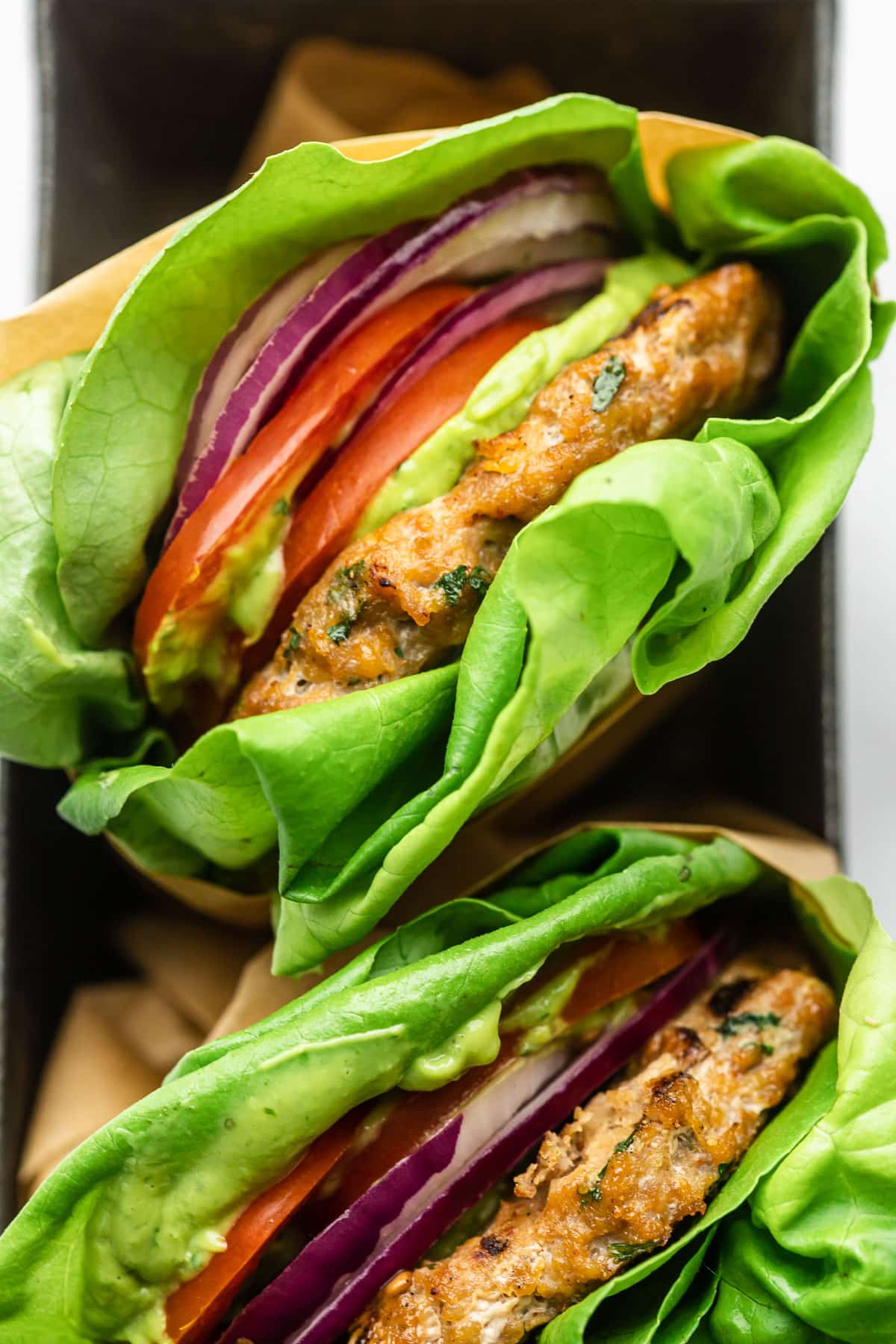 How to Freeze Turkey Burger Patties
These patties do great frozen! If you want to make a big batch to use for a later date, just form your patties and lay them flat on parchment paper in the freezer. Once completely frozen you can stack one on top of the other. I wouldn't do that until frozen or they'll stick together.
When you're ready to cook, thaw them in the refrigerator. Grill the thawed burgers per recipe instructions.
How to Store Leftovers
Cooked turkey burgers will remain good in an airtight container in the refrigerator for up to 4 days.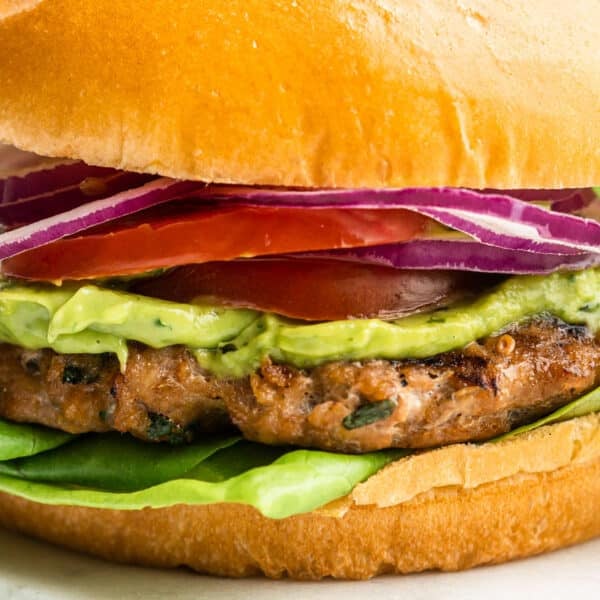 Healthy Grilled Turkey Burgers
This grilled turkey burger recipe is healthy, full of flavor, and includes the perfect blend of seasonings! Prep these in under 10 minutes!
Ingredients
1 lb lean ground turkey, I recommend 75% or 80-85% lean ground turkey for juicier burgers
1/4 cup soy sauce or coconut aminos
1/2 tsp salt
1/2 tsp pepper
1/2 tsp garlic powder
1/2 tsp chili powder
1/4 tsp onion powder
1/4 cup fresh chopped cilantro
2 tsp olive or avocado oil
Instructions
Add all ingredients EXCEPT THE OIL to a large bowl. Use your hands to combine ingredients.

Form into four patties. Use your finger or a small spoon to create a small indention in the center of each patty. This will help prevent your burgers for puffing up too much as they cook. If you're not grilling immediately place the patties on a plate and cover with plastic wrap in the refrigerator. (Ground turkey is very soft and it will firm up the refrigerator. Don't let it sit out any longer than necessary.)

Heat the grill to medium-high heat.


Brush olive or avocado oil on both sides of each burger. Gently place each patty on the grill.

Sear until brown, about 5 to 6 minutes. Don't press down the burgers as they cook or they'll release the juice we want. Also do not flip your burger too early or it will fall apart. When it's sufficiently browned on one side, flip. Sear remaining side until browned and patty is cooked through, another 5 to 6 minutes. Remove from the grill and serve as you like!
Notes
Nutrition information is for a single patty and does not include toppings.  
Nutrition
Serving: 1patty, Calories: 165kcal, Carbohydrates: 3g, Protein: 26g, Fat: 4g, Cholesterol: 62mg, Sodium: 693mg, Potassium: 334mg, Vitamin A: 195IU, Vitamin C: 0.2mg, Calcium: 3mg, Iron: 0.9mg