Healthy Chocolate Chip Oatmeal Bars
These chocolate chip oatmeal bars are thick, chewy, and made with surprisingly healthy ingredients. You'll love every chocolatey bite of this sweet dessert or snack!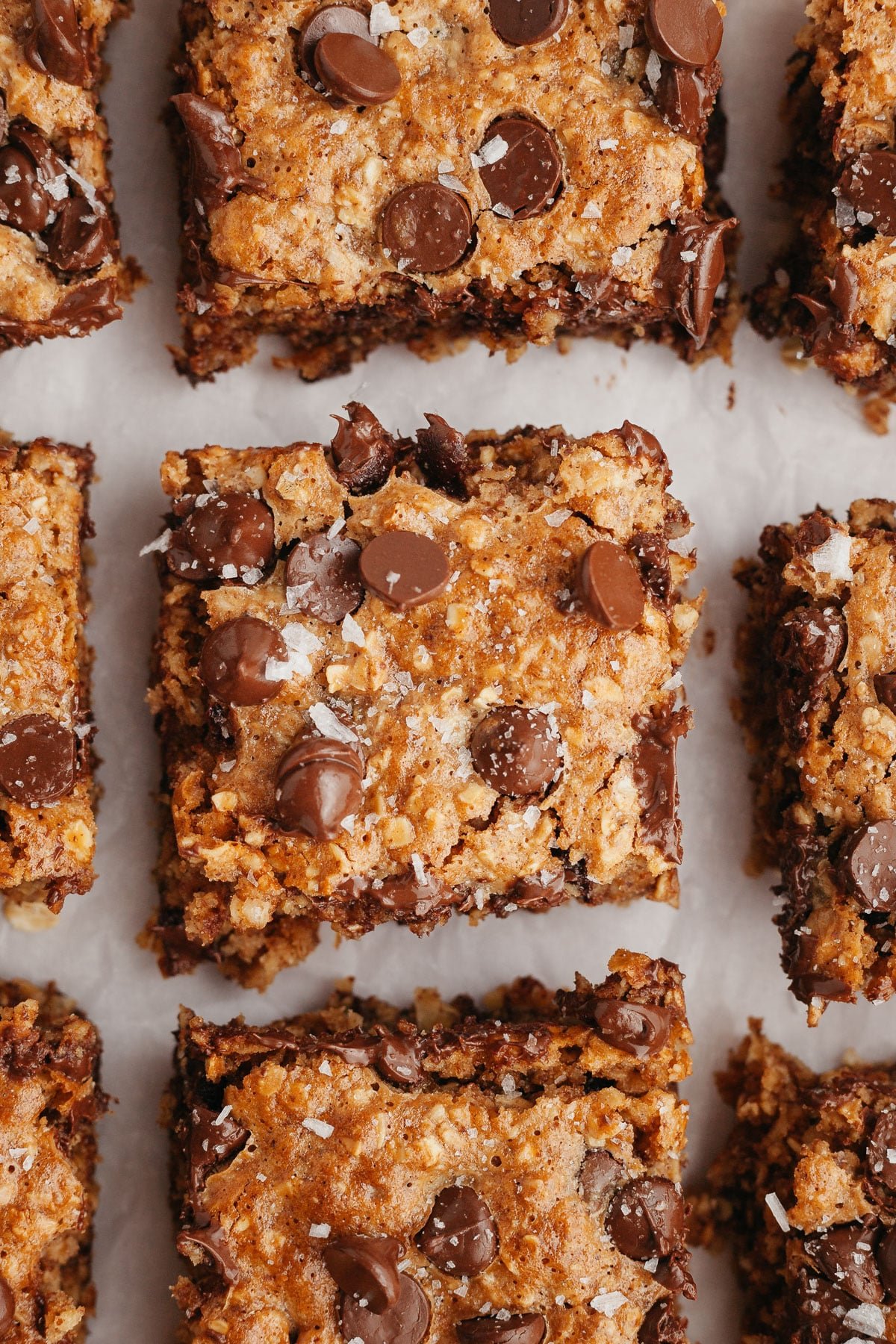 Chocolate lovers, get excited. These Healthy Chocolate Chip Oatmeal Bars are truly obsession worthy and I'm officially the president of their fan club. As the president it's my duty to make sure you know how incredibly rich and yummy these are. Plus they're so incredibly easy to make.
We're using quick cooking oats in these bars to achieve the perfect chewy bite. Don't you worry, there are also lots of chocolate chips. The key to that balance of sweet and savory is a sprinkle of flaky salt on top as soon as these beauties come out of the oven.
Make these bars for parties, potlucks, or just a special treat for the family. Or make them just for you. That's also highly encouraged. Fair warning: These bars disappear fast so if you're sharing, snag a few for yourself immediately.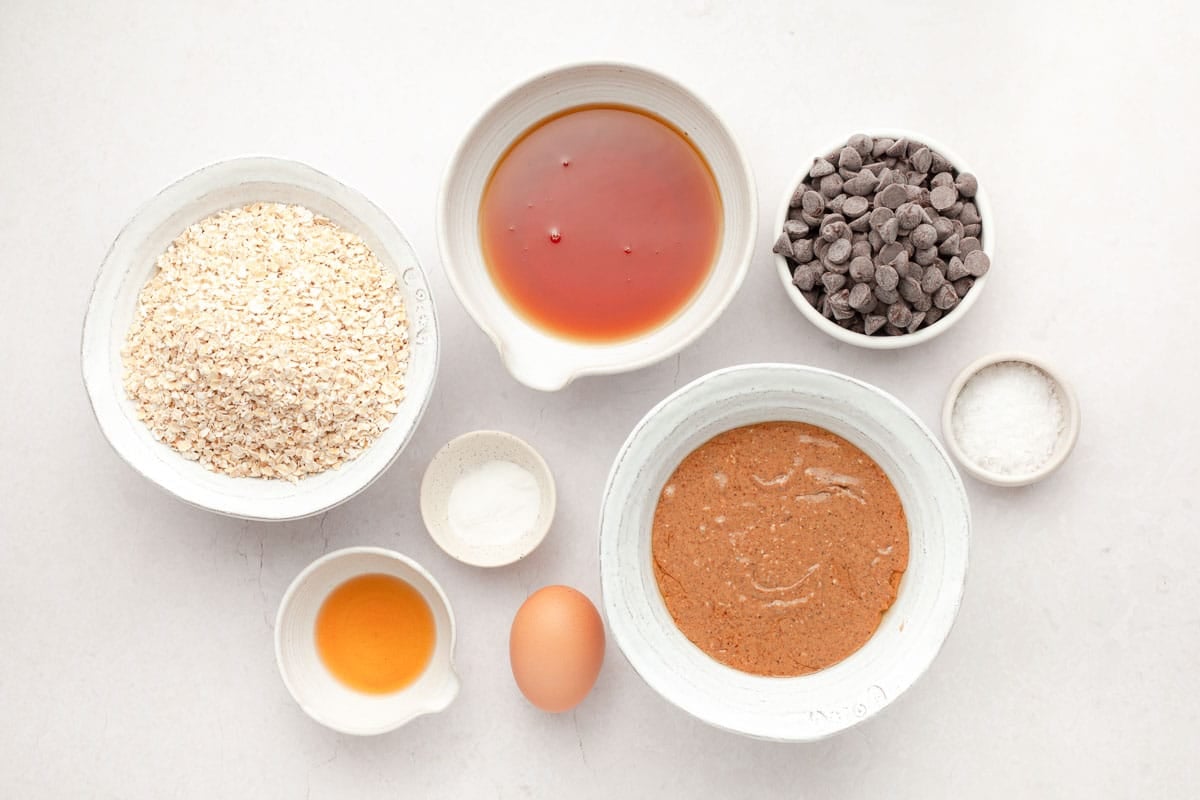 Ingredients for Healthy Chocolate Chip Oatmeal Bars
Quick cooking oats: Quick cooking oats are steamed for longer than old fashioned rolled oats when processed and they're smaller. This means they get softer faster and create a chewy texture that's so satisfying in these oatmeal bars.
Baking powder: Baking powder helps to create air bubbles during the baking process which gives us a lighter finished texture.
Egg: The egg helps keep the chocolate chip oatmeal bars moist.
Nut butter: You can use whatever nut butter you prefer in these bars. Almond butter, peanut butter, and cashew butter are great options. I personally use an almond butter that's made with just almonds. Whichever nut butter you include, be sure to stir it well before incorporating it into the recipe.
Pure maple syrup or honey: Both pure maple sweetener or honey can be used to sweeten these bars. You can find more information on why I recommend them below.
Vanilla extract: Vanilla extract is a must in so many desserts. It doesn't take much to make a big difference!
Dark chocolate or semi sweet chocolate chips: Feel free to use dark chocolate or semi sweet chocolate chips. Both work beautifully here.
Flaky salt for topping: Don't skimp on the salt! A sprinkle of flaky salt balances out the sweetness of these bars perfectly. Maldon is the brand I buy and use to top baked goods like these bars.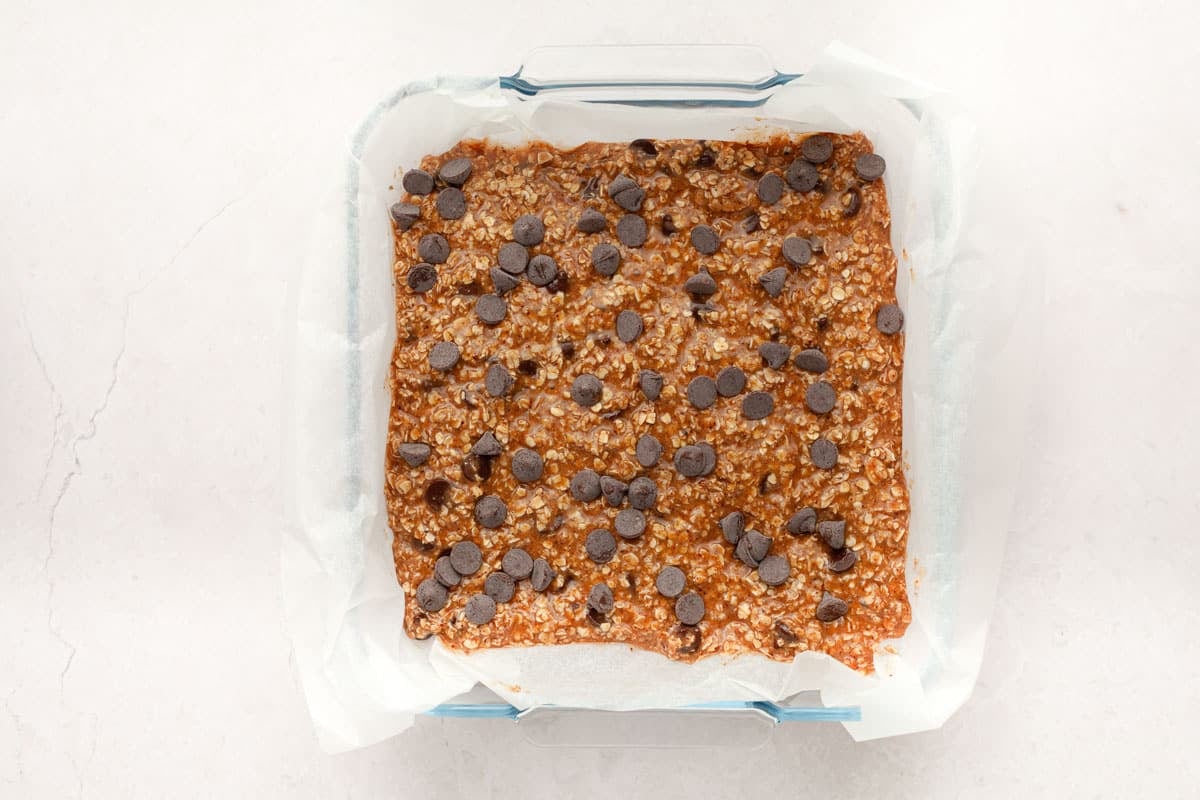 Can you use rolled oats instead of quick cooking oats?
I've tested these bars with both rolled oats and quick cooking oats and there's a definite difference in the texture of the finished bars.
Quick cooking oats have been steamed for longer and are smaller. This means they can break down faster when you cook with them so they meld with the nut butter to create a really satisfying chewy texture. When testing this recipe with rolled oats I felt the finished bars were just a little too crunchy for my liking. I recommend sticking with quick cooking oats for this particular recipe.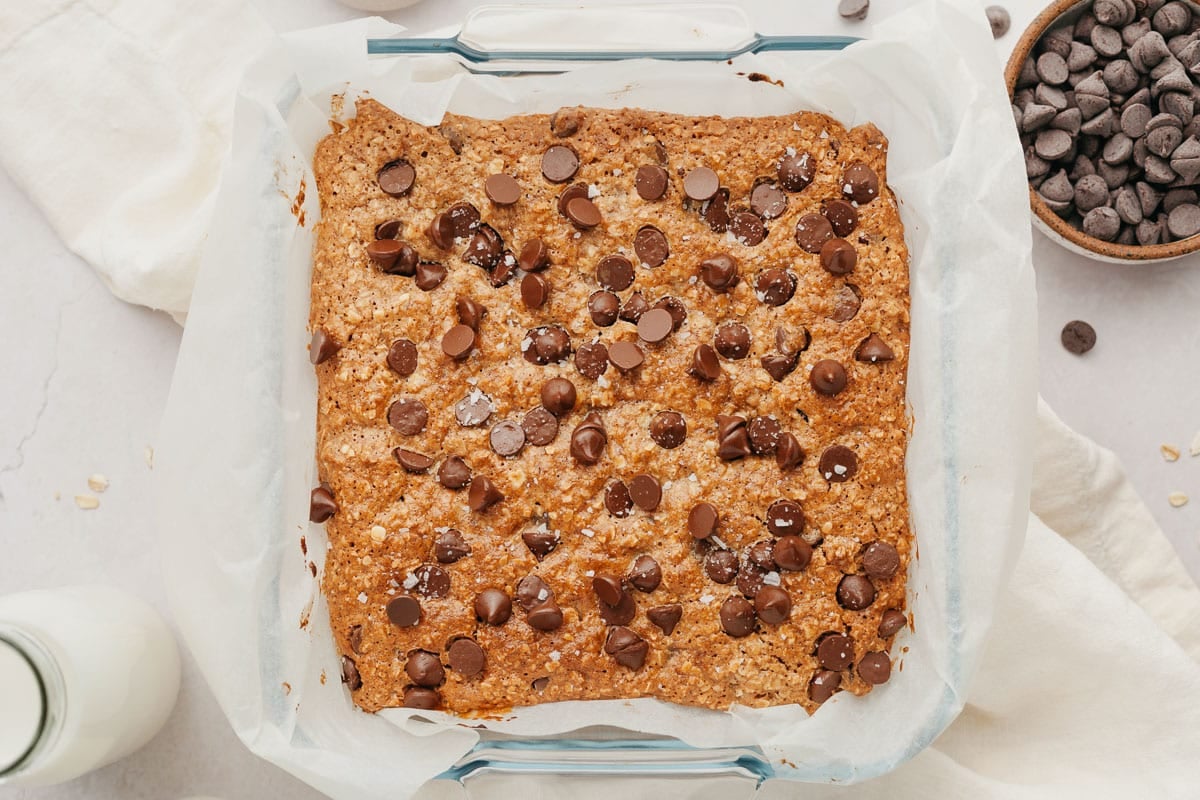 Pure Maple Syrup vs Pancake Syrup
Pure maple syrup is made from 100% maple sap that's been boiled down to a thicker consistency. Regular pancake syrup (often called maple syrup too) is usually some combination of corn syrup, maple flavoring, sugar, and other artificial flavorings.
I love pure maple syrup as my sweetener of choice in lots of baked goods. It adds just the right amount of sweetness, doesn't overpower the dish, and is made with just that one ingredient (maple syrup)!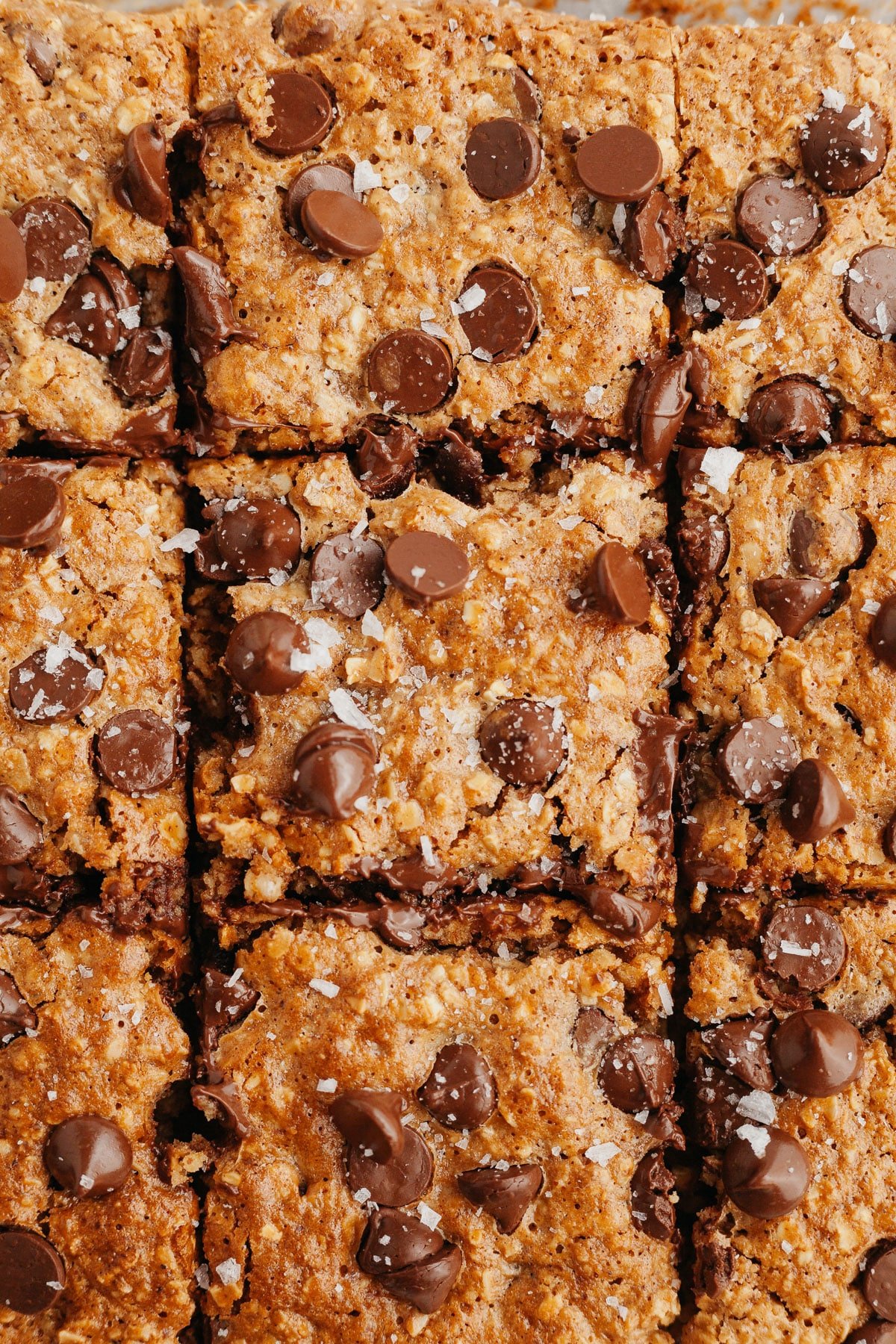 Pure Maple Syrup vs Honey as a Sweetener
You can use pure maple syrup or honey in these chocolate chip oatmeal bars and lots of other sweet treats. But let's discuss the differences between the two:
Pure maple syrup has a teeny tiny edge over honey when it comes to nutrition (but not much). It's lower in calories (52 vs 64 calories in each tablespoon) and sugar. Pure maple syrup also has more micronutrients (including calcium, manganese, zinc, and riboflavin) and possesses antioxidants.
Honey has less fat and sodium than pure maple syrup. Honey is also thought to have antibacterial properties.
Both pure maple syrup and honey have anti-inflammatory properties. Both have a lower glycemic index than sugar which means they won't spike your blood sugar levels as quickly.
Ultimately these are two deliciously great natural options to use for sweetening baked goods, savory dishes, and drinks. Of course, it's recommended to incorporate any sweetener into your diet in moderation.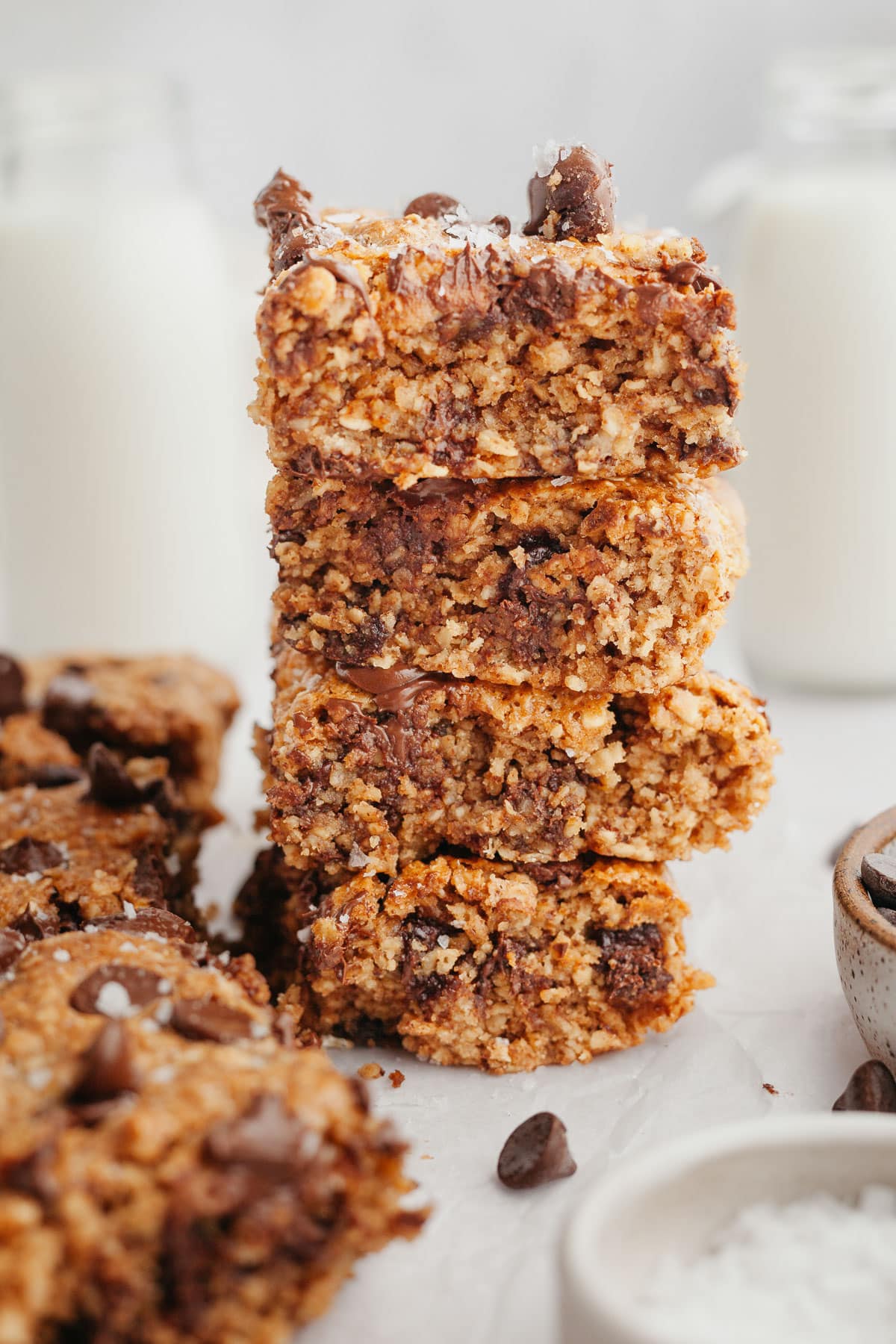 How to store these oat bars
For the perfect texture and chewiness I recommend storing these in the refrigerator. They'll remain good for up to 7 days.
You can also freeze these bars if you like. Once cooled completely, cut into squares and then store in a freezer safe container in the freezer for up to 2 months. Thaw when you're ready to enjoy!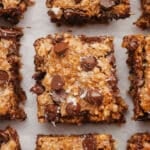 Healthy Chocolate Chip Oatmeal Bars
These chocolate chip oatmeal bars are thick, chewy, and made with surprisingly healthy ingredients. You'll love every chocolatey bite of this sweet dessert or snack!
Ingredients
2 cups quick cooking oats
1 teaspoon baking powder
1 egg
¾ cup any nut butter, Almond, peanut, or cashew butter are all great options. I use almond butter made with only almonds.
¾ cup pure maple syrup or honey, I use pure maple syrup.
1 teaspoon vanilla extract
¾ cup dark chocolate or semi sweet chocolate chips
To top: flaky salt, I use Maldon Sea Salt Flakes.
Instructions
Preheat oven to 350 degrees.

Line an 8 x 8 baking dish with parchment paper.

In a large bowl stir together the oats and baking powder.

In a separate bowl whisk the egg. Then stir in the nut butter, pure maple syrup or honey, and vanilla.

Add wet ingredients to the bowl with the dry ingredients and stir until well combined. Stir in ½ cup of the chocolate chips.

Spread the mixture in the parchment paper lined baking dish. Press the remaining ¼ cup chocolate chips into the top of the bars.

Bake for 30 min. Remove from the oven and top with flaky salt immediately. Allow to cool completely before slicing into 9 squares. Enjoy or refrigerate to serve later!
Nutrition
Serving: 1bar, Calories: 356kcal, Carbohydrates: 43g, Protein: 9g, Fat: 18g, Saturated Fat: 6g, Polyunsaturated Fat: 3g, Monounsaturated Fat: 7g, Trans Fat: 0.002g, Cholesterol: 18mg, Sodium: 75mg, Potassium: 382mg, Fiber: 4g, Sugar: 22g, Vitamin A: 28IU, Vitamin C: 0.1mg, Calcium: 184mg, Iron: 2mg