Egg-Free Chicken Apple Hash
This easy breakfast hash has just a touch of sweetness and you probably already have the ingredients! You can start your day off right with this satisfying dish or whip it up for a fast dinner.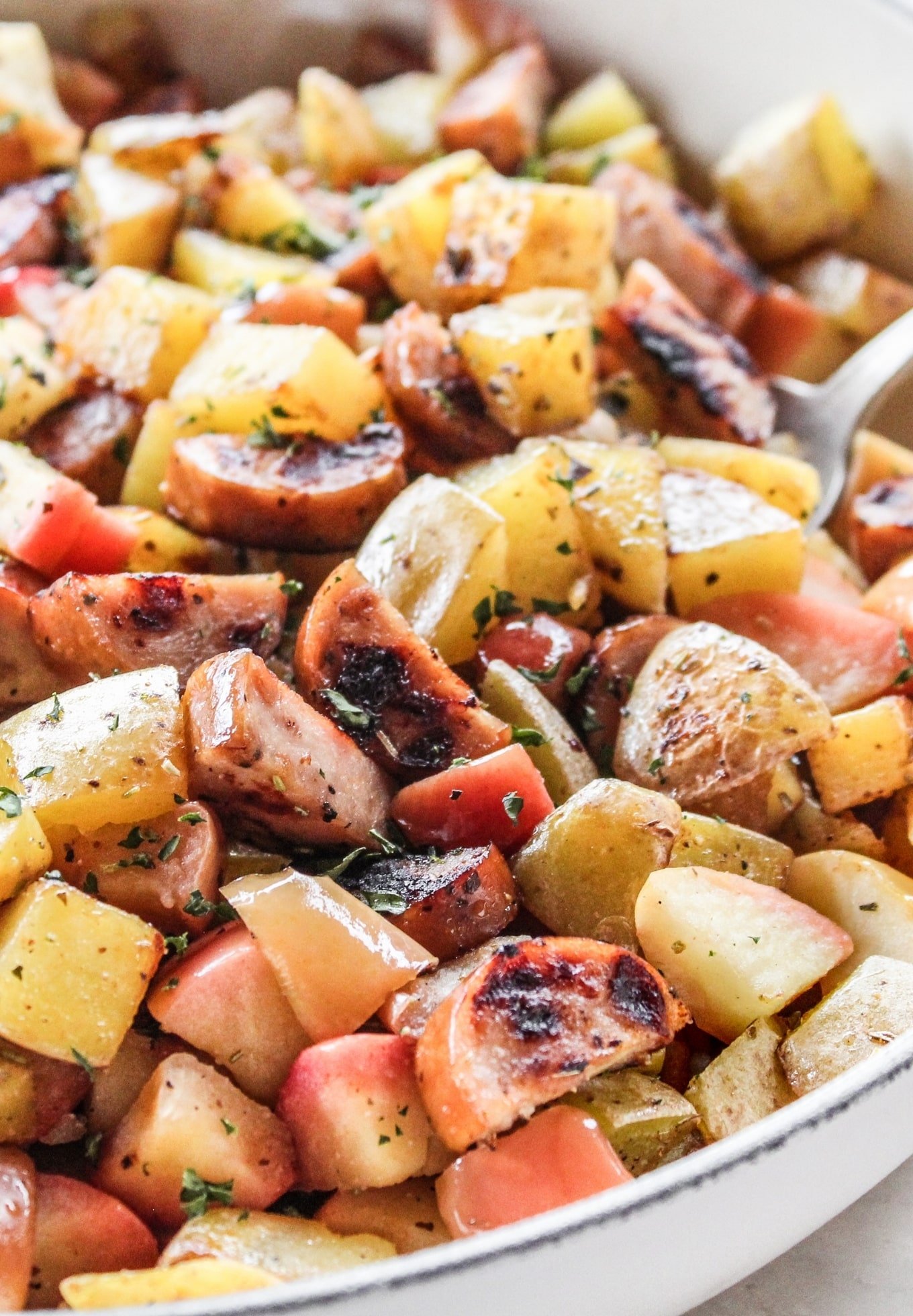 This Egg-Free Chicken Apple Breakfast Hash is so simple and is the perfect balance of sweet and savory.
I always have ingredients on hand at home for an easy hash. How about you? I love them. They're so fast and you can switch them up a million different ways. Plus they're satisfying. You won't be hungry again until lunch.
I know a lot of people think only of breakfast when it comes to a hash. I am not one of those people. I can't tell you how many times I've served this up for dinner.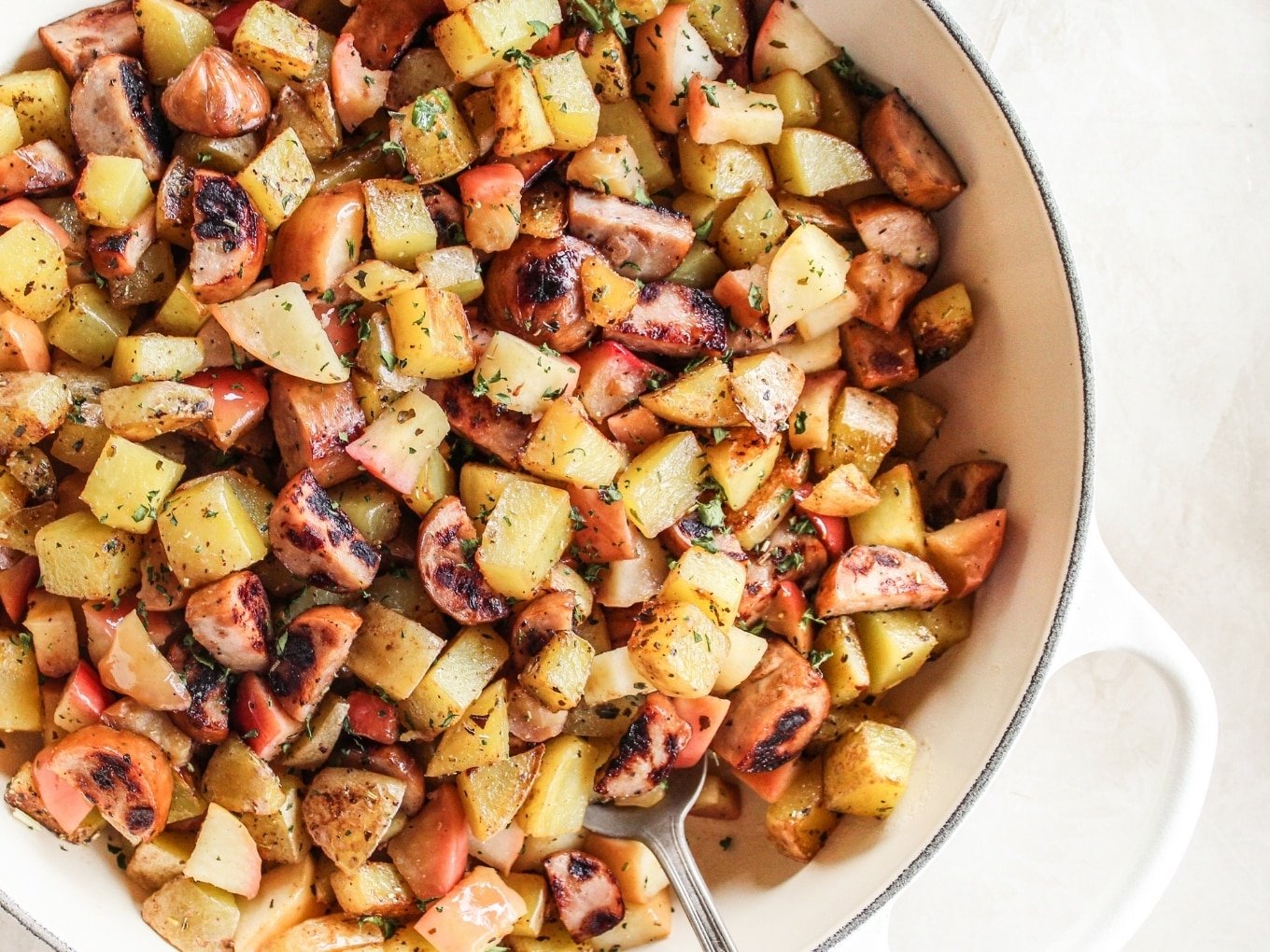 For this recipe you'll need (full list of ingredients and instructions are in the recipe card below):
Chicken sausage
Olive oil
Potatoes
Apples
A few simple seasonings
Can you use a different sausage?
Absolutely. Feel free to use beef, turkey, or pork if you prefer. Just make sure you're using a fully cooked dinner sausage.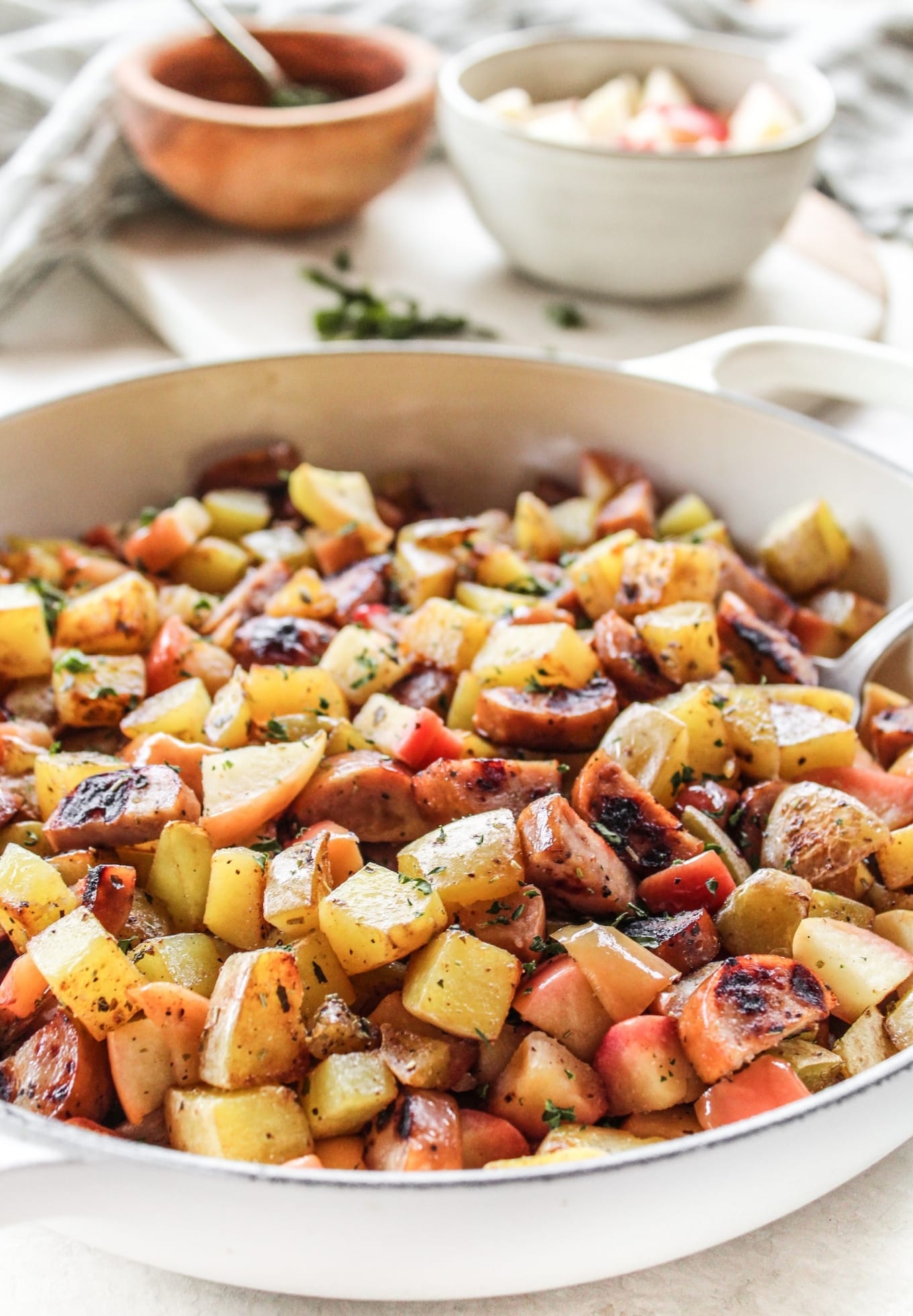 What potatoes are best in a hash?
I love and use all types of potatoes so feel free to use what you have. I prefer yellow or gold (you can tell by the color in the photos) because I enjoy their naturally buttery flavor.
Tips to getting your potatoes tender in a hash
Occasionally I'll hear that someone is struggling to get their potatoes softened. 10 times out of 10 it comes down to a simple fix. Here are my tips for making sure you get that perfect texture!
Dice your potatoes so they're 1/2-inch or 3/4-inch. The larger your potatoes pieces the longer they'll need to cook so don't go too big.
Make sure you cut those potatoes all the same size. If some chunks are large they'll cook more slowly while your smaller pieces get overdone.
Use a large enough skillet so that your potatoes don't overcrowd the pan. You want as many potatoes as possible to touch the bottom surface of the skillet. I always use a 12″ nonstick skillet when I make a hash.
Don't flip your potatoes too frequently. You want the potatoes touching the bottom of the pan to have time to brown.
But DO flip those potatoes. While you can move the potatoes around too much, you can also move them around too little. Stir occasionally so that all the potatoes have a chance to rest on the bottom for browning.
Don't be afraid of a higher heat. I cook my skillet potatoes on medium-high heat. This temp is plenty high to brown my potatoes and get them tender fairly quickly. If you're cooking on medium or medium-low you'll find that your potatoes take a mighty long time to cook and they won't brown.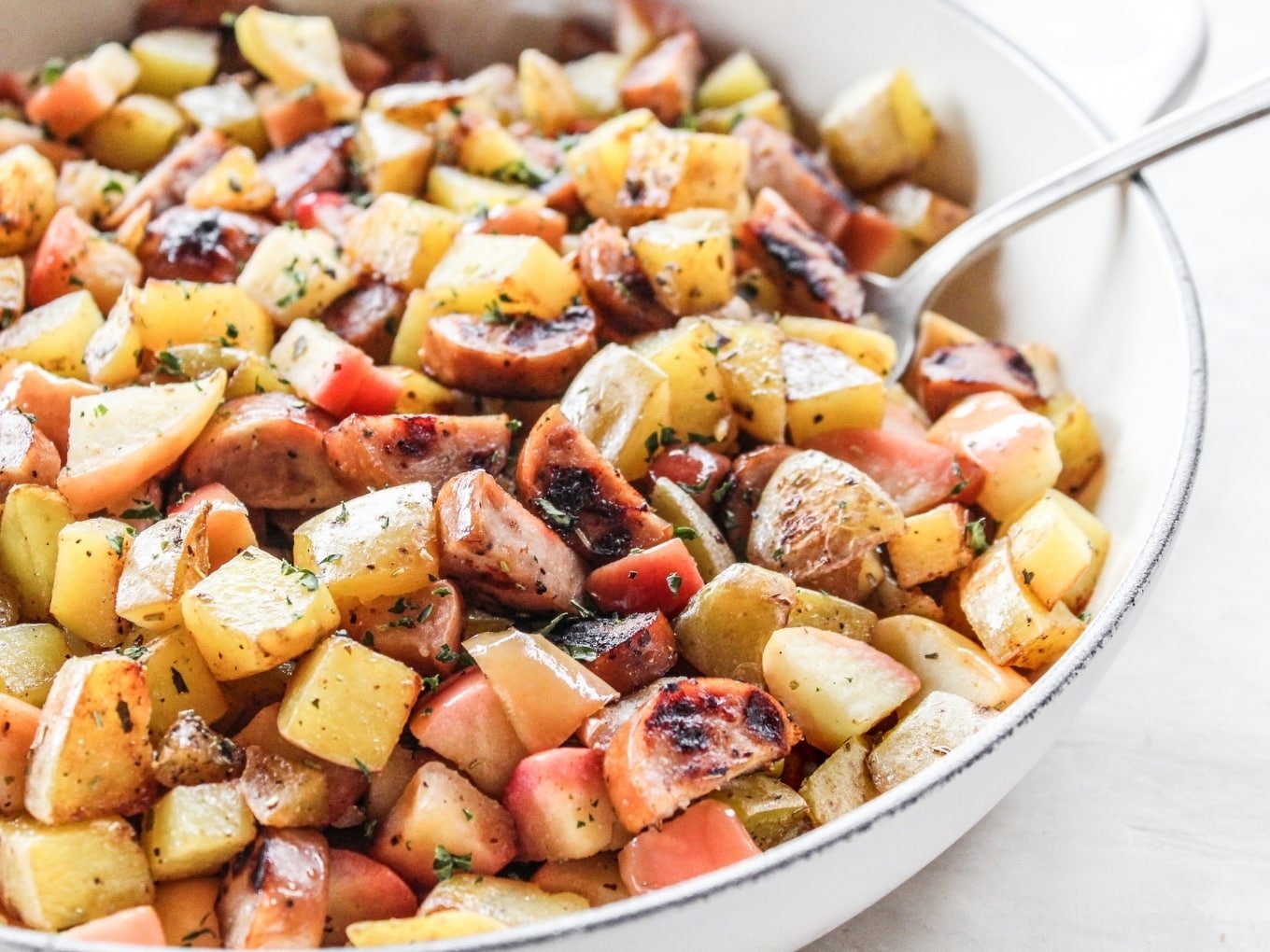 How to add eggs to this hash
Once your potatoes are cooked, use a spatula to create 4 holes in your hash. Crack one egg in each hole. Add salt to the tops of the eggs. Cover and reduce heat to medium. Cook until eggs are how you like them.
More recipes like this:
Chicken Sausage & Pepper Hash
Sweet Potato Bacon Hash
Sheet Pan Sweet Potato Hash & Eggs
Spinach & Arugula Breakfast Hash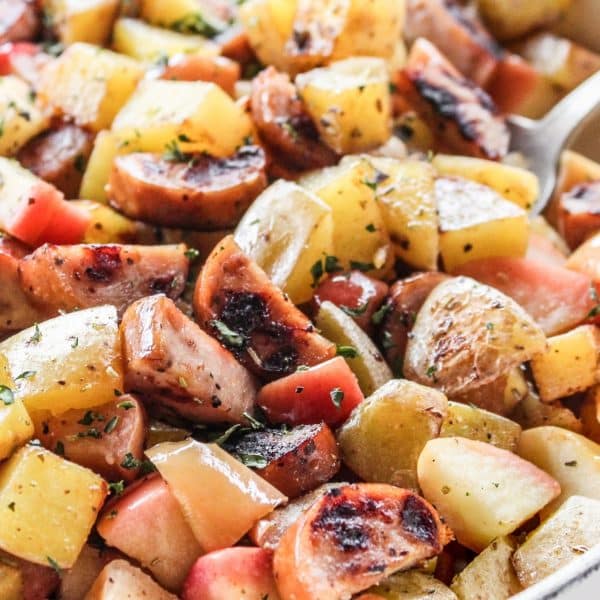 Egg-Free Chicken Apple Breakfast Hash
This easy breakfast hash has just a touch of sweetness and you probably already have the ingredients! You can start your day off right with this satisfying dish or whip it up for a fast dinner.
Ingredients
2 tbsp olive oil, extra virgin
2 chicken sausages, sliced into half-circles
4 cups diced potatoes, Use any potato variety you like. I prefer yellow or gold.
2 medium apples, diced
3/4 tsp salt
1/2 tsp garlic powder
1/4 tsp black pepper
1/4 tsp onion powder
1 tsp dried basil, Can omit.
Instructions
Heat 1/2 tbsp of the oil in a large skillet on medium-high heat. I use a 12" skillet so that I have enough room to accommodate everything. (Your potatoes will take longer to cook if your pan isn't large enough.) Once oil is hot, add the sliced sausages. Sauté, stirring frequently for 3 to 4 minutes or until browned. Remove from pan and set aside.

Add the remaining olive oil to the skillet. Add diced potatoes. Sauté over medium to medium high heat, stirring frequently to prevent sticking. You want your potatoes to brown and become tender. This can take up to 10 minutes.

Once your potatoes have browned, reduce heat to medium or medium-low. Add 2 tbsp of water, diced apples, and browned chicken sausage. Season everything with salt, garlic powder, pepper, onion powder, and basil. Stir.

Cover and cook for another 5 minutes or until apples have softened.
Nutrition
Calories: 379kcal, Carbohydrates: 56g, Protein: 12g, Fat: 13g, Saturated Fat: 2g, Cholesterol: 30mg, Sodium: 887mg, Potassium: 1106mg, Fiber: 8g, Sugar: 12g, Vitamin A: 206IU, Vitamin C: 51mg, Calcium: 40mg, Iron: 3mg
Save