Chicken Apple Breakfast Hash
Today I have one of my favorite breakfast recipes for you. It's my Chicken Apple Breakfast Hash. I love breakfast hash. They're so fast to make and you can switch them up a million different ways. Plus they're satisfying. You won't be hungry again until lunch.
I have two hash tips (is that a thing?) for you.
First, don't use a cover. The temptation is to cover your pan so your potatoes cook faster but this only makes them mushy. Cook your potatoes on a higher heat and stir frequently. They'll cook in 10 to 15 minutes and they'll have browned crispy outsides and a soft center. That's what I call hash perfection. (If you absolutely must cover them do it at the very end so they've had time to brown first.)
Second, use gold or yellow potatoes. They have so much flavor in them that they're my potato of choice for every hash.
This version is simple. I always have the ingredients in my home so it's a great option to satisfy my hunger without spending an hour in the kitchen or running to the store.
Feel free to crack an egg in it if you like.
Enjoy!
Chicken Apple Breakfast Hash
This easy breakfast hash has just a touch of sweetness and you probably already have the ingredients! You can start your day off right with this guilt-free satisfying dish!
Ingredients
1 1/2

tablespoons

extra virgin olive oil

1

large gold potato

,

or 2 medium

1/4

cup

yellow onion

,

diced

1

chicken sausage

,

I prefer Applegate's Organics Chicken Apple

1/2

cup

apple

,

diced (about 1/2 a large apple)

salt & pepper to taste
Instructions
Add your olive oil, diced potatoes, and diced onion to a cast iron skillet or nonstick pan. Saute over medium to medium high heat, stirring frequently to prevent sticking. You want your potatoes to brown and become tender. This can take up to 10 minutes. DO NOT COVER or your potatoes will get mushy.

Slice your chicken sausage lengthwise (it's now in two). Then slice horizontally to create little semicircles.

Once your potatoes have browned add your diced apples and chicken sausage.

Stir frequently. Cook for another 5 minutes or until apples have softened (but not completely).

Salt & pepper to taste. Enjoy!
Hey! Why don't you give this Steak & Sweet Potato Breakfast Hash a try too?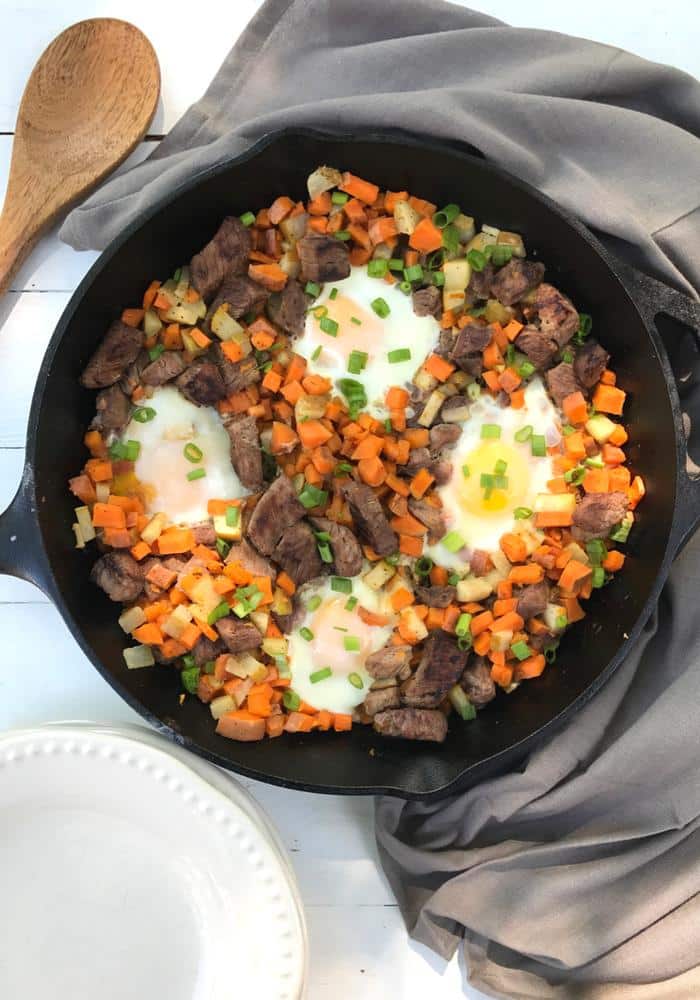 Or how about my Spinach & Arugula Breakfast Hash?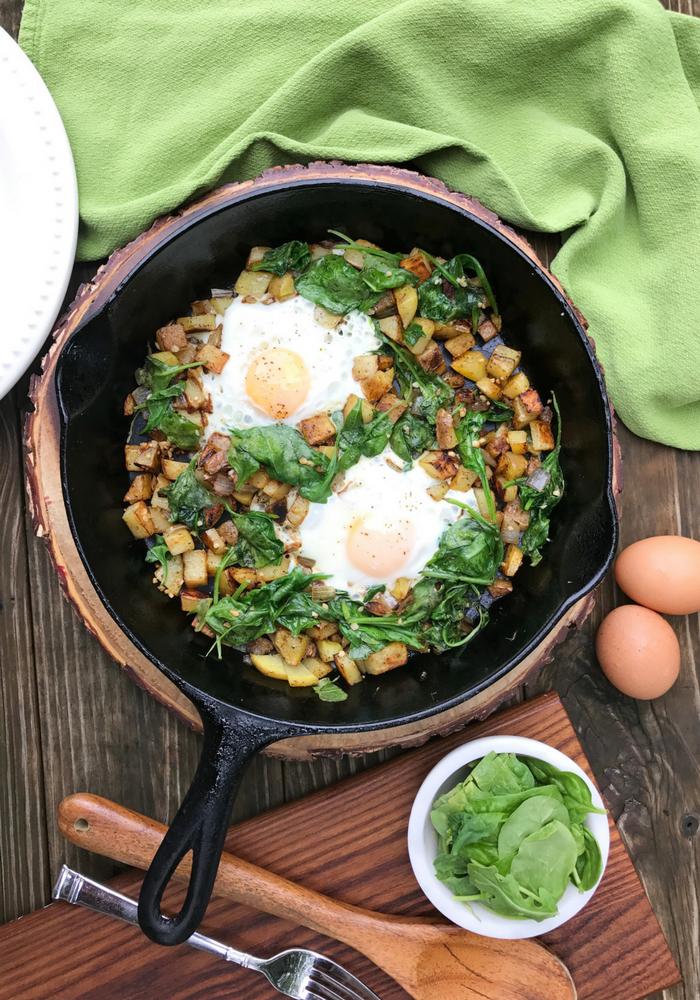 Save