Sheet Pan Sweet Potato Breakfast
This sheet pan breakfast comes together quickly with diced sweet potatoes, sausages, and eggs. It's a deliciously simple meal!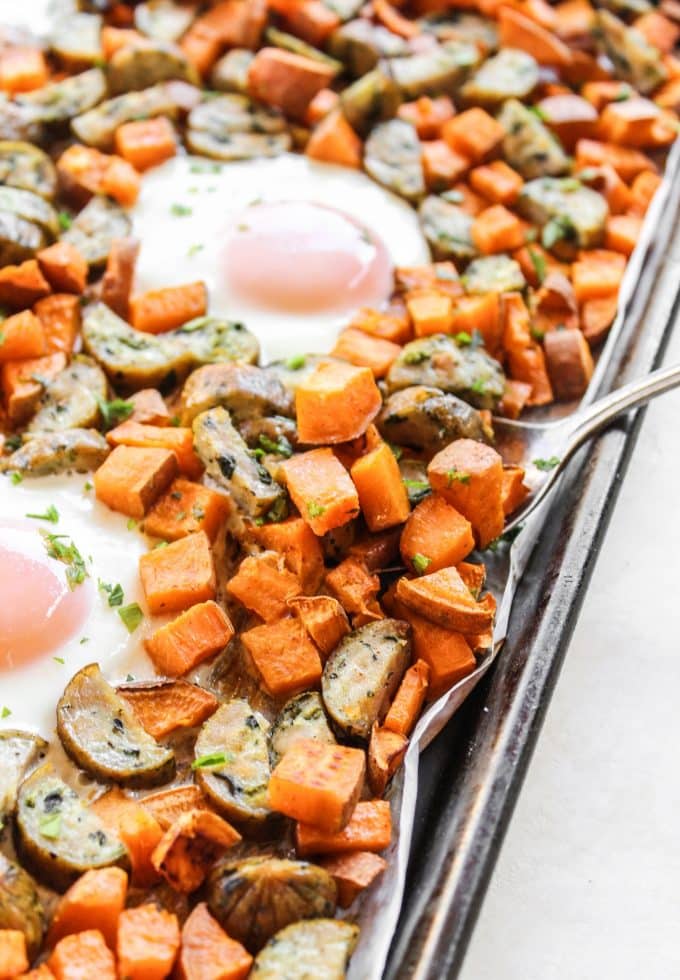 Update: This recipe was originally published in 2018 and has been republished with all new photos and updated recipe instructions.
Give me a potato hash and I'm a happy woman. It's really that simple. Also I'll take a coffee. And a good book. Perhaps a nap. I figure I should just put that all out there since I'm making requests anyway, right?
Back to the whole point of this. I do love potato hash and while I don't limit it to just breakfast (at all) that is definitely the time of day I enjoy it most. It's just so dang satisfying, isn't it?
Today's version is extra special because I'm using sweet potatoes and (drum roll please) this magical dish is cooked on a sheet pan in the oven. Hello Sheet Pan Sweet Potato Breakfast.
Someone catch me, I'm swooning.
The big bonus to preparing your hash this way is that your potatoes and your eggs will be finished at the same time. When I prepare hash and eggs on the stove I typically use two skillets, one for my potatoes and one for the eggs. If I'm trying to avoid dirty dishes (story of my life) then I use one skillet. This means I have to plate the finished potatoes before I start making the eggs which leaves my potatoes cold by the time I eat.
By preparing this gloriousness on a sheet pan everything can be served nice and hot while still using only one dish.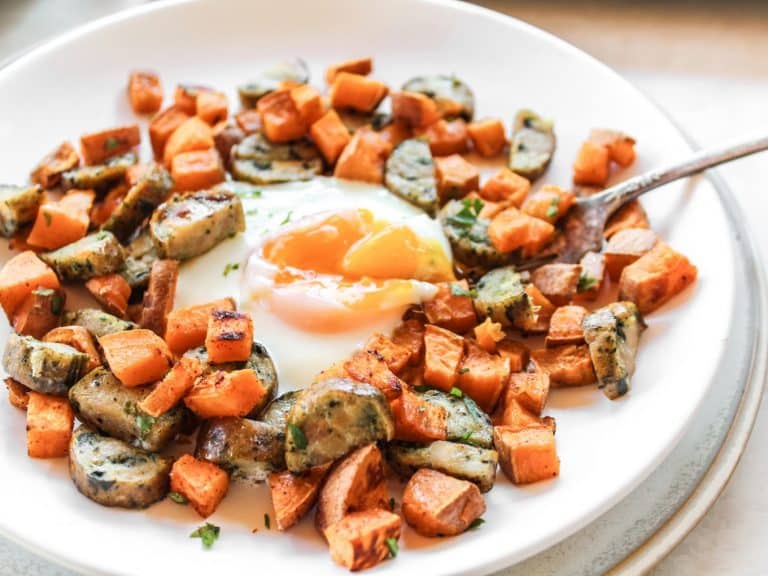 For this recipe you'll need (full list of ingredients and instructions are in the recipe card below):
Sweet potatoes
Olive oil
Fully cooked dinner sausages
Eggs
Salt
Paprika
Start by roasting the potatoes with a little oil in the oven. They'll require more time than the other ingredients so they need a head start.
After they've had a bit of time to cook, stir and add sausage to the pan. Bake again.
Then use a spatula to create spaces for your eggs amongst the potatoes and sausages. Carefully crack the eggs into each space. Salt. Bake until the eggs are just how you like them.
What kind of sausage should you use?
Feel free to use chicken, beef, turkey, or pork. Just make sure you're using a fully cooked dinner sausage. They're larger than breakfast sausages and usually found in the refrigerated case beside hot dogs.
Can you use a different type of potato?
I love and use all types of potatoes in hash so feel free to use what you have. Russet or yellow/gold are great options.
Tips for perfectly cooked sheet pan potatoes
Dice your potatoes so they're 1/2-inch or 3/4-inch. The larger your potatoes pieces the longer they'll need to cook so don't go too big.
Make sure you cut those potatoes all the same size. If some chunks are large they'll cook more slowly while your smaller pieces get overdone.
Use a proper sized sheet pan so that your potatoes aren't overcrowded. You want as many potatoes as possible to touch the bottom surface. For this recipe (and most sheet pan meals) I recommend a 12 x 17 baking sheet.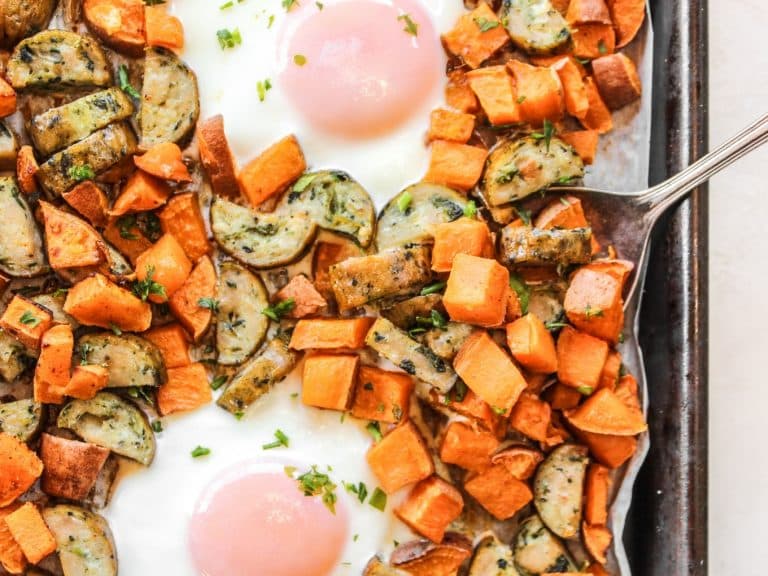 How to serve this
I typically serve this alone (it's a lot of food). If you want a little more but still want to keep it light, pair this with fresh fruit or a simple salad of arugula, pine nuts, tomatoes, salt, pepper, and a squeeze of lemon juice.
More breakfast recipes like this:
Steak & Sweet Potato Breakfast Hash
Spinach & Arugula Breakfast Hash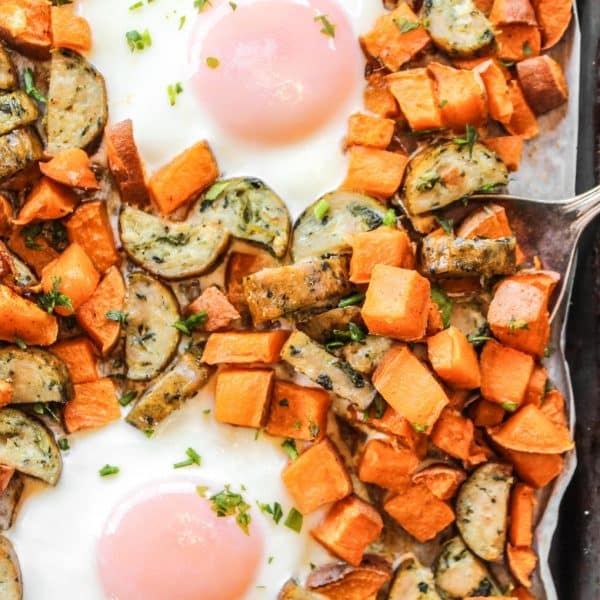 Sheet Pan Sweet Potato Breakfast
This sheet pan breakfast comes together quickly with diced sweet potatoes, sausages, and eggs. It's a deliciously simple meal!
Ingredients
Sweet Potato Hash
3 medium sweet potatoes, diced into 1-inch pieces
1 tbsp olive oil, extra virgin
1/4 tsp salt
1/4 tsp paprika
4 fully cooked dinner sausages, cut into half-circles, I use chicken sausage
Optional: fresh chopped parsley to garnish
Instructions
Preheat oven to 400 degrees. Line a 12 x 17 baking sheet with parchment paper.

Spread diced sweet potato on the prepared baking sheet. Drizzle with olive oil. Use a spatula to stir the potatoes so they're coated in oil. Spread potatoes in a single layer. Bake for 10 minutes.

Remove from oven and add sausages to the sheet pan. Spread everything in a single layer again.

Bake for another 10 minutes. Remove from oven and use your spatula to create four spaces for your eggs. Crack one egg into each hole. Sprinkle salt on eggs. Bake for 6 to 9 minutes or until eggs are how you like them. (I like 7 1/2 to 8 minutes in my oven for a runny yolk but firm whites.)

Sprinkle fresh chopped parsley on top. Serve immediately.
Notes
You can easily fit 6 eggs on your sheet pan if you'd like more. 
Nutrition
Calories: 410kcal, Carbohydrates: 38g, Protein: 21g, Fat: 20g, Saturated Fat: 4g, Trans Fat: 1g, Cholesterol: 224mg, Sodium: 1171mg, Potassium: 635mg, Fiber: 5g, Sugar: 8g, Vitamin A: 24646IU, Vitamin C: 5mg, Calcium: 76mg, Iron: 3mg