Meatballs in Gravy
These beef meatballs contain no breadcrumbs and simmer in an easy brown gravy. Load them up on mashed potatoes for a seriously delicious entree.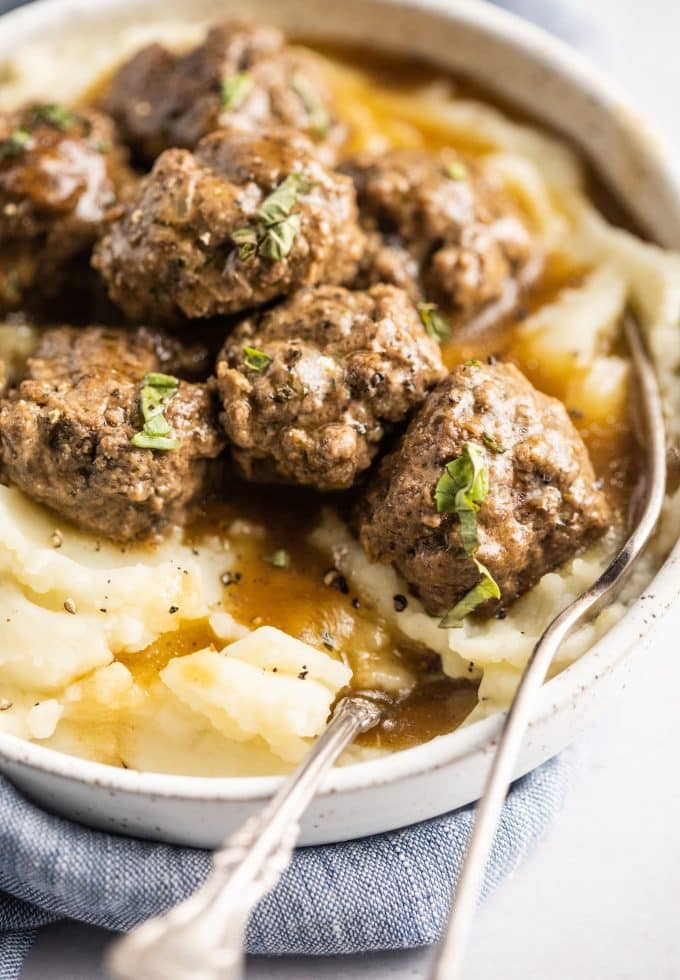 Update: This recipe was originally published in 2020 and has been republished with all new photos.
Meatballs in Gravy over mashed potatoes… oh this one tops the list of ultimate comfort foods for me. This version is a little healthier than the more traditional version because we're not using any breadcrumbs in the meatballs and we're swapping out white flour for arrowroot flour.
You'll likely also be surprised by the nutmeg and allspice. Oooo those spices do wonders for this dish! The flavor isn't overpowering but it's there and it's delicious!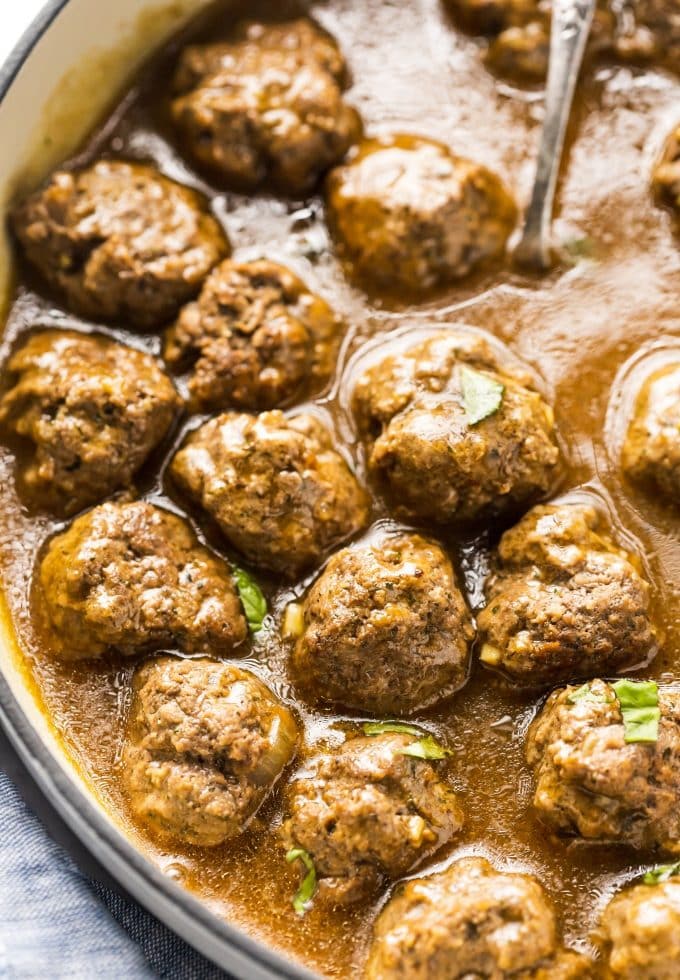 For this recipe you'll need (full list of ingredients and instructions are in the recipe card below):
Olive oil
Onion
Minced garlic
Lean ground beef
Egg
Parsley
Beef stock
Arrowroot flour
Ghee or butter
Coconut aminos
Seasonings
To make the meatballs you'll start by sautéing the onion and garlic in oil. Add to a large bowl and combine with ground beef, egg, parsley, and seasonings. Roll into balls. Then sauté the meatballs in the skillet until browned on all sides. Once meatballs are browned and almost cooked through, remove them from the skillet and set aside.
To make the gravy, whisk ghee or butter and arrowroot flour in the pan and simmer until bubbly. Then add the coconut aminos and seasonings. Stir.
Meatballs go back into the skillet. Simmer until cooked through and gravy has thickened a bit.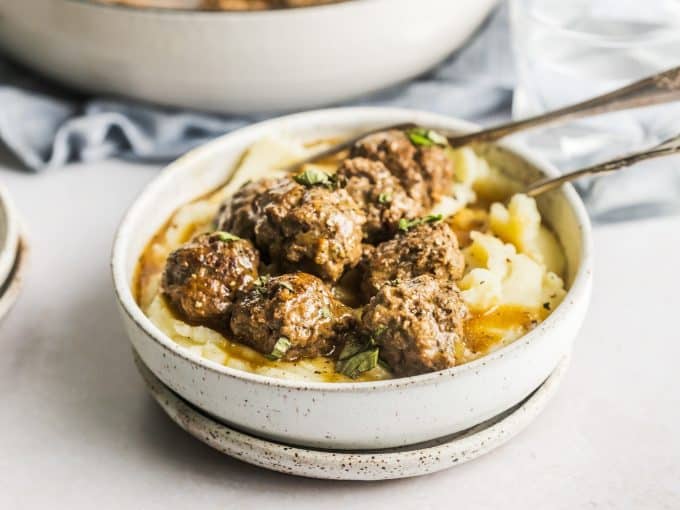 Ghee vs butter
You can use ghee or butter in this recipe. I prefer ghee because it has a richer flavor but both work beautifully. If you're completely dairy free you can also use olive oil or avocado oil instead.
What is arrowroot flour?
Arrowroot flour (also know as arrowroot starch or arrowroot powder) is a grain free ingredient often used in Paleo, Whole30, gluten free, vegan, or just overall healthy cooking. It's a starch extracted from the arrowroot plant, Maranta arundinacea. You can find out more about it here.
Can you sub another flour for arrowroot?
Usually you can't swap one flour for another without modifications (this is especially true for paleo or healthy flours); however, because of how we're using this flour you actually can easily make a swap here! Feel free to sub either tapioca flour or white flour in this recipe. Of course arrowroot and tapioca flour are the healthier choices and what I recommend.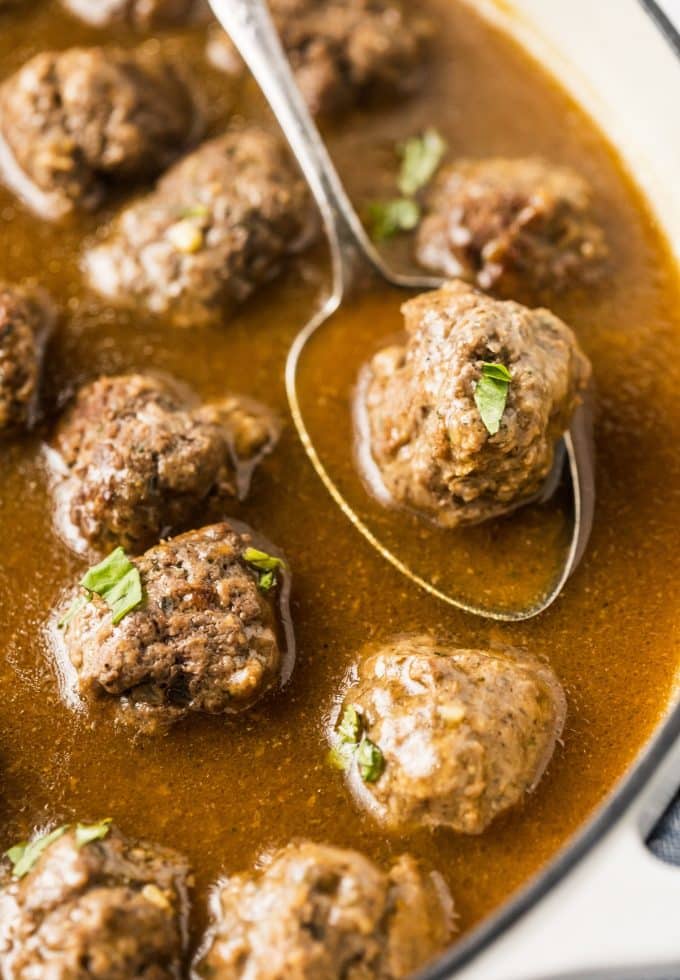 How thick is this gravy?
The gravy in this recipe is designed to stay pretty thin but the flour does thicken it a bit. The longer you let it simmer the more it will thicken. If you prefer a thicker gravy you can increase the amount of ghee/butter and arrowroot flour used.
What size skillet should you use?
I recommend using a 12″ skillet so you can accommodate all the meatballs. You can of course use a 10″ or 11″ skillet if you prefer. Just brown your meatballs in two batches and then combine them at the end so they all simmer in the gravy together.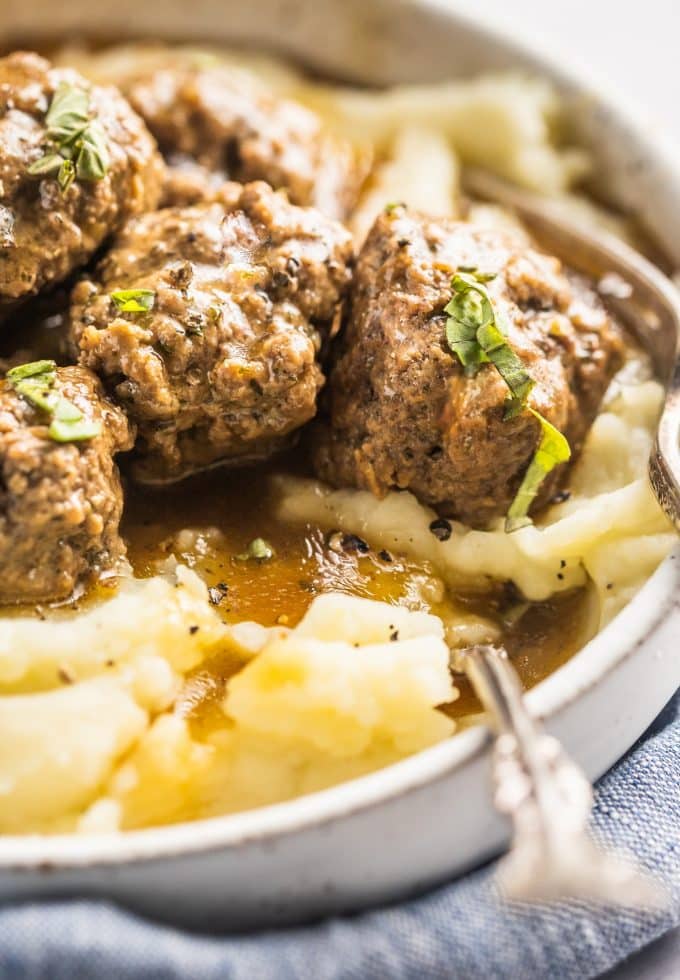 How to serve this
I recommend serving these meatballs over my Light & Creamy Mashed Potatoes. A great low carb alternative would be to serve these incredible meatballs over roasted veggies or a cauliflower mash.
More recipes like this:
Slow Cooker Turkey Meatballs in Marinara
Turkey Apple Breakfast Meatballs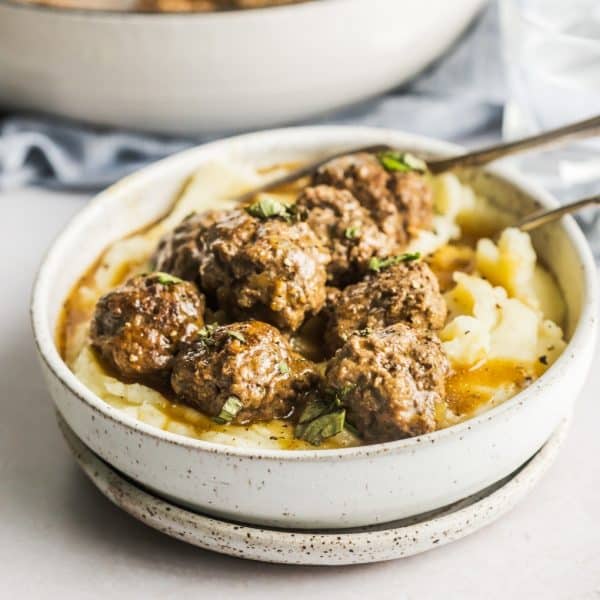 Meatballs in Gravy
These beef meatballs contain no breadcrumbs and simmer in an easy brown gravy. Load them up on mashed potatoes for a seriously delicious entree.
Ingredients
Meatballs
2 1/2 tbsp olive or avocado oil
1/2 white or yellow onion, finely diced
1 tbsp garlic, minced
2 lbs lean ground beef, I use 93/7.
1 egg
1/2 cup fresh parsley, chopped
2 tsp salt
1 tsp black pepper
1/2 tsp ground nutmeg
1/2 tsp ground allspice
Gravy
2 tbsp ghee or butter
1 1/2 tbsp arrowroot flour
3 cups beef stock
1 tbsp coconut aminos
1/2 tsp salt
1/4 tsp black pepper
1/4 tsp ground allspice
Instructions
In a large skillet saute your diced onions and garlic in 1 tablespoon of oil on medium heat. Cook until onion is translucent, approximately 3 minutes. Remove from heat.

In a large bowl, combine ground beef, egg, parsley, salt, pepper, nutmeg, and allspice with the sauteed onion and garlic. Use your hands to thoroughly combine ingredients. Then roll into evenly sized meatballs about 1 1/2 inches in diameter. This will yield approximately 30 to 32 meatballs. (You can make larger meatballs if you prefer but they will require more time to cook through. If your meatballs are 2 inches in diameter you'll have around 20 to 22 meatballs.)

Add remaining 1 1/2 tablespoons of oil to skillet. Add meatballs to skillet and brown all sides, flipping as needed. If using a 12" skillet you should be able to fit all the meatballs at one time. If using a smaller skillet, saute meatballs in batches. Remove meatballs from skillet and set aside once they're browned and almost cooked through.

To make the gravy, add ghee (or another cooking fat) and arrowroot flour to skillet. Whisk together and let simmer until bubbly. (It may have a gel consistency and that's okay as it will thin out when we stir in other gravy ingredients.) Whisk in beef stock, coconut aminos, salt, pepper, and allspice. Increase heat to medium-high. Add meatballs back into skillet with the gravy. Simmer for 8 to 10 minutes or until meatballs are cooked through and gravy is a bit thicker. Serve over my Light & Creamy Mashed Potatoes, roasted veggies, or mashed cauliflower.
Notes
Don't have arrowroot flour? Both tapioca flour and white flour will do the trick. Of course arrowroot and tapioca flour are the healthier choices and what I recommend.
Nutrition
Calories: 348kcal, Carbohydrates: 6g, Protein: 36g, Fat: 19g, Saturated Fat: 8g, Cholesterol: 134mg, Sodium: 1377mg, Potassium: 796mg, Fiber: 1g, Sugar: 1g, Vitamin A: 461IU, Vitamin C: 8mg, Calcium: 39mg, Iron: 4mg