Roasted Red Pepper Hummus
Make your own creamy red pepper hummus using canned chickpeas. It's a simple dip or spread that's easy to make at home!
For this recipe you'll need (full list of ingredients and instructions are in the recipe card below):
Canned chickpeas
Jarred roasted red peppers
Tahini
Water
Lemon juice
Olive oil
Minced garlic
Seasonings
What is tahini?
Tahini is made from roasted or raw sesame seeds. The brand I prefer is Mighty Sesame Co. The only ingredient in their tahini is roasted peeled organic sesame seeds. It comes in a squeeze bottle which I enjoy since tahini can separate a lot. (Some brands come in jars and I find its messier to stir it.) Just give the bottle a good shake before using.
Tahini is available in most grocery stores.
Can you use canned chickpeas without cooking them?
Canned chickpeas are already cooked but I've found that the hummus is significantly smoother if you take the time cook them again. This helps them break up a bit more and removes some of the skins. So yes, technically you can skip that step but your hummus won't be as smooth.
Food processor vs blender
You can use a food processor or a high powered blender (like a Vitamix) for this recipe. Not all blenders are created equal. Some blenders are designed for smoothies and lighter work. Those just won't do the job as well. A high powered blender will have stronger blades and the motor will have more horsepower. If you're not sure about your blender I'd stick with the food processor.
Can you make hummus in advance?
Absolutely! It will stay good in the refrigerator for up to 7 days so you can easily make it ahead of time. Just don't garnish it with extra oil, red pepper, or pine nuts until you're ready to serve.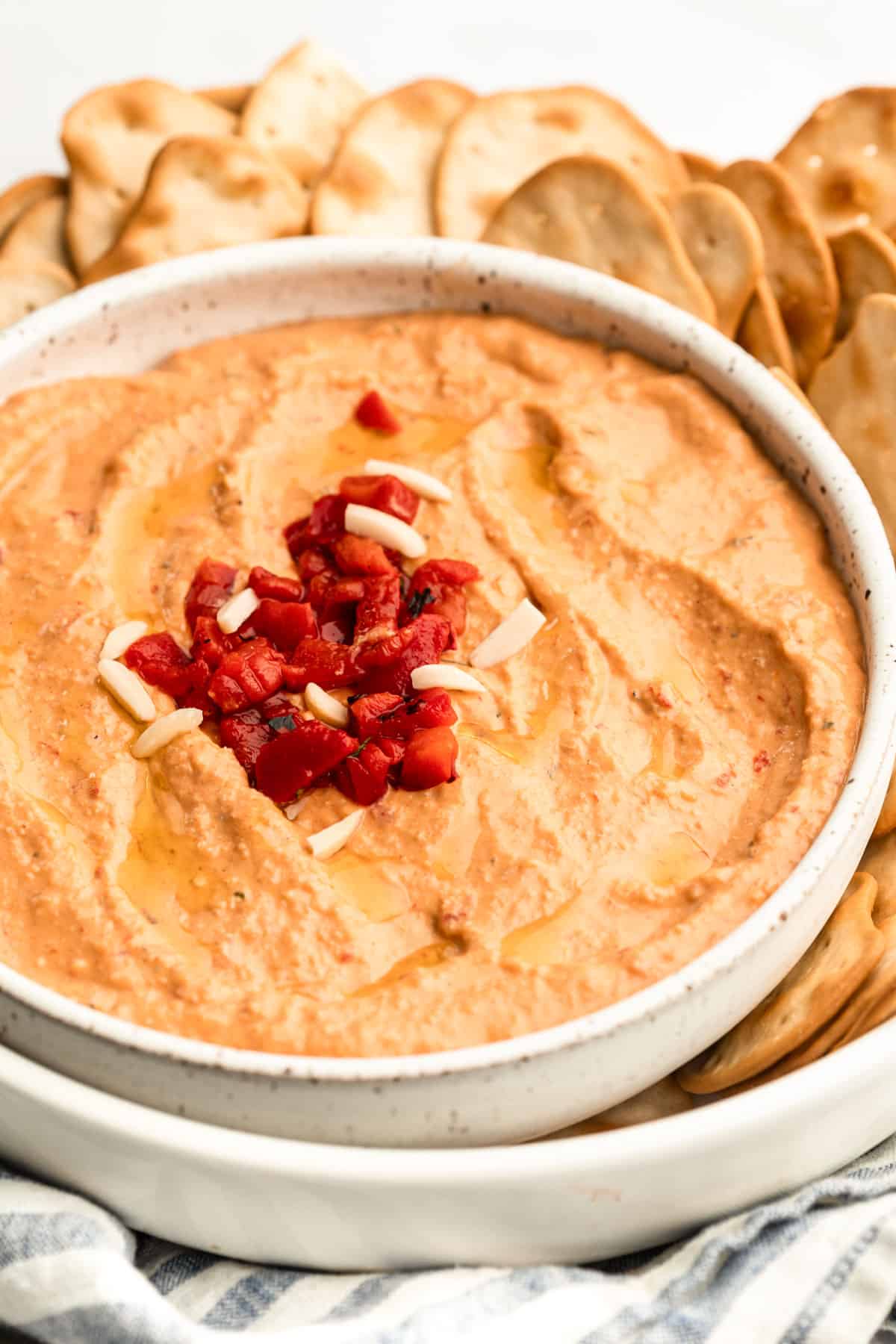 How to store hummus
Store hummus in an airtight container in the refrigerator for up to 7 days.
How to serve this
I recommend serving this hummus as a dip with crackers, pretzels, or fresh veggies. You'll also love it slathered in a sandwich or wrap. Add it to your charcuterie board! Thin it with a little water or oil to use it as a dressing for salads! It's really so versatile.
Roasted Red Pepper Hummus
Make your own creamy red pepper hummus using canned chickpeas. It's a simple dip or spread that's easy to make at home!
Ingredients
15 ounces canned chickpeas
½ cup jarred roasted red peppers, no liquid
⅓ cup tahini, smooth, if it's separated stir or shake it well first
¼ cup water
2 tablespoons lemon juice
2 tablespoons olive oil, extra virgin
1 teaspoon garlic, minced
¾ teaspoon dried parsley
½ teaspoon salt, Start at 1/2 tsp and add more according to your taste. I like 3/4 tsp.
½ teaspoon paprika
½ teaspoon cumin
Optional garnish: extra virgin olive oil, diced roasted red pepper, pine nuts
Instructions
Drain the liquid from the chickpeas, then rinse them with cold water, and drain again.

Add the chickpeas to a small or medium pot with enough water to completely cover them. Bring to a boil on high heat. Reduce heat to medium and simmer for 20 to 25 minutes. (The water should have some bubbling as you are simmering. Otherwise you won't get the final result we want.) Once the chickpeas are softened, pulpy, and falling apart remove them from the heat and drain in a colander. Don't worry if they look overcooked. That will help make our hummus smooth!

Scoop the chickpeas from the colander with your fingers and remove any skins that come off in your hands. This will make your finished hummus more smooth. Discard any skins you remove.

Add the chickpeas, jarred roasted red peppers, tahini, water, lemon juice, olive oil, minced garlic, dried parsley, salt, paprika, and cumin to a food processor or high powered blender. Blend until smooth. Taste and add more salt if you like. (I start with ½ teaspoon of salt in this recipe but personally prefer ¾ teaspoon salt in my finished hummus so adjust according to your preference.)

If the hummus isn't smooth enough:1. Continue to blend/process. It will get smoother the longer you do this.2. Add a little more water to help smooth out any stubborn chickpeas.

Spoon into a bowl to serve. Garnish with a drizzle of olive oil, diced roasted red peppers, and pine nuts. Enjoy with pita chips or raw veggies.
Notes
This recipe makes 2 cups of hummus. 
Nutrition
Serving: 0.25cup, Calories: 141kcal, Carbohydrates: 10g, Protein: 5g, Fat: 10g, Saturated Fat: 1g, Polyunsaturated Fat: 3g, Monounsaturated Fat: 5g, Sodium: 417mg, Potassium: 146mg, Fiber: 3g, Sugar: 0.1g, Vitamin A: 124IU, Vitamin C: 6mg, Calcium: 39mg, Iron: 1mg