Chicken in Mushroom Gravy
Oh you're going to love these tender chunks of chicken sautéed in a rich mushroom gravy. Enjoy over rice (white, brown, or cauliflower) or mashed potatoes! It's so good and simple. Ready in only 25 minutes!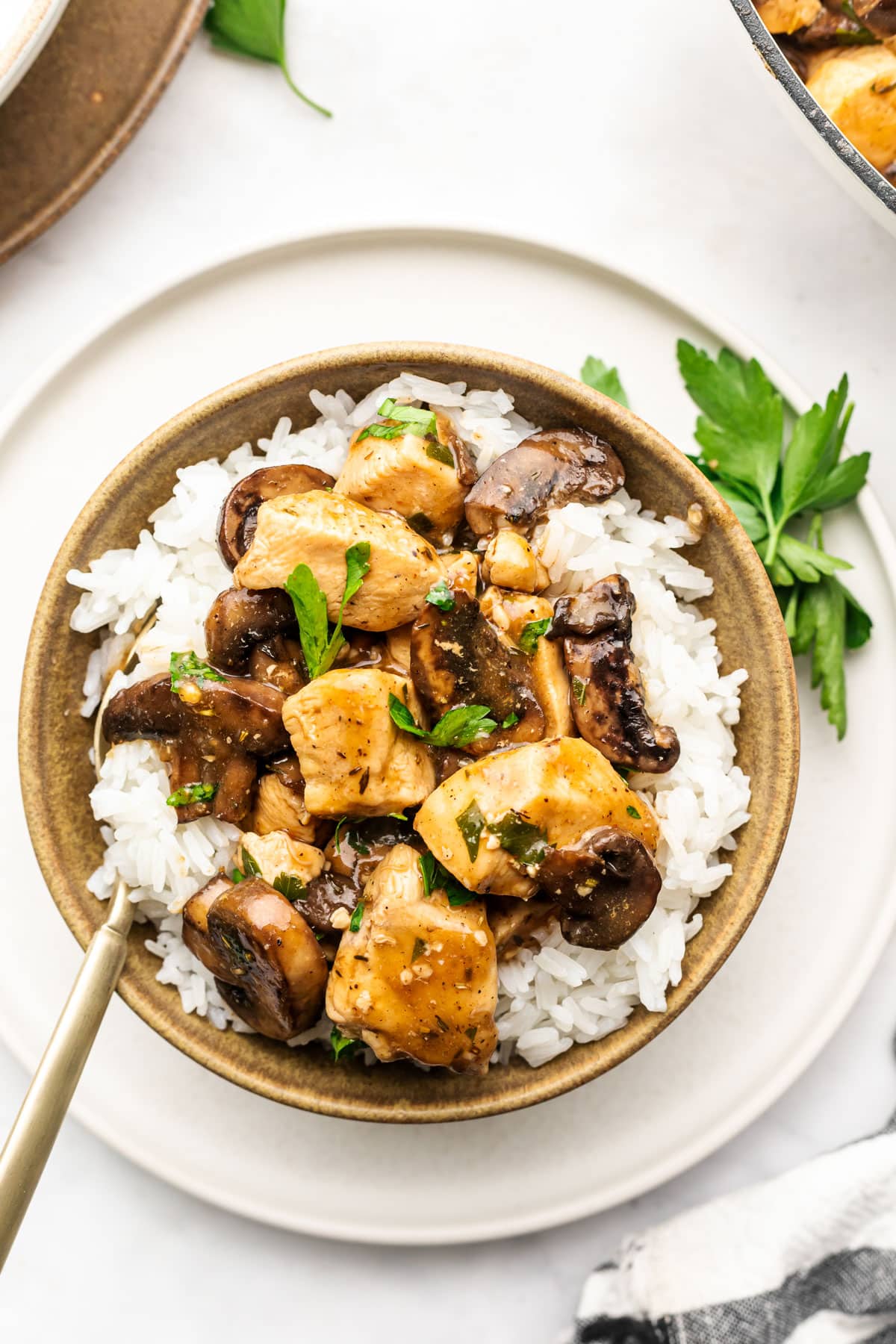 Update: This recipe was originally published in 2020 and has been republished with all new photos.
My Skillet Mushroom Steak Bites are a total crowd pleaser. I can't get enough of them and based on what I hear from ya'll on Instagram you feel the same. Because we all have excellent taste of course.
I wanted to create something similar to that ridiculously yummy entree but with chicken instead of steak. And that, my friend, is how I landed on this Chicken in Mushroom Gravy recipe. It's savory, flavorful, and tastes a lot like a classic Chicken Marsala!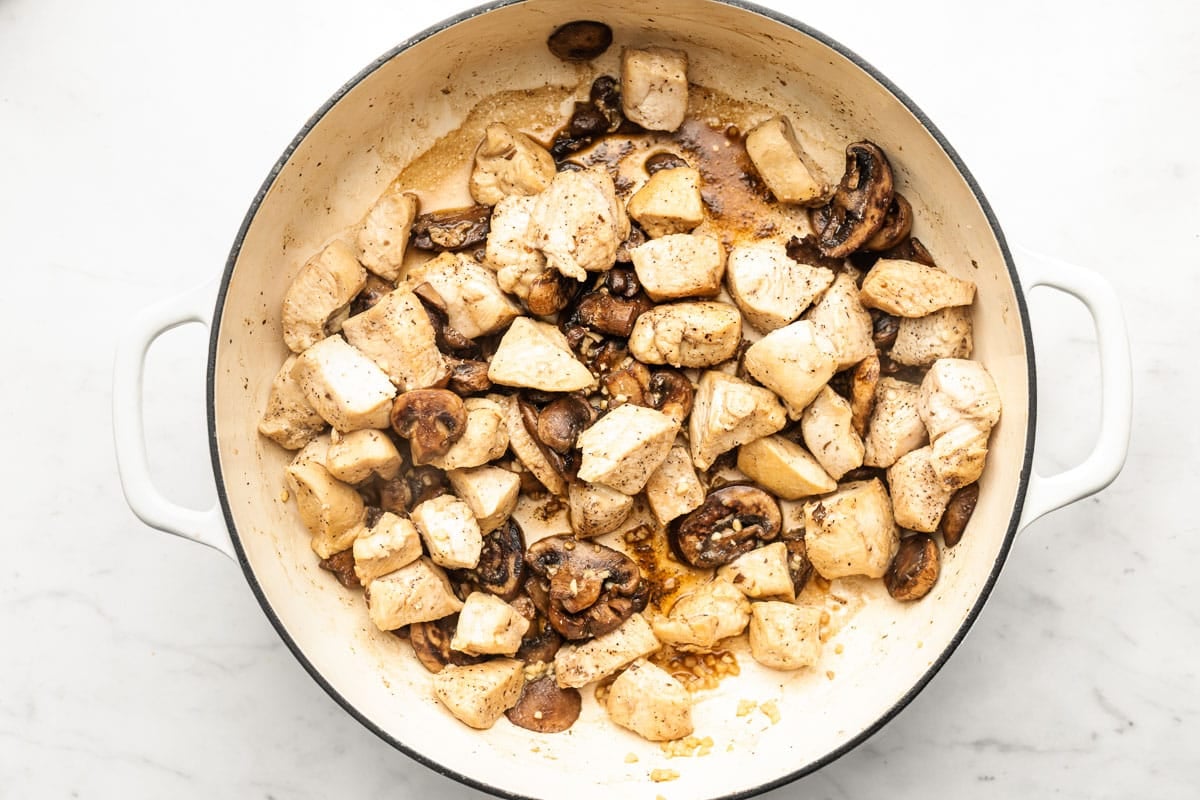 Chicken in Mushroom Gravy Ingredients
Olive or avocado oil: We're sautéing chicken and sliced mushrooms in a little oil to get them beautifully browned.
Chicken breasts: We're using boneless and skinless chicken breasts in this entree.
Sliced mushrooms: I prefer sliced baby portabello mushrooms but you can use whatever you prefer.
Minced garlic: You can mince your own garlic or use a jarred variety.
Chicken stock: The chicken stock helps create the gravy for this chicken. You can use chicken stock or broth.
Balsamic vinegar: The tangy balsamic vinegar adds so much flavor to our gravy.
Fresh parsley: Fresh parsley adds a bit of bright flavor.
Arrowroot flour: Arrowroot flour is my thickener of choice for sauces and gravy. It's less processed than cornstarch and white flour. Plus it's completely flavorless and thickens quickly!
Seasonings: Salt, black pepper, dried thyme, dried rosemary, onion powder, and paprika all create the perfect seasoning blend for this entree.
We start by chopping chicken breasts (or thighs if you prefer) into chunks. I like to do this before cooking because it drastically shortens our cooking time and makes it easier to achieve that great browning on each piece. Nobody wants beige chicken.
Then toss your chicken and mushrooms into a large skillet (11″ or 12″ nonstick skillet works perfectly) with oil. Salt and pepper. Sauté until chicken is golden in color.
Let's make that gravy, shall we?
For the gravy, add all remaining ingredients except for your parsley, arrowroot flour, and water. Bring it to a simmer so that everything is warmed.
Stir in fresh parsley.
To thicken the gravy, shake the arrowroot and water together in a jar to create a slurry. Pour it into your skillet and stir. Voila! It thickens almost immediately.
Ladle this all over rice (traditional or cauliflower) or my Light & Creamy Mashed Potatoes. Aaaaaand now I'm hungry. Story of my life.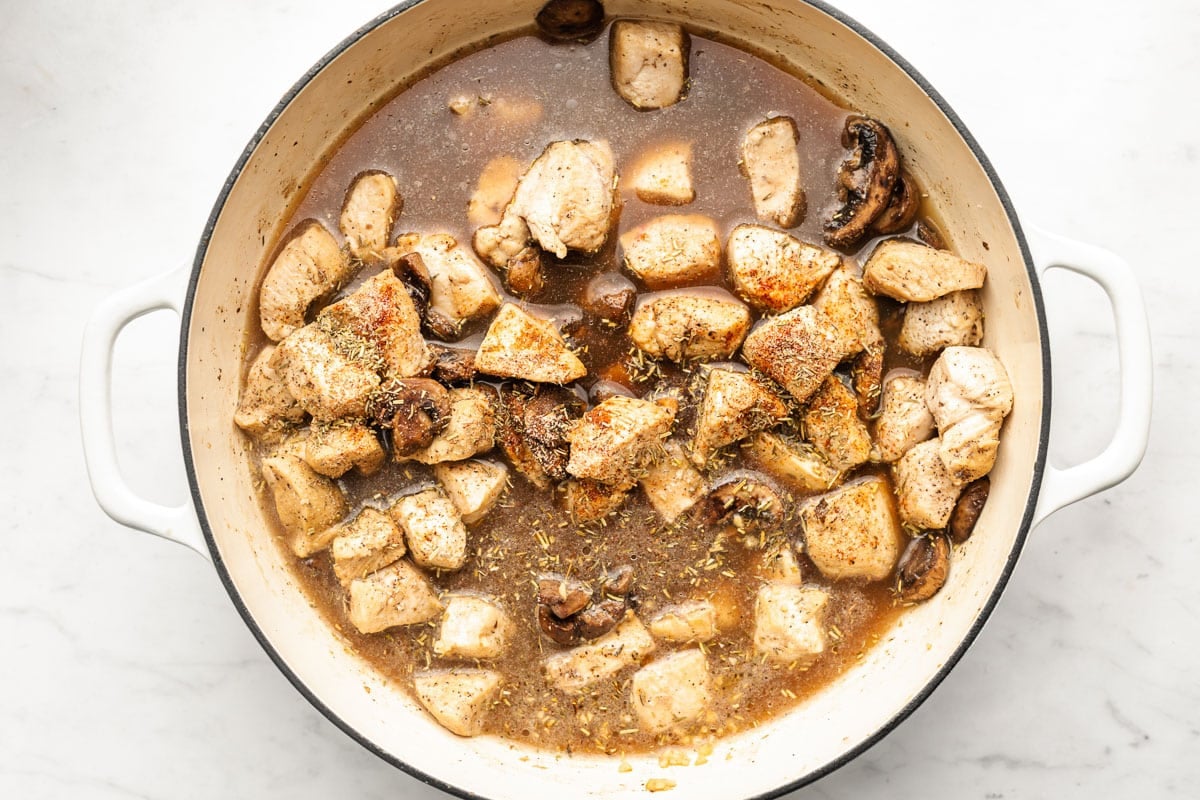 How to make this Whole30 compliant?
This recipe is completely Whole30 compliant! If you're on Whole30 you'll want to serve this over something that is also compliant. I recommend cauliflower rice, mashed potatoes (make sure they're Whole30 like my Light & Creamy Mashed Potatoes), or roasted veggies (try my Easy Roasted Broccoli).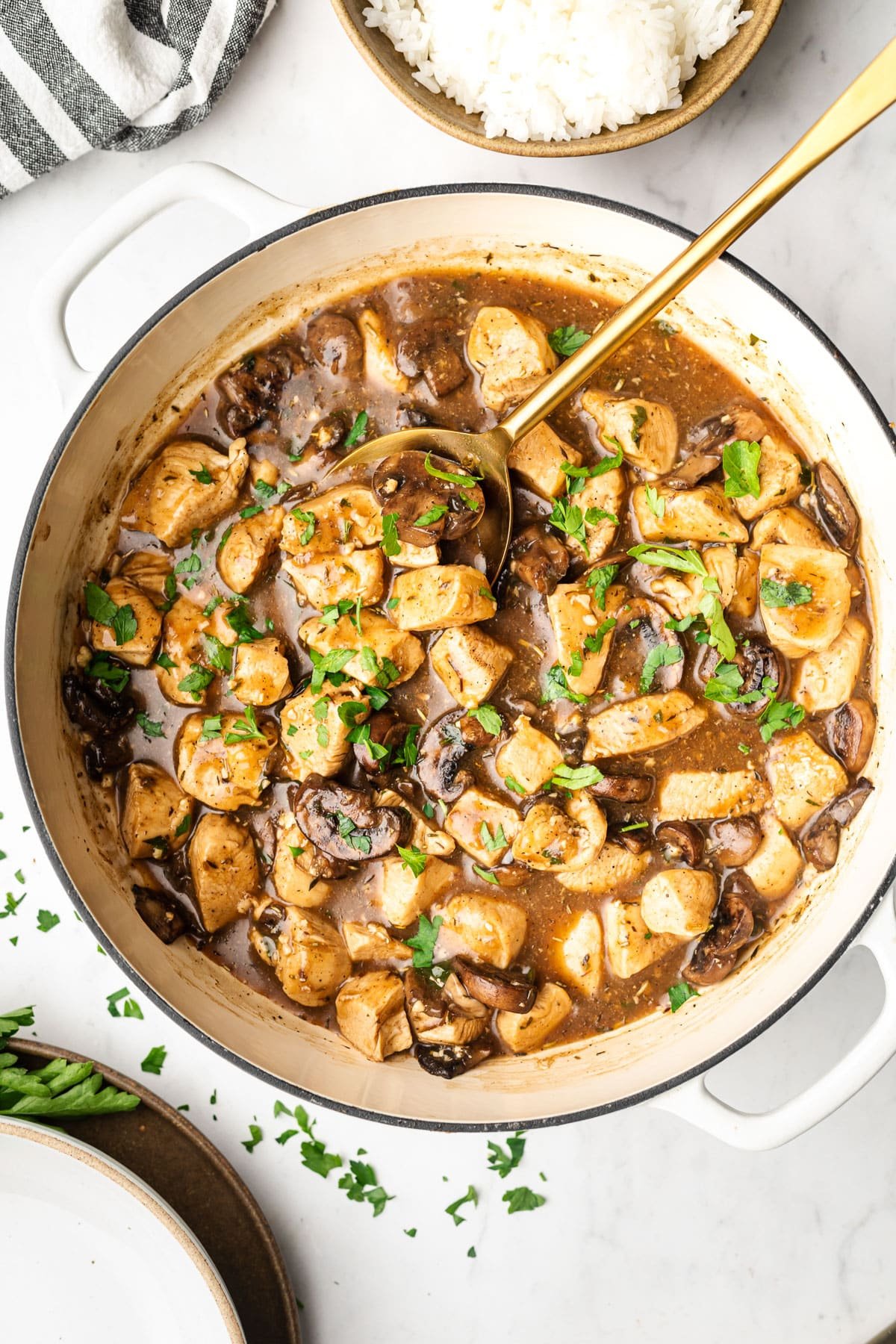 What is arrowroot flour?
Arrowroot flour is a starch extracted from the arrowroot plant and it is a fantastic substitute for cornstarch or regular white flour. It's a lot less processed, completely flavorless, and blends into everything. It cannot be used in exactly the same way as other thickeners so be sure to follow recipe instructions so you're using it correctly. In this recipe (and in many of my recipes) I like to shake it with equal parts cool water to create a slurry. Then I add that into whatever I'm thickening at the end of my cooking time. (Heating it too long can make it lose it's ability to thicken.)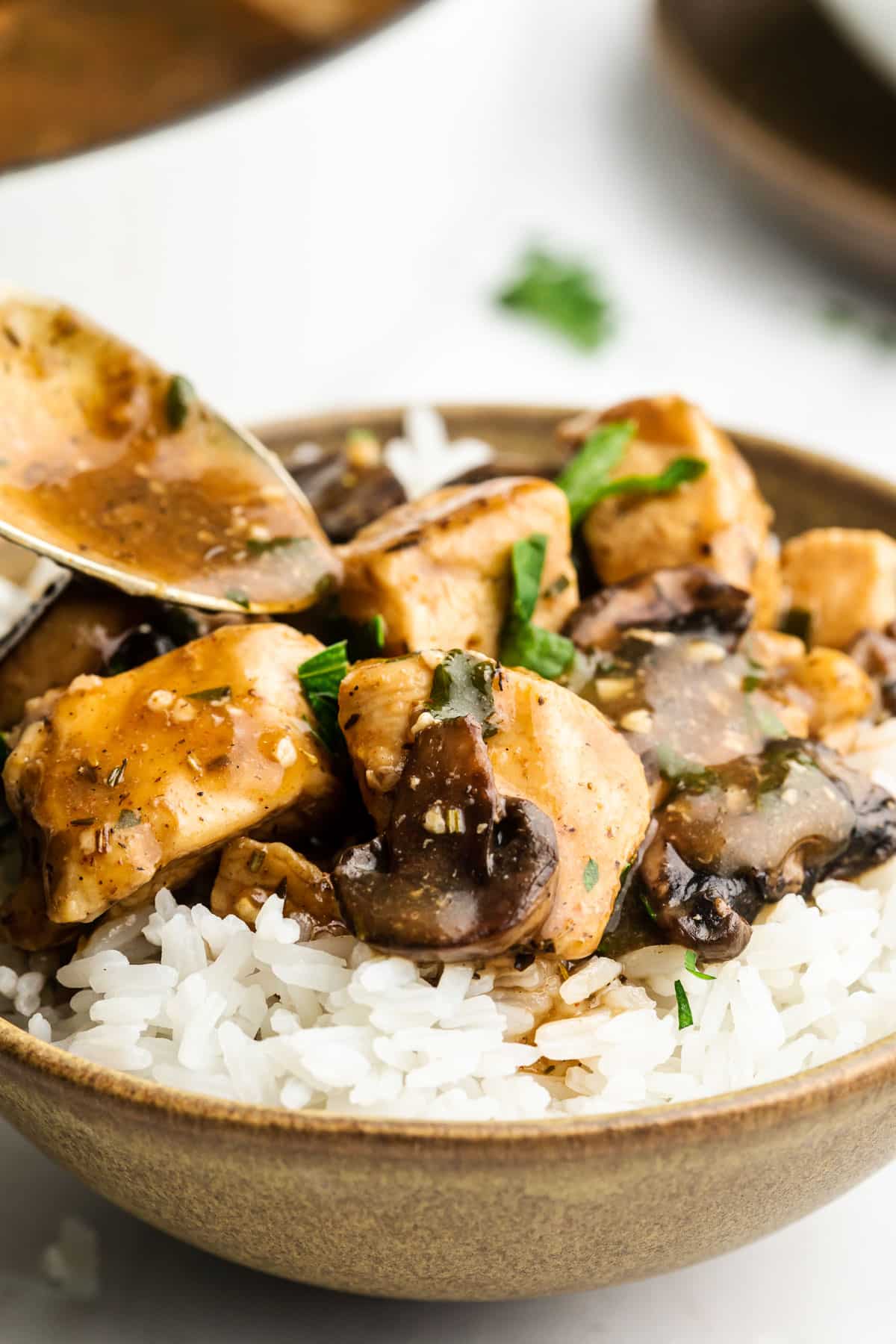 How to serve this
This gravy is outrageously good so be sure to serve this chicken over something that can sop it all up! I recommend my Light & Creamy Mashed Potatoes. If you're not a mashed potato fan (how dare you) try Easy Seasoned Roasted Potatoes, Easy Diced Air Fryer Potatoes, or Skillet Breakfast Potatoes. Steamed cauliflower rice or traditional rice work great too!
Thinking of a green side? I recommend my Spicy Roasted Broccoli, Easy Roasted Broccoli, Balsamic Bacon Brussels Sprouts, Garlic Green Beans, Simple Sautéed Cabbage, Roasted Brussels Sprouts, or Roasted Green Beans with Almonds.
Want to add more color to your plate? These Roasted Ranch Veggies will give you your vegetable fix and look so dang pretty. You'll enjoy these Roasted Parsley Carrots and my Roasted Red Cabbage too.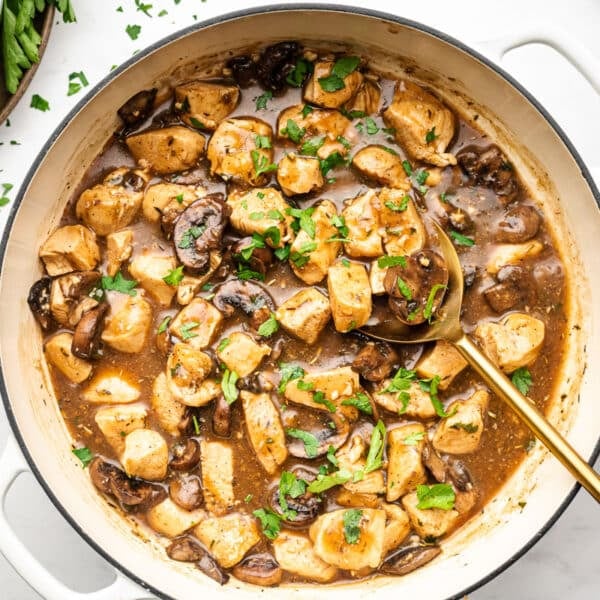 Chicken in Mushroom Gravy
Oh you're going to love these tender chunks of chicken sautéed in a rich mushroom gravy. Enjoy over rice (white, brown, or cauliflower) or mashed potatoes! It's so good and simple. Ready in only 25 minutes!
Ingredients
2 tbsp olive or avocado oil
1 1/2 lbs chicken breasts, Cut into 1-inch pieces, Can use chicken thighs if preferred.
8 oz sliced mushrooms, I prefer sliced baby bella mushrooms when available.
1 tsp salt
3/4 tsp black pepper
1 tbsp garlic, minced
2 cups chicken stock
3 tbsp balsamic vinegar
1/2 tsp dried thyme
1/2 tsp dried rosemary
1/2 tbsp onion powder
1/4 tsp paprika
1 tbsp fresh parsley, chopped
1 tbsp arrowroot flour
1 tbsp cold water
Instructions
Heat 2 tablespoons of oil in a large skillet (I use my 12") over medium-high heat. Once oil is hot, add chicken and mushrooms. Season with salt and pepper. Sauté, flipping occasionally, for 7 to 10 minutes or until chicken has some browning and mushrooms are tender.

Add the minced garlic. Sauté until garlic is golden, about one minute.

Reduce heat to medium. Add chicken stock, balsamic vinegar, thyme, rosemary, onion powder, and paprika. Stir to combine. Simmer uncovered for 4 to 5 minutes or until gravy is heated through. Taste and add more salt and pepper if desired.

Stir in chopped fresh parsley.

To thicken gravy, turn off heat. In a small container combine arrowroot flour and water. Shake. Pour the mixture into your gravy and stir so it's thoroughly mixed in. You'll notice the gravy begins to thicken immediately.
Nutrition
Calories: 337kcal, Carbohydrates: 12g, Protein: 41g, Fat: 13g, Saturated Fat: 2g, Cholesterol: 112mg, Sodium: 958mg, Potassium: 949mg, Fiber: 1g, Sugar: 5g, Vitamin A: 206IU, Vitamin C: 5mg, Calcium: 22mg, Iron: 1mg