Creamy Herb Mushroom Chicken
These chicken thighs simmer in a creamy mushroom sauce. Serve over white rice, cauliflower rice, or roasted potatoes.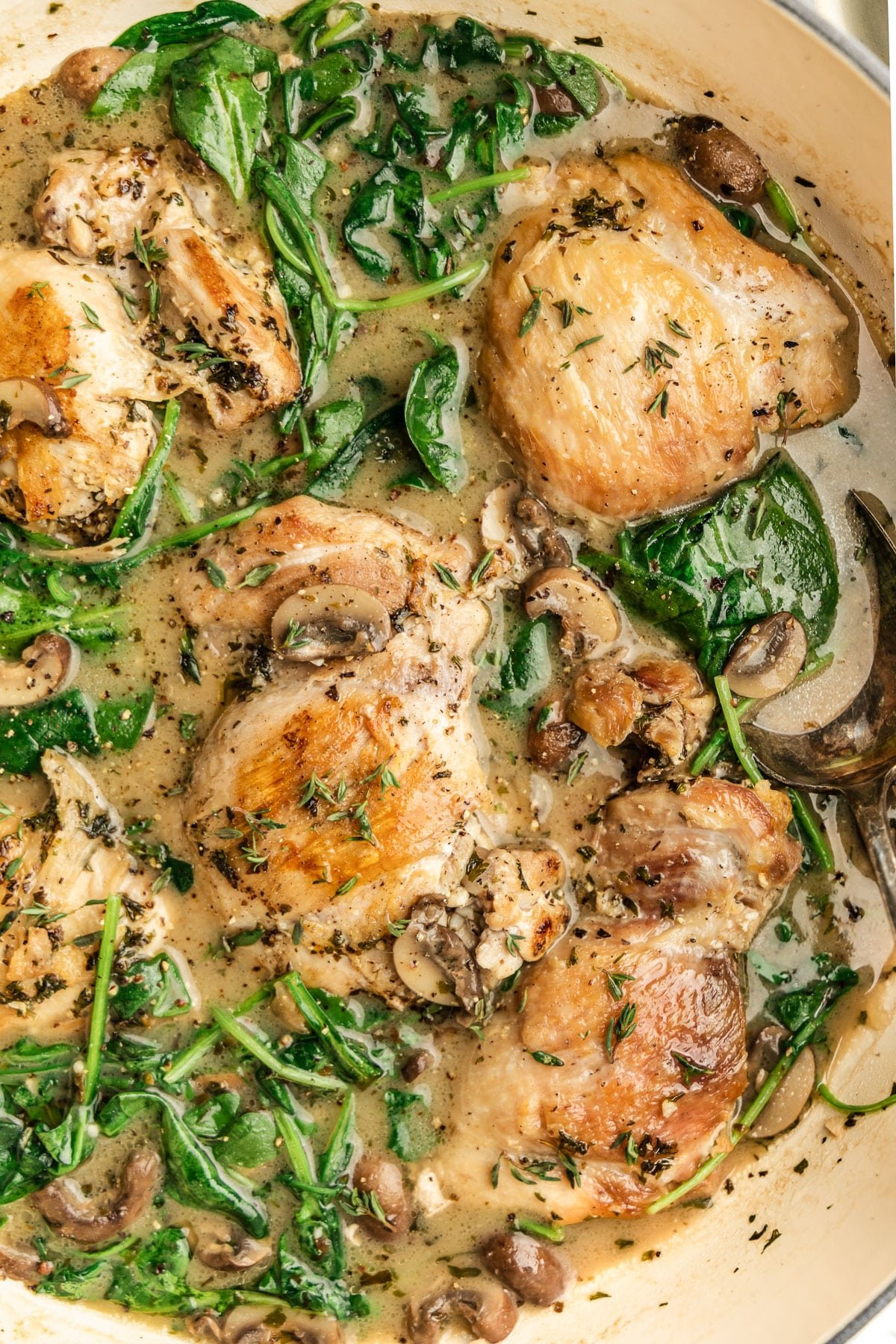 Update: This recipe was originally published in 2017 and has been republished with all new photos.
I love this saucy chicken so very much. The first time I made it my whole family gobbled it up including my anti-veggie husband and children (who aren't really anti-veggie but they're kids so really there's no telling what they'll like and what they won't).
The chicken stock, coconut milk, herbs, and spices create a flavorful sauce that you'll want to lap right up.
You will not taste any coconut in here. I use a full fat unsweetened canned coconut milk. Don't use the coconut milk you'll find in the refrigerator section. The consistency is much thinner since it has a higher water content so it won't give you the creamy texture you want in a good sauce. The canned milk (assuming you're not purchasing a low fat one) is thick and perfect for dairy free sauces.
The secret to thickening the sauce is arrowroot flour. Arrowroot is a fantastic substitute for cornstarch or regular white flour. It's completely flavorless so it blends into everything. The trick is to the add it to your sauce at the end of your cooking time. (Heating it too long can make it lose it's ability to thicken.)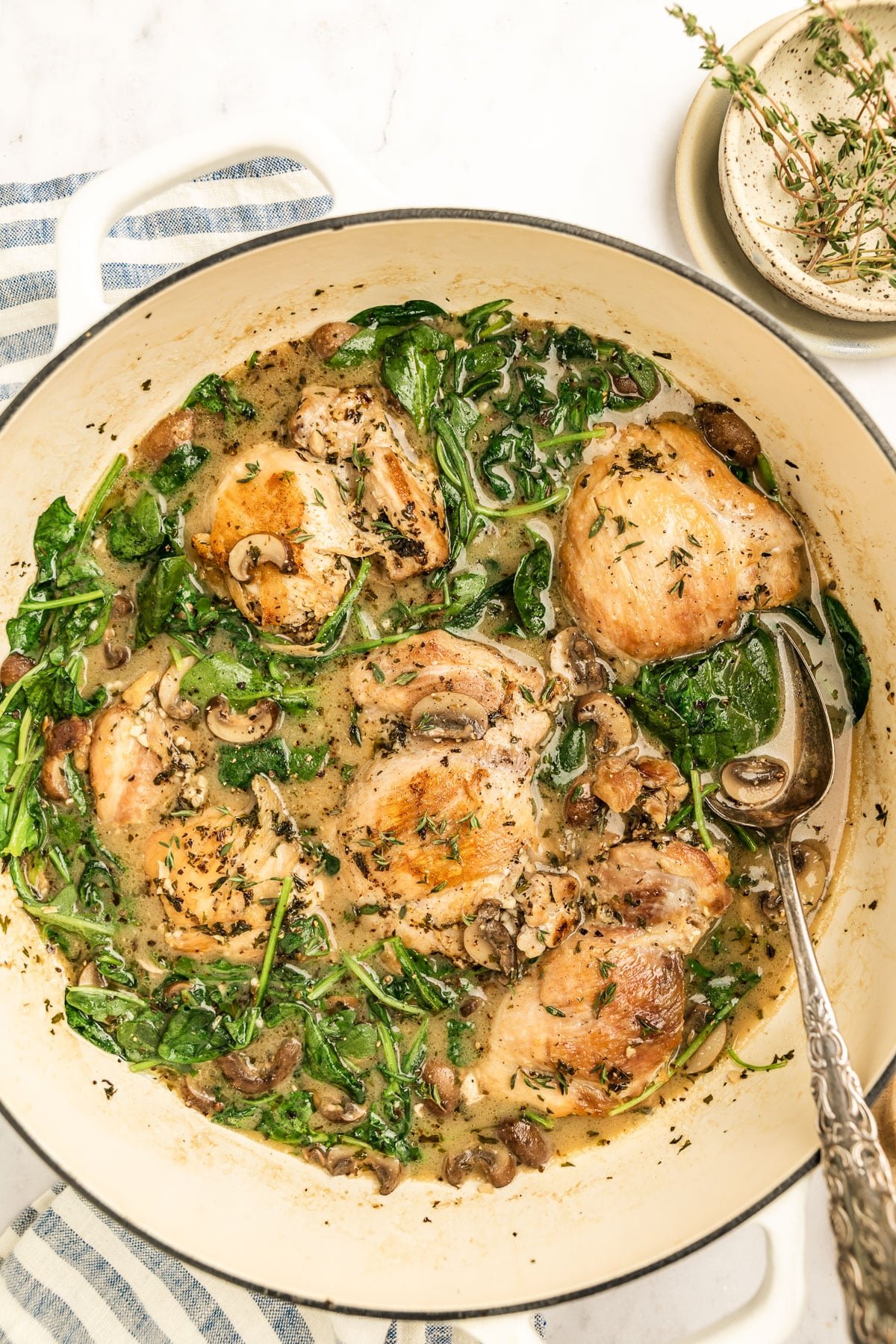 For this recipe you'll need (full list of ingredients and instructions are in the recipe card below:
Chicken thighs, skinless and boneless
Sliced mushrooms
Chicken stock
Canned unsweetened coconut milk
Spinach or spinach and arugula blend
Arrowroot flour
Fresh thyme
Seasonings
Can you use chicken breasts instead of thighs?
I am typically a chicken breast gal but sometimes you've just got to go for the thighs. They're so juicy. Plus they're less expensive (score!). But, yes, you can substitute chicken breasts if you prefer.
Can you omit the arrowroot flour?
If you don't have arrowroot flour you can definitely make this dish without it. You'll have a thin sauce but the taste will remain the same.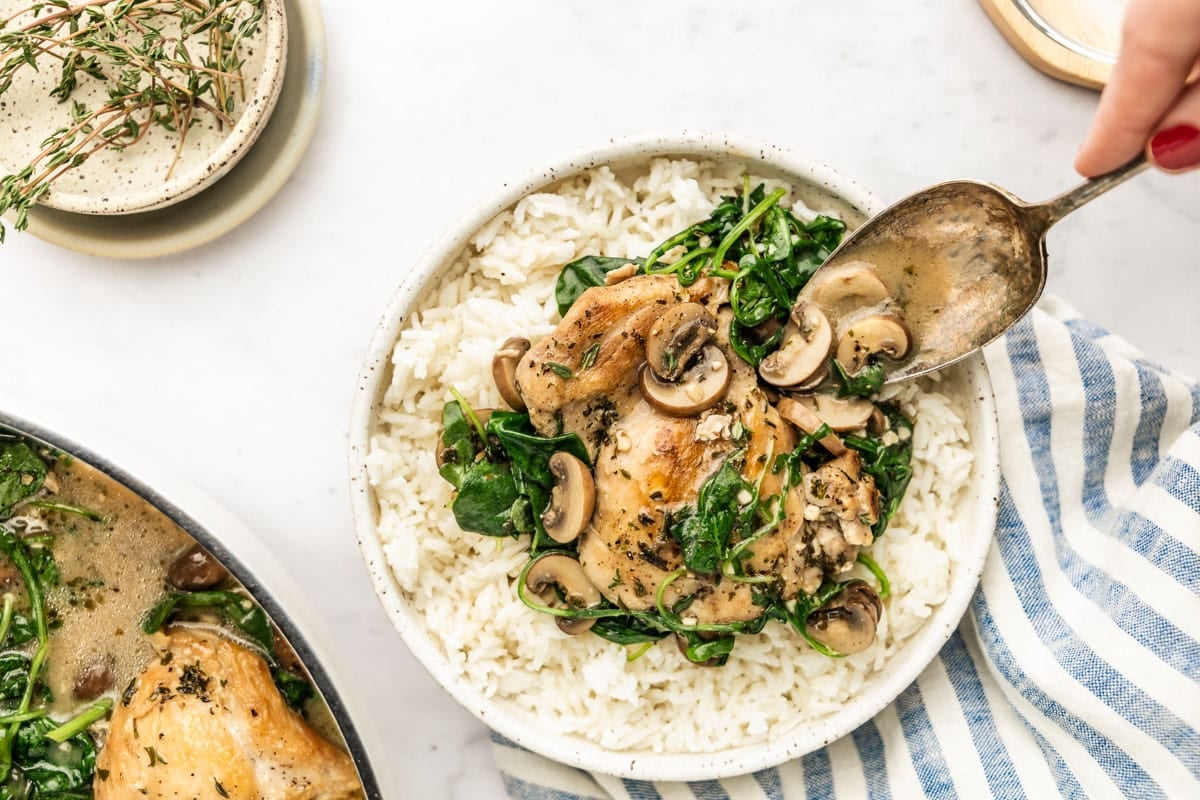 Why use unsweetened canned coconut milk?
Canned coconut milk is my favorite way to make dairy free recipes creamy. It's thick and if you're not using too much you won't get a strong coconut flavor. There really is no coconut taste in this sauce.
It's important to make sure you don't use a sweetened can though. That drastically changes the flavor and won't work well.
Can you use a different milk?
I get this question often but you really do need to stick with canned unsweetened coconut milk. Don't even use the coconut milk that comes in a box or in the refrigerated section. Canned coconut milk is thick and not as watered down as other milks. That's important for thickening our sauce!
I prefer Thai Kitchen (make sure it says unsweetened and does not say low fat) but there are other brands that work well too!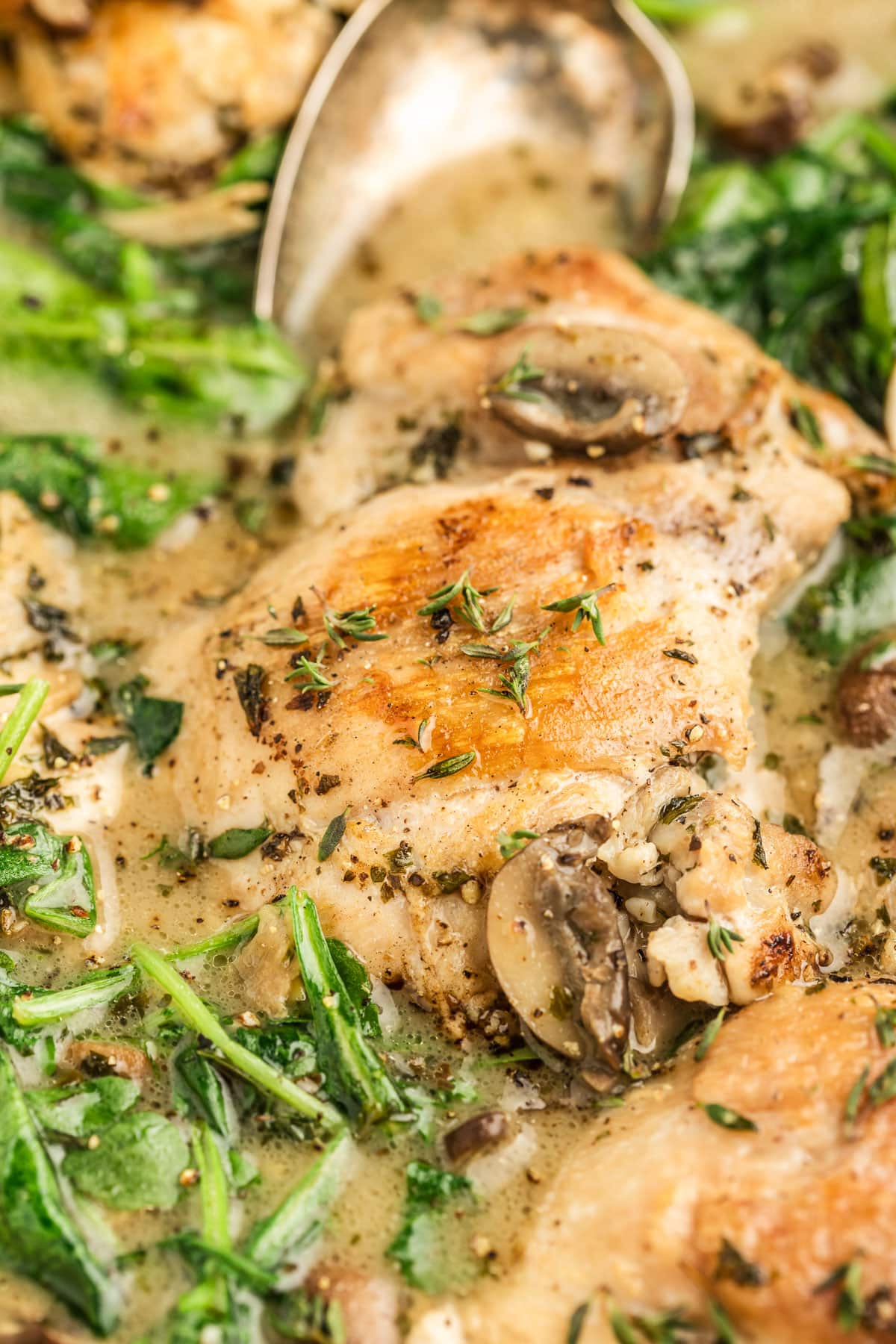 How to store leftovers
Leftovers can be stored in an airtight container in the refrigerator for up to 3 days.
How to serve this
To best take advantage of every drop of this deliciousness I recommend serving it all over roasted potatoes, a potato hash, cauliflower rice, or traditional rice. You certainly can enjoy it by itself though!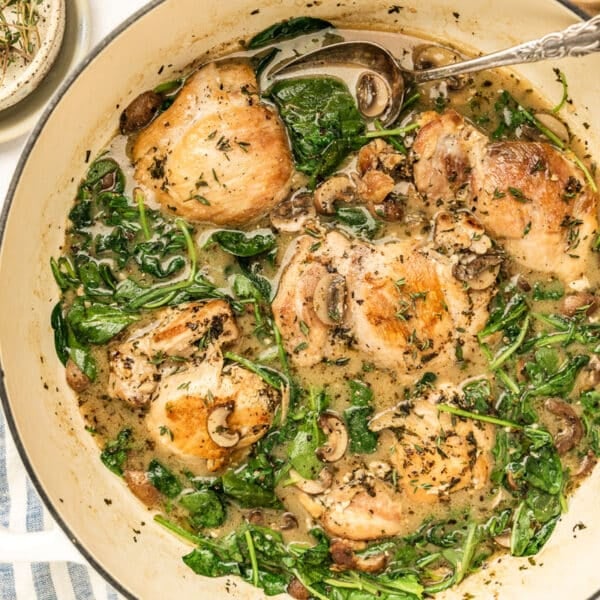 Creamy Herb Mushroom Chicken
Creamy Herb Mushroom Chicken is a delicious dinner that cooks in a creamy garlicky sauce. It's ready in 30 minutes! Plus it's dairy free, gluten free, and Whole30 compliant!

Ingredients
Chicken Thighs
6 chicken thighs, skinless & boneless
salt & pepper
1 tbsp olive or avocado oil, You can also use ghee or butter
Herb Mushroom Sauce
2 cups sliced mushrooms, fresh
1 cup chicken stock or broth
1/2 cup unsweetened canned coconut milk, full fat (not the light variety)
1/2 tablespoon dried parsley
1/2 tablespoon dried basil
1/2 tablespoon garlic, minced
1/2 teaspoon garlic powder
1/2 teaspoon salt
1/4 teaspoon pepper
4 cups fresh spinach, I like to use a spinach and arugula blend
1 tablespoon arrowroot flour
1 tablespoon water
fresh thyme for topping
Instructions
Add 1 tablespoon of oil to a large saute pan or cast iron skillet.

Heat pan to medium high heat. Once it's hot add your chicken thighs. You'll know the pan is hot enough if you get a good sizzle when you add the chicken. Sprinkle with salt and pepper.


Brown chicken thighs on both sides. This can take 3 – 5 minutes per side.

Reduce heat to medium.

Add mushrooms, chicken stock. coconut milk, dried parsley, dried basil, minced garlic, garlic powder, salt, and pepper to the pan. Cover and cook for 10 minutes or until chicken is cooked through.

Remove chicken thighs from pan.


In a small jar shake together 1 tablespoon arrowroot flour and 1 tablespoon water. Then stir it into your sauce. The arrowroot flour will completely blend into the sauce and you'll notice the sauce thicken very quickly. (Unlike white flour you do not want to cook the arrowroot into the sauce at all.)

Stir in your spinach (or spinach and arugula blend).

Place chicken thighs back in pan and top with chopped fresh thyme.

Serve over roasted potatoes, potato hash, cauliflower rice, or traditional rice to best take advantage of the yummy sauce.
Notes
You can omit the arrowroot powder if you like. Your sauce will still be tasty but it will be thin.
Nutrition
Serving: 1chicken thigh with sauce, Calories: 338kcal, Carbohydrates: 5g, Protein: 21g, Fat: 25g, Saturated Fat: 10g, Cholesterol: 111mg, Sodium: 359mg, Potassium: 537mg, Sugar: 1g, Vitamin A: 1965IU, Vitamin C: 6.9mg, Calcium: 42mg, Iron: 2.5mg