Instant Pot Beef Stew
There is nothing more comforting than this Instant Pot Beef Stew. It's simple, hearty, and absolutely delicious. You'll love how easy it is to make and you won't believe it didn't simmer for hours. Because, friend, who has time for that?
I am honestly giddy to share this Instant Pot Beef Stew with you. You probably already know I'm soup obsessed (it's no secret) but stew has never been my favorite. That's pretty surprising I think since comfort food is my jam. I just always found most beef stews to be a little underwhelming. Not this one. It is so rich and flavorful I swear I swooned like a romance novel heroine when I had my first bite. Don't judge. I clutched my chest and asked for smelling salts and everything. Good food can do that to me.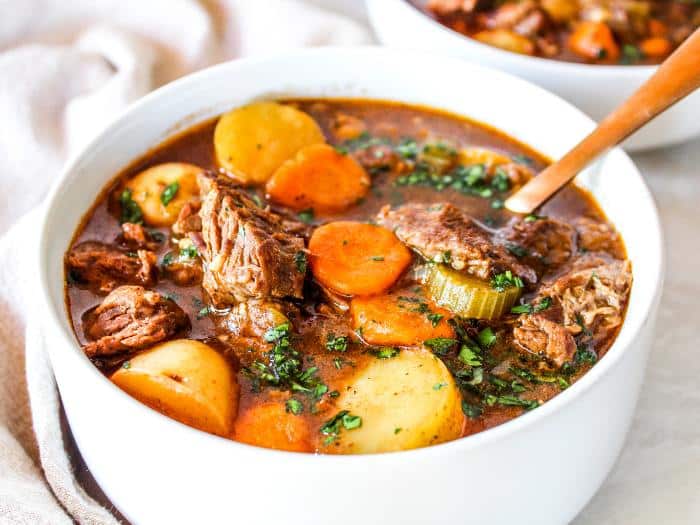 There are a few things that really make this a spectacular stew. First, it's fast. That's enough to get me excited. Same? Second, we take the time to sear the meat and sauté the garlic, onion, and celery to really bring out those big flavors. Third, plenty o' veggies. And finally, the balsamic vinegar. You might be surprised by that one. I hear ya. It's one of my favorite replacements for wine (which you find in lots of stew recipes) and it brings a depth of flavor to this recipe that you just can't beat.
I top my finished stew with chopped fresh herbs because I'm always pro fresh herbs wherever possible and literally always have some in the fridge I want to use up before it goes bad. You can always skip that if you're not so inclined.
Why no flour in this stew?
You may notice that this Instant Pot Beef Stew doesn't include any flour. Gasp! Most stews use flour to thicken the broth but honestly this doesn't need it. Your potatoes serve as a natural thickener and I love the texture of the finished stew. I find it to be plenty thick and hearty!
However, if you do want to thicken your stew I won't stop you! A great way to accomplish this while still sticking to clean ingredients is to incorporate arrowroot flour. If you're new to arrowroot flour there are a few tricks to working with it but once you try it you'll be a fan. Just remember to add after cooking is complete (not during cooking) and always mix with equal parts cold water to create a slurry.
Start with one tablespoon arrowroot flour and shake it in a small jar with one tablespoon cold water. (Yes, it must be cold. Don't use hot water.) Then stir your flour slurry into the stew and watch it thicken. Add another tablespoon of flour and water (always shake together first) if you need more.
Slow Cooker Instructions (if Instant Pot isn't your thing)
Add olive oil and stew meat to a skillet on the stove top (medium high heat) to get a quick browning on the outside of your beef. Beef should not be cooked through.
Once you've seared your meat, add the onion, celery and garlic. Let it sauté while you stir until fragrant and onion is a bit translucent.
Deglaze the pan with balsamic vinegar, scraping up all the yummy browned bits on the bottom.
Pour everything from the pan to your slow cooker. Add in all other ingredients. Stir. Cover and cook on low heat for 6-8 hours or high heat for 3-4 hours.
I hope you enjoy this recipe as much as I do. It's that time of year for all the soups and stews so give it a try!
More recipes like this:
Instant Pot Buffalo Chicken Sweet Potato Soup
Instant Pot Sweet Sesame Chicken
Instant Pot Beef Stew
There is nothing more comforting than this Instant Pot Beef Stew. It's simple, hearty, and absolutely delicious. You'll love how easy it is to make and you won't believe it didn't simmer for hours. Because, friend, who has time for that?
Ingredients
2 to 2 1/2 lbs stew beef or beef chuck roast, Cut into 1 1/2 inch pieces.
3 tbsp olive oil, Can use another cooking fat of choice.
2 tbsp garlic, minced
1 large white or yellow onion, diced
1 1/2 cups celery, chopped
1/4 cup balsamic vinegar
3 cups beef stock
3 tbsp tomato paste
1 1/2 lb baby potatoes, halved, about 4 cups
1 1/2 cups carrots, cut into circles
2 tsp salt
2 tsp pepper
1 tsp dried thyme
1 tsp dried rosemary
1 tsp dried oregano
fresh herbs to garnish when serving, (optional)
Instructions
Turn your Instant Pot to the sauté setting. When it's hot, add your olive oil (or another cooking fat of choice) and then your stew meat. Sauté your beef until you get some nice browning, stirring constantly. This only takes about 2 minutes if your pot is hot when you start.

Add onion, celery, and minced garlic to the Instant Pot. Stir and let the onion get a bit translucent, about 2 to 3 minutes. Once done press the cancel button to stop sautéing.

Pour the balsamic vinegar in the Instant Pot first to deglaze the bottom. Use a spatula and scrape up any of those amazing bits that caramelized and may be stuck after sautéing. There's so much flavor in there and we don't waste it, friend.

Now add the rest of the ingredients. Everything goes in!

Seal the Instant Pot. Set it to Pressure Cook (or Manual, depending on the model Instant Pot you have) on high pressure for 30 minutes.

Once cooking is complete, natural release pressure for at least 10 minutes. (That means don't release the steam. Just let it do it's thing on it's own.) This will result in more tender meat and it's totally worth it! (But yes, you can do a quick release if you don't have the time to wait.) Ladle into bowls and top with chopped fresh herbs if you're wanting it to look extra gorgeous. Enjoy!
Nutrition
Serving: 1cup, Calories: 212kcal, Carbohydrates: 15g, Protein: 19g, Fat: 7g, Saturated Fat: 1g, Cholesterol: 46mg, Sodium: 606mg, Potassium: 761mg, Fiber: 2g, Sugar: 3g, Vitamin A: 2790IU, Vitamin C: 14.4mg, Calcium: 49mg, Iron: 2.6mg