30+ Healthy Whole 30 & Paleo Snacks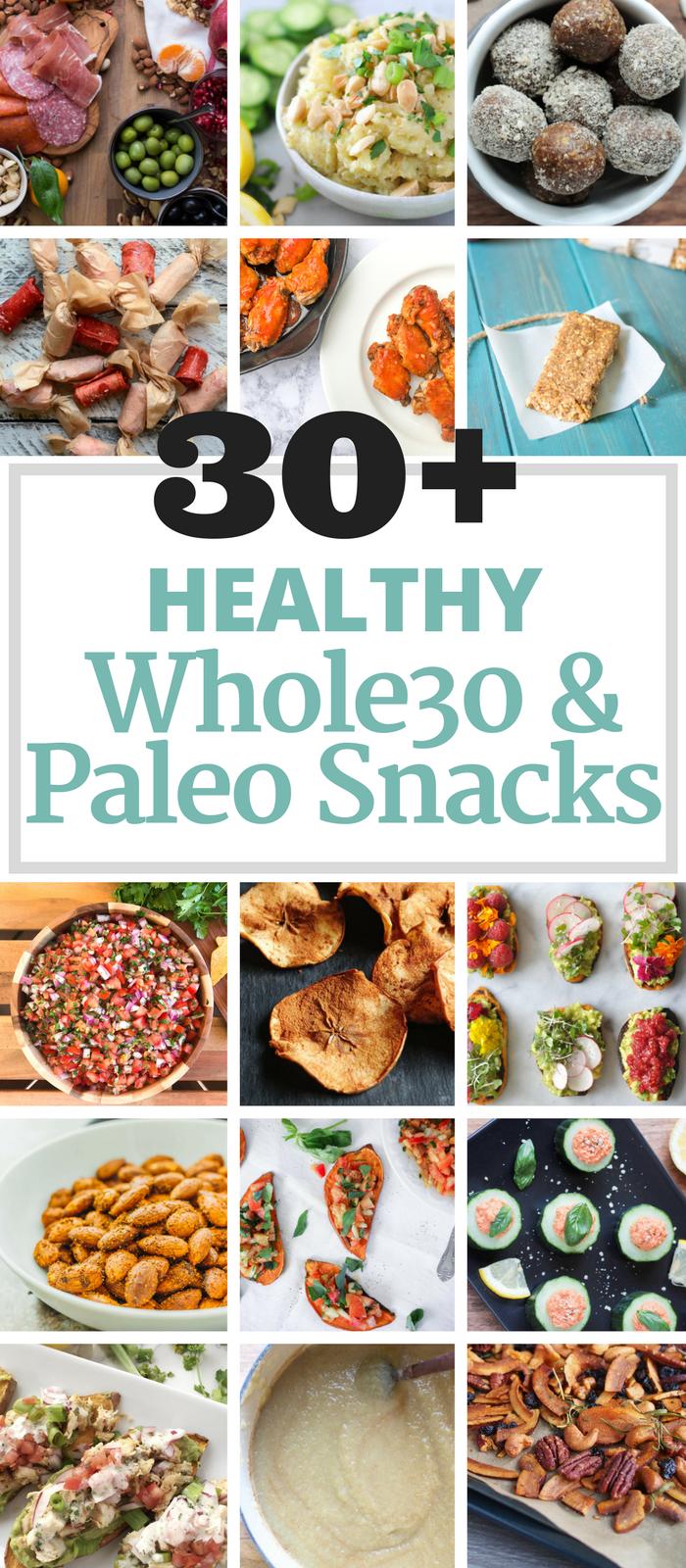 In 2015 I completed 90 days of Whole30. No dairy. No grains. No sugar. No fun. Kidding. It was fun. I know it sounds like a slow and painful torture but I loved it. I had a fantastic experience. I did it because I had developed some poor eating habits. Lots of fried food and sweet tea. (I'm very southern apparently.) I also suffered for years from allergies and I suspected that food was the culprit. I wanted to reset my body. I wanted to identify what I was eating that was causing my year-round congestion. I wanted to eliminate my dependence on junk. Whole30 did all that for me. It's been well over a year since I finished the program and I'm still carrying the lessons I learned with me.
The biggest challenge that I see people struggle with while on Whole30 is snacking. There's so much that's forbidden that sometimes trying to figure out what you can have feels overwhelming. What can you eat in between meals? Additionally, because our family is a minimum of 8 hours away, we take a lot of road trips throughout the year. I needed to figure out what I could eat while traveling since my usual Wendy's stop wouldn't work anymore.
Today I'm sharing some of my favorite Whole30 snacks with you. Some work well while traveling. Some are big hits at parties. All are delicious. Of course you don't have to be on Whole30 to enjoy these. They're perfect for anyone trying to make healthy decisions.
1. Oven Baked Buffalo Wings by The Whole Cook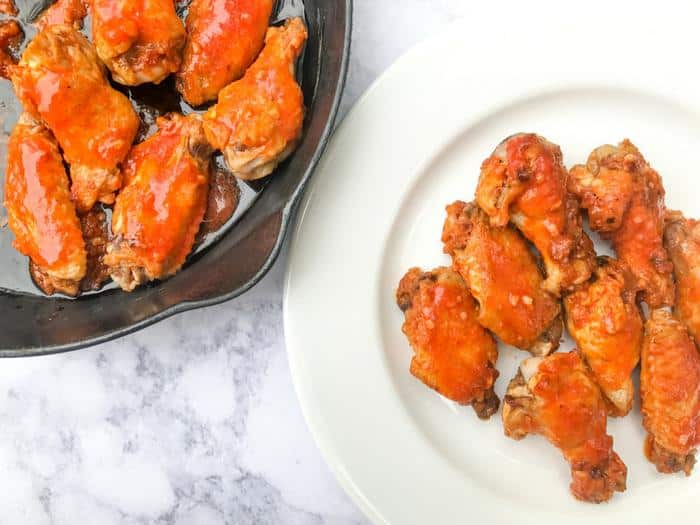 2. Tuna Salad + Lettuce Wraps
Make sure you use Whole30 compliant mayo and pickles.
3. Easy Egg Wraps by The Lean Green Bean
These are easy and you can freeze them! Select Whole30 compliant ingredients for your filling. Turkey, avocado, veggies, etc.
4. Spicy Smoky Garlic Almonds by Savory Tooth
5. Homemade Apple Sauce by Bet on Dinner
6. Rosemary & Cayenne Coconut Chips (Toasted Trail Mix) by The Worktop
7. No Bake Apple Pie Granola Bars by A Mind "Full" Mom
8. Baked Zucchini Chips by Wholesome Yum
9. Baby Carrots Wrapped in Deli Roast Beef + Mustard

The crunch of the carrot and the tang of the mustard are perfection.
10. Bruschetta Sweet Potato Toast by What Great Grandma Ate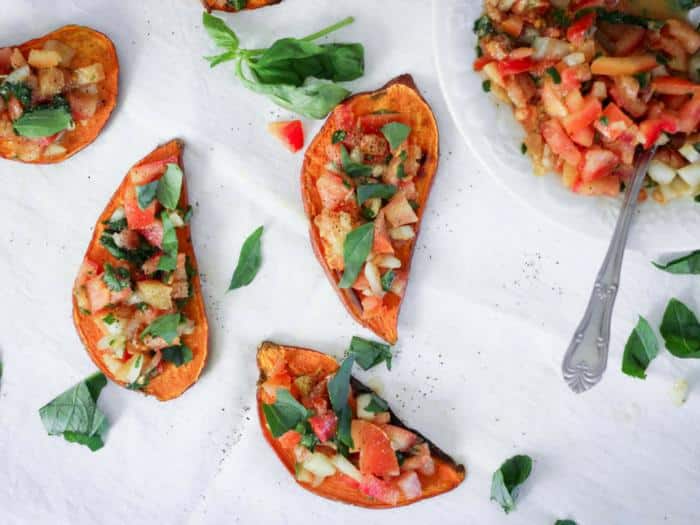 11. Cucumber Bites with Sun Dried Tomato Spread by Veggie Inspired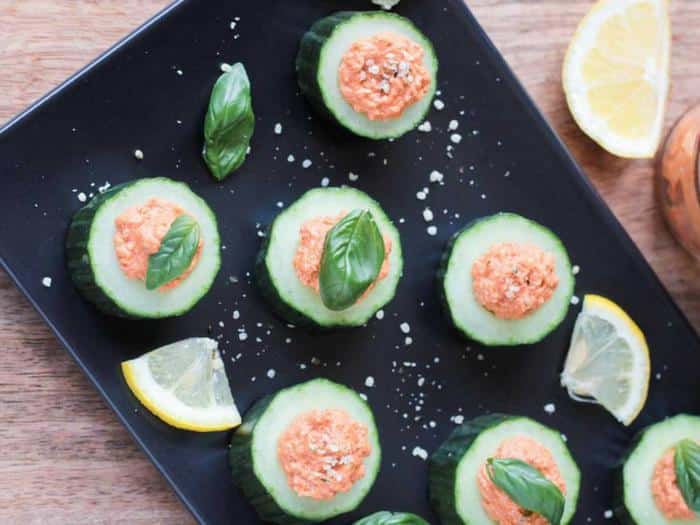 12. Family Favorite Guacamole + Plantain Chips by The Whole Cook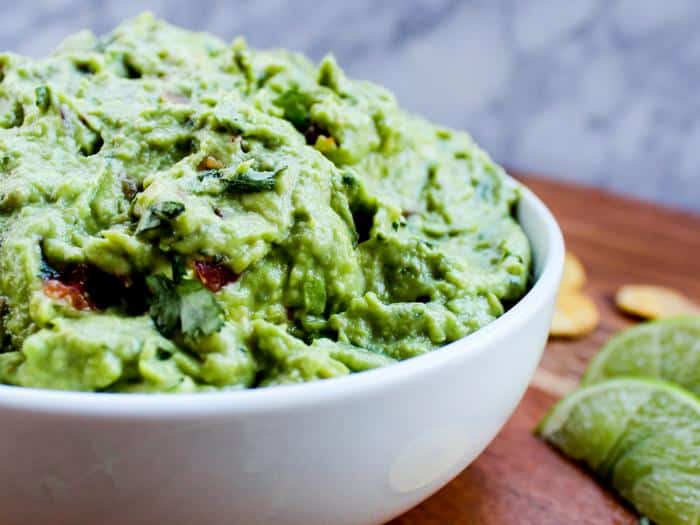 This snack is my top choice and I credit it for enabling me to finish 90 days. Really. It was that important to me and still is today. I bet I eat this once a week even now. My recipe is delicious but if you're in a pinch Wholly Guacamole is an excellent portable solution.
13. Ants on a Log
Peanuts are not allowed on Whole30 so use almond butter instead. Celery, almond butter, and raisins. So tasty!
14. Watermelon Salt Water Taffy by Forest & Fauna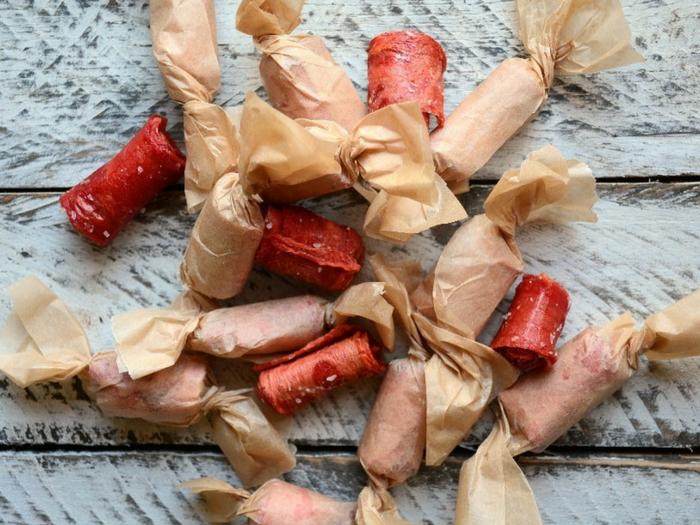 15. Easy Homemade Pickle Chips by Raia's Recipes
16. Dried Fruit
It's not just raisins (but those are yummy too). Check the ingredients. Not all will work for Whole30. It's really amazing how brands manage to sneak sugar and artificial ingredients into just about everything. This is a great snack because fruit is naturally sweet!
17. BLT Stuffed Avocado by Wholesome Yum
18. Skordalia with Morcana Almonds by This Healthy Table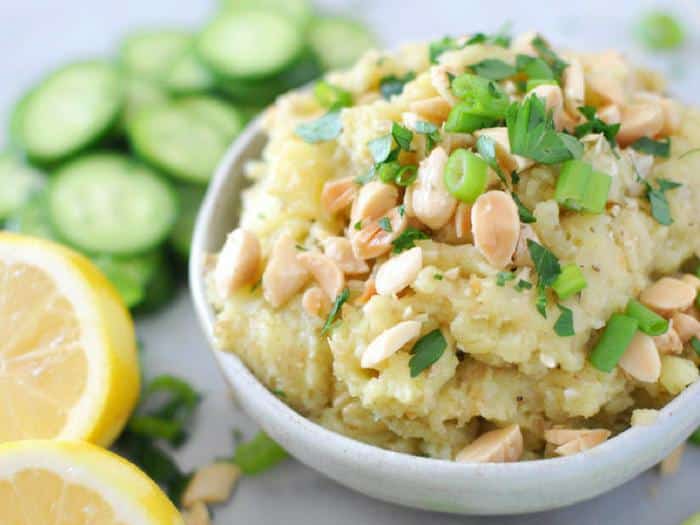 19. Healthy Spiced Apple Chips by The Rhubarbians
20. Madras Chicken Salad + Lettuce Wraps or Cucumbers by Nom Nom Paleo

This recipe was an absolute favorite during my first Whole30 and still is. Serve it in a bowl or wrap a scoop in lettuce. I often serve this for baby showers and birthday parties. Everyone loves it and you'll never need another chicken salad recipe.
21. Rosemary Roasted Almonds by What a Girl Eats
22. Sunflower Fig Balls by Veggie Inspired
23. Pickles Wrapped in Deli Turkey
Does this sound weird? I hear ya. But you're wrong. This snack delivers the salt I want and is perfect for road trips (if you prepare them in advance and don't mind a little pickle smell). The pickle in this delightful treat truly satisfies when I'm craving a big burger. Go ahead and doubt me. Try it for yourself and then let me know what you think. Oh and don't forget to check the ingredients. Deli turkey is often full of additives, brown sugar, or honey. Pickles are sometimes made with sugar too. Read the label.
24. Paleo Holiday Platter by The Kitcheneer
25. Beef Jerky by The Rising Spoon

26. Grain Free Snack Party Mix by The Organic Dietician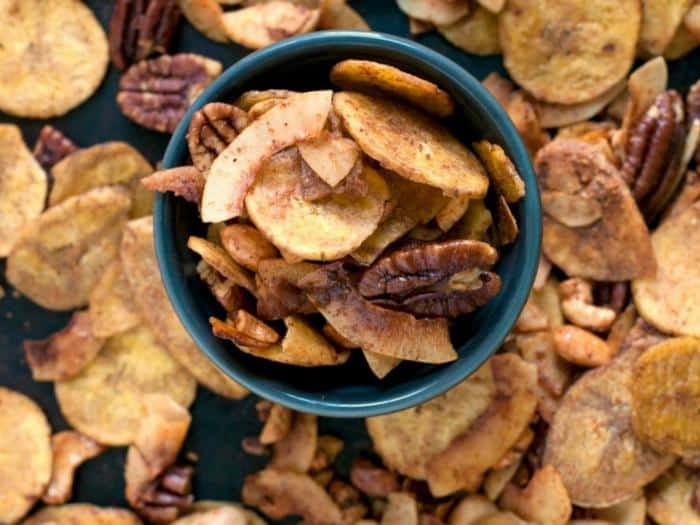 27. Macadamia Nut Ricotta Devils on Horseback by Nom Nom Paleo
Brace yourself. This is incredible. I use turkey bacon instead of prosciutto. Everyone will rave over this whether they're on Whole30 or not. It feels decadent. My husband and I couldn't stop eating them the first time I made them.
28. Creamy Avocado Dip + Veggies by The Whole Cook

My dairy free Whole30 compliant avocado dip is yummy on a salad or as a dip. Just slice some cucumbers, carrots, and fresh broccoli! Now dip, baby, dip.
29. Apples or Banana + Almond Butter
30. Sweet Potato Nacho Skins by Healthy Little Peach
31. Avocado Sweet Potato "Toast" by This Healthy Table
32. Larabar or RXBAR
Read the ingredient list because some Larabars do have sugar or peanuts. There are many that don't. I'm partial to Apple Pie, Banana Bread, and Cashew Cookie. They have no artificial ingredients or sugar. They are delicious with your morning coffee and you can have it on the go. Even my kids love them!
RXBARs are essentially whole food and no junk protein bars. Their Whole 30 compliant flavors include Apple Cinnamon, Blueberry, Coffee Chocolate, Coconut Chocolate, Chocolate Sea Salt, Pumpkin Spice, and Mint Chocolate.
33. Spicy Chipotle Kale Chips by Today in Dietzville
34. Deviled Eggs
Use Whole30 compliant mayo and mustard. Top with paprika.
35. Egg Salad Lettuce Wraps
Hard boiled eggs, Whole30 compliant mayo, Whole30 compliant mustard, and salt/pepper. Wrap it in lettuce. It's that simple.
36. Pico de Gallo + Plantain Chips by The Whole Cook

37. Cauliflower Hummus + Veggies by I Breathe I'm Hungry
You can find tons of recipes for cauliflower hummus online but I like this one with garlic and tahini paste.
38. Tomato Slices + Sprinkle of Salt
My final piece of advice to you is to not limit yourself to traditional snack ideas.
Who says you can't make a potato hash sauteed with spinach, arugula, garlic, and topped with avocado? Not this gal. I can't tell you how many times I did that very thing when I was feeling a bit ornery and couldn't wait until dinner.
Who says an egg muffin or fritatta isn't appropriate for 2 PM? I don't want to know that person.
Think outside of the box and make snack choices that reinforce your healthy lifestyle.
So there you have it! These are my favorite Whole30 snacks and now they can be yours too! If you have any other ideas I'd love to hear them in the comments!
For more Whole30 recipes don't forget to visit 250 Whole30 Recipes You'll Love, 85 Must Make Whole30 Dinners, 105 of the Best Whole30 Recipes! Plus spend a little time scrolling through the Whole30 section of my blog for all my personal favorites!
Save
Save