Sheet Pan Balsamic Basil Chicken Cauliflower Rice Bowl
Are you a fan of cauliflower rice bowls yet? Friend, get on board. You're going to happily devour these Sheet Pan Balsamic Basil Chicken Cauliflower Rice Bowls. (I know. That's a mouthful.)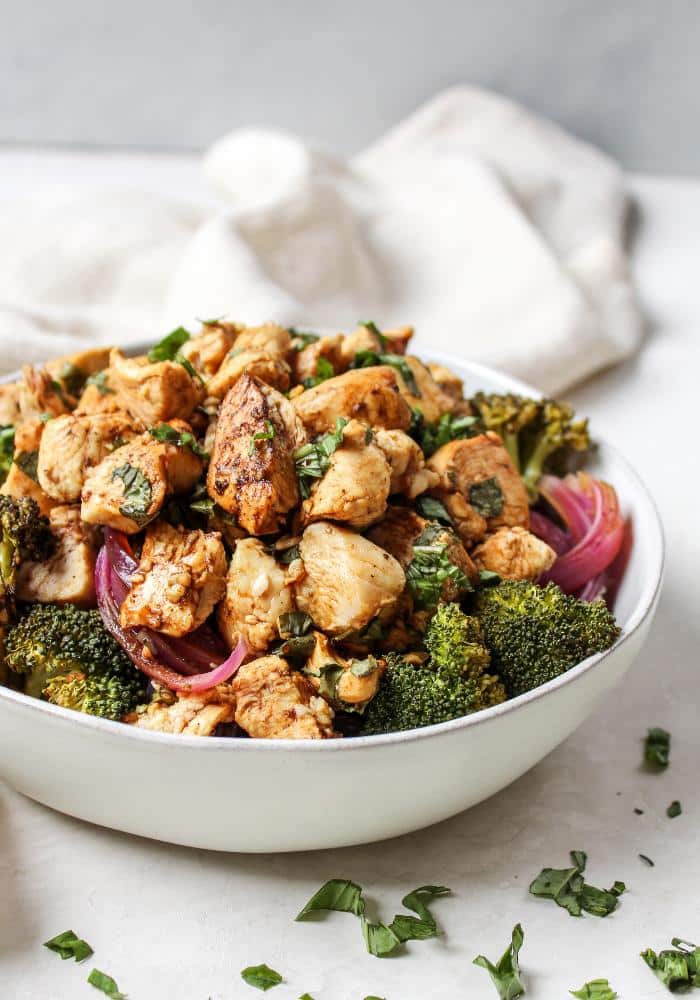 Let's get lots of good veggies in one dish with minimal prep, minimal cooking time, and minimal mess. Yes? Yes!
It's a bowl of veggies that doesn't feel like a bowl of veggies. The very best part may just be that everything cooks together on one sheet pan.
BOOM. Mind blown.
No need to prepare one ingredient one way and another a different way. Let's just not, okay?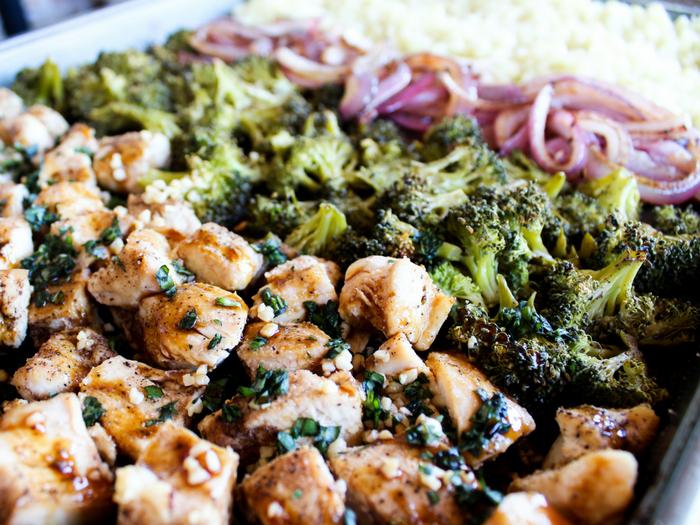 Did I mention that this dinner only takes 30 minutes from start to finish? 30 minutes. So you can live your life and then throw this together at the last possible minute.
The chicken and broccoli roast in balsamic vinegar plus the chicken gets a little extra love from minced garlic and fresh basil.
Layer in roasted red onion and cauliflower rice. You have yourself a fantastic good for you bowl of yum.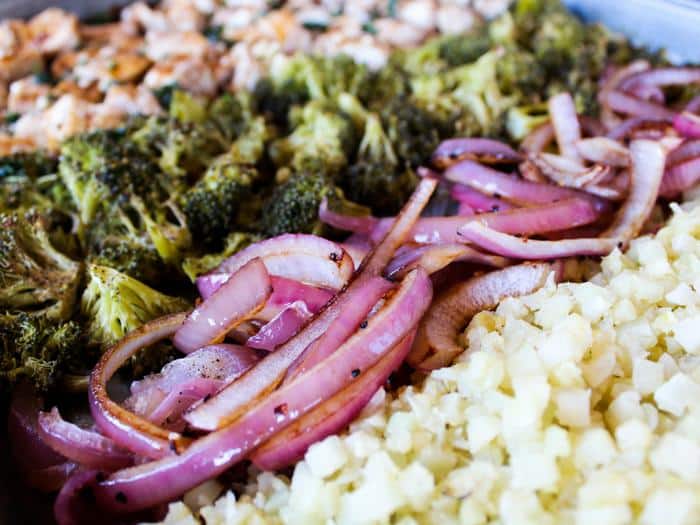 I'll warn you now. This is one of those recipes that just starts to smell amazing almost as soon as it goes in the oven. Isn't that the best?
I love when everyone in the house knows something good is happening. Meanwhile I'm off doing other things because this dinner almost makes itself. (Well as close to that as we can manage.)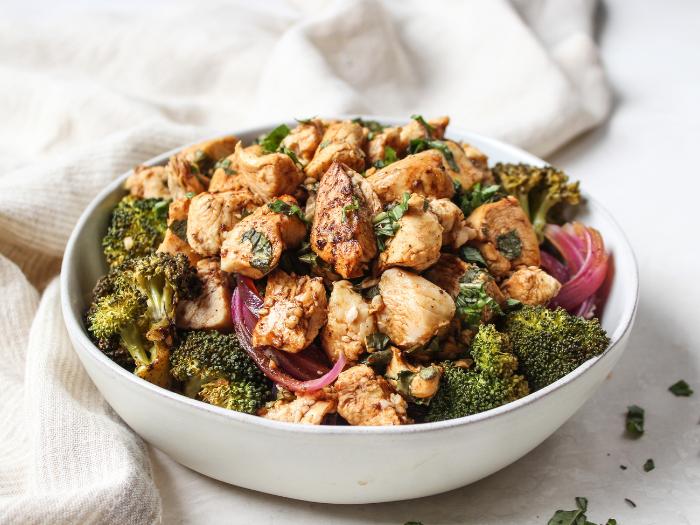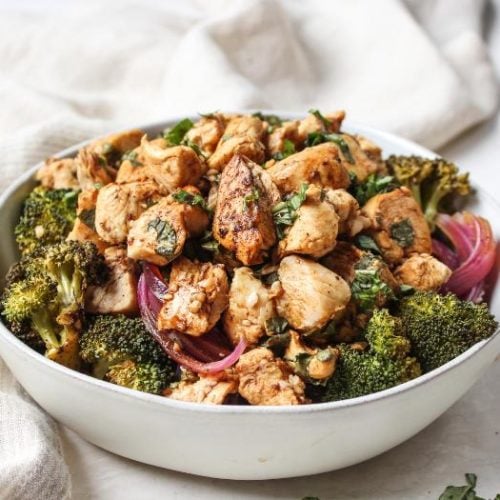 Sheet Pan Balsamic Basil Chicken Cauliflower Rice Bowl
Everything you need for this Balsamic Basil Chicken Cauliflower Rice Bowl cooks together on one sheet pan for easy clean up!

Ingredients
2 cups riced cauliflower
3 cups broccoli florets
1 medium red onion, sliced
4 chicken breasts, diced, boneless, skinless
1/4 cup balsamic vinegar
salt & pepper to taste
3 tbsp olive oil, extra virgin
1 tbsp minced garlic
1/8 cup fresh basil, chopped
Instructions
Preheat oven to 400 degrees.


Spread diced chicken in a single layer on one side of your baking sheet.

Add broccoli florets to baking sheet in a single layer beside your chicken. Cut any large florets in half or thirds.


Spread sliced red onion in a single layer on baking sheet beside the broccoli.

Add cauliflower rice to baking sheet beside the onion. (If you're ricing your own cauliflower just add florets to a high powered blender and blend until cauliflower has a rice or pearl-like consistency.)


Drizzle 1/4 cup balsamic vinegar over the chicken and broccoli.

Add minced garlic to your chicken.


Add salt, pepper, and olive oil to everything on the baking sheet.

Bake for 15 minutes.


Remove from the oven and separate the chicken if it's sticking together. Place back in the oven and bake for 5 additional minutes or until chicken is cooked through..

Layer your cauliflower rice, red onions, broccoli, and chicken in bowls. Add a little more balsamic vinegar if you prefer a stronger taste (I always do) or more salt and pepper. Top with basil.
Notes
Dicing the chicken breasts allows them to cook through quickly and absorb more balsamic vinegar. Plus, it means when everything is done baking all you'll have to do is build your veggie bowls! Many people do not use olive oil when preparing this sheet pan meal to keep it extra light. You can omit if you prefer.
Nutrition
Calories: 414kcal, Carbohydrates: 13g, Protein: 51g, Fat: 17g, Saturated Fat: 3g, Cholesterol: 145mg, Sodium: 305mg, Potassium: 1259mg, Fiber: 3g, Sugar: 6g, Vitamin A: 533IU, Vitamin C: 90mg, Calcium: 69mg, Iron: 2mg