Buffalo Ranch Chicken Casserole
If you're looking for a hearty entree that's big on flavor and shockingly good for you you're going to love this Buffalo Ranch Chicken Casserole.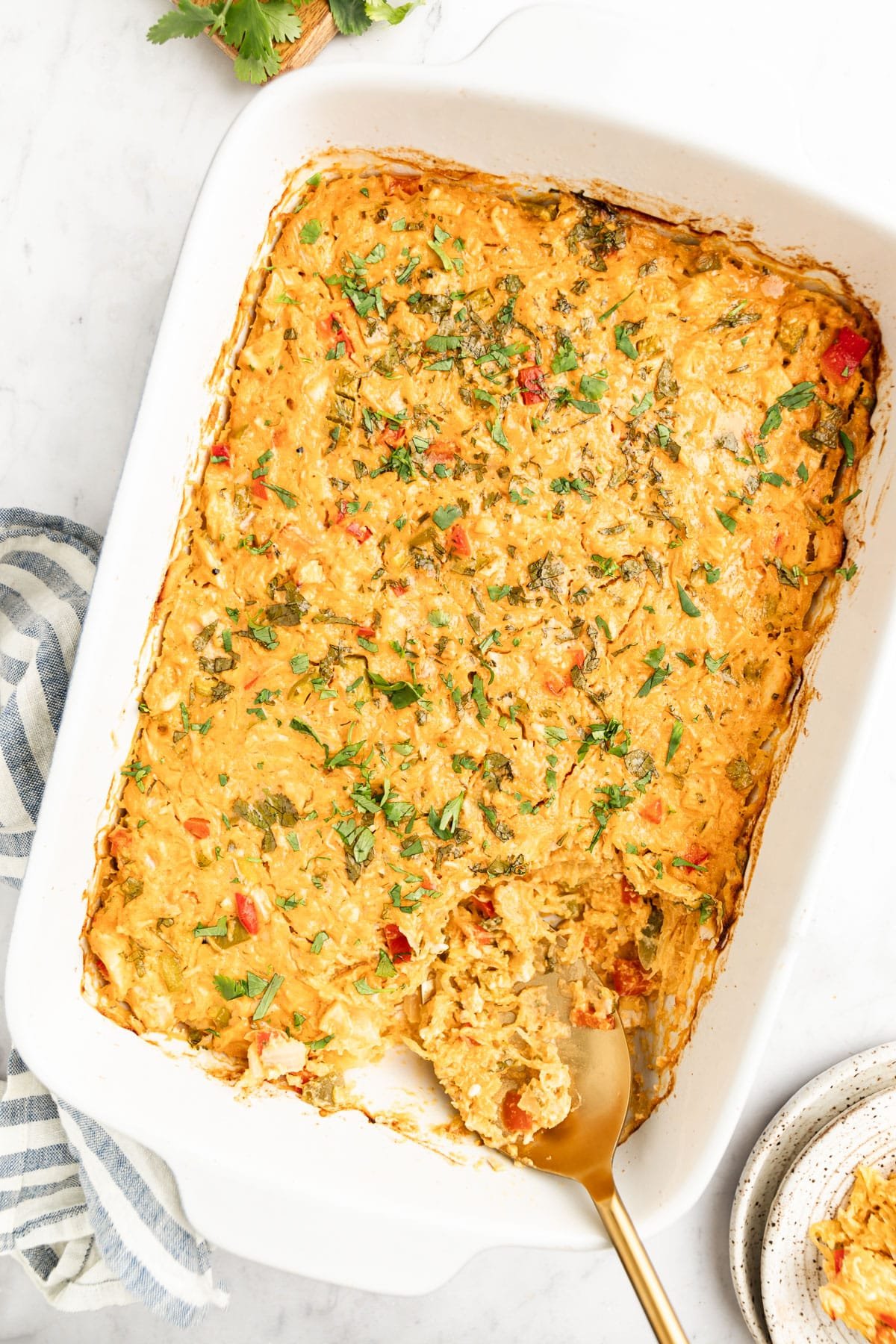 Update: This recipe was originally published in 2017 and has been republished with all new photos.
Sometimes all I want is comfort food and nothing else can satisfy me. I know I'm not alone in this. So how to deliver and still enjoy a guilt free meal? This recipe is Whole30 compliant, dairy free, and gluten free!
My Buffalo Ranch Chicken Casserole is super creamy and looks cheesy but there's absolutely no cheese in it. In fact it's dairy free and uses spaghetti squash instead of traditional spaghetti noodles. Have I blown your mind yet?
This dish feels like a truly amazing casserole that satisfies without any of the guilt that a decadent comfort food can bring. I promise you that when you pull this out of the oven you won't be thinking about the missing noodles or cheese. It looks, smells, and tastes like heaven. A really spicy, creamy plate of heaven. It is that good.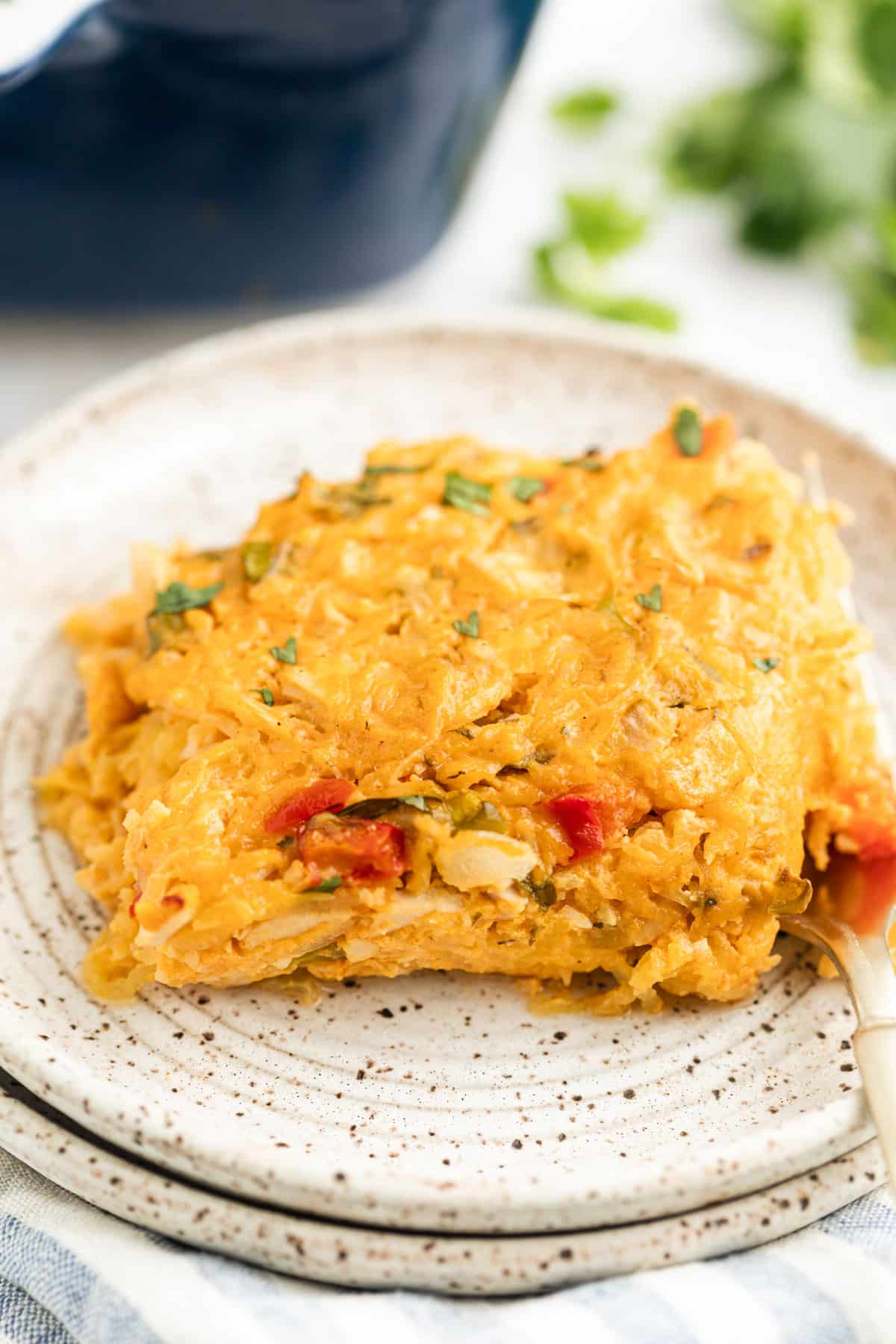 For this recipe you'll need (full list of ingredients and instructions are in the recipe card below):
Spaghetti squash
Green bell pepper
Red bell pepper
White or yellow onion
Minced garlic
Olive or avocado oil
Eggs
Ranch dressing
Frank's Red Hot Original Sauce
Chicken
Cilantro
Seasonings
You start by roasting the spaghetti squash. We love spaghetti squash at my house. It's so yummy with just a little olive oil, salt, and pepper or topped with marinara sauce. But not today, friends. Today we're going to really dress up that squash.
While the squash is roasting you'll be sautéing fragrant veggies like onion and two kinds of peppers. Plus garlic of course. If I ever give you a dish without garlic you should wonder what's wrong with me.
The sauce that produces that cheesy feeling (but has no cheese) is a mix of ranch dressing, hot sauce, and spices. I make my own Easy Ranch Dressing or Dairy Free Ranch Dressing & Dip. Two surprisingly easy dressings because everything goes straight in the blender! You can of course always use a store-bought dressing if you have one.
What chicken is best to use?
Any fully cooked chicken works great! So boneless and skinless chicken breasts or thighs are both great options. I typically boil chicken breasts but you can shred a store-bought rotisserie chicken if you're looking to save time. The flavor in this dish doesn't come from the chicken so how you cook it truly doesn't matter.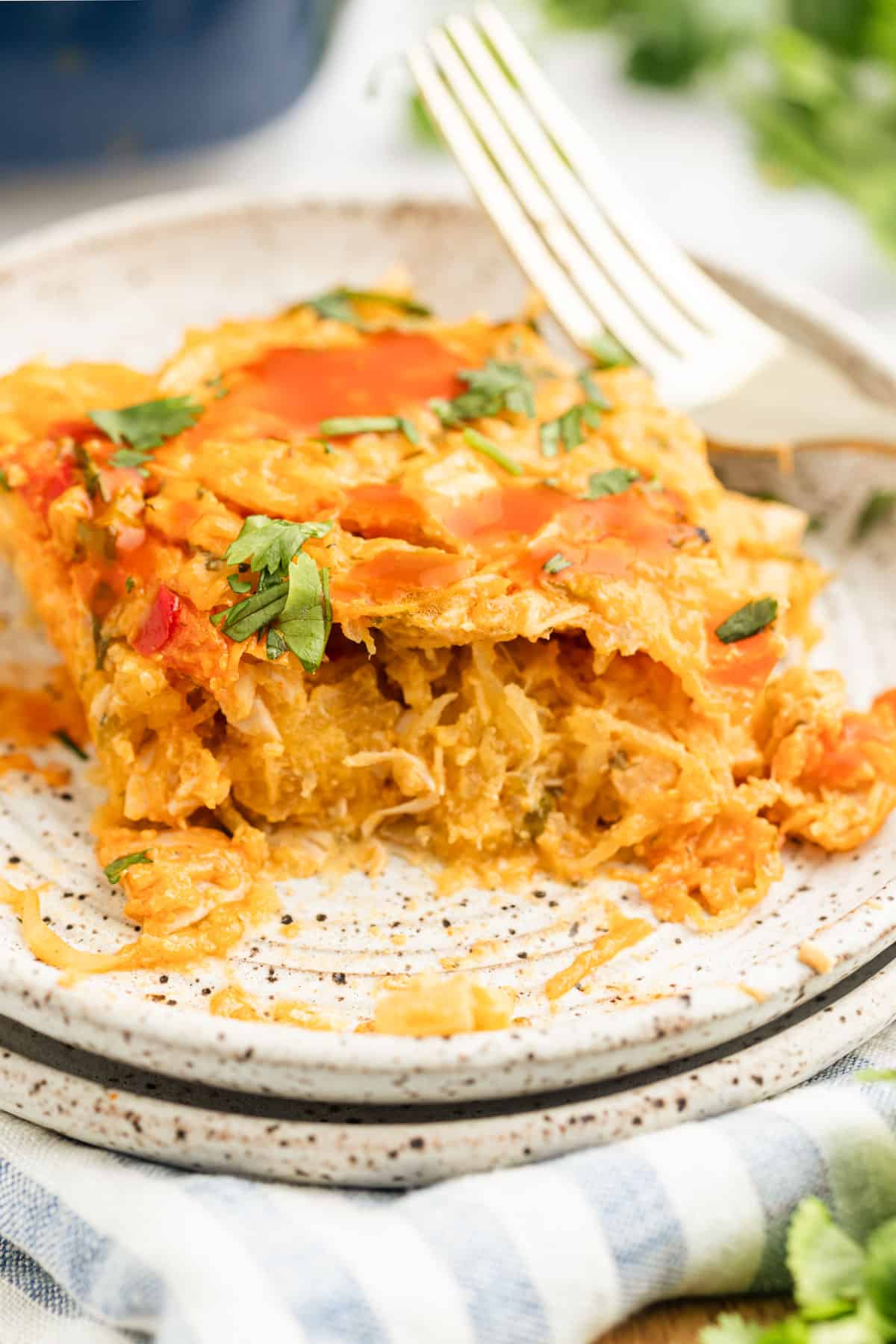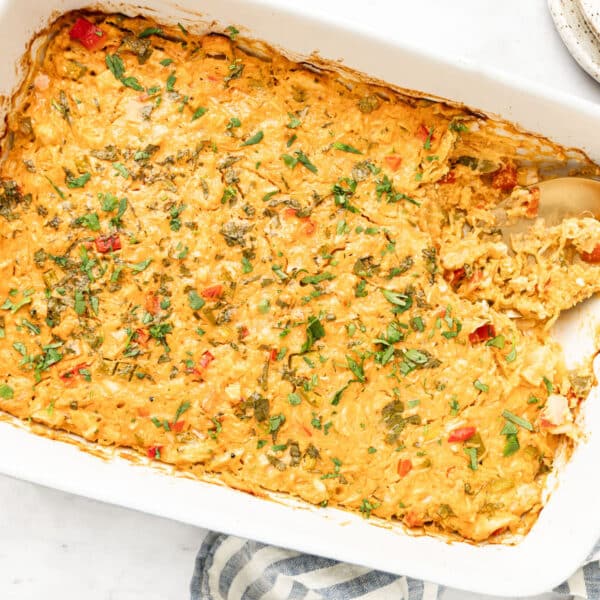 Buffalo Ranch Chicken Casserole
This Buffalo Ranch Chicken Casserole feels like a truly great comfort food but it's shockingly dairy free and made with spaghetti squash! I bet you'll be surprised by how much you love this one!
Ingredients
1 medium spaghetti squash
1 green bell pepper, diced
1 red bell pepper, diced
1 medium white or yellow onion, diced
2 tablespoons garlic, minced
1 tablespoon olive or avocado oil
3 eggs
1 1/4 cup ranch dressing, If you want to make your own I have 2 dairy free versions to try!
1/2 cup Frank's Red Hot Original Sauce
1 teaspoon chipotle chile pepper powder, Can use chili powder or omit this completely to decrease spiciness of casserole.
1 teaspoon salt
2 1/2 cups fully cooked chicken, shredded or chopped
1/4 cup fresh cilantro, chopped
Instructions
Preheat oven to 400 degrees.

Cut your spaghetti squash length wise. Scoop out the seeds and gooey parts. Sprinkle with salt and pepper. Lay cut side down on a baking sheet. Bake for 40 – 45 minutes. You'll know it's done because the skin will give a little under pressure and the cut side (with the noodles) will have some browning. While your squash is baking you can go ahead and move forward with the next step. Remove from the oven when squash is complete and set aside.

Reduce oven temperature to 350 degrees.

In a large sauté pan add your cooking fat of choice, green pepper, red pepper, and onion. Stir. Cook over medium high heat until vegetables are tender. This takes approximately 4-5 minutes. When they're almost done add in your minced garlic. Stir. Remove from heat and set aside.

In a large mixing bowl whisk the eggs thoroughly. Then add your ranch dressing, Frank's Red Hot Sauce, chipotle chile pepper, and salt. Stir until well mixed. (If you don't have one on hand whip up my Easy Ranch Dressing or Dairy Free Ranch Dressing & Dip. Both are dairy free.)

Use a fork to pull the spaghetti squash out of the skin and add to a 9 x 13 baking dish. You want them to be noodle-like so if they clump together some just separate with your fork.

Add your sauteed onion, green pepper, red pepper, garlic, cooked chicken, and most of the fresh cilantro to the baking dish. Stir together with your squash using a fork or spoon.

Pour your dressing mixture over the ingredients. Stir thoroughly to ensure everything is covered. Sprinkle remaining cilantro on top.

Place in the oven and bake uncovered at 350 degrees for 55 minutes to 1 hour. The top will have some browning when it's finished. Set aside for 5-10 minutes before serving.
Notes
For the nutritional information I'm assuming you're cutting 6 slices. These slices are very large so you can definitely get more servings from this dish if preferred.
Nutrition
Serving: 1slice, Calories: 310kcal, Carbohydrates: 14g, Protein: 6g, Fat: 25g, Saturated Fat: 5g, Cholesterol: 86mg, Sodium: 1222mg, Potassium: 298mg, Fiber: 3g, Sugar: 5g, Vitamin A: 900IU, Vitamin C: 36.8mg, Calcium: 59mg, Iron: 1.3mg
Save
Save
Save
Save
Save