Creamy Homemade Macaroni & Cheese
This creamy mac & cheese recipes comes straight from my grandmother. My family has been making it for years and you're going to want to do the same!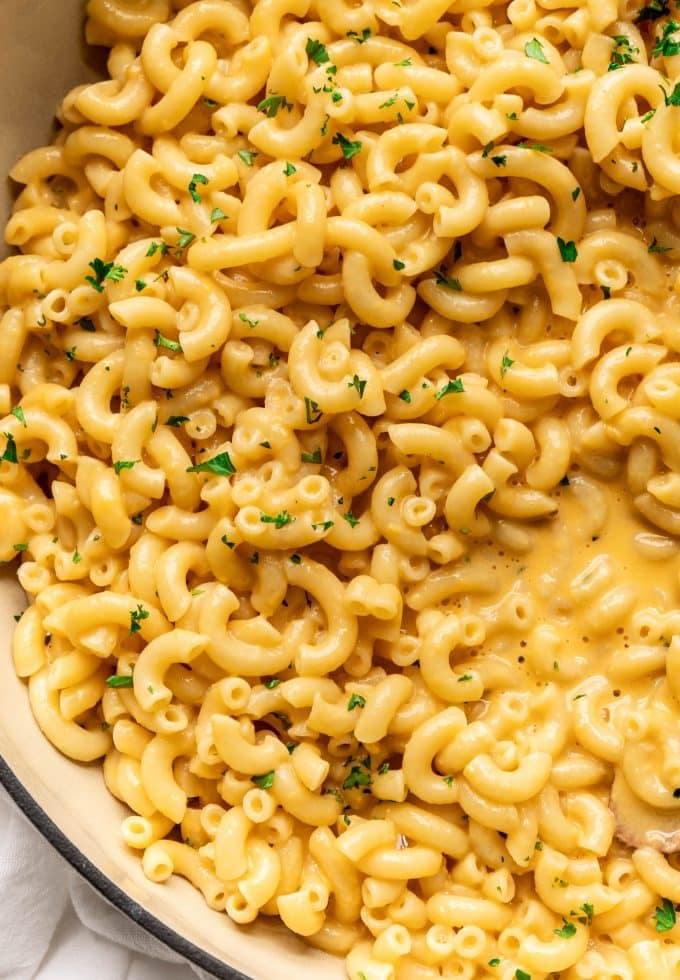 This is how my grandmother taught my mom (who taught me) how to make the creamiest macaroni & cheese. This is a staple in my house growing up and it's sure to become one in yours too.
While I've kept the recipe the same (because Grandma Jane knew what she was doing) I tinkered with the measurements. Extra sauce makes it extra yummy so why on earth wouldn't we make extra sauce? Can't think of a reason.
There's a lot you can do when it comes to macaroni & cheese. You can experiment with all kinds of pricey cheeses. You can bake it. You can add in bacon, herbs, crawfish, etc. Personally I like to keep it simple. It's so simple that you'll probably be surprised by how short the ingredient list is. But that's all it takes.
It's about having the right ingredients and cooking the cheese sauce very slowly.
For this recipe you'll need (full list of ingredients and instructions are in the recipe card below):
Elbow noodles
Cracker Barrel cheddar cheese
Milk
All-Purpose flour
Salt
Pepper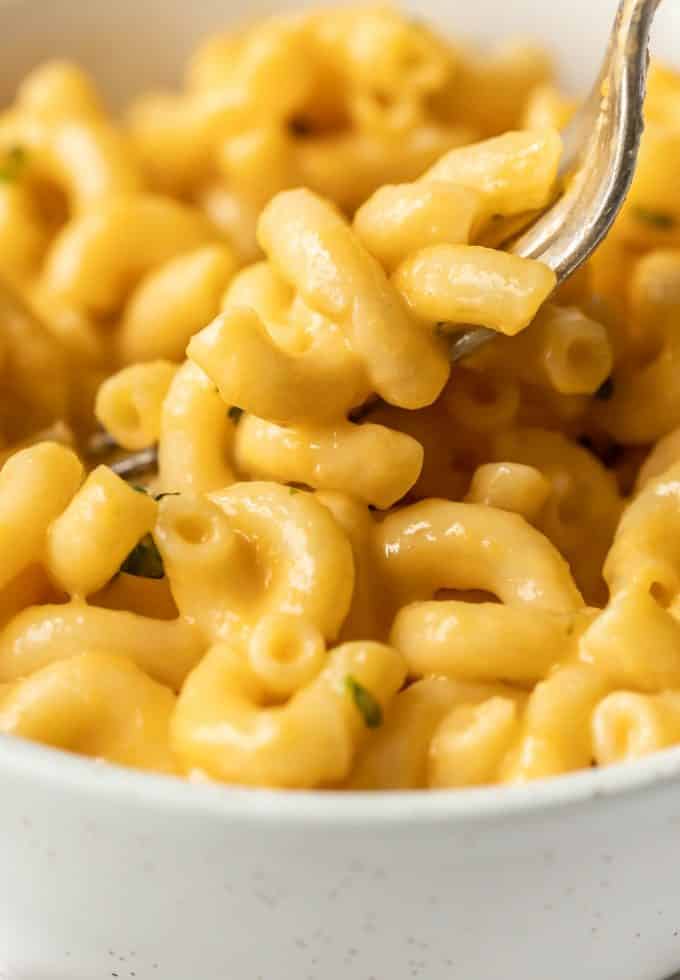 What kind of milk should you use?
When it comes to milk I've used whole, 2%, 1% and even skim. I recommend 2% or whole for this recipe.
What kind of cheese should you use?
Cheese is the key. I've experimented with all kinds. Our hands down favorite is Cracker Barrel (either Extra Sharp, Sharp, or White Cheddar) which is available in most grocery stores. This is not an ad and the good people at Cracker Barrel haven't sponsored this. I'm just telling that this cheese is key.
Yes, you can use a different brand but they do not all melt the same. Some get stringy, which is still tasty but not the right consistency. Making your cheese sauce with Cracker Barrel cheese and cooking it very slowly will produce a dreamy velvety sauce that covers every beautiful macaroni noodle perfectly.
What is curdling?
Ahh curdling. It's the threat that looms over anyone cooking a cheese sauce.
Curdling is when what you're cooking separates into lumps. For milk it means your milk proteins have separated into solids and a liquid (also known as the curds and the whey).
Curdling occurs when you heat your milk too quickly. You can curdle your cheese sauce even if it never comes to a boil.
How to prevent your cheese sauce from curdling?
Use a low or medium-low heat. (Stick with low if you're worried or it's your first time making a cheese sauce.)
Don't let the sauce boil. Curdling can occur even without actually boiling the sauce, but boiling is the absolute worst thing you can do.
Watch that pot. You know the saying "a watched pot never boils"? Listen to them (whoever they are). Watch it. And know that your sauce can still curdle even if it doesn't look like it's boiling so pay attention.
Stir frequently. This makes it easier for you to see exactly when your cheese has melted.
Don't add salt until after your cheese sauce is done cooking. Salt can actually increase the likelihood of curdling so adding it too early isn't a good idea.
How to make this macaroni & cheese in advance?
If you're planning to serve this at an event and it will be an hour or two before it's eaten make 50% more cheese sauce. The finished product will look soupy but by the time it's served it will be just right. Also you should double the recipe when making it for a crowd. It will go fast! I made four batches of this for my niece's birthday party and it was still the first dish to run out!
Creamy Homemade Macaroni & Cheese
My family is known for serving the best macaroni & cheese at events. Now you can be too! It's creamy, super cheesy, and very satisfying.
Ingredients
8 oz elbow macaroni, Feel free to use spirals or shells if you prefer
10 oz Cracker Barrel cheddar cheese, Extra Sharp, Sharp, or White Cheddar
1 1/4 cup 2% milk
1 tbsp all-purpose flour
1/2 tbsp salt
1/4 tsp white or black pepper, Can use black pepper but you'll see it in your finished dish
Instructions
Slice your cheddar cheese into chunks.

Add 3/4 cup of milk and your cheese to a small pot. Heat on low heat, stirring often, until the cheese has completely melted. This can take 15-30 minutes depending on how hot your stove gets. It is a slow process but if you're not careful your sauce will curdle so give it lots of attention.

Cook your macaroni in water according to package directions. Drain water. Set aside.

Add your remaining 1/2 cup milk to a jar along with the flour. Put the lid on and shake vigorously so that you don't have any clumps of flour left.

Once the cheese sauce looks creamy (no chunks of cheese are remaining), add the flour/milk slurry to it. Stir. Keep it on low heat for another 3 – 5 minutes then remove from heat and set aside. (Again, keep the heat low and watch it. You don't want the cheese sauce to curdle.)

Salt & pepper the cheese sauce. Taste and add more if that's your preference.

Pour your cheese sauce over the cooked macaroni and stir. Voila! You have officially mastered a perfect macaroni & cheese.
Save
Save
Save