Creamy Tomato Basil Skillet Chicken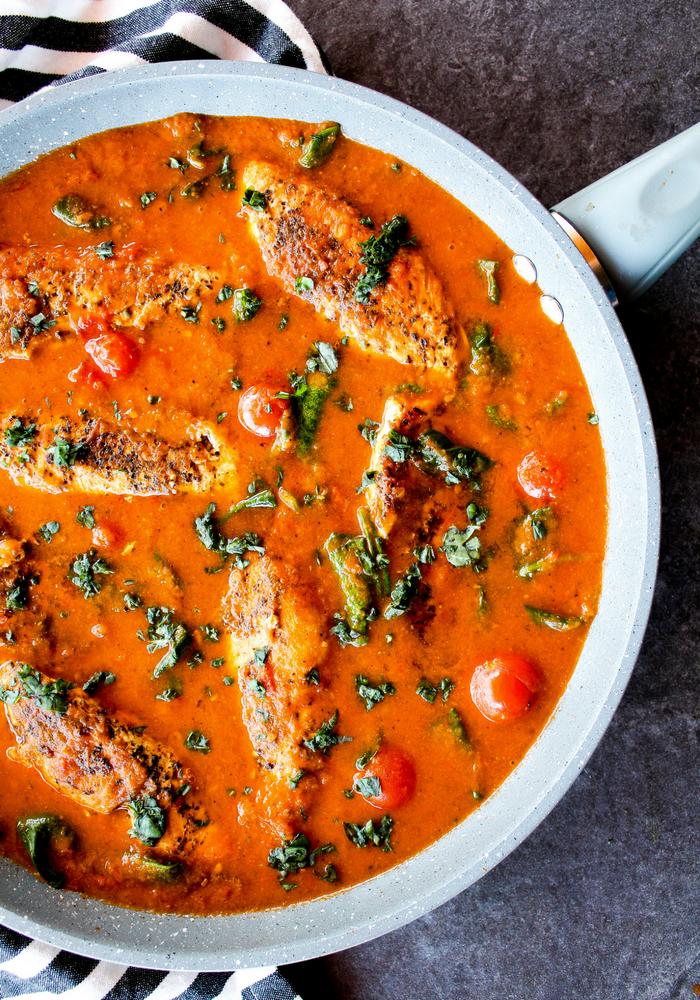 I am obsessed with easy skillet chicken recipes lately. There's just something about an entree you can prepare in under 30 minutes with simple ingredients. Something ahhhhmazing.
Today's recipe is Creamy Tomato Basil Skillet Chicken. My inspiration for this one is my 30 Minute Dairy Free Tomato Basil Soup.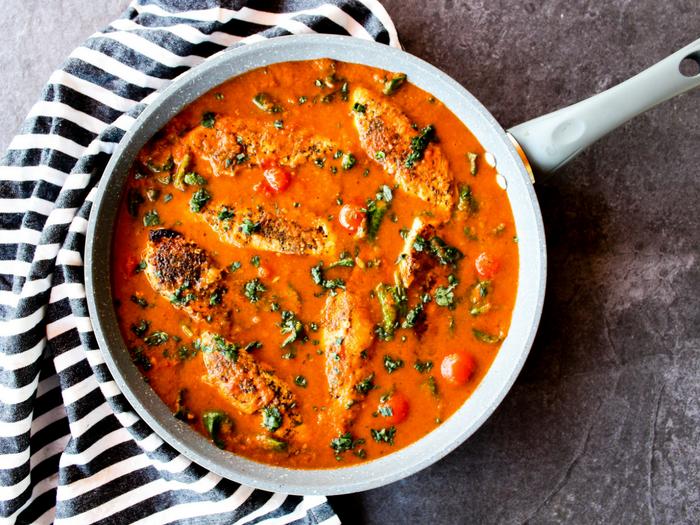 It's really all about this sauce, friend. It has the same layered richness of tomatoes, basil, and garlic that you'll find in the soup.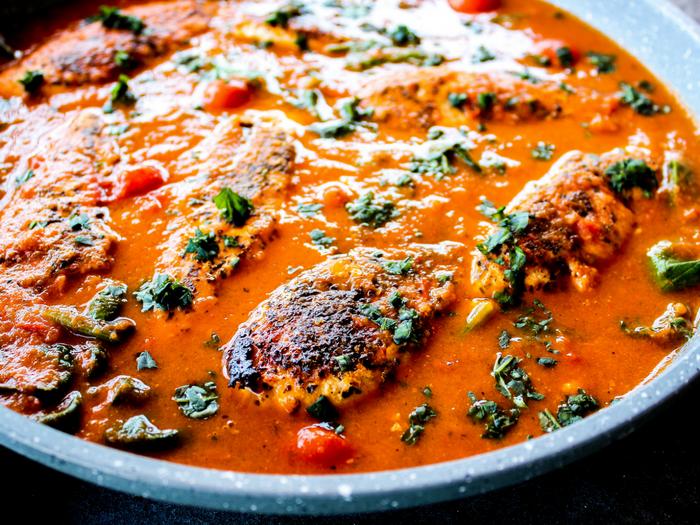 Plus there's a lot of it so I recommend serving this with pasta, zoodles (pictured below), or spaghetti squash. You can even serve it on top of simply prepared veggies. That way you take full advantage of the creamy tomato basil goodness.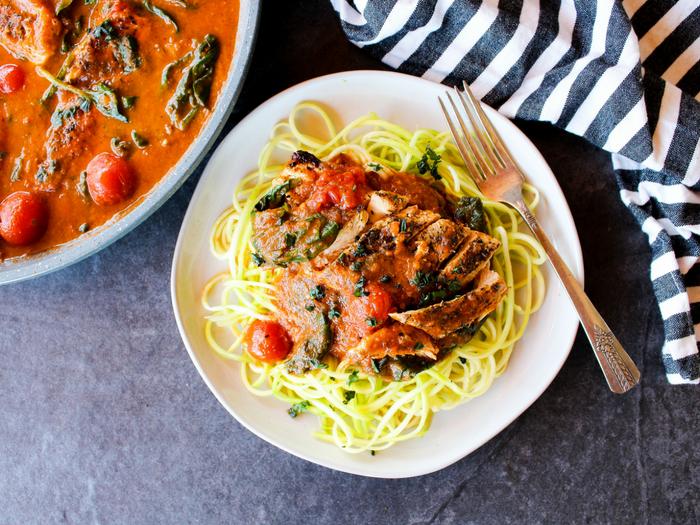 I experimented with different kinds of tomatoes and even with using canned tomatoes. In the end fresh roma tomatoes won the day. I also toss in a few cherry tomatoes while the sauce is simmering. They'll remain whole but soften and burst in the heat.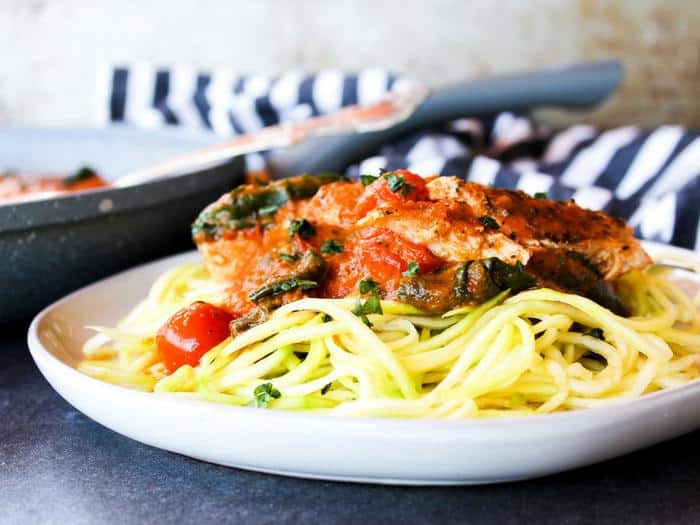 I use four chicken breasts sliced horizontal to create eight thin chicken breast cutlets. If you have a small skillet you can leave your chicken breasts whole. You're also welcome to use chicken thighs if you prefer.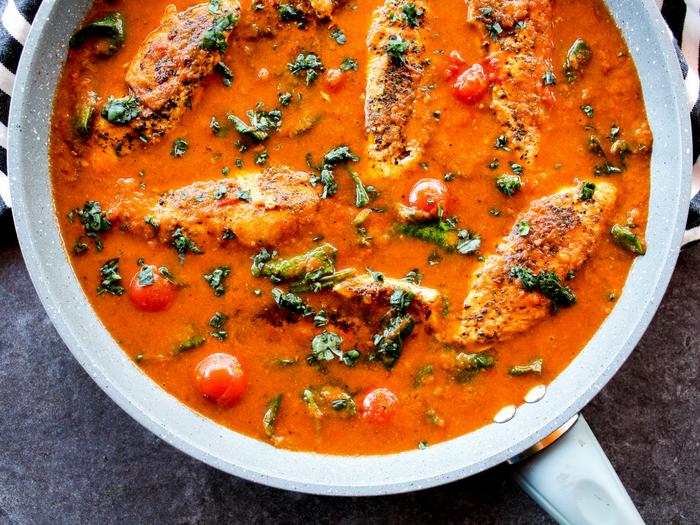 This dish is ready in under 30 minutes. Yes, ma'am! Who doesn't appreciate a quick meal you can whip up on a busy weeknight?
If you love tomatoes and basil this one is going to be a favorite of yours. It's quickly become a favorite of mine.
More recipes like this:
Beef & Veggie Bowls with Comeback Sauce
Skillet Chicken & Brussels Sprouts
Sun-Dried Tomato Lemon Chicken
Easy Chicken Green Bean Stir Fry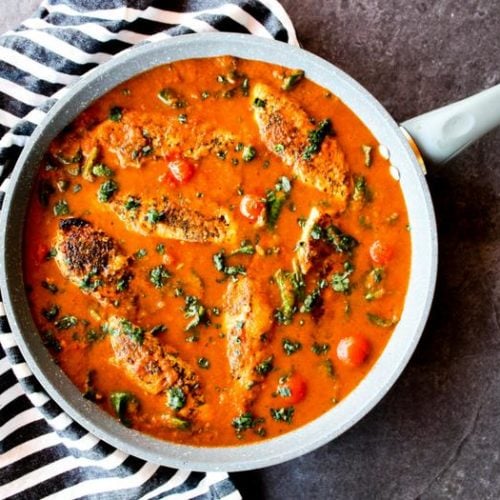 Creamy Tomato Basil Skillet Chicken
You're going to love this Creamy Tomato Basil Skillet Chicken! It's all about the sauce over perfectly sauteed chicken. Plus it's surprisingly dairy free, gluten free, and Whole30!

Ingredients
Chicken
4 chicken breasts
2 tbsp olive oil, extra virgin
1 tbsp dried basil
salt & pepper
Creamy Tomato Basil Sauce
7 roma tomatoes
1/2 cup chicken stock
1/2 cup canned full fat coconut milk
2 garlic cloves, or 1 tsp minced garlic
10 large fresh basil leaves
3/4 tsp salt
1/2 tsp pepper
To Finish
handful cherry tomatoes
5 oz fresh spinach
chopped fresh basil
1 - 1 1/2 tbsp arrowroot flour
1 - 1 1/2 tbsp cold water
Instructions
Slice your 4 chicken breasts horizontally to create 8 thin breast cutlets. (If you have a smaller skillet you can leave the breasts whole. I like them thin to soak up more sauce and cook faster.)


Add olive oil to skillet. Heat to medium high heat.

Add chicken to hot pan. Sprinkle salt, pepper, and dried basil on top of each breast. Cook until browned, about 5 minutes. Flip chicken. Cook until remaining side of chicken is browned, about 5 minutes. (It can take less time if you're using smaller cutlets so keep an eye on them.)


Remove chicken from the skillet and set aside on a plate.


Add all sauce ingredients to blender. Blend until smooth.

Pour blended sauce into the pan. Add spinach and a handful of cherry tomatoes. Stir until spinach is mixed in with sauce. Add your chicken back to the pan. Reduce heat to medium low or low. Cover and simmer for 5 minutes so sauce is heated through and cherry tomatoes are softened.


To thicken sauce, turn off heat. Shake together 1 tablespoon arrowroot flour and 1 tablespoon cold water in a small jar. Pour flour slurry into the sauce and stir. Sauce will begin to thicken quickly as you stir. If you want an even thicker sauce, repeat steps with another 1/2 tablespoon arrowroot flour and 1/2 tablespoon water. (Be sure not to add the arrowroot flour directly to the sauce or you'll end up with clumps. It must be shaken with equal parts water before being added to sauce.) Sprinkle chopped fresh basil on top of chicken before serving.

Notes
Do not use any coconut milk other than canned unsweetened coconut milk. I get this question a lot. Canned coconut milk is thick and not as watered down as the kind you'll find in the refrigerated section of the store. I prefer Thai Kitchen (make sure it says unsweetened and does not say low fat) but there are other brands that work well too! Nutritional information is for 1 chicken breast plus 1/4 of the sauce. If you slice each breast in half and end up with 8 thin cutlets remember that 2 of those cutlets is the equivalent of 1 breast. If you only have 1 thin cutlet then you'll need to 1/2 the nutritional info.
Nutrition
Serving: 1chicken breast + 1/4 sauce, Calories: 431kcal, Carbohydrates: 9g, Protein: 51g, Fat: 20g, Saturated Fat: 8g, Cholesterol: 145mg, Sodium: 779mg, Potassium: 1415mg, Fiber: 3g, Sugar: 4g, Vitamin A: 4345IU, Vitamin C: 28.9mg, Calcium: 77mg, Iron: 3.1mg