Sun-Dried Tomato Lemon Chicken
This week is Spring Break so we drove to North Carolina. It took two days of driving and I am happy to be out of that car. My children are getting non-stop attention from their grandparents. They're soaking up every drop of that!
I have three recipes lined up for this week so it will be business as usual here on the blog. Let's kick things off with some Sun-Dried Tomato Lemon Chicken.
This dish includes a few of my very favorite things: sun-dried tomatoes, capers, and lemon.
I was an adult the first time I tried sun-dried tomatoes and capers. I suppose they just weren't ingredients my parents cooked with when I was a child. I've made it my mission to make up for lost time since. Both have such distinct flavors. Sun-dried tomatoes are sweet but not sweet in the way that fruit is. Do you know what I mean? The flavor is more layered. Capers are briney and salty. They're so small that they don't overpower but they add a little burst of something special in every bite.
And of course we all know I'm in a very serious relationship with lemon. It's pretty exclusive these days.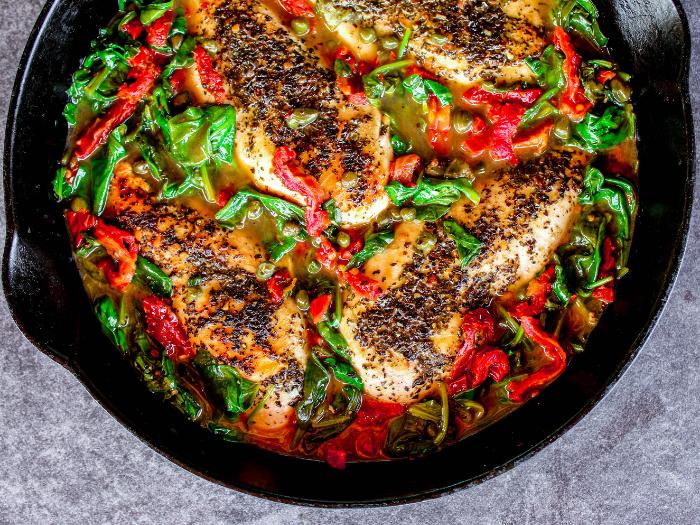 Season your chicken and sauté in a skillet until browned. The key to achieving that golden color is making sure you're sautéing the chicken on medium-high heat. Anything less yields beige chicken and nobody wants that.
Then add the remaining ingredients to create a vibrant and super flavorful sauce. This entire dish takes less than 30 minutes! How's that for fast and easy?
Plus it's all dairy free, gluten free, Whole30, and Paleo!
Serve this skillet chicken over traditional rice or cauliflower rice and alongside your favorite roasted veggies. That's a meal that always earns rave reviews!
More recipes like this:
Sun-Dried Tomato Lemon Chicken
Sun-Dried Tomato Lemon Chicken is sauteed with vibrant flavors like sun-dried tomatoes, lemon, and capers. It's ready in under 30 minutes, healthy, and includes an amazing sauce!

Ingredients
Chicken
4 chicken breasts
2 tbsp olive oil, extra virgin
salt & pepper
1 tbsp dried basil
Sun-Dried Tomato Lemon Sauce
3/4 cup chicken stock
1/4 cup unsweetened canned coconut milk
1/3 cup lemon juice
1/2 cup julienne cut sun-dried tomatoes , drained
1/2 tsp salt
1/4 tsp pepper
1 tsp minced garlic, or 2 cloves garlic
2 tbsp brined capers, rinsed
5 oz fresh spinach, or spinach/arugula mix (my favorite)
Instructions
Add olive oil to saute pan or cast iron skillet. Heat pan to medium high heat.

Add chicken to hot pan. Sprinkle salt, pepper, and dried basil on top of each breast. Cook until browned, about 5 minutes. Flip chicken. Cook until remaining side of chicken is browned, about 5 minutes.

Reduce heat to low. Add chicken stock, canned coconut milk, lemon juice, sun-dried tomatoes (make sure you drained the oil), salt, pepper, garlic, and capers. Cover and let simmer on medium low heat for 2 to 3 minutes to heat sauce.


Add spinach leaves. Stir a little so they're in the sauce and not just covering your chicken. Cover and let simmer for 2 to 3 minutes until leaves start to wilt.


Serve!

Notes
I recommend using the julienne cut sun dried tomatoes. They come in a jar and they're mixed with oil. Be sure to drain the oil before adding your tomatoes to the skillet. Do not use any coconut milk other than canned unsweetened coconut milk. I get this question a lot. Canned coconut milk is thick and not as watered down as the kind you'll find in the refrigerated section of the store. I prefer Thai Kitchen (make sure it says unsweetened and does not say low fat) but there are other brands that work well too! Make sure you stir the canned coconut milk before using because it will separate in the can.
Nutrition
Serving: 1chicken breast + 1/4 sauce with spinach, Calories: 292kcal, Carbohydrates: 13g, Protein: 28g, Fat: 14g, Saturated Fat: 5g, Cholesterol: 73mg, Sodium: 670mg, Potassium: 1208mg, Fiber: 3g, Sugar: 7g, Vitamin A: 3475IU, Vitamin C: 25mg, Calcium: 68mg, Iron: 3.5mg