Dairy Free Caprese Frittata
Basil, tomatoes, and balsamic vinegar are one of my very favorite flavor combinations. So yummy and perfect in it's simplicity, right? This Dairy Free Caprese Frittata celebrates the flavors of the traditional caprese salad in a healthy and delicious breakfast dish!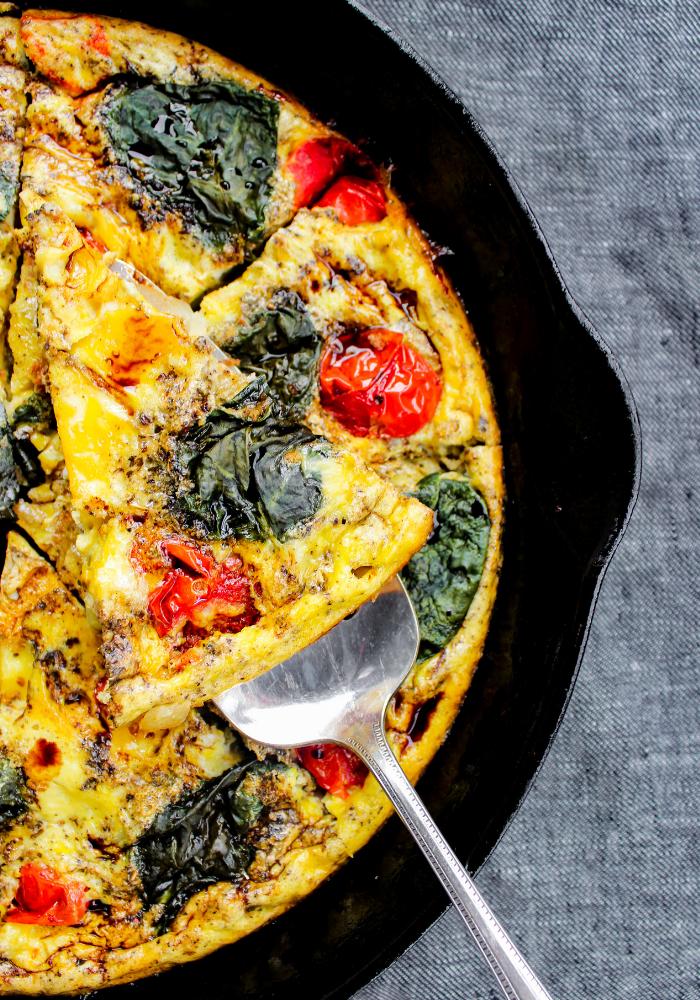 Sure, it doesn't include mozzarella which is a staple in a caprese salad, but it really doesn't need it. Without the cheese it's lighter and still packs the full power of the caprese salad taste. You're honestly not going to miss it.
I use Roasted Cherry Tomatoes because roasting packs a punch. You can of course use raw tomatoes to save time. I like to roast a full container of cherry tomatoes in advance and use them in a variety of ways throughout the week. I add them to scrambled eggs, toss them in pasta, and cook them in this frittata.
Potatoes and onions create a sort of "crust" on the bottom of this frittata. Plus the potatoes help make any frittata and breakfast casserole more filling so I'm always a fan.
A drizzle of balsamic vinegar on top of each slice completes this caprese inspired frittata. Boy, does that make a difference!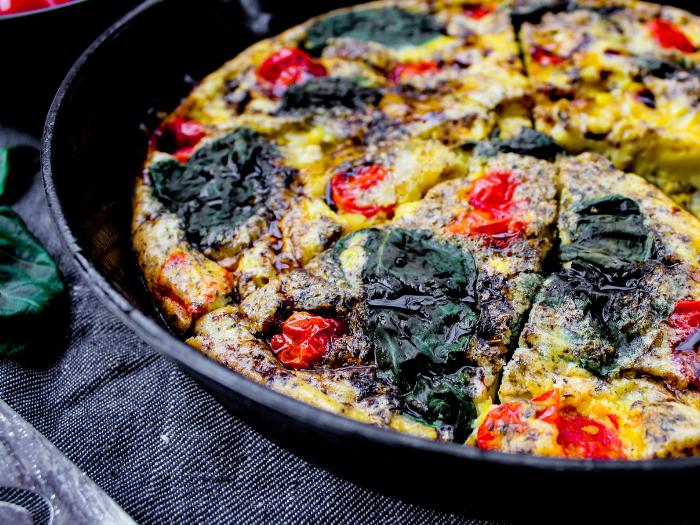 The obvious choice is to make this for breakfast but why not serve it up for lunch or dinner? I'm definitely not a believer that egg dishes are only for the morning. No matter when you enjoy it, you'll love pairing it with potatoes, fruit, or a fresh salad.
This Caprese Frittata pairs beautifully with Skillet Breakfast Potatoes. Give it a try for a complete and good for you meal!
Made this and loved it? If you share a photo of your finished dish on Instagram I'd love it if you'd tag me so I can come check it out!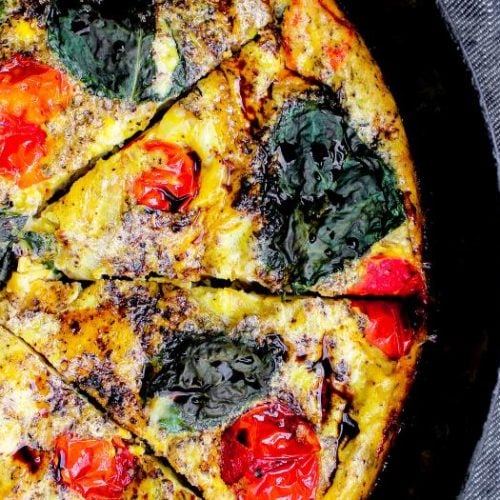 Caprese Frittata
This Caprese Frittata celebrates the flavors of the traditional caprese salad in a healthy and delicious breakfast dish!

Ingredients
1 medium potato
1 medium white or yellow onion
2 tbsp olive oil
9 eggs
1/2 cup water
1/2 tsp onion powder
1/2 tsp garlic powder
1/2 tsp dried oregano
1/2 tsp dried basil
1/2 tsp salt
1/2 tsp pepper
1/2 cup roasted cherry tomatoes
1/8 cup fresh basil leaves
1/8 cup balsamic vinegar
Instructions
Preheat oven to 400 degrees.


On the stove heat olive oil over medium high heat in a cast iron skillet. Add sliced onions and diced potatoes. Cook for 3 to 5 minute or until onions and potatoes are tender and have a little browning. Once finished spread them into a single layer in the bottom of the skillet. Remove skillet from heat and set aside. (If you don't have any olive oil remaining in the pan add a splash more to help prevent sticking.)

Whisk eggs, water, and seasoning together in a large bowl. Pour over the potatoes and onions in the skillet.


Top with roasted tomatoes and fresh basil leaves.


Bake for 12 to 15 minutes. (13 minutes is the sweet spot for my oven.) Center should not be jiggly when done. Remove skillet from oven.

Slice and drizzle with balsamic vinegar for a taste that's truly reminiscent of a classic caprese dish!

Notes
The balsamic vinegar should be drizzled on each slice when you're ready to serve. A tablespoon or two per serving is perfect.
Nutrition
Serving: 1slice, Calories: 137kcal, Carbohydrates: 6g, Protein: 7g, Fat: 9g, Saturated Fat: 2g, Cholesterol: 184mg, Sodium: 221mg, Potassium: 222mg, Sugar: 1g, Vitamin A: 330IU, Vitamin C: 6.1mg, Calcium: 40mg, Iron: 1.9mg