Easy Deviled Eggs with Paprika
These classic deviled eggs are made with hard boiled eggs, mayo, mustard, salt, pepper, and paprika. It's an easy appetizer perfect for the holidays, Easter, brunch, or a potluck.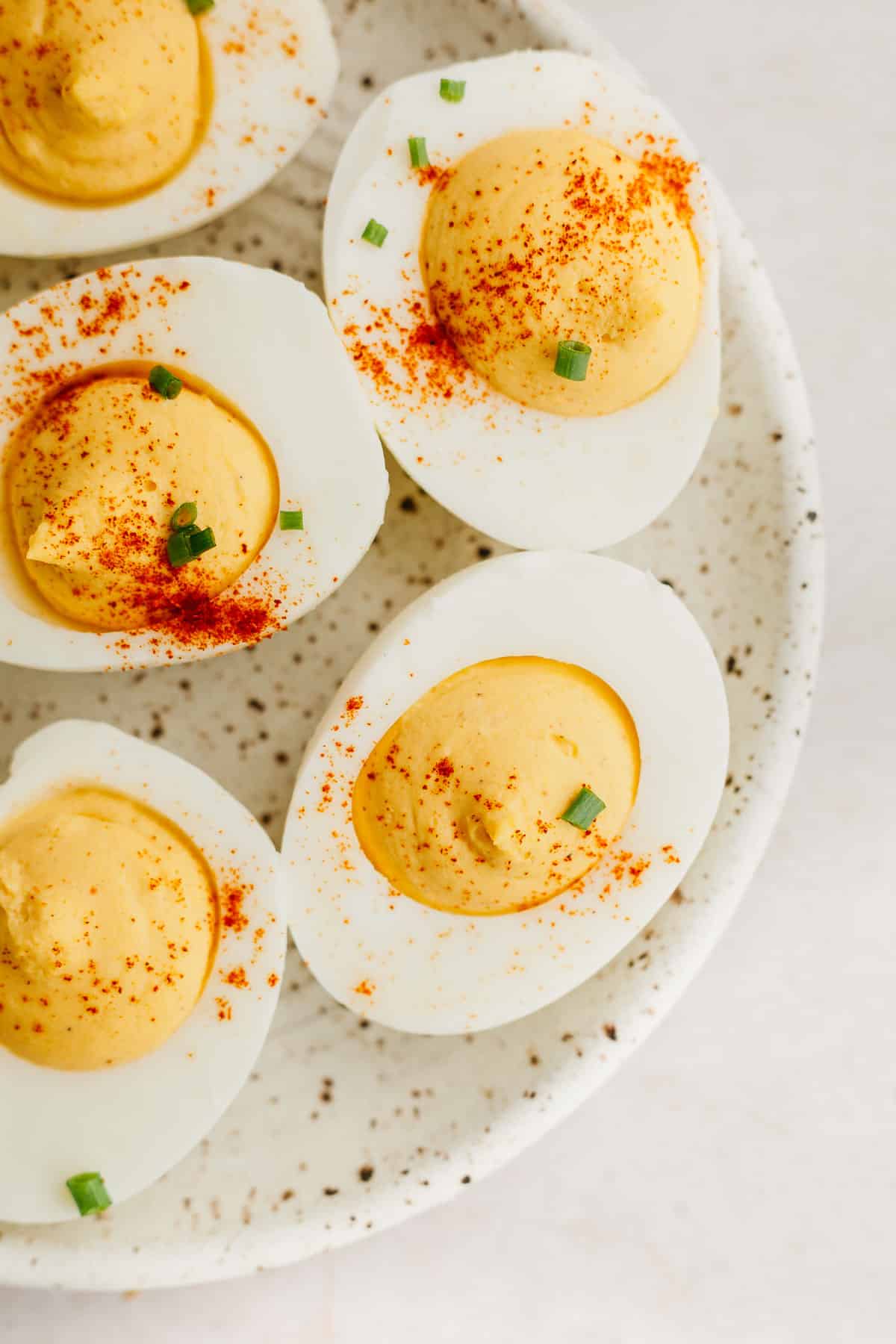 I grew up secure in the knowledge that every family gathering requires deviled eggs. I don't know if that's a Southern thing but it feels right to me. My sweet grandma always made the best deviled eggs when we'd all get together (still does) and I learned from her!
While deviled eggs are often considered an appetizer or side for large gatherings, they're really a great healthy snack you can enjoy whenever. If you watch my Instagram stories you know I'm never afraid to make some when I have a craving! Any time of day or year. They'll stay good in the refrigerator for days so they're an awesome grab and go snack.
Deviled eggs are naturally low carb and a great source of protein. Plus you can lighten them up by using a reduced fat or light mayo. It won't affect the flavor at all so I always opt to do that.
You're just 6 ingredients away from these Easy Deviled Eggs with Paprika.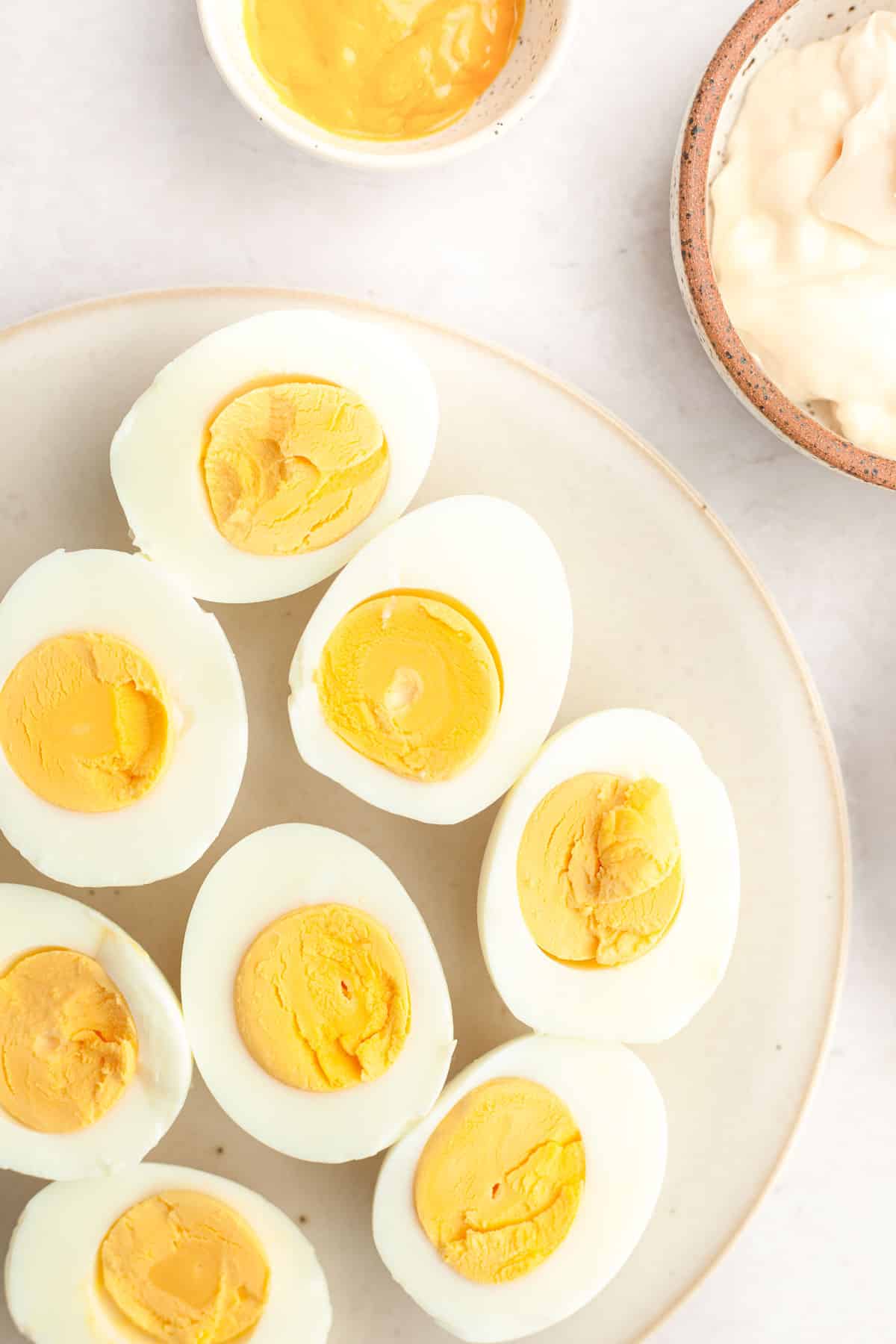 Easy Deviled Eggs Ingredients
Hard boiled eggs: You can use any method to boil the eggs. My preferred stovetop method is below.
Mayonnaise: I stick with a light or reduced fat mayo to keep this a bit healthier but you're welcome to use whatever mayo you like.
Mustard: Both yellow and dijon mustard work in this recipe. I prefer a classic yellow mustard for a more traditional Southern deviled eggs flavor.
Salt
Black pepper
Paprika
Are Deviled Eggs Dairy Free?
To make these deviled eggs dairy free just be sure to use a dairy free mayo.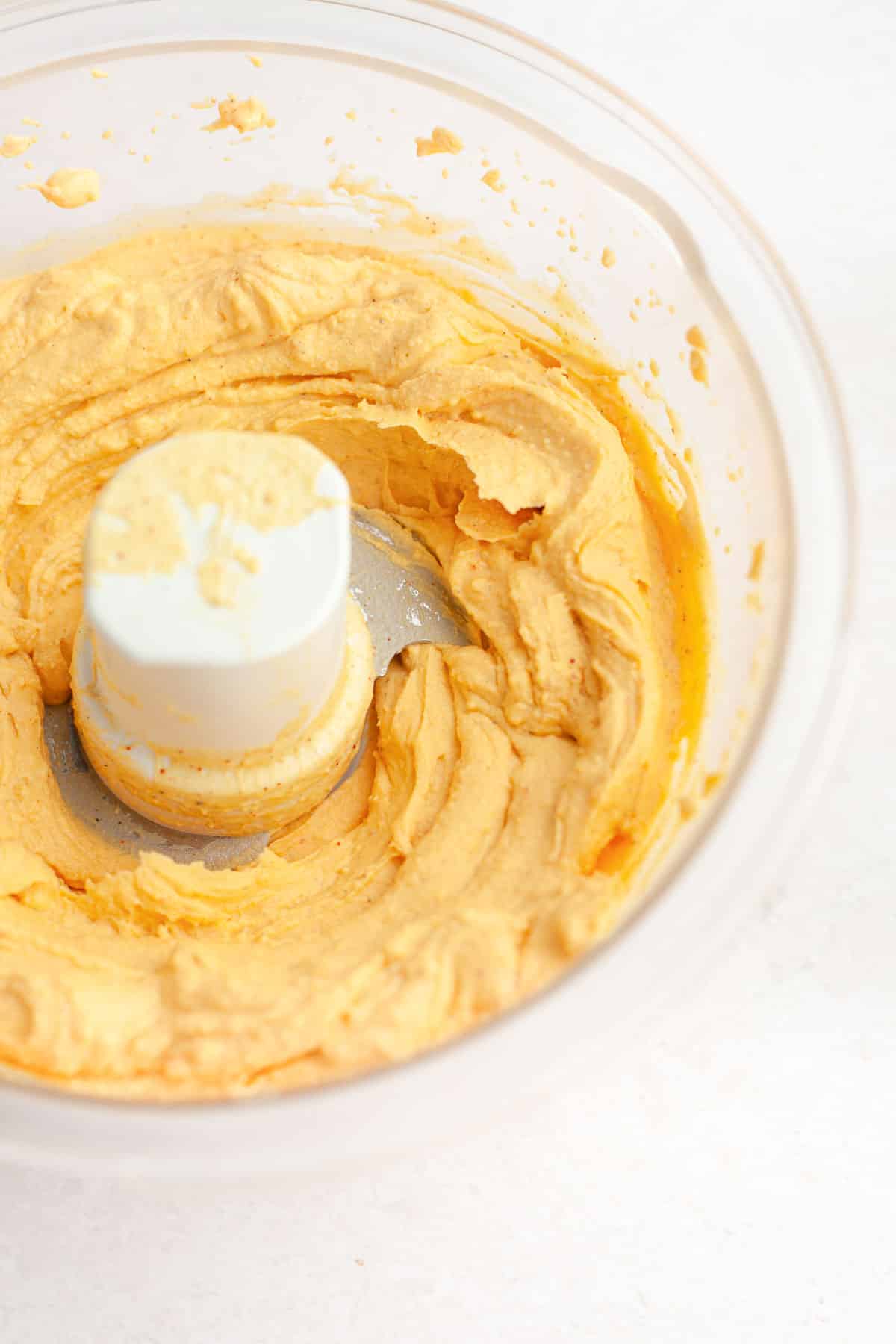 How to Prepare Perfect Hard Boiled Eggs
Add eggs to the bottom of a pot in a single layer.
Add cold water to the pot until the eggs are completely covered. The water should be about 1 inch above the eggs.
Bring the water to a boil on high heat.
Once the water is boiling, turn off the heat and cover the pot.
Let the eggs sit in the covered pot with water for 8 to 12 minutes so they continue to cook. (Be sure to leave it covered!)
Place the eggs in a bowl of cold water (with or without ice) for 5 to 10 minutes or until eggs have cooled.
Tips for the Best Deviled Eggs
Older eggs are much easier to peel.
Peel the eggs while holding them under cool running water from the faucet.
You can peel your eggs up to a week in advance if you like. Just peel and store in the refrigerator until you're ready to use.
For the creamiest filling use a food processor. If you don't mind a lumpier texture (I don't mind at all when I'm just make these for family) then use a fork to mash the filling ingredients until its as smooth as you can get it.
Add the filling using a spoon or a piping bag. For a makeshift piping bag, add the filling to a ziplock bag. Squeeze all the air out and seal. Then use scissors to cut one of the corners.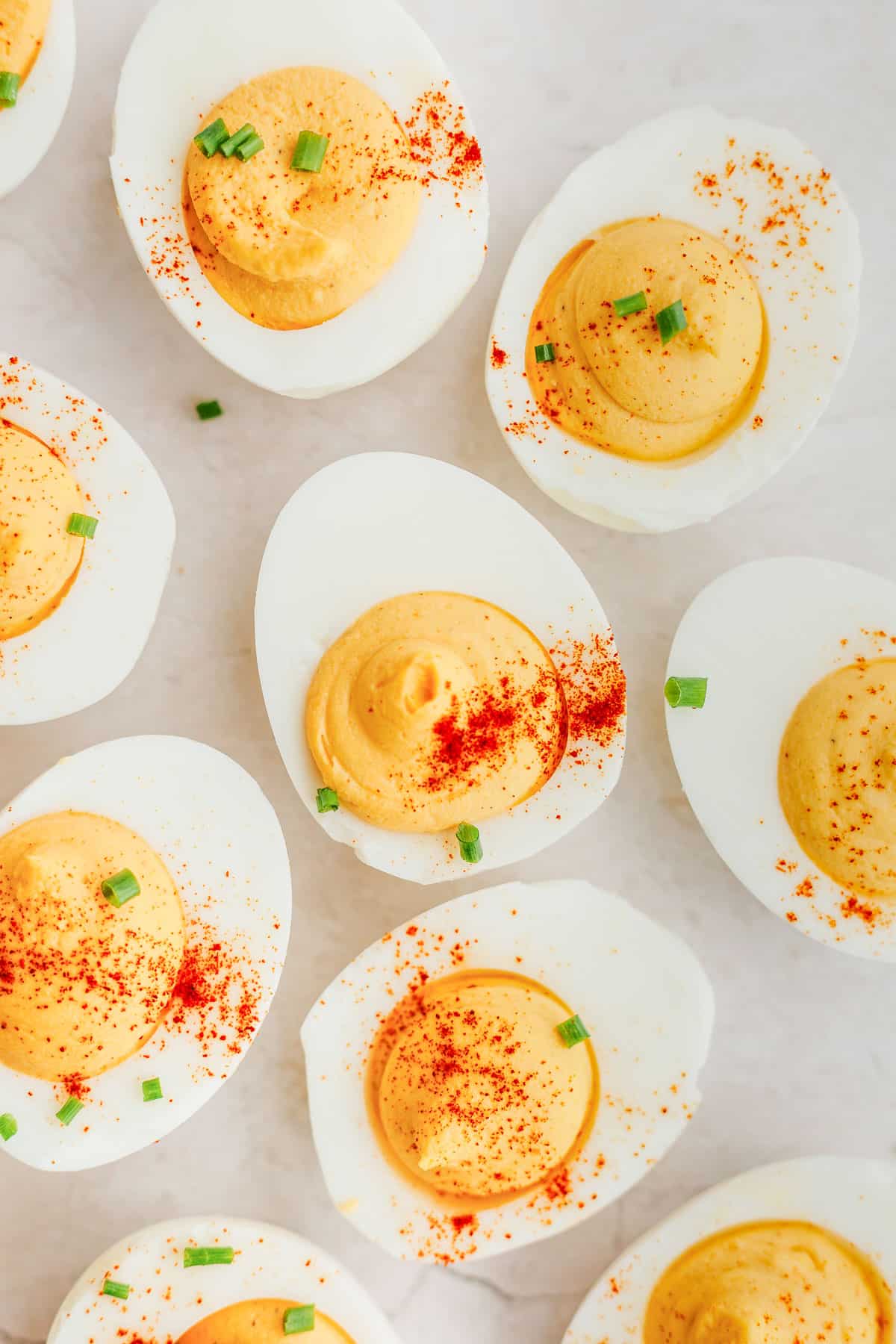 Ways to Customize Deviled Eggs
This recipe is the classic preparation for deviled eggs but you can switch things up by adding fun toppings. Here are a few of my favorites:
Crumbled bacon
Olive slices
Blue cheese
Fresh chopped dill
Chives
Capers
Sriracha
Chopped pickles
Fresh or candied jalapeno slices
How to Store Leftover Deviled Eggs
Deviled eggs can be stored in an airtight container in the refrigerator for up to 3 days.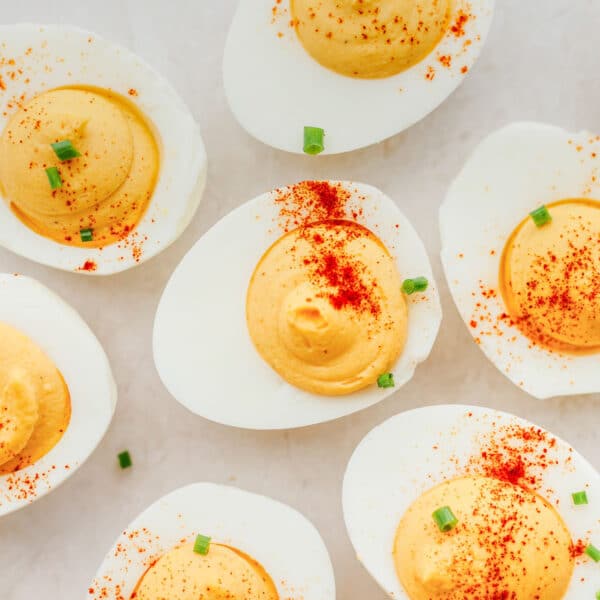 Easy Deviled Eggs with Paprika
These classic deviled eggs are made with hard boiled eggs, mayo, mustard, salt, pepper, and paprika. It's an easy appetizer that is perfect for the holidays, Easter, brunch, or a potluck.
Ingredients
12 hard boiled eggs
¼ cup + 2 tbsp mayo, I use a light mayo
2 teaspoons yellow mustard or dijon mustard, Yellow mustard is best for a classic Southern deviled egg flavor
¼ teaspoon paprika , + extra paprika for garnish
⅛ teaspoon salt
⅛ teaspoon black pepper
Instructions
Peel the eggs. Slice in half lengthwise. Use a spoon to gently remove the yolks from the egg halves and add the yolks to a medium bowl.

Use a fork to smash the yolks until they're crumbled. Then stir in mayo, mustard, paprika, salt, and pepper until well combined and smooth. (For an extra creamy filling use a food processor to combine the filling ingredients.)

Use a piping bag to add the filling to the center of the egg white halves (or use a spoon to scoop the filling in). Sprinkle with extra paprika before serving.
Notes
Nutrition information assumes you're using light mayo.
Nutrition
Serving: 1deviled egg, Calories: 48kcal, Carbohydrates: 1g, Protein: 3g, Fat: 3g, Saturated Fat: 1g, Polyunsaturated Fat: 1g, Monounsaturated Fat: 1g, Trans Fat: 0.002g, Cholesterol: 94mg, Sodium: 78mg, Potassium: 34mg, Fiber: 0.03g, Sugar: 0.4g, Vitamin A: 143IU, Vitamin C: 0.002mg, Calcium: 13mg, Iron: 0.3mg