Ultimate Chicken Salad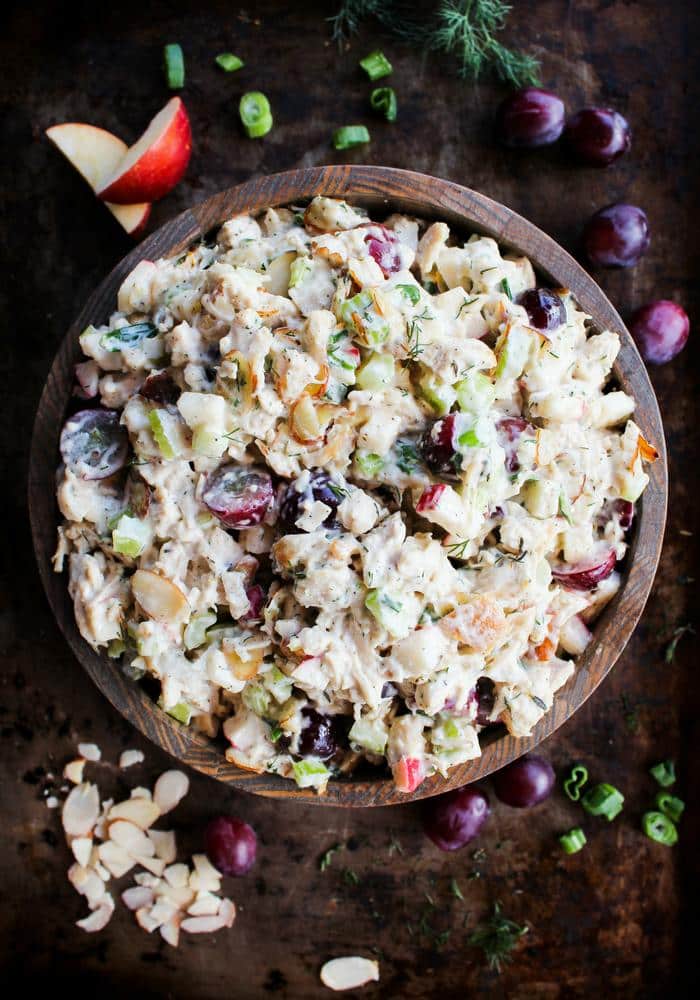 Today is a good day because we're talking about my Ultimate Chicken Salad. I am crazy about this stuff.
This chicken salad is both creamy and crunchy. I hate when chicken salad is dry so you better believe that's not happening on my watch, friend.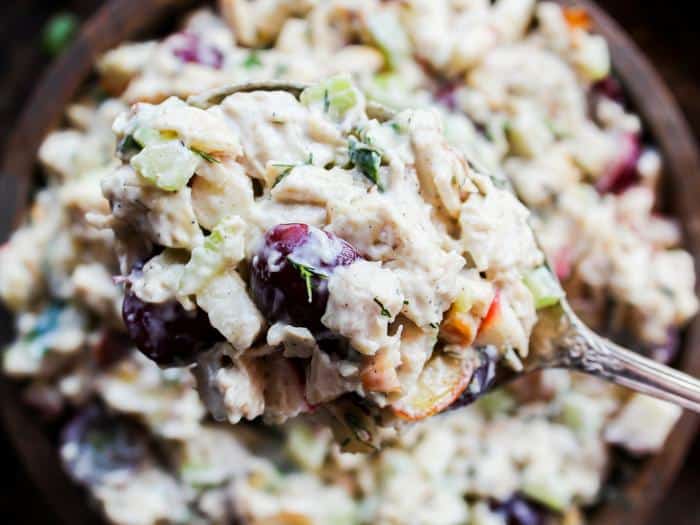 Celery and shaved or slivered almonds give it a crunch.
Grapes and apples give it sweetness.
The mayo, seasoning, and fresh dill gives it some tang.
It's all so very very good together.
For this recipe you're welcome to use whatever mayonnaise you prefer. If you enjoy making your own go for it. I'm a fan of this easy mayo recipe by Melissa Joulwan.
Want to go with a store-bought mayo? I've tried them all. If you're doing a round of Whole30 or just want to avoid sugar I recommend Primal Kitchen's Avocado Oil Mayo. It's thick and tasty. But any mayo will do.
Now how to serve this goodness? Well of course I have some ideas for you.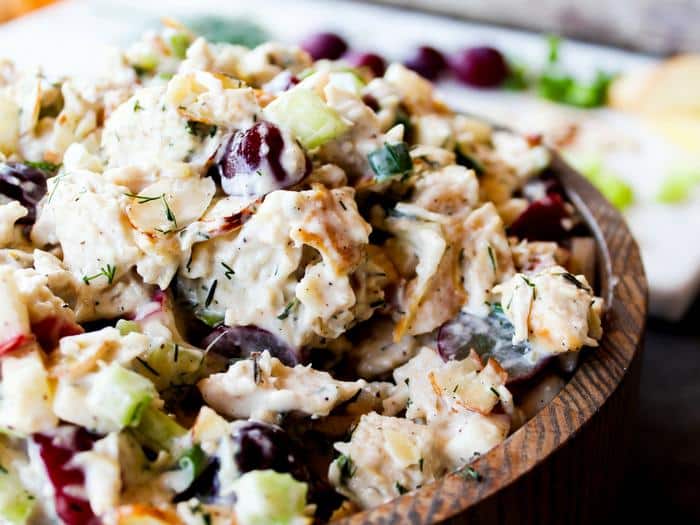 This Ultimate Chicken Salad is delicious in between two slices of toasted bread if you're in a sandwich kind of mood. When serving this at a party I like to scoop it into croissants. Either way you do it bread + chicken salad always = yum. It's math, y'all.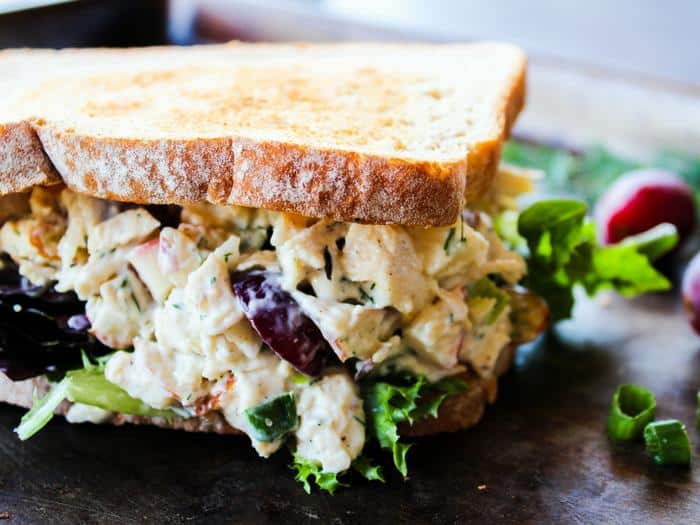 I personally love a big dollop of this chicken salad on romaine leaves or bibb lettuce. Pair it with fresh fruit for a perfectly light meal!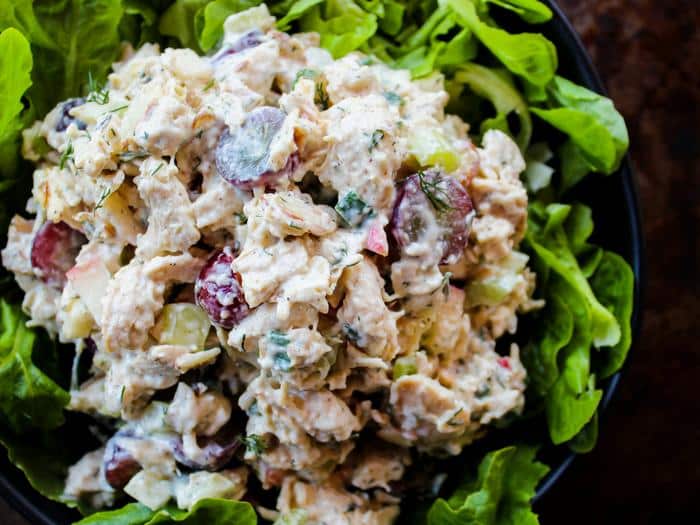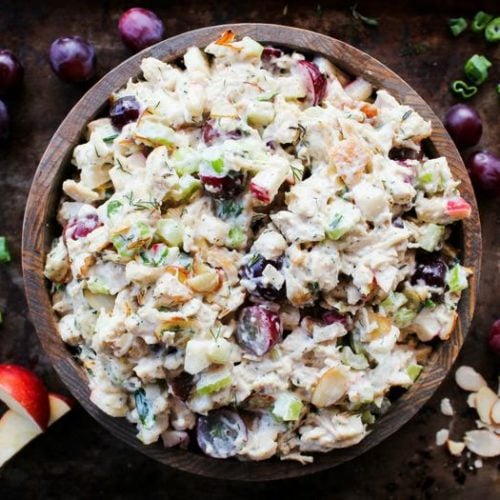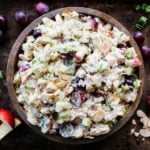 Ultimate Chicken Salad
This Ultimate Chicken Salad is both creamy and crunchy! It's packed with bright flavors like diced apples, grapes, almonds, and fresh herbs. It's also completely good for you since it's Whole30, dairy free, and gluten free! Enjoy it on lettuce wraps, in a salad, or on a sandwich for a tasty meal!

Ingredients
1 1/2 to 1 3/4 lbs cooked chicken breasts, 3 1/2 to 4 cups chopped or shredded chicken, can use chicken thighs or rotisserie chicken
1 small or medium apple, peeled, cored, and diced, makes 1 cup
3 celery ribs, chopped
1 cup red grapes, halved, if grapes are very large you may want to cut into thirds
1/2 cup green onion, chopped
1/2 cup sliced or slivered almonds
1 tbsp fresh thyme
1 tbsp fresh dill
1 1/2 cup mayo
1 tsp ground mustard
3/4 tsp salt
3/4 tsp pepper
1 tsp lime juice
Instructions
Shred or chop your chicken and set aside in a large bowl.


Add diced apple, celery, grapes, and green onion to the bowl of chicken. Stir until combined.


In a separate bowl add mayo, ground mustard, salt, pepper, and lime juice. Stir until combined.


Pour mayo mixture into the larger bowl with chicken, etc. Stir together so everything is coated in the seasoned mayo.


Add your sliced or slivered almonds, dill, and thyme. Gently stir. (Save these ingredients for the end so they don't get lost in everything else.)


Taste. Add up to an additional 1/4 tsp salt and pepper if you like. (Most often I do but it really depends on which mayo I use so give it a final taste before adding more.)


You're ready to serve! Enjoy in a sandwich, salad, or over greens for a satisfying and very tasty meal!

Notes
Yes, you can leave the peel on your apples if you like. I often do! I typically use red grapes because I think they show up beautifully in the finished product but of course green works great too. The amount of salt and pepper you need varies depending on the mayo you use. I find that Primal Kitchen's Avocado Oil Mayo has a strong flavor so the 3/4 tsp I list in the ingredients is often plenty. However, when I make my own mayo or use a traditional store-bought variety I tend to want a smidge more salt. My recommendation is to make it according to the ingredient list and then give it a final taste before serving. You can always add extra salt. It's better to wait until then so you get it just right!
Nutrition
Serving: 0.5cup, Calories: 387kcal, Carbohydrates: 5g, Protein: 22g, Fat: 30g, Saturated Fat: 4g, Cholesterol: 71mg, Sodium: 449mg, Potassium: 297mg, Fiber: 1g, Sugar: 3g, Vitamin A: 185IU, Vitamin C: 3.1mg, Calcium: 40mg, Iron: 1.3mg
Made this and love it? If you share a photo of your finished product on Instagram tag me so I can check it out!