Eating Out on Whole 30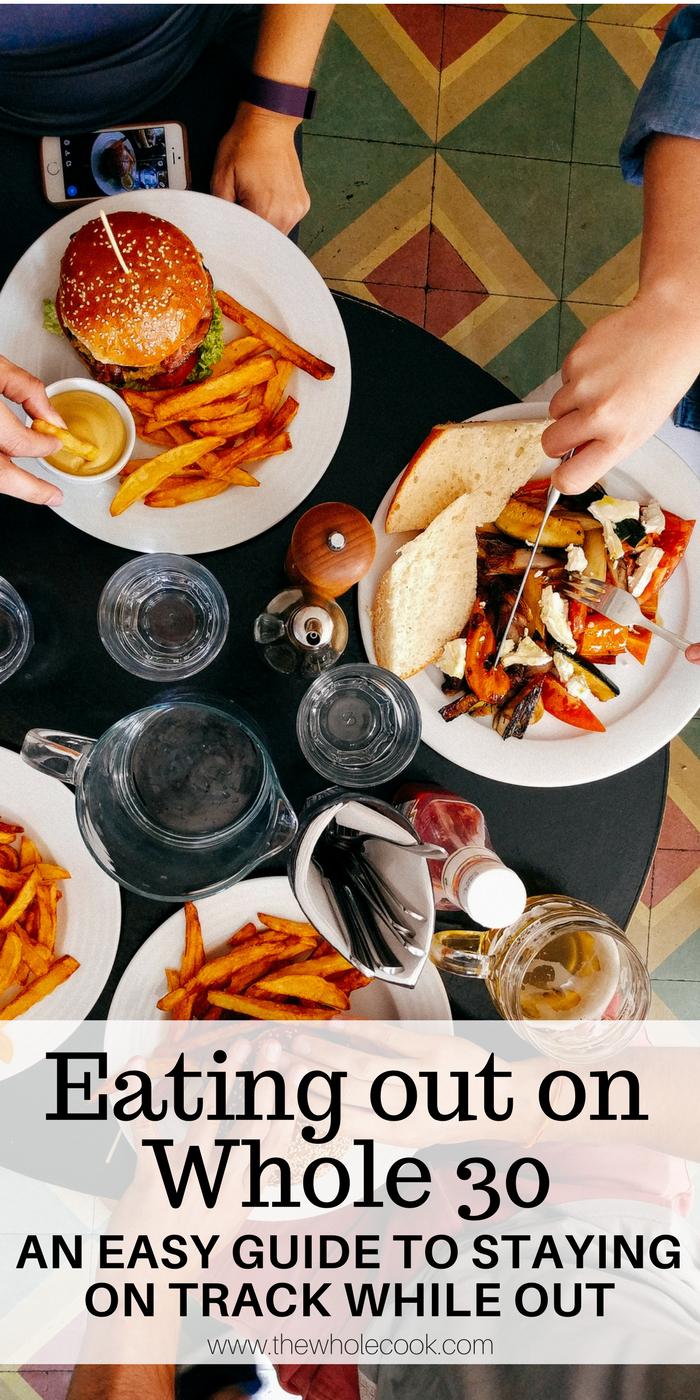 Some people find eating out on Whole 30 intimidating. I completely understand why. Once you start reading labels it's easy to see how brands sneak in sugar and soy in surprising ways. And of course both are restricted during your 30 days on the program. Naturally another big concern is what cooking fats restaurants use. Their goal is to prepare flavorful food while being cost effective and minimizing cook time. You can expect butter to be in everything. So if you're uncomfortable asking questions and making requests when you order then certainly eating out will be hard. And let's be honest, unless you're at a restaurant that specializes in organic offerings and preparing dishes that appeal to foodies with particular tastes, the meal just won't be as spectacular as it will at home.
But, friends, preparing every single meal at home is exhausting and accounts for a lot of dishes. A lot. Sometimes you just need a break. And if you're me, you need a reason to leave the house and put on make up.
So it's decided, we will eat out on occasion. Now how to make it work?
If I could convince you of one thing it's this. The more prepared you are the better your meal out will be. Visit the website. Plan what you'll order. Figure out what would make your meal even better. You don't want to leave feeling hungry and irritated that you paid good money for an unimpressive dining experience.
Getting a salad? Bring your dressing or extra toppings that will make your salad rock (like avocado, grilled onions/peppers, raisins, etc).
Are your coworkers dragging you to a Mexican restaurant and you're envisioning yourself squirming in your seat while they gorge themselves on chips and cheese dip? Bring plantain chips and enjoy with guacamole or salsa. This one tip has actually made Mexican restaurants a favorite of mine. I don't feel deprived at all!
Now lets talk about some easy options.
Breakfast restaurants. It's pretty straight forward. Order eggs scrambled with a little water or fried without butter. Fresh fruit. Diced or roasted potatoes can work if you inquire about how they're made. Sorry, no bacon. I guarantee you they didn't splurge for the pricey sugar-free kind.
Steakhouses. They're the best! Typically they are totally accustomed to requests. Think steak, chicken, or fish. No butter. A steamed vegetable side like broccoli or a vegetable medley. No butter. A side salad. Bring your own dressing. It's that simple.
Mexican restaurants. Again, a favorite of mine. Bring plantain chips. Really. You might feel a little silly the first time but it drastically improves your experience. Do not go to a Mexican restaurant without plantain chips. Without them you'll be averting your eyes for the first half of the visit while everyone around you shovels chips and salsa in their faces. Bring your plantain chips and you'll be one satisfied customer. Enjoy that salsa or order yourself a guacamole.
Ask how they prepare their proteins. I've found that typically a salad with grilled chicken, onions & peppers (depending on how they're prepared), pico de gallo, avocado/guacamole, and salsa will do the job. A spicy salsa makes the best dressing! Sometimes chicken or steak fajitas with grilled onions & peppers will do the job if they're not made in butter. No tortillas. Duh. You didn't think you'd get away with those, did you? Ask for lettuce, pico de gallo, avocado/guacamole, and salsa.
Hamburger joints. Sure, you can't have fries, but if you can stand to sit next to someone who is munching on them then you can manage a burger joint. Get a double burger. No bun. You can have it wrapped in lettuce or just eat it with a knife and fork. No cheese. No ketchup. You can usually have mustard, but a nice establishment will have better add-ons. Think fried egg. Sliced avocados. And of course, the usual burger toppings like onions and pickles. A higher end restaurant could have some sides that are Whole 30 compliant like a steamed vegetable, fruit, or salad (bring your own dressing). If it's strictly a burger and fries place then be prepared and bring your own side so you don't suffer.
BBQ. Before you go jumping for joy, simmer down and consider that it is highly unlikely that any BBQ sauce you find at these restaurants is made without sugar. Not gonna happen. Sorry to burst your bubble. Now pick yourself up off the floor. There are options. Inquire about their grilled offerings. Make sure they use a seasoning that's on plan. What I do love about a good BBQ restaurant is that they typically have decent sides. You could have a baked potato (potentially even a sweet potato). No butter. How happy would you be if you prepared for this visit and brought your own ghee? Very. You're welcome. Steamed vegetables are an excellent offering. It's common for them to pour the butter on after steaming so just request that they don't.
Anywhere else. The above restaurant types are the ones that I've had the most luck with. When those don't work you can always order a salad as an entree. Add grilled chicken. Check on how they season it though as sometimes sugar creeps in there. Add vegetables. Usually you can find the basics like tomato, onion, cucumber. Ask for extra. It's always worth it. If you're lucky you can find more toppings available. And if you're not so lucky? Prepare for that eventuality by bringing items from home to make your salad more substantial and filling. I often carry in a small container of avocado and I always bring my own dressing (usually Easy Ranch Dressing or Cilantro Citrus Vinaigrette).
There you have it. What have we learned here? It is possible to eat out. Preparation makes all the difference. Ask questions. Make requests. You'll survive. Hopefully you'll eat well too.
Here's an easy graphic, Eating Out on Whole 30: Quick Tips, to help you out when you're on the go and looking for meal options!
Want some yummy Whole 30 recipes to make at home? I got ya covered. Check out this list of 250 Whole30 Recipes You Will Love, 21 Whole30 Comfort Food Recipes, 30+ Healthy Whole30 & Paleo Snacks, 85 Must Make Whole 30 & Paleo Dinners, 105 of the Best Whole 30 Recipes.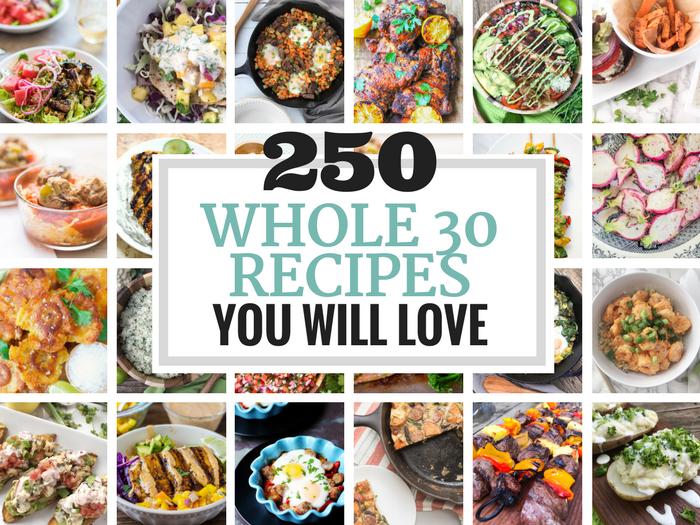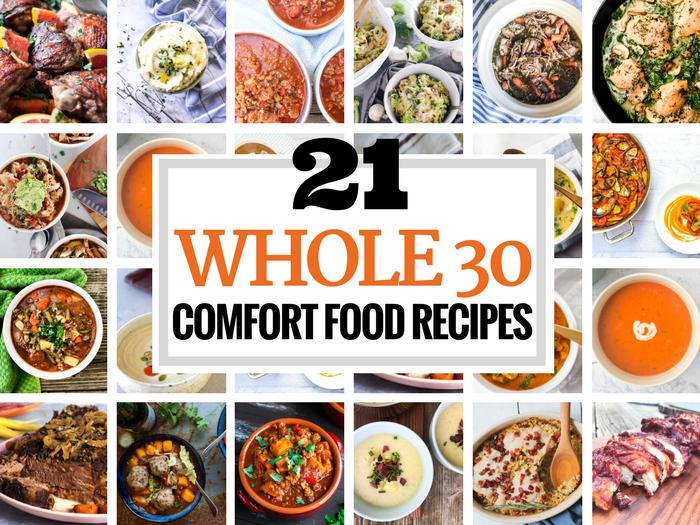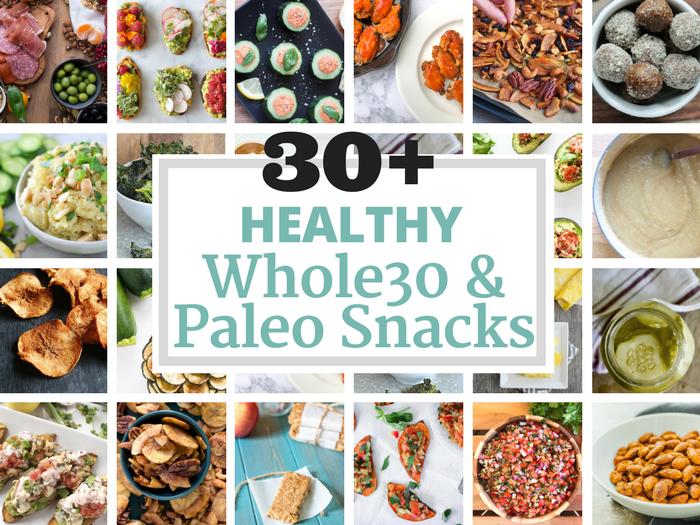 Save
Save
Save
Save
Save
Save