Fruit Salad with Lemon Poppy Seed Dressing
This Fruit Salad with Lemon Poppy Seed Dressing takes fruit to the next level.
We go through a ton of fruit in my house. My kids snack on it all day so I try to keep a variety of options to keep them from getting bored.
That's the key to an amazing fruit salad too. Variety. Pick a nice assortment of fruit so you have a rainbow of colors and flavors.
Pay attention to what's in season. That way the fruit you're getting is sure to be it's sweetest. A sour blueberry or a hard pineapple is a very sad thing, friend.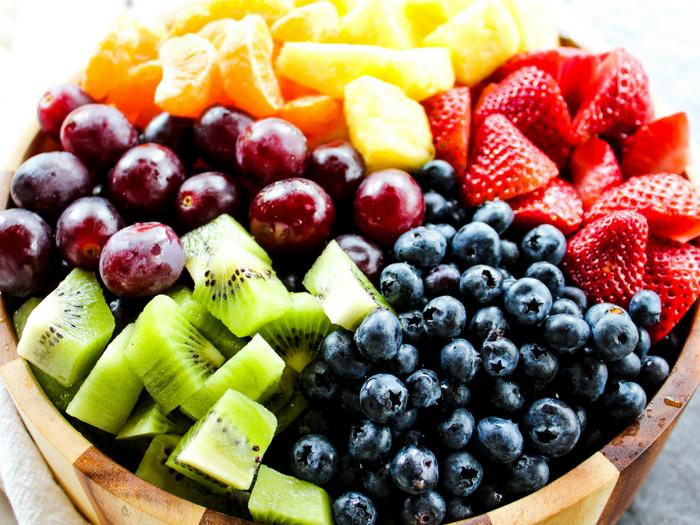 Toss all that gorgeous fruit in my Lemon Poppy Seed Dressing. It's so good it even got my husband eating fruit. No easy feat.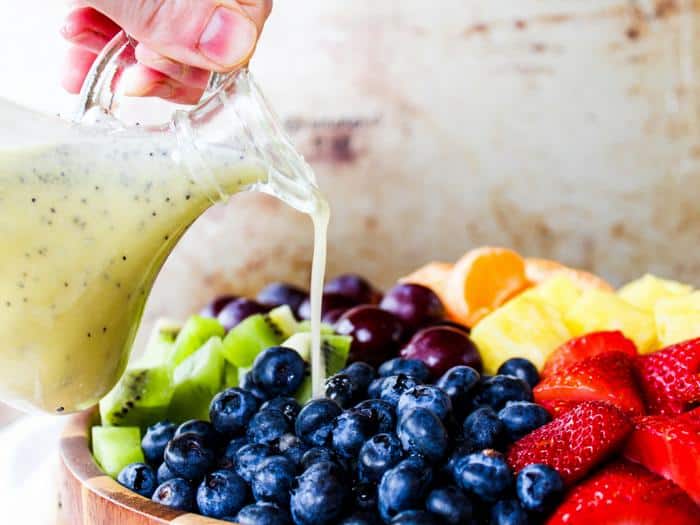 About that dressing, y'all. A little sweet. A little tart. Perfect over a beautiful bowl of fruit or a salad with strawberries and goat cheese. (Expect to see that salad here in the coming weeks.)
You just shake the dressing ingredients in a jar and it's ready to go!
Serve this fruit salad up to guests one evening when you're grilling, as a healthy breakfast, or in addition to sandwiches for lunch this week. I know you'll love it!
Fruit Salad with Lemon Poppy Seed Dressing
A beautiful fruit salad is made even more spectacular when you toss it in Lemon Poppy Seed Dressing. So colorful & sweet but with no sugar!

Ingredients
strawberries, sliced
grapes
kiwi, sliced
blueberries
mandarin oranges
pineapple, sliced
extra drizzle of honey, optional
Instructions
Combine your fruit in a large bowl.

Prepare your Lemon Poppy Seed Dressing and drizzle over the fruit. For this very large bowl I used 1/4 cup. Add a little at a time until you've sufficiently coated your fruit salad without it all pooling at the bottom of the dish.

Optional: For extra sweetness drizzle a little extra honey on top.

Stir and enjoy!