Fruit Salad with Lemon Poppy Seed Dressing
 Everyone raves about this fresh fruit topped with an easy homemade Lemon Poppy Seed Dressing. Perfect as a side for lunch or brunch!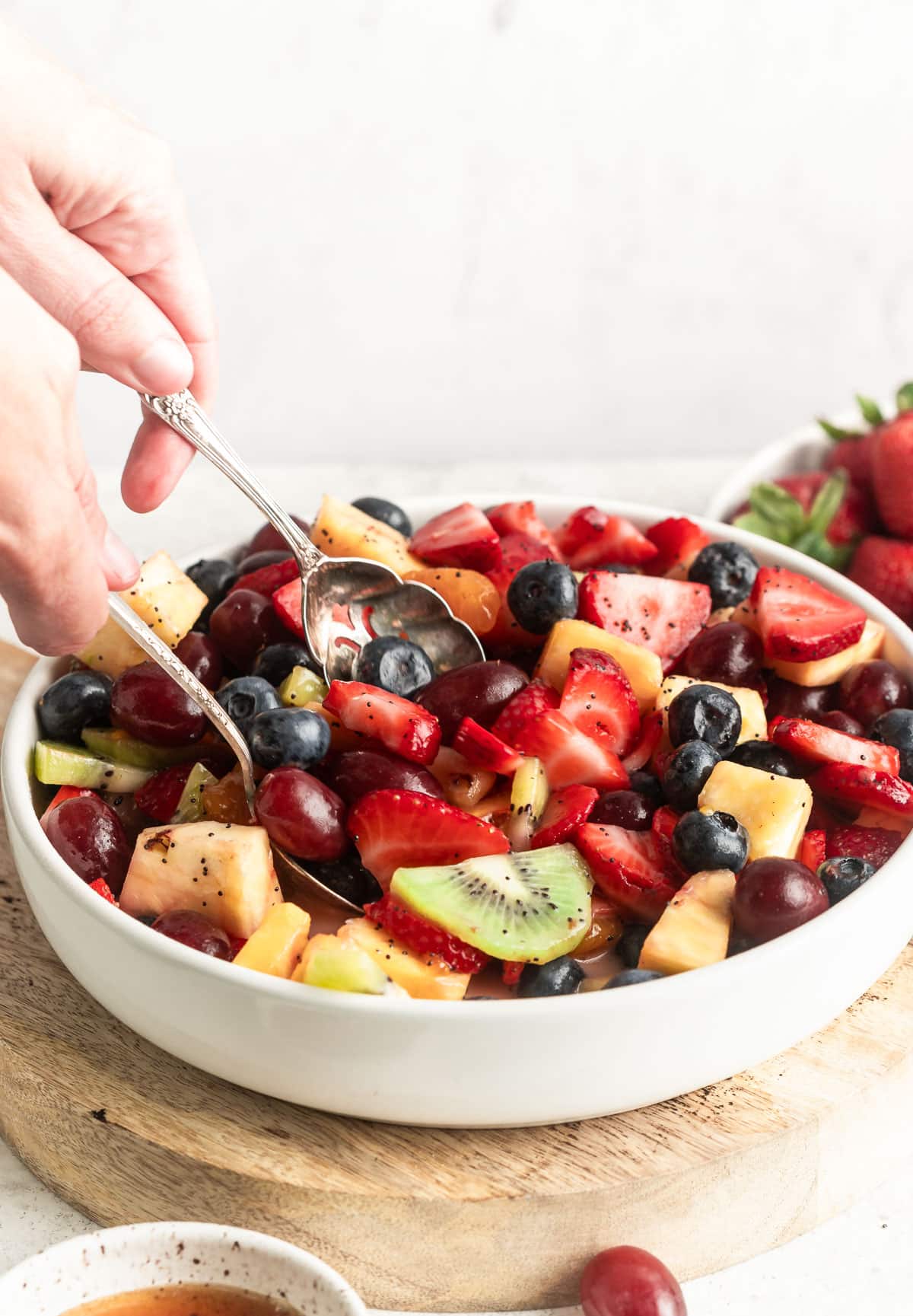 This Fruit Salad with Lemon Poppy Seed Dressing takes fruit to the next level.
We go through a ton of fruit in my house. My kids snack on it all day so I try to keep a variety of options to keep them from getting bored.
That's the key to an amazing fruit salad too. Variety. Pick a nice assortment of fruit so you have a rainbow of colors and flavors.
Pay attention to what's in season. That way the fruit you're getting is sure to be sweet. A sour blueberry or a hard pineapple is a very sad thing, friend.
Cut your fruit so that they're close in size.
Then toss all that gorgeous fruit in my Lemon Poppy Seed Dressing. It's a little sweet and a little tart. Perfect over a beautiful bowl of fruit. You just shake the dressing ingredients in a jar and it's ready to go!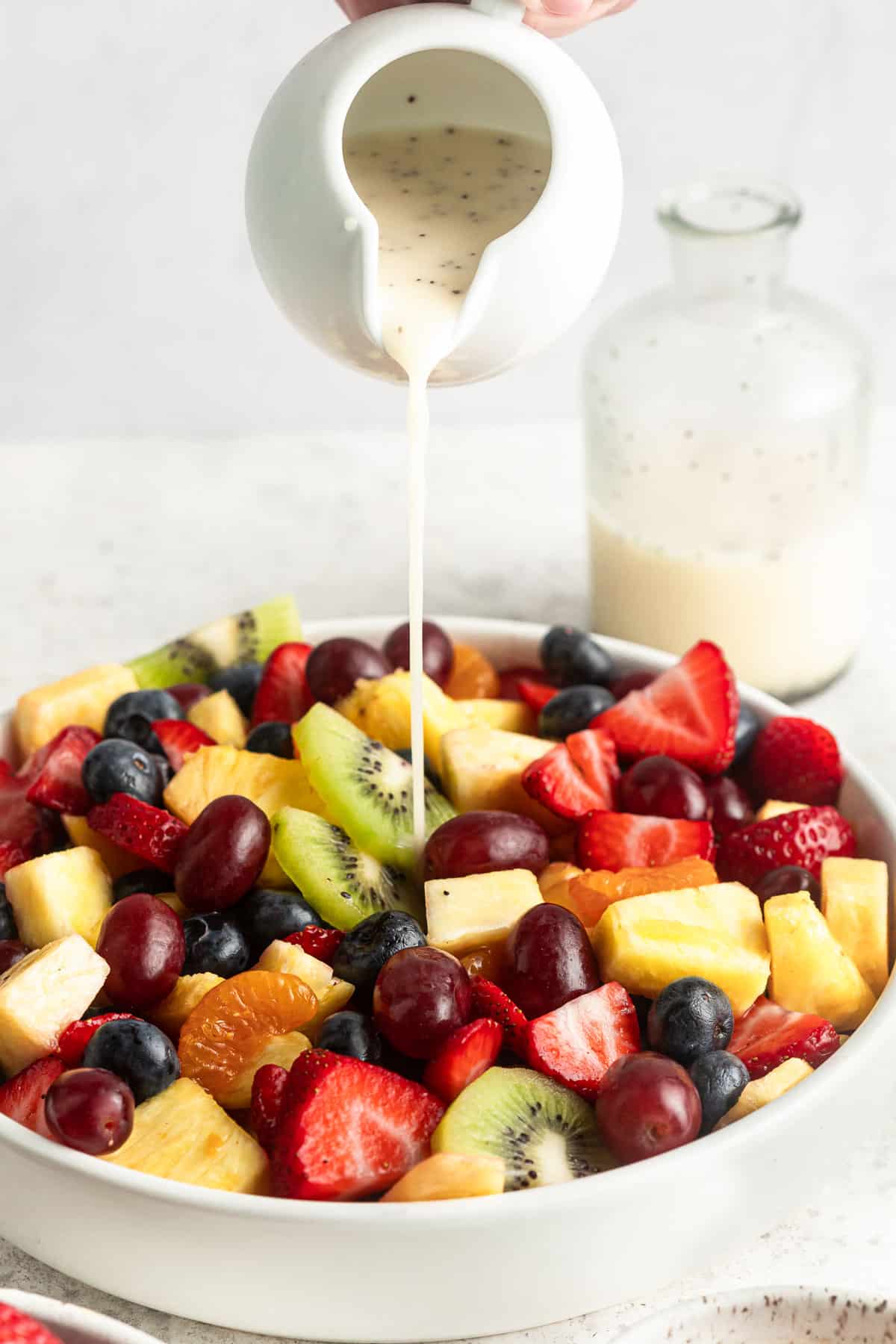 For this recipe you'll need (full list of ingredients and instructions are in the recipe card below):
Strawberries
Kiwis
Grapes
Blueberries
Mandarin oranges
Pineapple
Lemon juice
Canned coconut milk
Olive oil
Honey
White wine vinegar
Poppy seeds
Ground mustard
Salt
What other fruit can you use?
While I think this fruit salad is the perfect fruit combo, I'm also a big believer in using what you have! Here are a few ideas for other fruit that will do beautifully in this salad:
Watermelon
Sliced bananas (Add them right before serving as they'll brown pretty quickly.)
Peaches
Cantaloupe
Honey dew
Raspberries (Be very careful stirring these because they'll fall apart.)
Blackberries
Cherries
Can you use canned fruit?
I love canned fruit but not in this fruit salad. It tends to be too soft and mushy for this recipe.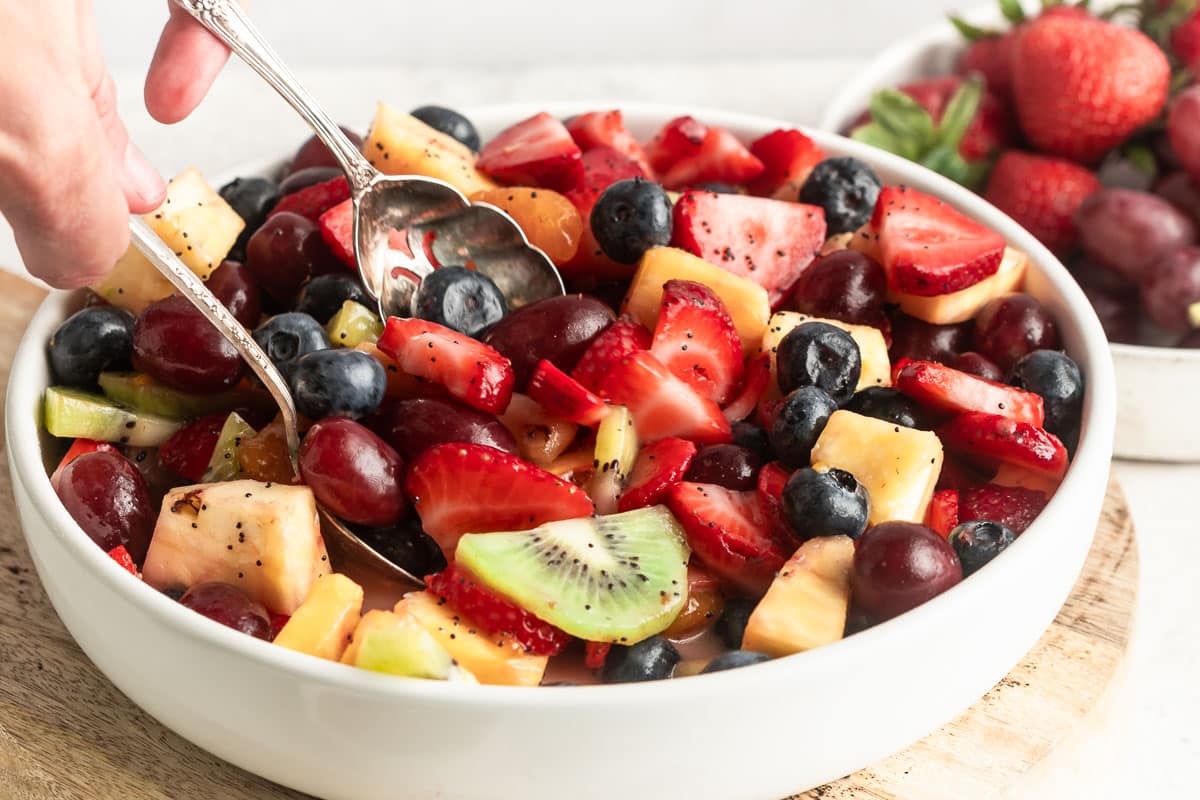 Can you make this in advance?
Absolutely! In fact the flavors will get stronger if the fruit has some time to sit in the dressing. You can make it up to 12 hours before serving. (You obviously can make it even earlier but at that point it won't be as pretty.)
How to serve this fruit salad
You can enjoy this fruit on its own as a breakfast or snack of course. I personally love to serve it as a side. It's perfect for pairing with grilled chicken or steak and veggies. Enjoy it with a sandwich on a warm summer day. Offer it to guests as part of your brunch or baby shower menu!
Fruit Salad with Lemon Poppy Seed Dressing
A beautiful fruit salad is made even more spectacular when you toss it in Lemon Poppy Seed Dressing. So colorful & sweet but with no sugar!

Ingredients
Fruit
strawberries, sliced
grapes
kiwi, sliced
blueberries
mandarin oranges
pineapple, cored and sliced
Lemon Poppy Seed Dressing
1/3 cup lemon juice
1/4 cup unsweetened canned coconut milk , stir if its separated in the can
1/4 cup olive oil
3 tbsp white wine vinegar
3 tbsp honey
1/2 tbsp poppy seeds
1 tsp dry ground mustard
1/4 tsp salt
Instructions
Combine your fruit in a large bowl.

To make the dressing, first add the coconut milk to a jar or bowl. Stir to make sure it's smooth and there's no separation or clumps. Then add all other dressing ingredients. Shake or stir until well combined.

Drizzle about 1/4 cup of the dressing over the fruit. Gently stir so your fruit is fully coated. Add more dressing a little a time if you need it. We want the fruit coated but we don't want dressing pooling at the bottom of the dish.

For extra sweetness you can drizzle a little extra honey on top (optional). Serve immediately or refrigerate until you're ready to eat. If not serving right away give it a good stir before you do.

Refrigerate any leftover dressing (in a sealed container) and use later on a salad or more fruit.