Grilled Chicken Cauli Rice Burrito Bowl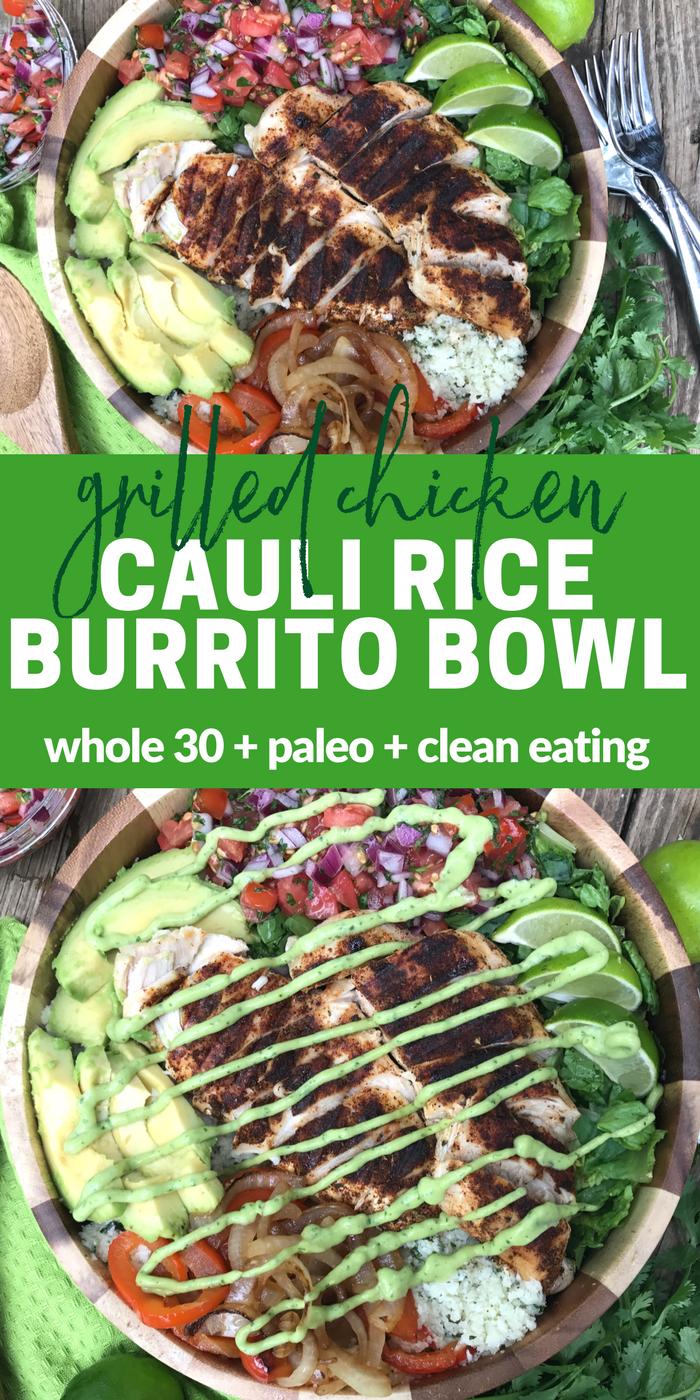 This post is sponsored by Forester Farmer's Market. I've used their product in the recipe and I'm so happy to use ingredients I'm proud to feed my children. Thank you for supporting the lovely brands who support this site!
These Chicken Cauliflower Rice Burrito Bowls are incredible. They're grain free, dairy free, and totally Whole 30 compliant too. They are so packed with flavorful fresh ingredients that you're not going to miss the queso (yes, I said it) or sour cream.
The chicken is made with a dry rub that you're sure to use again and again after trying it once. No prepacked taco seasonings. This spice mixture is easy to make (so very easy) and yummy!
The chicken I've used is by Forester Farmer's Market. They reached out to me last month about creating a recipe and I was genuinely excited. I already purchase their chicken regularly so I am totally happy to tell you all about them!
The chicken feed they use is made from 100% locally sourced and non genetically engineered/non genetically modified (+Non GE/+Non GMO) grains. They "debone" their chicken by hand and not by machine which is just another example of the care they take in producing a high quality product. Plus their chicken is just plain delicious. If it wasn't I wouldn't be buying it and using it in my food every week!
Want to try Forester Farmer's Market chicken for yourself? You'll be happy to know it's now available in select Sam's Club stores (which means it's sold at a great price). See if it's available near you!
To lighten up these burrito bowls I've used Cilantro Lime Cauliflower Rice. It cooks in minutes and is the hands down best substitute for traditional rice. If you've ever been hesitant to try cauliflower rice before promise me you'll try it here. Even my husband loves it. Not tolerates it. Loves it. And he's a born critic about food (and everything).
Pico de Gallo, fresh avocado slices, and sauteed onions and red peppers add a punch of Mexican flavors.
I've topped these bowls with Creamy Avocado Dressing & Dip. If you're not already making this that's about to change. Everything in your life needs a drizzle of this avocado goodness.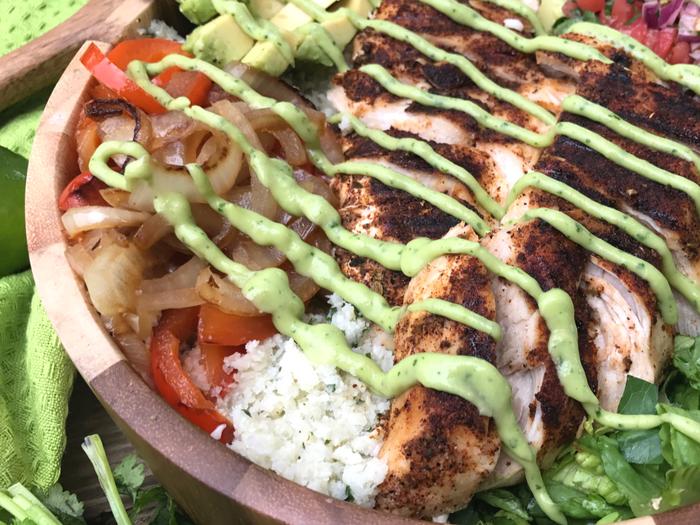 I crave Mexican food all the time. We have a Mexican restaurant close our neighborhood and we meet friends there almost every single week. These burrito bowls will have you satisfying that craving at home in a totally good for you way.
Grilled Chicken Cauli Rice Burrito Bowl
Recipe Type: Entree
Cuisine: Mexican, Whole 30, Paleo, Gluten Free, Dairy Free, Sugar Free, Low Carb
Author:
Prep time:
Cook time:
Total time:
Serves: 4
Satisfy your cravings for Mexican food with this incredible Grilled Chicken Cauli Rice Burrito Bowl. Packed with fresh flavorful ingredients to satisfy your appetite!
Ingredients
4 chicken breasts, trimmed
1 – 2 tablespoons olive oil
Taco Seasoning: 1 teaspoon chili powder, 1/4 teaspoon paprika, 1/4 teaspoon cumin, 1/2 teaspoon onion powder, 1/2 teaspoon garlic powder, 1/4 teaspoon salt, 1/2 teaspoon dried oregano
[url href="https://thewholecook.com/2017/07/07/cilantro-lime-cauliflower-rice/"]Cilantro Lime Cauliflower Rice[/url]
1/2 tablespoon ghee (you can substitute coconut oil or olive oil)
1 red bell pepper, sliced into strips
1 onion (white or yellow), sliced into strips
[url href="https://thewholecook.com/2017/07/11/pico-de-gallo/"]Pico de Gallo[/url]
2 heads of romaine lettuce
2 avocados, sliced
[url href="https://thewholecook.com/2017/06/30/creamy-avocado-dressing/"]Creamy Avocado Dressing & Dip[/url]
Instructions
Pat your chicken breasts dry with a paper towel.
Coat the chicken in olive oil and the Taco Seasoning spices.
Grill chicken for 5-7 minutes on each side or until fully cooked. The spices will help get the outside nice and browned.
Prepare your Cilantro Lime Cauliflower Rice and Pico de Gallo according to those recipe instructions.
In a saute pan add your ghee, red bell pepper, and onion. Cook on medium heat for approximately 5 minutes, stirring occasionally. Remove from heat when onion and peppers are wilted.
Place Cilantro Lime Cauliflower Rice in the bottom of a large bowl or divide between several bowls if you're creating individual portions.
Top with chopped romaine lettuce, Pico de Gallo, avocado slices, sauteed onions and peppers, and grilled chicken.
Drizzle Creamy Avocado Dressing over everything.