Grain Free Chocolate Chip Banana Bread
This grain free banana bread uses paleo baking flour and you're going to love every chocolatey slice of it! It's healthier but I assure you it's still soft, sweet, and everything you want banana bread to be.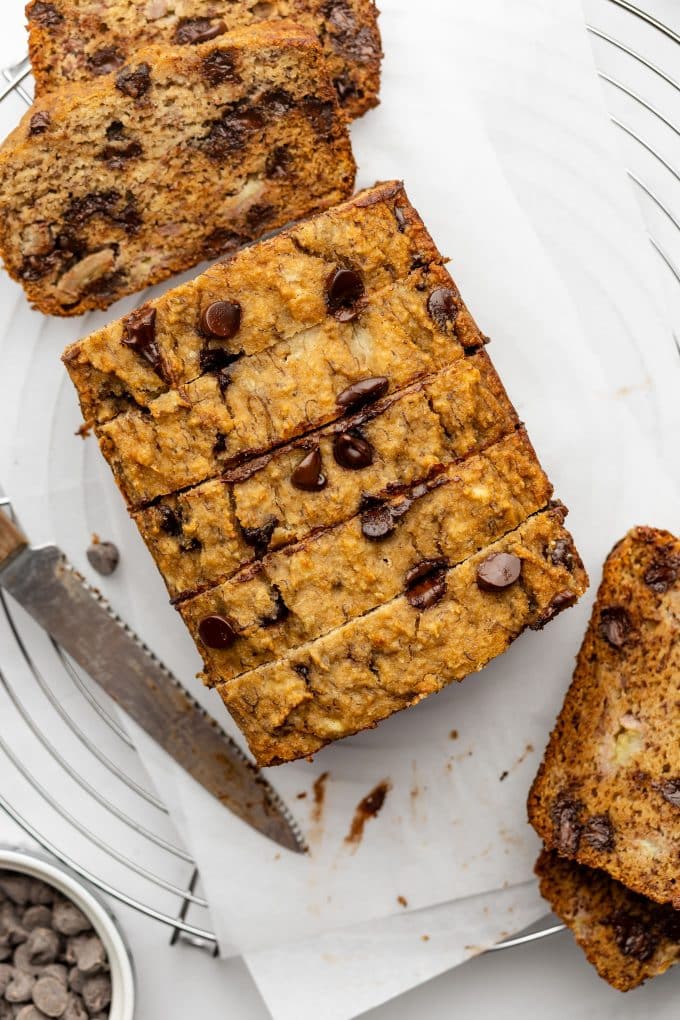 When I see overly ripe bananas on my counter my brain immediately goes to "let's make banana bread". Anyone else? Is there a more perfect way to use brown bananas? I think not.
And it doesn't get better than this grain free banana bread. Not only does it taste like a delicious classic banana bread, it's also healthier! I love when yummy things are good for me.
The sweetness in this bread comes from ripe bananas, applesauce, honey, and chocolate chips. Plus instead of using white flour we're going with paleo baking flour. All good things! But don't worry, the finished bread tastes just a little naughty.
For this recipe you'll need (full list of ingredients and instructions are included in the recipe card below):
Paleo baking flour
Baking soda
Baking powder
Salt
Chocolate chips
Bananas
Honey
Applesauce
Vanilla extract
Eggs or flaxseed meal
What is paleo baking flour?
Paleo baking flour is a blend of nut flours (like almond flour and coconut flour) and root starches (like arrowroot and tapioca) that's great for all kinds of recipes. Breads like this one, pancakes, cookies, muffins, pizza crust… it can do all of it!
The brand I buy most often is from Bob's Red Mill. I can find it in some nicer grocery stores and in most healthy food stores. I buy several bags at a time because I really love to have it around for baking and don't want to risk running out. You can of course always stock up online too. King Arthur also makes a great paleo baking flour and so does Thrive Market if you have a membership there.
Can you sub gluten free flour, almond flour, coconut flour, etc?
No, you can't. Flours can rarely be subbed 1:1 so I do not recommend a flour substitution here. If you're looking for a banana bread that uses a different flour I recommend googling for one that's been tested with that specific flour.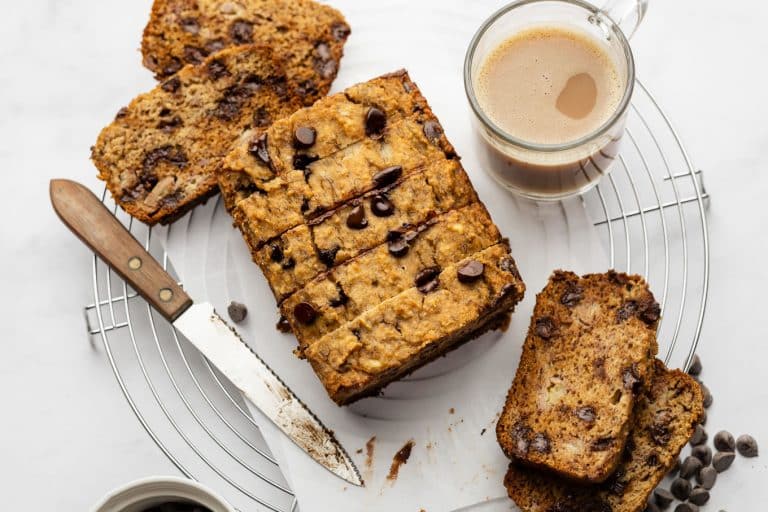 Chicken egg vs flaxseed egg
I tested this recipe with flaxseed egg to make sure it worked just as well as a chicken egg. And I can confirm that it works great! If you want to make this recipe free of eggs simply use 1 tbsp ground flaxseed meal + 3 tbsp water for each egg you're replacing. (This is commonly known as a flaxseed egg.) Since this bread calls for 2 eggs you can instead use 2 tbsp ground flaxseed meal + 6 tbsp water. Let that sit in a small dish for 5 minutes. Then add it to your other ingredients. Super simple and effective!
How important is it to use ripe bananas?
It's pretty much the most important thing you can do! For a true banana taste you need to use very ripe bananas. They add that strong banana flavor we want and so much natural sweetness. They also help contribute to the moistness of the finished texture. If your bananas aren't quite ripe yet it's really worth waiting a few days before making bread with them.
Why use applesauce in this banana bread?
Applesauce is used here for three reasons:
It's an excellent replacement for butter or oil. While I'm definitely not against using those at all and you'll see plenty of both in my recipes, I love taking the opportunity to swap them for applesauce when it can be done well. It's an easy way to to increase our fruit intake!
The applesauce helps keep the banana bread moist.
It's a super healthy way to introduce some more sweetness. Because a great banana bread should have no shortage of sweetness, friend.
But guess what? You won't taste the apple sauce at all. You'll just notice and appreciate the sweetness and moistness of the finished banana bread and wonder at what sorcery was used in the kitchen to create it.
Is this bread vegan and dairy free?
This bread is dairy free as is so long as you use dairy free chocolate chips. (Egg isn't dairy. You'd be surprised how often I get asked that.)
This bread can easily be made vegan if you use dairy free chocolate chips, flaxseed instead of eggs, and maple syrup instead of honey.
What type of loaf pan is best?
A light colored aluminum pan is always best for breads like this one. Most often I use a white pan that I found for $4.99 at Home Goods (I have four of them now!) but I also have a light gray loaf pan that works just as well.
I have used both glass and ceramic loaf pans in testing this banana bread and they simply don't cook as evenly. (You can still do it. I just want to be up front that a light colored aluminum pan will yield the best result.)
Greasing your pan vs using parchment paper
Both are effective ways to prevent sticking. Use whichever method you prefer.
How to store leftovers
Store any leftovers in an airtight container in the refrigerator for up to 3 days.
If you want to store extra in your freezer simply slice the loaf and place in a freezer safe container (like a freezer bag). I like to use parchment paper in between slices so they're easy to separate when frozen. When you're ready to enjoy just microwave a slice for 45 seconds to 1 minute.
Grain Free Chocolate Chip Banana Bread
This grain free banana bread uses paleo baking flour and you're going to love every chocolatey slice of it! It's soft, sweet, and everything you want banana bread to be.
Ingredients
Dry Ingredients:
2 cups paleo baking flour, I use Bob's Red Mill Paleo Baking Flour
1 tsp baking soda
1 tsp baking powder
1/4 tsp salt
3/4 cup chocolate chips, I use semi-sweet
Wet Ingredients:
3 ripe bananas
1/4 cup honey
1/4 cup apple sauce
1 tsp vanilla extract
2 eggs, or 2 tbsp flaxseed meal + 6 tbsp water
Instructions
Preheat oven to 350 degrees.

Add paleo baking flour, baking soda, baking powder, and salt to a large bowl. Stir.

Peel the bananas and add to a separate bowl. Use a fork to mash the bananas. Then stir in honey, apple sauce, vanilla, and eggs. Whisk until well combined. If using flaxseed meal instead of eggs, combine 2 tbsp ground flaxseed meal and 6 tbsp water in a small bowl. Let sit for 5 minutes. Then stir into other wet ingredients.

Pour the wet ingredients into the bowl of dry ingredients. Stir.

Stir in the chocolate chips.

Grease a 9 x 5 loaf pan to prevent sticking. (I use olive oil.) Pour the batter into the pan. Place in the oven on the middle rack. Bake for 15 minutes. Remove from the oven and loosely (and carefully because it's hot!) cover the top with aluminum foil. Return to the oven and bake for another 35 minutes. Rest at room temperature until cool. Then slice!
Nutrition
Serving: 1slice, Calories: 240kcal, Carbohydrates: 34g, Protein: 6g, Fat: 9g, Saturated Fat: 4g, Trans Fat: 1g, Cholesterol: 34mg, Sodium: 183mg, Potassium: 393mg, Fiber: 4g, Sugar: 18g, Vitamin A: 79IU, Vitamin C: 3mg, Calcium: 55mg, Iron: 2mg