Italian Marinated Chicken Lettuce Wraps
You'll love these lettuce wraps filled with chicken that's marinated in an easy and zesty homemade italian dressing! These are a perfect low carb meal you can load with veggies!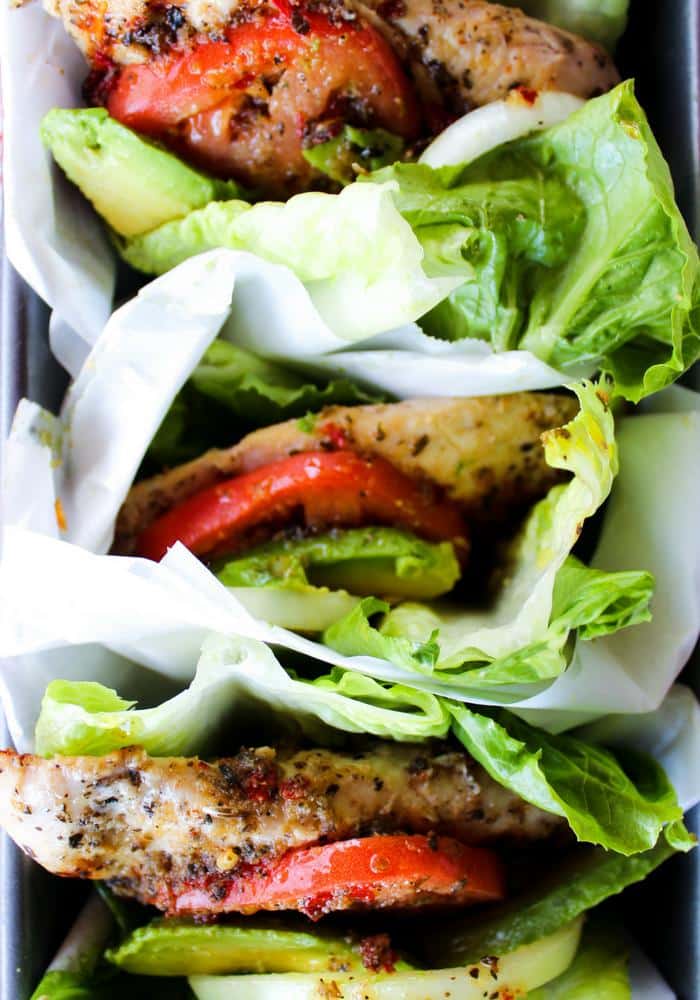 All hail the lettuce wrap. Aren't they just the best vehicle to gobble up all the things? Yesterday I shared my Italian Marinated Chicken. Make that. Make that right now. It is so good.
The Easy Homemade Italian Dressing I use as the marinade is incredibly simple to put together. Just toss the ingredients in a jar and shake.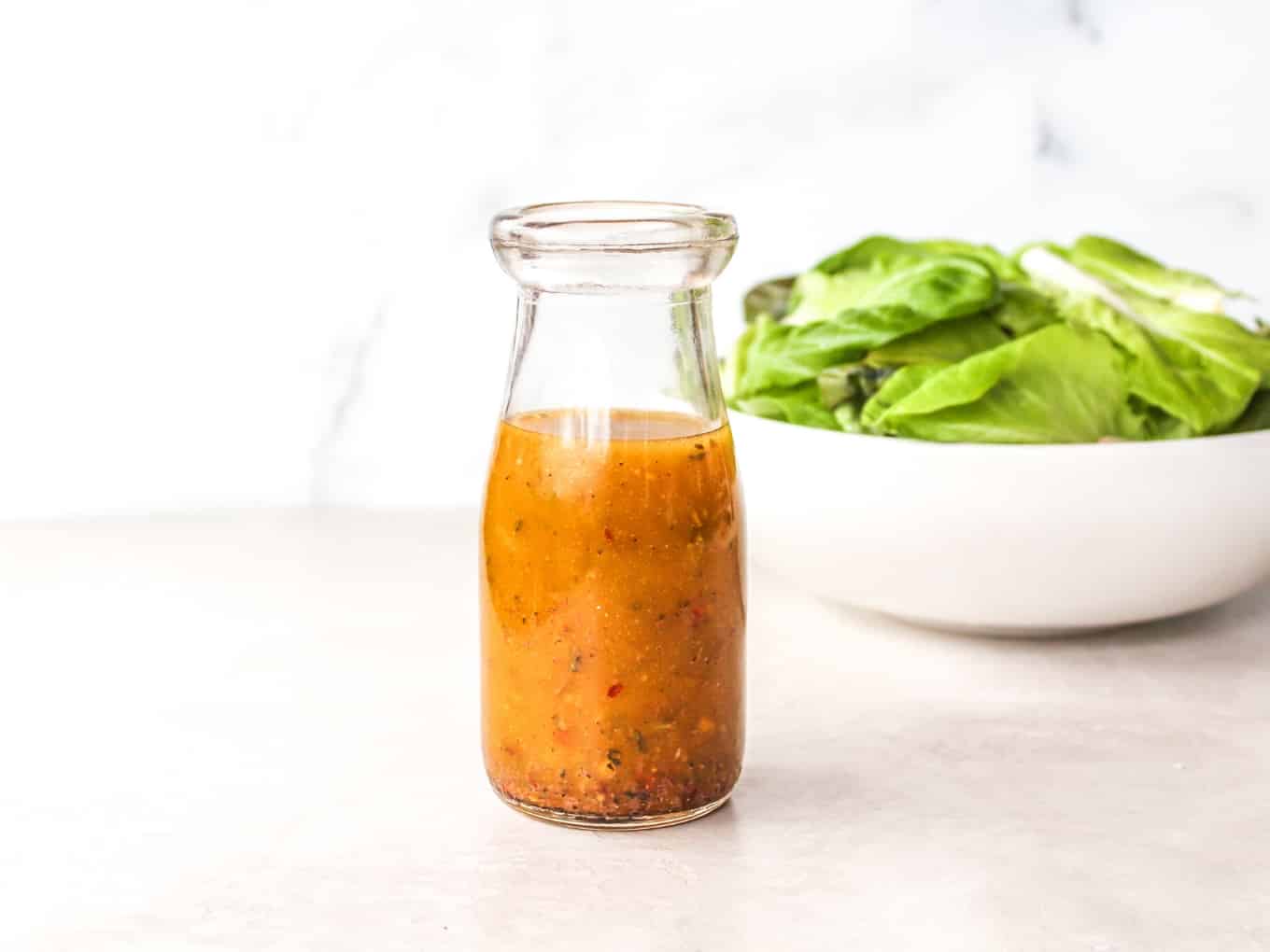 I like to cut my chicken breasts horizontally so they're not so thick. This means they'll grill faster and that every bite will have even more marinade. Those are good things, friend.
Let's take a moment and just let the awesomeness of these wraps sink in, shall we?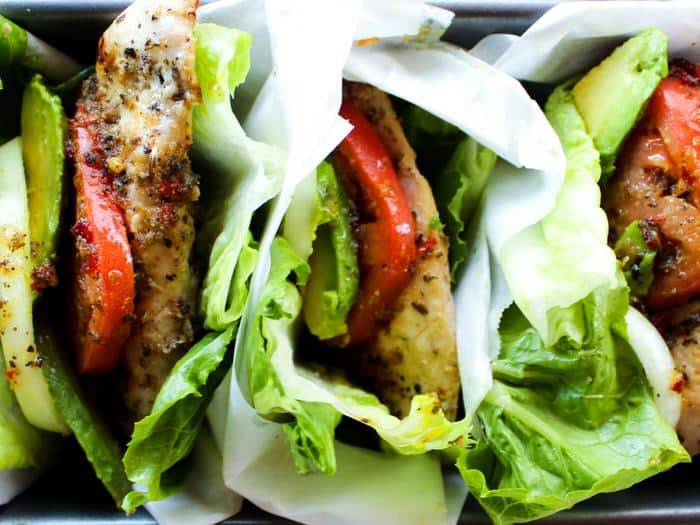 Drool.
That's it. Don't let me keep you from making these. You're going to love them.
Let's get up close and personal with this wrap one more time before you go.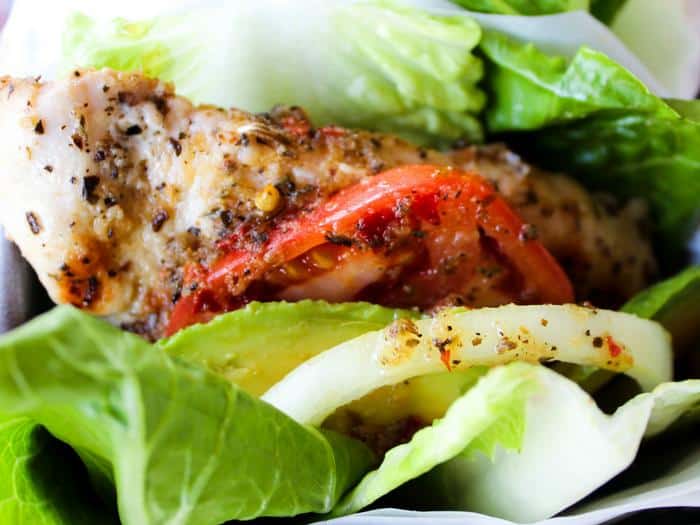 Italian Marinated Chicken Lettuce Wraps
Italian Marinated Chicken Lettuce Wraps are a healthy low carb way to sandwich! Perfect for lunch or dinner! Plus they're Whole30 compliant, gluten free, sugar free, and dairy free!
Ingredients
2 chicken breasts
1/2 cup Easy Homemade Italian Dressing
romaine or iceburg lettuce leaves
tomato, sliced
red or white onion, sliced into rings
avocado, sliced
Optional: additional Easy Homemade Italian Dressing for drizzling, pickles, peppers, sprouts, whatever additional toppings you like!
Instructions
Slice your chicken breasts horizontally to create 4 chicken cutlets. (This makes them thin so they'll cook fast and will fit better in lettuce wraps.)


Place your chicken cutlets in a gallon ziploc back with the 1/2 cup dressing. Remove excess air from bag and seal the bag closed. Let chicken marinade for 30 minutes and up to 12 hours.

Remove each chicken breast from the bag and place on a hot grill over medium heat. Grill 5 to 7 minutes on each side or until done. (Juices should run clear.)

Pull your lettuce apart to make cups (wraps). One iceburg lettuce leaf works great for each wrap. When I use romaine I use two leaves per wrap.

Fill each wrap with one marinated chicken cutlet, tomato, onion, avocado, and anything else that sounds good to you.

Drizzle a little extra

Easy Homemade Italian Dressing

on top. (Obviously do not use any of the marinade remaining in the ziploc bag our chicken was in. I'm betting you knew that though.)