Pesto Steak Kabobs with Blistered Tomatoes & Peppers
Tender steak, blistered tomatoes, and peppers are all topped with a drizzle of my homemade pesto for a meal that always impresses!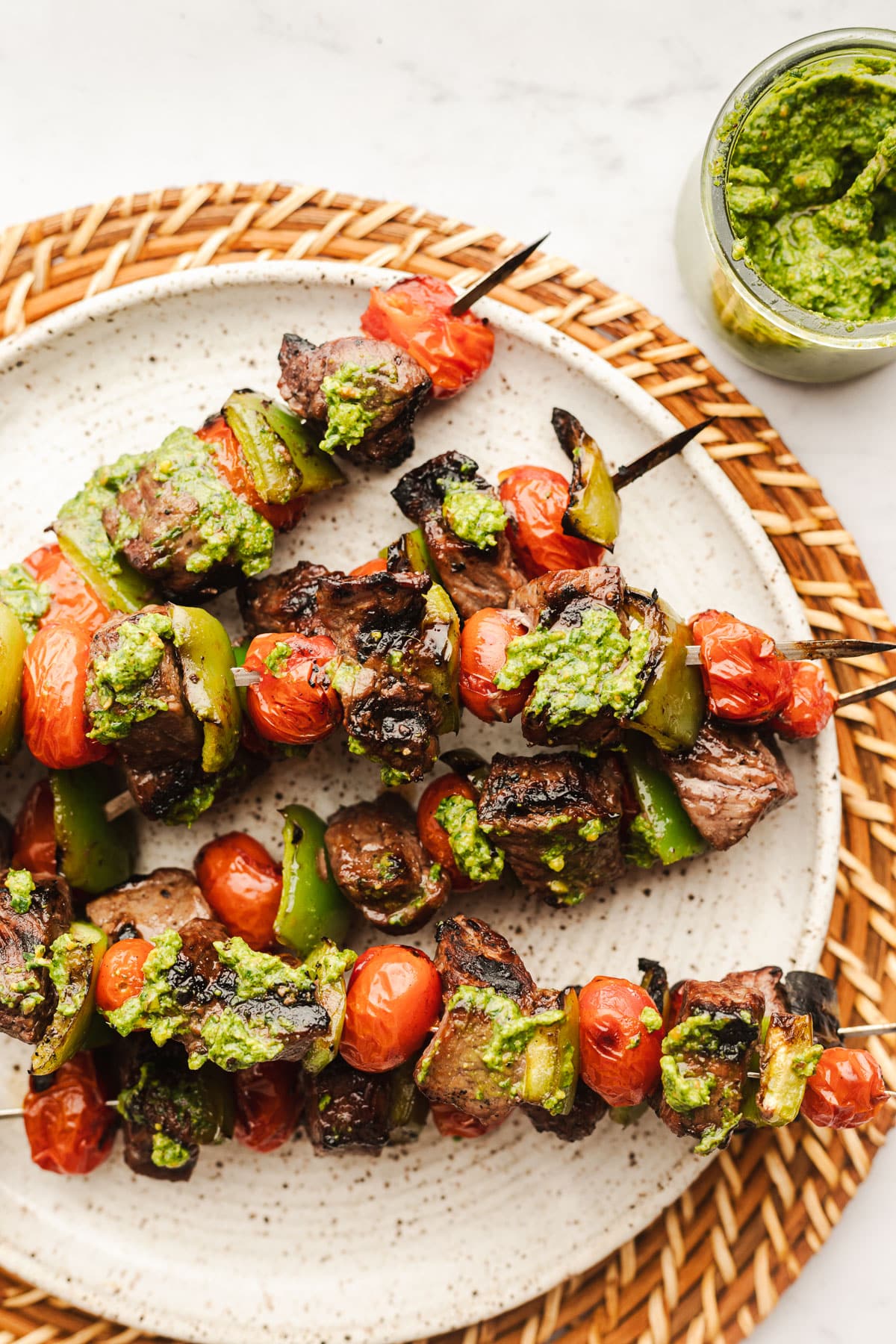 Update: This recipe was originally published in 2017 and has been republished with all new photos and a new pesto sauce.
My love affair with the grill is about ten years strong now. It's a thing. Don't tell my husband. Full disclosure: He's cool with it because it means he comes home to meals like the one I'm sharing today.
Let's talk kabobs.
They cook super fast.
With a great marinade they can be really really flavorful.
Prep and clean up is easy.
They cook super fast. Oh I know I said that already but it bears repeating.
This kabob recipe is particularly fast because steak, tomatoes, and peppers are all quick cooking foods. That's one of the biggest mistakes people make with kabobs. They try to pair things together that require different cooking times. Doing so can result in something being overdone while something else is underdone. Not today, baby.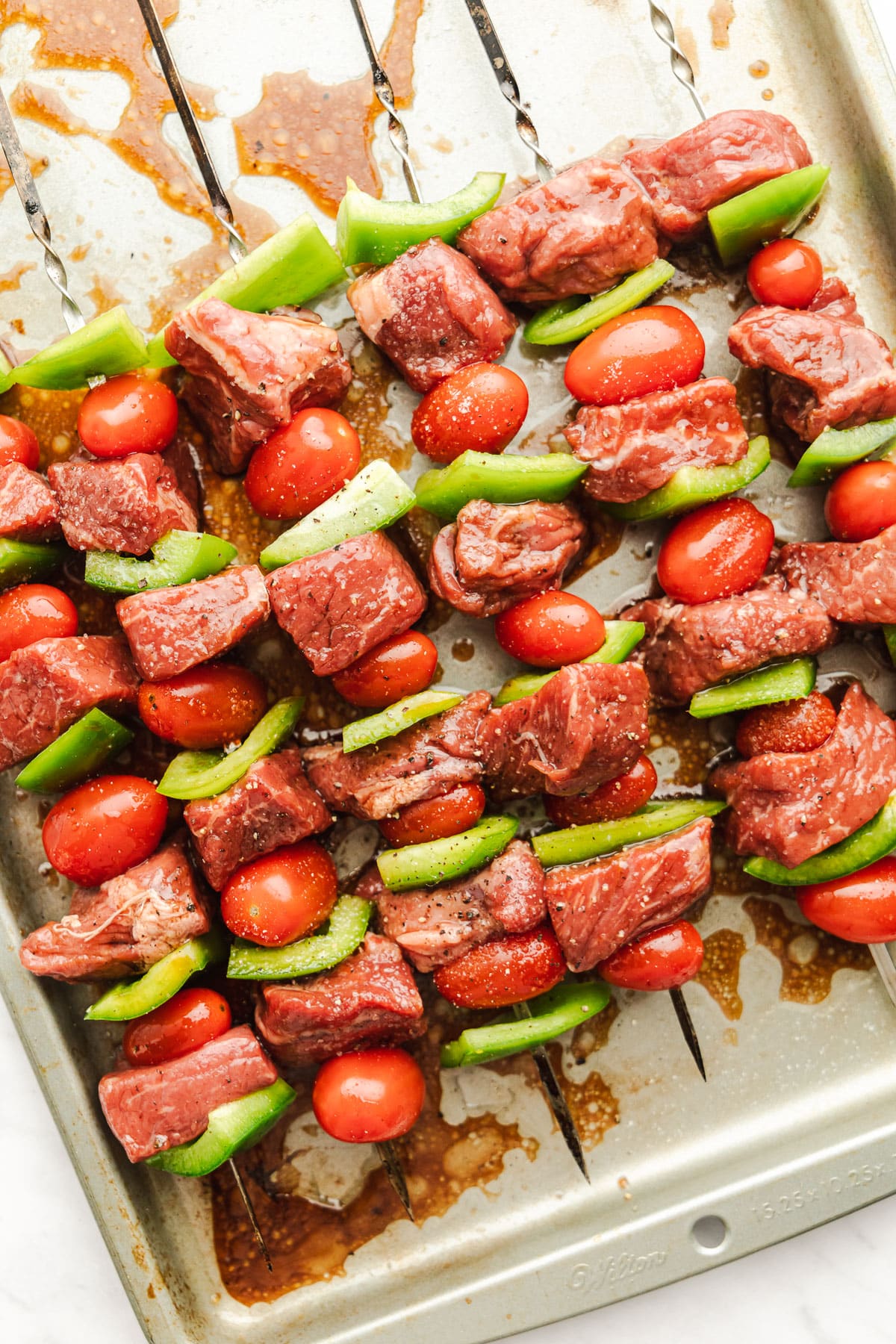 Have you ever grilled or roasted tomatoes before? They get extra soft and sweet with a little heat. Oh my, it makes a difference! The green bell pepper gives a nice crunchy contrast to the tomatoes.
And then there's the Pistachio Lemon Pesto. So simple to make and packs a powerful punch. Plus it's dairy free which makes it lower in calories than traditional pesto.
This is definitely not a boring kabob recipe. But be careful. Make this one time and your family is going to be requesting you do it again and again. Not that I have a problem with that.
For this recipe you'll need (full list of ingredients and instructions are in the recipe card below):
Top sirloin steak
Green bell peppers
Grape or cherry tomatoes
Coconut aminos or soy sauce
Olive oil
Fresh basil
Pistachios
Lemon juice
Garlic
Salt and pepper
Once these beauties go on the grill the countdown is on and you're no more than 7-10 minutes away from devouring them. (Depending on how thick you cut your steak and what level of doneness you like.)
Why use top sirloin steak for kabobs
I strongly recommend top sirloin because it's fairly lean but has good marbling. This means it is still tender. I also love that it's relatively inexpensive compared to other tender cuts of meat. You're getting a higher quality cut for a good price.
Can you use petite sirloin steaks?
I don't recommend it. They're thinner cuts so they're likely to overcook on the grill.
Can you use sirloin roast?
No. While it's named similarly to top sirloin it isn't the same thing. Sirloin roast is from the sirloin but it's not from the top and is tougher.
Can you use ribeye or filets?
You can but they're more expensive and not really worth the extra expense for kabobs.
Can you use a different pepper?
I love green bell pepper in these kabobs but any color bell pepper will work. You can even slice up mini sweet peppers if you like.
How to store leftovers
Let's be honest, you probably won't have any leftovers. But if you do, you can store them in the refrigerator in an airtight container for 3 to 4 days.
How to serve this
These kabobs are delicious with a baked potato and side salad. If you'd like to prepare another side I recommend my Garlic Green Beans.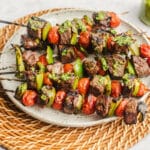 Pesto Steak Kabobs with Blistered Tomatoes & Peppers
These Pesto Steak Kabobs with Blistered Tomatoes & Peppers are juicy and cook quickly. Drizzle with homemade dairy free pesto for a dinner your family is going to want again and again!
Ingredients
Kabobs
1½ – 2 lbs top sirloin steak
3 green bell peppers
grape or cherry tomatoes
salt & pepper
Marinade
¼ cup coconut aminos, can use soy sauce
¼ cup olive oil
Pistachio Lemon Pesto
3 cups packed fresh basil
¼ cup pistachios, shelled
3 tbsp lemon juice
1 clove garlic, or 1/2 tsp minced garlic
½ tsp salt
⅓ cup olive oil, extra virgin
Instructions
Cut your steak into large pieces (around 1¼ – 1½ inches). Try to keep them uniform in size so they'll cook in the same amount of time.

Add your steak and marinade ingredients to a gallon ziploc bag. Squeeze out excess air and zip closed. Use your fingers to massage the marinade evenly around the steak. Let sit for at least 30 minutes, flipping the bag over occasionally.

Cut the top off your green bell pepper. Scoop out the inside and discard along with the top. Slice pepper into evenly sized chunks.

Thread your marinaded steak, bell pepper, and tomatoes onto skewers.

Place on a baking sheet and drizzle excess marinade from the bag over the kabobs so that your veggies also have a nice coat. (The olive oil in the marinade will help the veggies get a beautiful char.) Salt & pepper.

Place on grill so they're not touching. You'll want the grill on medium-high heat. Grill for 3-5 minutes. Flip. Grill for another 3-5 minutes. Remove when you've achieved your desired doneness.

Let the kabobs rest for a few minutes.

In a blender combine pesto ingredients and blend. Brush over steak & serve!
Notes
This recipe has been updated to include my dairy free Pistachio Lemon Pesto. If you have been making it with my original pesto recipe you can continue to do so. You'll just need to blend 2 cups fresh basil leaves, 1/2 cup parmesan, 1/4 cup pine nuts, 1/2 tsp lemon juice, and 1/3 cup extra virgin olive oil (can use more oil to get to your preferred consistency). Nutrition information is for 1 kabob and assumes you make 6 total. This can vary depending on how big your kabobs are.
Nutrition
Serving: 1kabob + 1/6 of pesto, Calories: 398kcal, Carbohydrates: 9g, Protein: 27g, Fat: 27g, Saturated Fat: 4g, Cholesterol: 66mg, Sodium: 489mg, Potassium: 772mg, Fiber: 2g, Sugar: 3g, Vitamin A: 1465IU, Vitamin C: 63mg, Calcium: 65mg, Iron: 2.9mg
Save
Save
Save
Save