Hawaiian Steak Kabobs
You'll love these delicious AND EASY kabobs with steak, sweet mini peppers, and pineapple. It's a quick grilling entree that wows!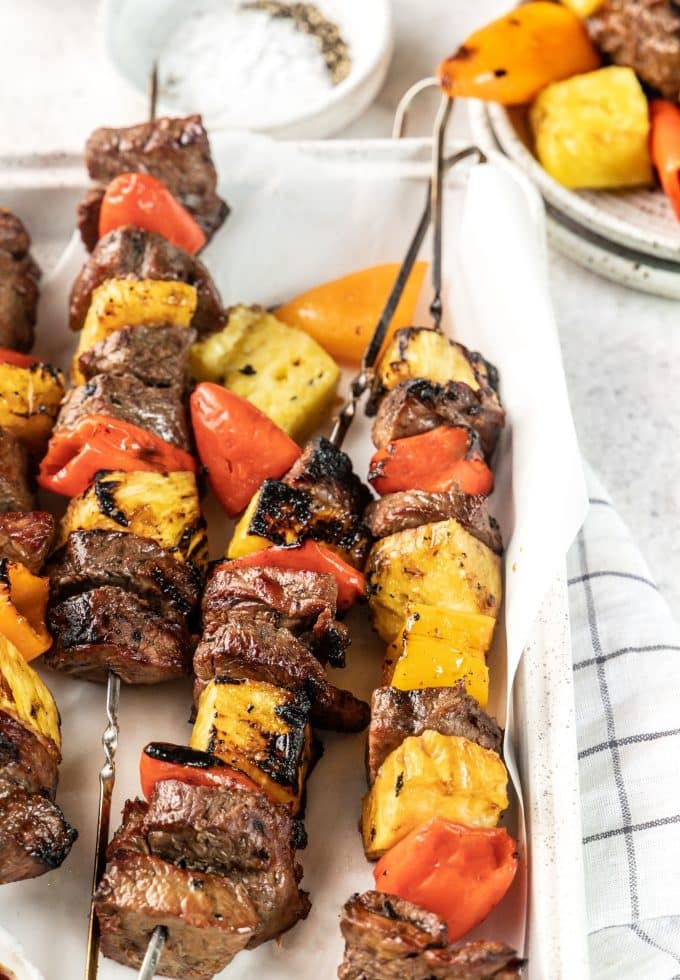 Update: This recipe was originally published in 2017 and has been republished with all new photos.
Hungry? My Hawaiian Steak Kabobs include a very easy 2 ingredient marinade, juicy top sirloin, fresh pineapple, and sweet mini peppers. So simple and so perfect. What more could you need?
These kabobs cook in minutes. That's always a win for busy weeknights or when you're entertaining and don't want to spend your whole night standing over the grill.
Serve them with fresh veggies, potatoes, and/or a simple salad to create a healthy dinner everyone will rave about.
For this recipe you'll need (full list of ingredients and instructions are in the recipe card below):
Top sirloin steak
Coconut aminos
Olive oil
Sweet mini peppers
Pineapple
Salt and pepper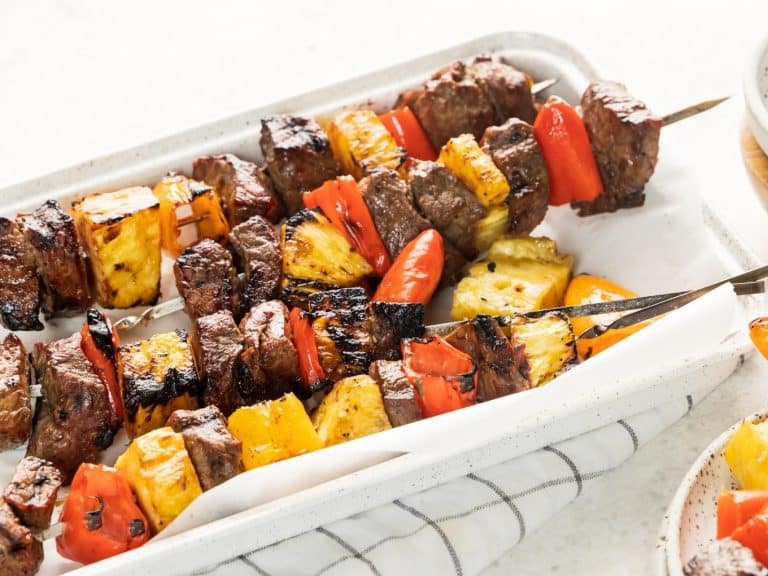 What is coconut aminos?
Coconut aminos is a soy sauce substitute that has a lot less sodium and contains no soy. It truly tastes like a slightly sweet soy sauce! Learn more about what it is and why it's so popular in healthy recipes here.
How long should you marinate?
The longer you marinate the more pronounced the flavor will be. You can let it work it's magic for as little as 30 minutes and up to 12 hours. I don't recommend longer than 12 hours because your meat can start to breakdown and the texture changes if it sits in a marinade for too long. (That goes for any marinade.)
How to store leftovers?
Leftovers can be stored in an airtight container in the refrigerator for up to 3 days.
Does this freeze well?
Yes! Just remove the skewers and place the grilled steak, pineapple, and peppers in a freezer bag or other freezer safe container. If using a bag be sure to squeeze out any excess air before sealing. This will be good in the freezer for up to 6 months.
When you're ready to enjoy it just thaw it out and reheat on the stovetop or in the microwave.
More recipes like this:
Pesto Steak Kabobs with Blistered Tomatoes & Peppers
Garlic Balsamic Chicken Kabobs
Ultimate Marinated Grilled Chicken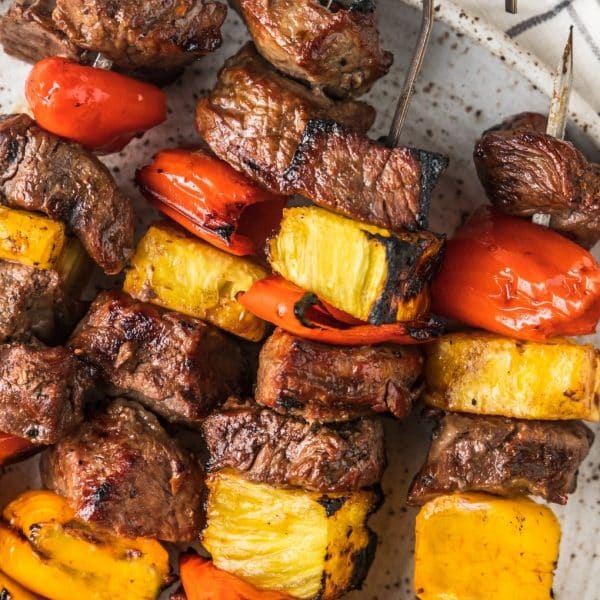 Hawaiian Steak Kabobs
You'll love these delicious AND EASY kabobs with steak, sweet mini peppers, and pineapple. It's a quick grilling entree that wows!
Ingredients
1.5 – 2 lbs top sirloin steak
1/4 cup coconut aminos, can use soy sauce
1/4 cup olive oil, extra virgin
1 lb bag of sweet mini peppers
1 pineapple
salt & pepper
Instructions
Cut your steak into large pieces (around 1 1/4 – 1 1/2 inches). Try to keep them uniform in size so they'll cook in the same amount of time.

Add your steak, coconut aminos (or soy sauce), and olive oil to a gallon ziploc bag. Squeeze out excess air and zip closed. Use your fingers to massage the marinade evenly around the steak. Let sit for at least 30 minutes, flipping the bag over occasionally.

Cut the tops off your peppers. Scoop out any seeds and discard along with the tops. Slice the peppers into evenly sized chunks.

Remove the top and outside of the pineapple. Remove the core. Cut the flesh into large chunks.

Thread your marinated steak, peppers, and pineapple chunks onto skewers.

Place on a baking sheet and drizzle excess marinade from the bag over the kabobs so that your veggies also have a nice coat. (The olive oil in the marinade will help the veggies get a beautiful char.)

Sprinkle with salt and pepper.

Heat grill to medium-high heat. Place kabobs on the grill so they're not touching. Grill for 3-5 minutes. Flip. Grill for another 3-5 minutes. Remove when you've achieved your desired doneness.
Nutrition
Calories: 380kcal, Carbohydrates: 26g, Protein: 35g, Fat: 15g, Saturated Fat: 3g, Cholesterol: 89mg, Sodium: 315mg, Potassium: 864mg, Fiber: 4g, Sugar: 18g, Vitamin A: 2454IU, Vitamin C: 169mg, Calcium: 58mg, Iron: 3mg