Italian Marinated Chicken
This Italian Marinated Chicken is so easy to throw together and can be served up so many ways! And that homemade dressing is going to become a favorite!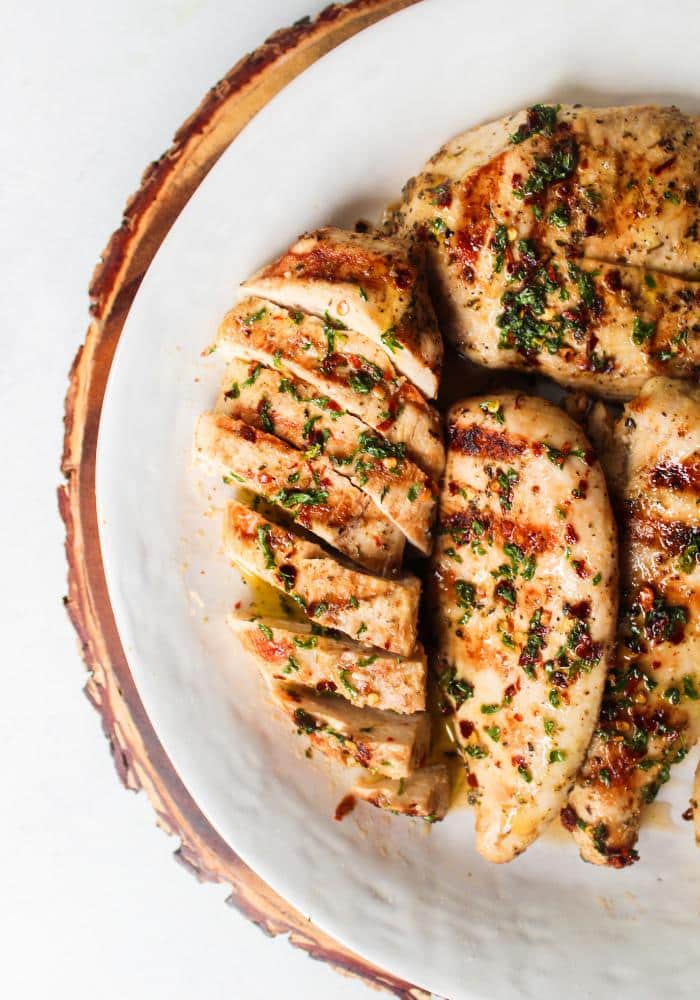 When I was in college I cooked two things. (1) Corn from a can that I poured into a bowl, heated in the microwave, and drowned in salt and butter. (2) Chicken marinated in store bought Italian dressing and baked in the oven.
Also brownies from a box of brownie mix. I was a beast at brownie making.
Now I'm a little older (ahem, thirty-six), wiser, and my food tastes have most definitely changed. But I still crave Italian Marinated Chicken.
These days I use my own Easy Homemade Italian Dressing. It contains no sugar or junk of any kind. (Those sneaky salad dressing makers are not scared to throw in a crazy sounding ingredient.) My dressing is completely Whole30 compliant, gluten free, dairy free, and sugar free. I can personally attest that it's also dang tasty on a salad or as a marinade.
So if it doesn't have dairy, gluten, or just plain junk… what is in this dressing exactly? Only the good stuff, friend! Olive oil and red or white wine vinegar are essential. A splash of lemon juice helps balance out that vinegar. Plus it's loaded with dried herbs and seasonings like garlic powder and onion powder. A little crushed red pepper flakes adds a bit of spice but the finished product isn't actually spicy. It's so simple but has such a big flavor!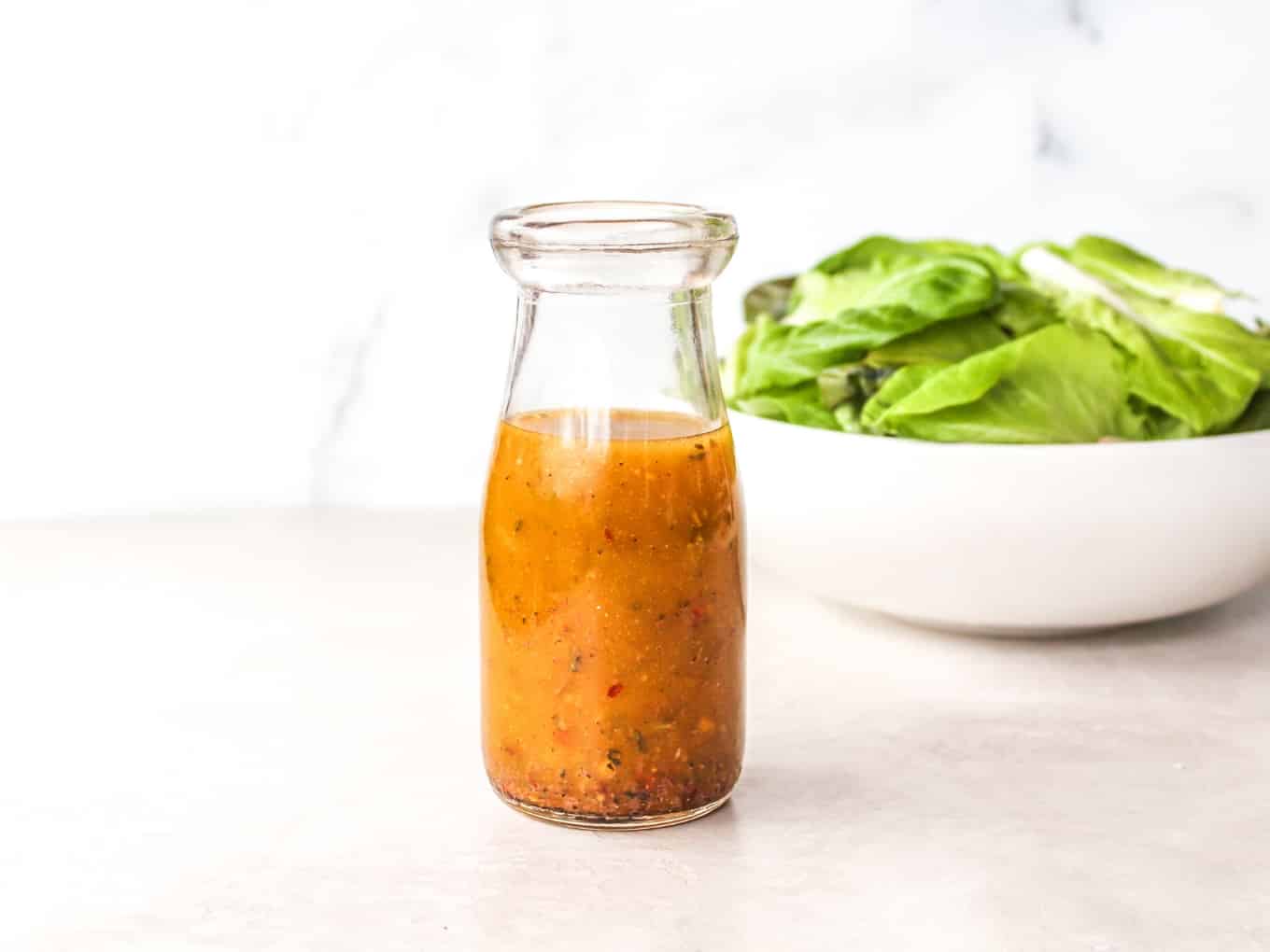 Now that we know about our dressing, how about the chicken? You can use chicken breasts or thighs. Turkey breasts, cutlets, or legs would also do well in this marinade.
For this recipe you'll add your chicken (or protein of choice) to a bag or bowl with the Easy Homemade Italian Dressing ingredients.
I like to let the chicken marinate for at least an hour. You can get away with 30 minutes but if that marinade sits longer you'll get even more flavor.
From there it's up to you how you want to prepare it. It's delicious on the grill or in a sauté pan on the stove with a little olive oil. I've provided instructions for both methods in the recipe card below.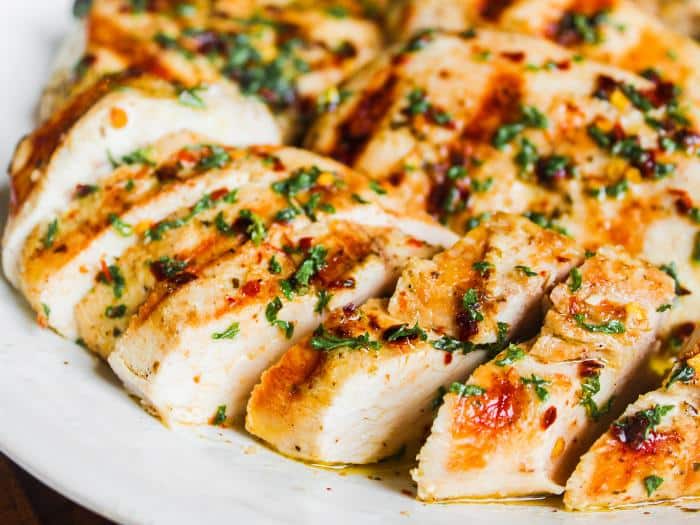 How to serve this flavorful chicken?
You can obviously enjoy this as an entree with some incredible sides.
If you're thinking of something green I recommend my Spicy Roasted Broccoli, Easy Roasted Broccoli, Garlic Green Beans, Simple Sautéed Cabbage, or Roasted Green Beans with Almonds.
Want to add more color to your plate? These Roasted Ranch Veggies will give you your vegetable fix and look so dang pretty. You'll enjoy these Roasted Parsley Carrots and my Roasted Red Cabbage too.
I love to use this chicken in my Italian Marinated Chicken Lettuce Wraps for a hearty lunch.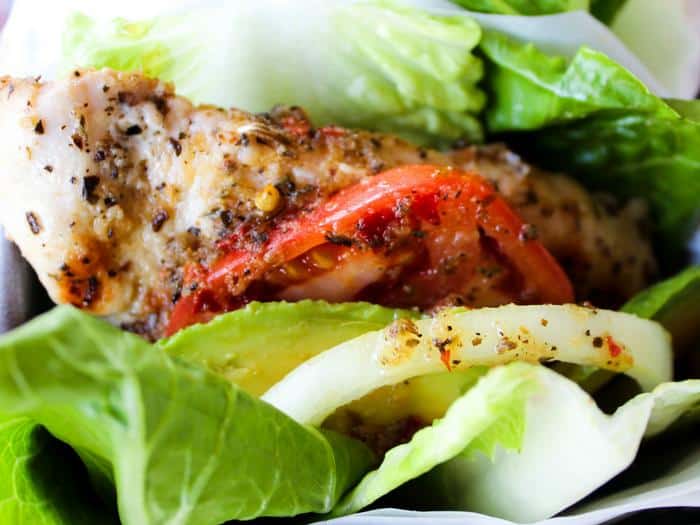 What other protein options would work well in this marinade?
I recommend chicken breasts or thighs. Turkey breasts, cutlets, or legs also work beautifully!
How long should you marinate chicken?
I always like to marinate chicken for at least an hour and up to 12 hours. The longer you marinate the more pronounced the flavor will be. You can of course marinate for as little as 30 minutes. I don't recommend longer than 12 hours because your meat can start to breakdown and the texture changes if it sits in a marinade for too long. (That goes for any marinade.)
More recipes like this:
Ultimate Marinated Grilled Chicken
Garlic Balsamic Chicken Kabobs
Tropical Salsa Grilled Chicken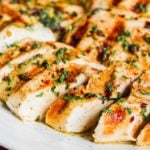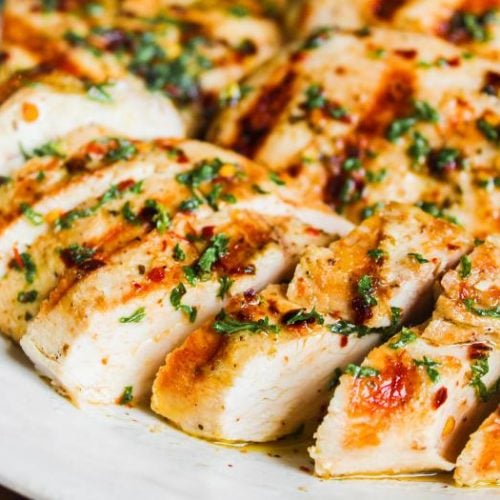 Italian Marinated Chicken
Italian Marinated Chicken is an easy and super flavorful dish the whole family will love. It's also Whole30, gluten free, sugar free, and dairy free!
Ingredients
6 chicken breasts, trimmed
Easy Homemade Italian Dressing
3/4 cup olive oil
1/4 cup red or white wine vinegar
1 teaspoon garlic powder
1 teaspoon dried oregano
1 teaspoon dried basil
1/2 teaspoon onion powder
1/2 teaspoon crushed red pepper
3/4 teaspoon salt
1/2 teaspoon pepper
1 teaspoon lemon juice
Instructions
Place your chicken breasts in a gallon Ziploc bag with all ingredients for the Easy Homemade Italian Dressing. Seal the bag, squeezing out any excess air. Let the chicken marinate for at least one hour and up to 12 hours.

Grill or saute your chicken depending on your preference. I'm providing instructions for both below.

On the Grill
Remove each chicken breast from the bag and place on a hot grill over medium heat. Grill 5 to 7 minutes on each side or until done. (Juices should run clear.)
On the Stove
Add 2 tablespoons of olive oil or another cooking fat to a skillet on the stove. Heat the oil over medium high heat. (You'll know it's ready when the chicken sizzles as you place it in the pan.) Add each chicken breast to the skillet in a single layer. Cook for about 5 minutes. Flip your chicken. Cook for an additional 5 minutes. (Chicken should be firm to the touch when done and juices should run clear.)
Notes
This makes enough marinade for up to 8 chicken breasts so feel free to toss two more in the marinade if you're feeding a crowd or just meal prepping!
Nutrition
Serving: 1chicken breast, Calories: 373kcal, Carbohydrates: 1g, Protein: 24g, Fat: 29g, Saturated Fat: 4g, Cholesterol: 72mg, Sodium: 426mg, Potassium: 424mg, Vitamin A: 85IU, Vitamin C: 1.7mg, Calcium: 15mg, Iron: 0.9mg