Garlic Balsamic Chicken Kabobs
Update: This recipe was originally published in 2017 and has been republished with all new photos.
Y'all know this warm weather has me in the mood for grilling. I've told you before how much I loving getting dinner ready on the porch. Not only does grilling make it easy to prepare healthy food for the family, it usually means less dishes. And the people said amen.
These Garlic Balsamic Chicken Kabobs are a guilt-free and totally delicious dinner option.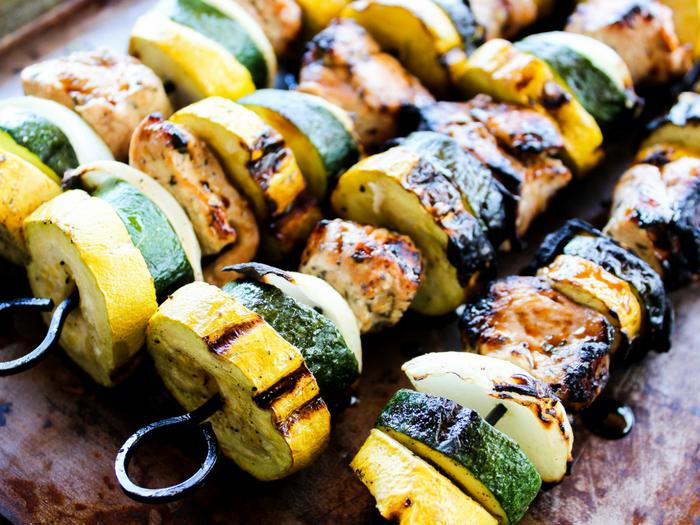 They cook quickly and the marinade is full of so much flavor that it does it's magic in as little as 30 minutes. That makes this a perfect option for when you're scrambling for meal ideas at 4 pm. (I do it too.)
While the chicken is marinading you'll be cutting up the zucchini, squash, and onion. Give them a quick toss in a little olive oil (with salt and pepper) so they'll brown a bit on the grill.
Don't you love veggies on the grill? That gorgeous char makes them so very tasty.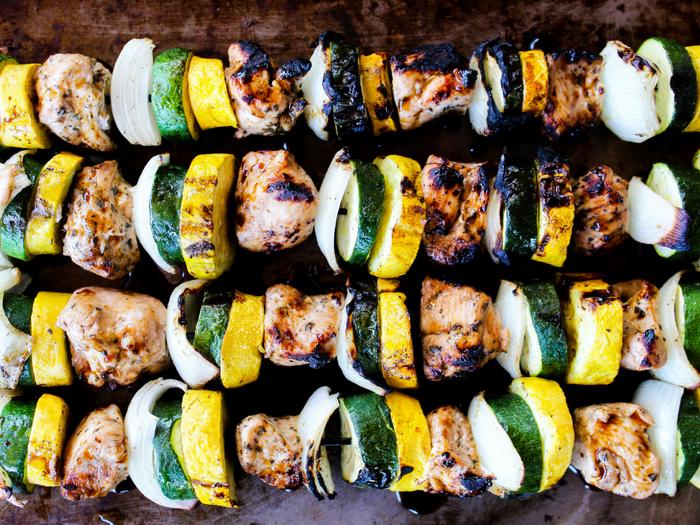 Your marinated chicken along with the olive oil coated veggies go on the skewers and to the grill.
When they're done grilling you're ready to eat! A complete meal on a stick. Who doesn't love that?
Garlic Balsamic Chicken Kabobs
These Garlic Balsamic Chicken Kabobs are a complete meal on a stick! The marinade works fast so you'll be ready to grill in no time!

Ingredients
Marinade
1/4 cup balsamic vinegar
1/8 cup extra virgin olive oil
1/4 tsp garlic powder
1/2 tsp salt
1/4 tsp pepper
1 tsp dried basil
Veggies
2 zucchini, medium or large
2 yellow squash, medium or large
2 white or yellow onions
2 tbsp extra virgin olive oil
salt
pepper
Instructions
Cut your chicken breasts into large chunks. (If you cut them too small the chicken can dry out.)

Toss the chicken in a large ziploc bag with all marinade ingredients. Squeeze out excess air and zip closed. Use your fingers to massage the marinade evenly around the chicken. Let sit for at least 30 minutes, flipping the bag over occasionally.


Slice zucchini, squash, and onion into large chunks. My squash and zucchini slices are about 1 inch thick.

Lightly coat your veggies with olive oil, salt, & pepper. I do this by spreading mine out on a baking sheet and tossing with my fingers.

Skewer your veggies and chicken.

Preheat grill to medium heat.

Place your kabobs on the grill. Grill for 5 -7 minutes, flip, and grill other side for another 5-7 minutes or until chicken is cooked through.

Remove from heat and serve!

Optional: When I'm entertaining guests and want to add some extra wow I drizzle a little balsamic glaze over the top of these when plating. This is totally optional as they have plenty of flavor on their own. To make the glaze add 1/2 cup balsamic vinegar to a small pot. Heat to boiling. Reduce heat to low. You'll end up with small bubbles around the perimeter as it gently simmers. Let it continue simmering for about 10 minutes. Stir occasionally. It can burn quickly so keep an eye on it. Once it's reduced and thickened remove from heat. Drizzle over finished kabobs.

Notes
If your zucchini or squash are on the small side you'll want to use more so you have plenty of veggies on each kabob. Sometimes I use 3 of each.
Nutrition
Calories: 299kcal, Carbohydrates: 9g, Protein: 34g, Fat: 13g, Saturated Fat: 2g, Cholesterol: 96mg, Sodium: 379mg, Potassium: 964mg, Fiber: 2g, Sugar: 6g, Vitamin A: 305IU, Vitamin C: 27.3mg, Calcium: 42mg, Iron: 1.3mg
Made these and love them? If you share a photo of your feast on Instagram tag me so I can check it out!
Save
Save
Save
Save