Grilled Garlic Balsamic Chicken Kabobs
These grilled chicken kabobs are delicious and easy to make! The chicken marinates in an easy garlic balsamic marinade and cooks on skewers with zucchini, squash, and onion.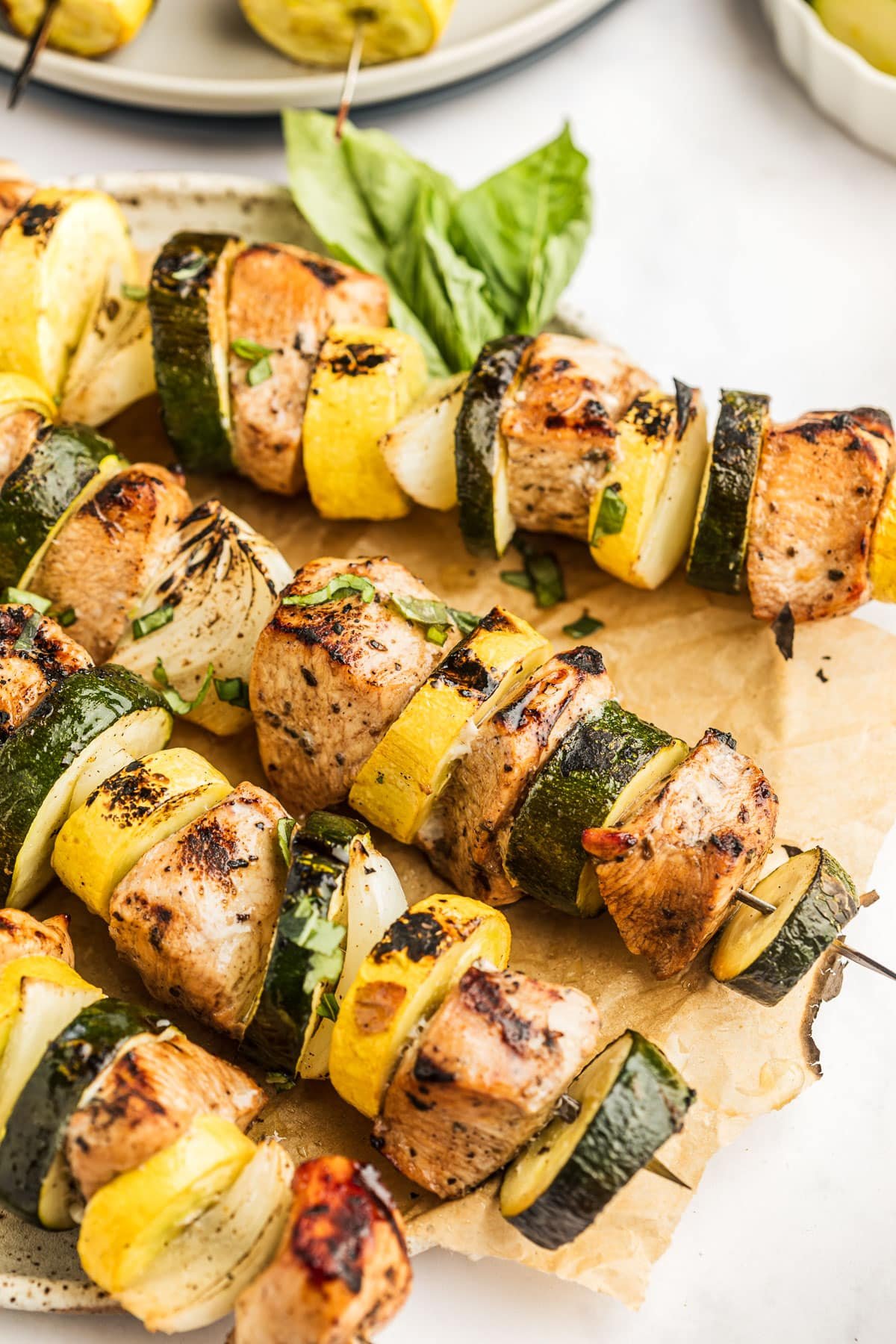 Update: This recipe was originally published in 2017 and has been republished with all new photos.
Y'all know this warm weather has me in the mood for grilling. I've told you before how much I loving getting dinner ready on the porch. Not only does grilling make it easy to prepare healthy food for the family, it usually means less dishes. And the people said amen.
These Grilled Garlic Balsamic Chicken Kabobs are low carb and a totally delicious dinner option.
They cook quickly and the marinade is full of so much flavor that it does its magic in as little as 30 minutes. That makes this a perfect option for when you're scrambling for meal ideas at 4 pm. (I do it too.)
While the chicken is marinating you'll be cutting up the zucchini, squash, and onion. Give them a quick toss in a little olive oil (with salt and pepper) so they'll brown a bit on the grill.
Don't you love veggies on the grill? That gorgeous char makes them so very tasty.
Your marinated chicken along with the olive oil coated veggies go on the skewers and to the grill.
When they're done grilling you're ready to eat! A complete meal on a stick. Who doesn't love that?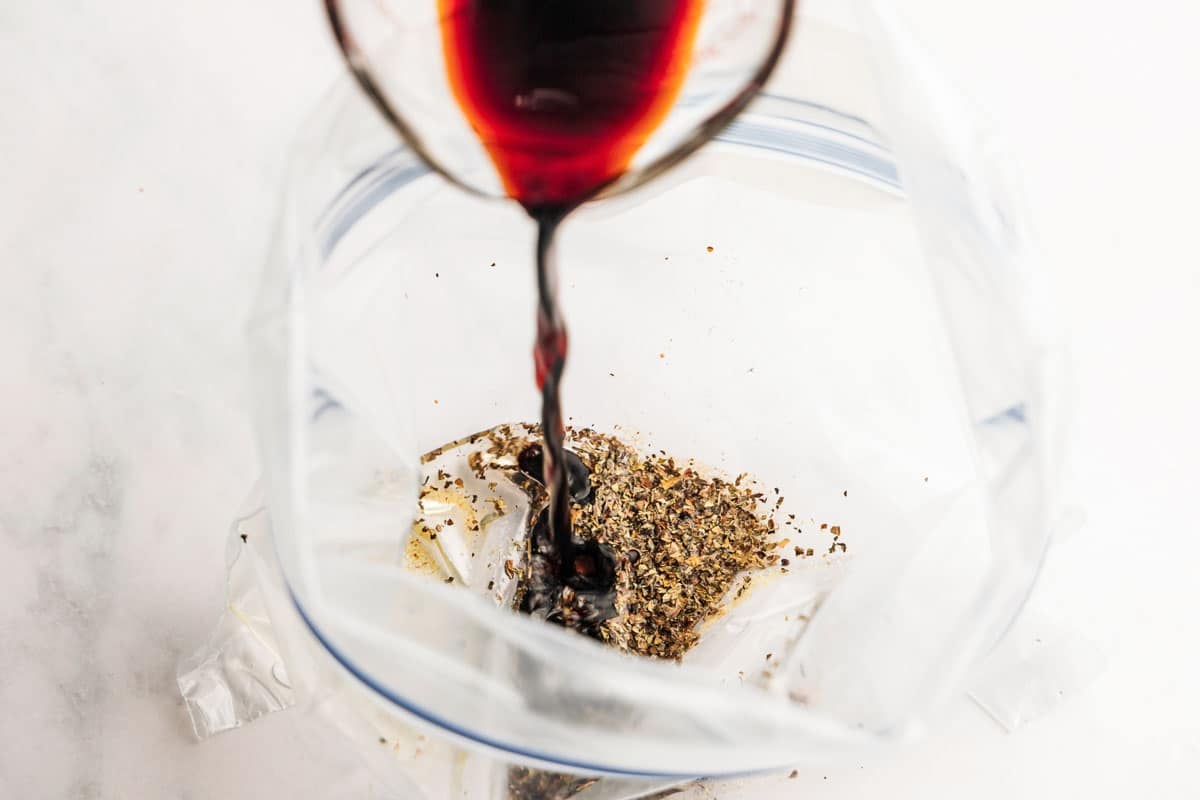 Grilled Balsamic Garlic Chicken Kabobs Ingredients
Chicken breasts: I prefer boneless and skinless chicken breasts for this recipe. You can use boneless chicken thighs if you prefer.
Zucchini and Squash: These two veggies cook quickly on the grill and have a mild flavor that pairs with the marinated chicken in this recipe.
Onion: Grilling onion makes it taste so much better. White, yellow, or red onion all work well.
Balsamic vinegar: The tangy balsamic vinegar adds so much flavor to our marinade. You can use soy sauce or coconut aminos if you need a substitute.
Olive oil: The oil ensures we get that beautiful browning we want on our chicken and veggies. It also keeps our kabobs from sticking to the grill.
Seasonings: Dried basil, salt, and pepper all create the perfect seasoning blend for these simple chicken kabobs.
How long should you marinate?
The longer you marinate the more pronounced the flavor will be. You can let it work it's magic for as little as 30 minutes and up to 12 hours. I don't recommend longer than 12 hours because your meat can start to breakdown and the texture changes if it sits in a marinade for too long. (That goes for any marinade.)
Does this freeze well?
Yes! Just remove the skewers and place the grilled chicken and veggies in a freezer bag or other freezer safe container. If using a bag be sure to squeeze out any excess air before sealing. This will be good in the freezer for up to 6 months.
When you're ready to enjoy it just thaw it out and reheat in a skillet on the stovetop or in the microwave.
How to store leftovers
Leftovers can be stored in an airtight container in the refrigerator for up to 3 days.
Grilled Garlic Balsamic Chicken Kabobs
These Garlic Balsamic Chicken Kabobs are a complete meal on a stick! The marinade works fast so you'll be ready to grill in no time!

Ingredients
Chicken
4 chicken breasts, skinless and boneless
Marinade
1/4 cup balsamic vinegar
1/8 cup olive oil, extra virgin
1 teaspoon dried basil
1/2 teaspoon salt
1/4 teaspoon garlic powder
1/4 teaspoon pepper
Veggies
2 zucchini, medium or large
2 yellow squash, medium or large
2 onions, white, yellow, or red
2 tablespoons olive oil, extra virgin
salt and pepper to taste
Instructions
Cut your chicken breasts into large chunks. (If you cut them too small the chicken can dry out.)

Toss the chicken in a large ziploc bag with all marinade ingredients. Squeeze out excess air and zip closed. Use your fingers to massage the marinade evenly around the chicken. Let sit for at least 30 minutes, flipping the bag over occasionally.


Slice zucchini, squash, and onion into large chunks. My squash and zucchini slices are about 1 inch thick.

Lightly coat your veggies with two tablespoons of olive oil. Generously season with salt and pepper.

Skewer your veggies and chicken.

Preheat grill to medium heat.

Place your kabobs on the grill. Grill for 5 -7 minutes, flip, and grill other side for another 5-7 minutes or until chicken is cooked through.

Optional: When I'm entertaining guests and want to add some extra wow I drizzle a little balsamic glaze over the top of these when plating. This is totally optional as they have plenty of flavor on their own. To make the glaze add 1/2 cup balsamic vinegar to a small pot. Heat to boiling. Reduce heat to low. You'll end up with small bubbles around the perimeter as it gently simmers. Let it continue simmering for about 10 minutes. Stir occasionally. It can burn quickly so keep an eye on it. Once it's reduced and thickened remove from heat. Drizzle over finished kabobs.

Notes
If your zucchini or squash are on the small side you'll want to use more so you have plenty of veggies on each kabob. Sometimes I use 3 of each.
Nutrition
Calories: 299kcal, Carbohydrates: 9g, Protein: 34g, Fat: 13g, Saturated Fat: 2g, Cholesterol: 96mg, Sodium: 379mg, Potassium: 964mg, Fiber: 2g, Sugar: 6g, Vitamin A: 305IU, Vitamin C: 27.3mg, Calcium: 42mg, Iron: 1.3mg