Salsa Verde Skillet Chicken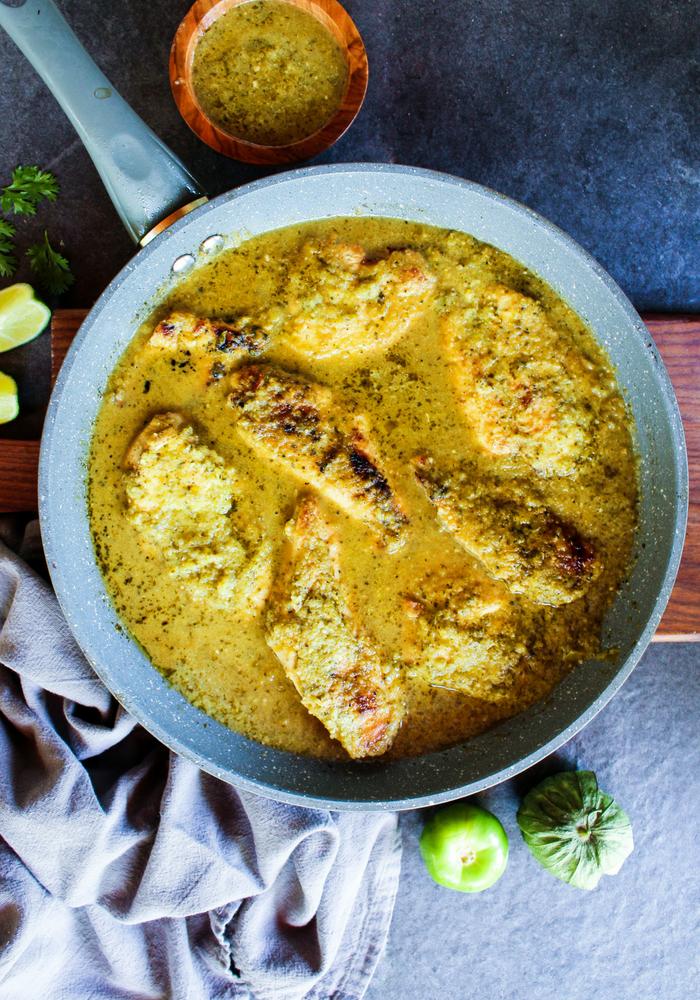 I'm one of those people who likes to add salsa to everything. It's such a flavorful and light addition to… well, like I said, everything.
This Salsa Verde Skillet Chicken is a natural extension of my love of Mexican flavors and quick meals!
Lately I've been on a big salsa verde kick. There's just something about those tomatillos. I'm a fan.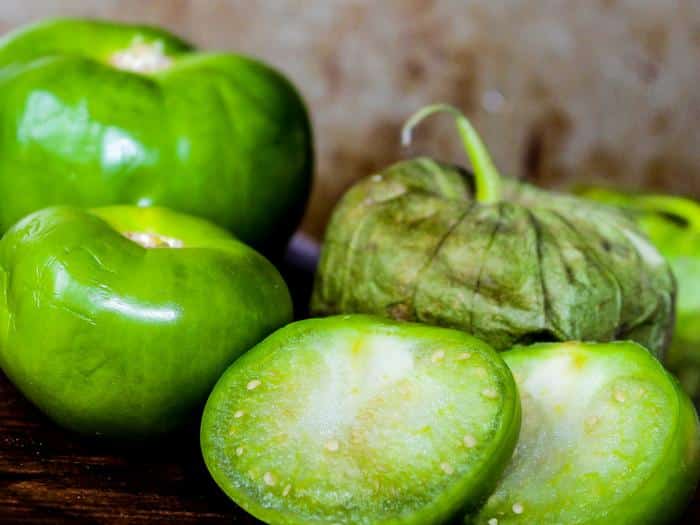 So what are tomatillos?
When you see them in their papery husks they look awfully strange. But inside they look like green tomatoes. They're in the nightshade family like tomatoes. They're even technically fruit like tomatoes.
Do they taste like tomatoes? I think they're less sweet and a bit more acidic. To decrease their acidity all you have to do is apply some heat. That's why for this recipe I give the tomatillos a quick sear before adding them to the blender.
Making your own salsa verde is simple. For my version we'll saute tomatillos and onion to really bring out their flavor. Then they go right into a blender along with cilantro, lime juice, jalapeno, and salt.
This would obviously be delicious as a dip with chips but let's not short change ourselves here, friends. We've already gone to all this trouble to whip up our salsa verde from scratch (okay, it wasn't really much trouble), let's turn it into an entree!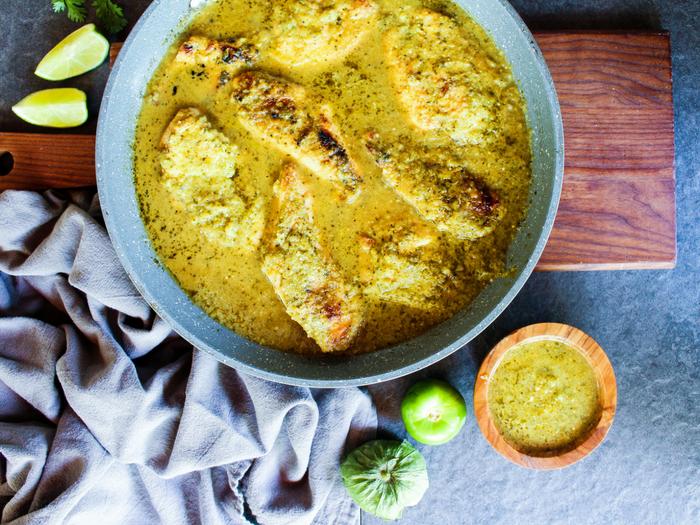 I like to slice my chicken breasts horizontally to produce thin cutlets. They will cook faster this way. But my reason for doing it is so I can get more salsa verde in each bite. Because isn't that really what it's all about?
A little salt, pepper, and garlic powder for each chicken and then it's time to brown each side.
Once you have some beautiful browning pour the finished salsa verde into the skillet. Lower your heat, cover, and let everything simmer.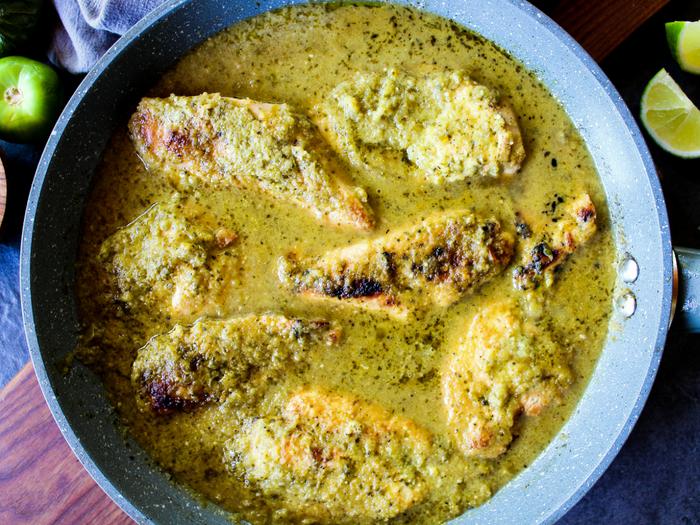 To really take full advantage of that glorious homemade salsa verde I recommend serving this over white rice or cauliflower rice.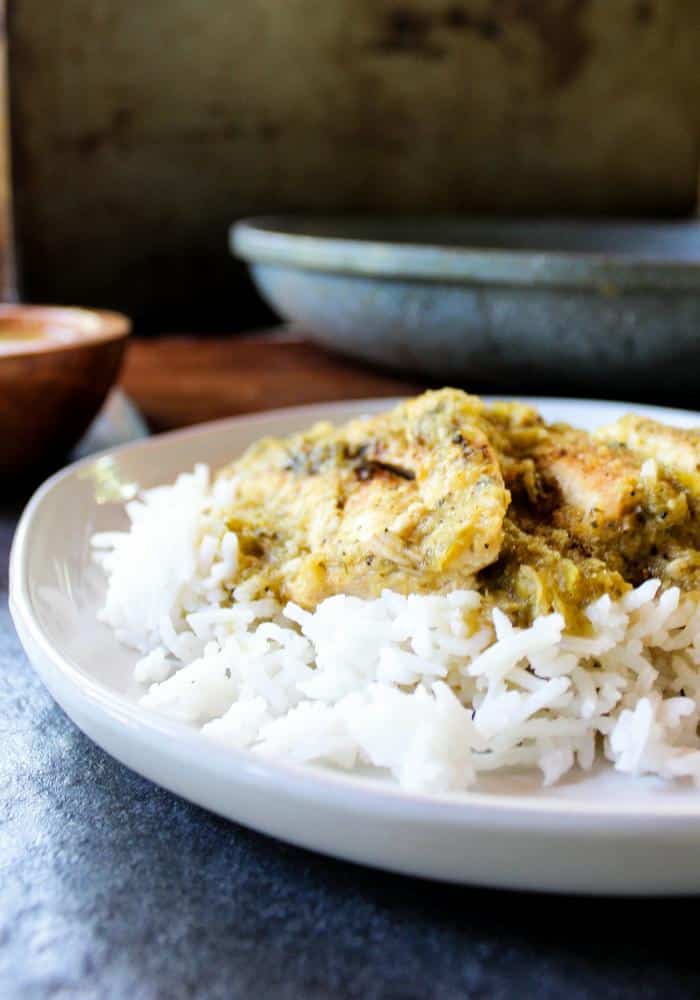 My Cilantro Lime Cauliflower Rice is just begging to be part of this dinner. Can you hear it? I swear it's calling your name.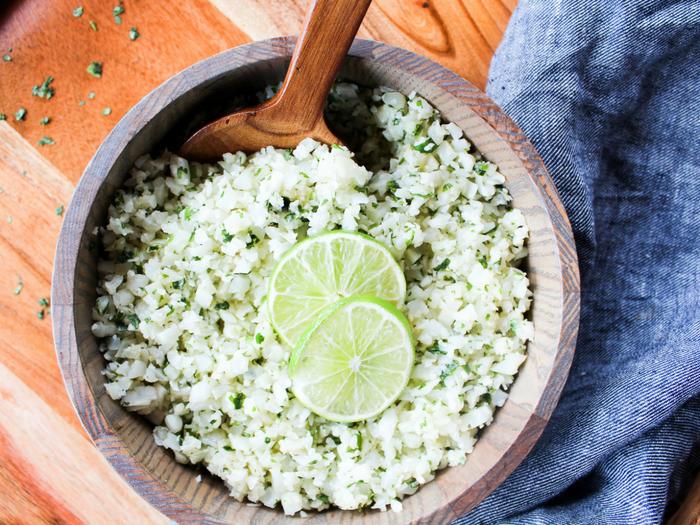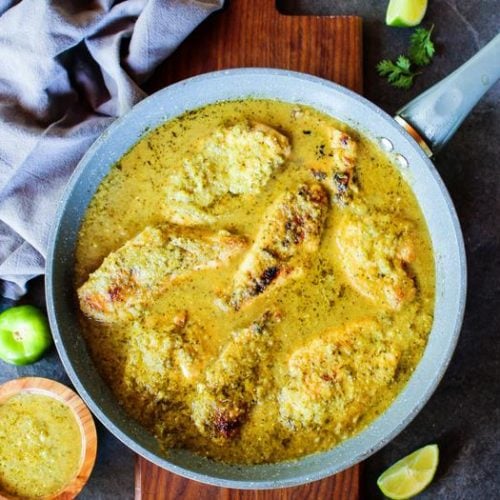 Salsa Verde Skillet Chicken
This Salsa Verde Skillet Chicken is full of fresh ingredients and ready in 30 minutes! Serve it over white rice, cauliflower rice, or zoodles.

Ingredients
Salsa Verde
1 tbsp cooking fat of choice, olive oil, vegetable oil, etc
1 lb tomatillos
1 tbsp minced garlic, 3 cloves
1/2 white or yellow onion
1/4 fresh cilantro
1 to 2 jalapenos, stemmed and seeded
2 tbsp lime juice
1/4 tsp salt
Skillet Chicken
4 chicken breasts
1 tbsp cooking fat of choice, olive oil, vegetable oil, etc
1/2 tsp garlic powder
salt & pepper
Instructions
Salsa Verde
Remove the papery husks from the outside of the tomatillos.


Add 1 tbsp cooking fat of choice to skillet. (I usually use olive oil.) Heat to medium high heat. Place the tomatillos face down in the skillet. Brown on one side. Flip. Toss in your minced garlic. Brown tomatillos on the other side. Let the garlic turn a nice golden color (not dark brown). Remove tomatillos and garlic from the skillet.


Add cooked tomatillos, garlic, and all other salsa verde ingredients to the blender. Blend.
Skillet Chicken
Slice your 4 chicken breasts horizontally to create 8 thin breast cutlets. (If you have a smaller skillet you can leave the breasts whole. I like them thin to soak up more salsa verde and cook faster.)

Add 1 tbsp olive oil or another cooking fat to skillet. (Can use an extra tbsp if your skillet sticks a lot.) Heat to medium high heat.

Add chicken to hot pan. Sprinkle salt, pepper, and garlic powder on top of each cutlet. Cook until browned, about 5 minutes. Flip chicken. Cook until remaining side of chicken is browned, about 5 minutes. (It can take less time if you're using smaller cutlets so keep an eye on them.)

Pour blended salsa verde into the pan. Reduce heat to medium low or low. Cover and simmer for 5 minutes so sauce is heated through.

Serve over white rice or cauliflower rice!

Notes
Nutritional information is for 1 chicken breast plus 1/4 of the sauce. If you slice each breast in half and end up with 8 thin cutlets remember that 2 of those cutlets is the equivalent of 1 breast. If you only have 1 thin cutlet then you'll need to 1/2 the nutritional info.
Nutrition
Serving: 1chicken breast, Calories: 364kcal, Carbohydrates: 9g, Protein: 49g, Fat: 13g, Saturated Fat: 7g, Cholesterol: 144mg, Sodium: 409mg, Potassium: 1160mg, Fiber: 2g, Sugar: 5g, Vitamin A: 195IU, Vitamin C: 19.9mg, Calcium: 26mg, Iron: 1.5mg