Turkey Bacon Wrapped Dates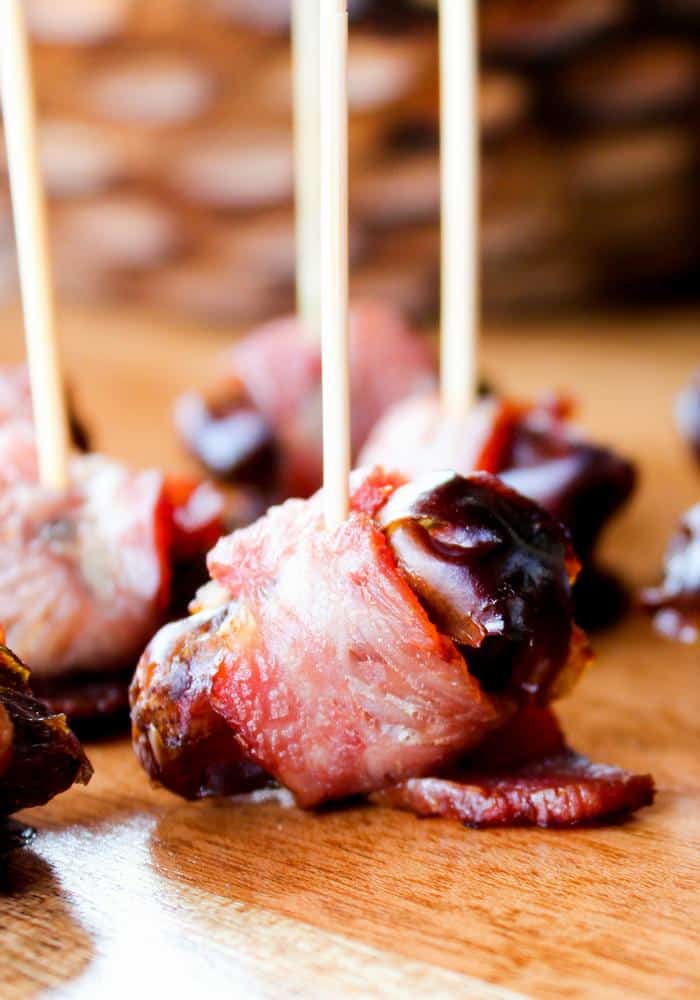 It's easy appetizer time! A few years ago I made some amazing dates wrapped in bacon and stuffed with a faux ricotta cheese. They were yummy but holy cow, friends, they took a lot of work and dirtied up a lot of my dishes. This mama doesn't have time for that. That motivated me to work on a much simpler version.
BOOM. Here you go. Turkey Bacon Wrapped Dates for the win. These are so very easy!
I know some of you are freaking out about the possibility of going with turkey instead of pork. Simmer down. You'll be okay. Yes, you can use pork if that's your preference. It's just not mine. I don't eat or cook with pork. Don't hate me. Turkey bacon has fewer calories, less fat, and less sodium. If prepared properly (that's key) it can be every bit as tasty and crispy as pork bacon. If you think turkey bacon is chewy and wilted then you're doing it wrong. I've even made a believer of my husband. That was no easy feat.
If you're on Whole30 the brand to look for is Wellshire Sugar Free Sliced Uncured Turkey Bacon. I find mine at Whole Foods. The ingredients are turkey, water, sea salt, celery powder, paprika, white pepper, and onion powder. How awesome is that?
If you're not doing Whole30 and don't mind a little sugar I like Applegate Naturals Hickory Smoked Uncured Turkey Bacon. Right now Applegate doesn't have a sugar free turkey bacon but they do have a pork one so I'm hopefully they'll roll out the turkey variety soon!
Both of these brands make very thick bacon slices so for this recipe I cut each slice into fourths. I cut the slice once vertically and once horizontally. I wrap each fourth of bacon around a date and place the bacon wrapped date on a baking sheet. You want the bacon to stay on the date so I fold the ends of the bacon under the date so it stays put while it cooks.
Now let's talk dates. Dates can come very large and I don't recommend that size for this appetizer. I like these to be one bite so you can pop them in your mouth and every bit of it is covered with bacon. So go for the smaller dates and avoid those giant ones. Each date I use is around 1 1/2 inches long.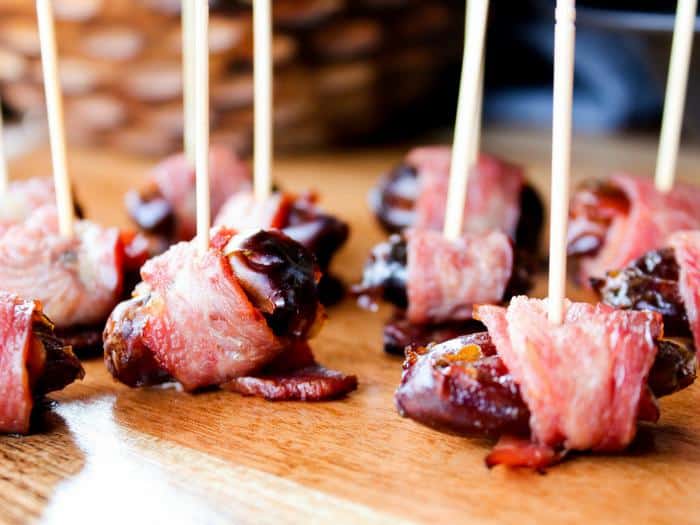 After they're finished baking you can add toothpicks to make them party ready! Or just throw them in a Ziploc bag or container with a lid and snack on them at your leisure. Enjoy!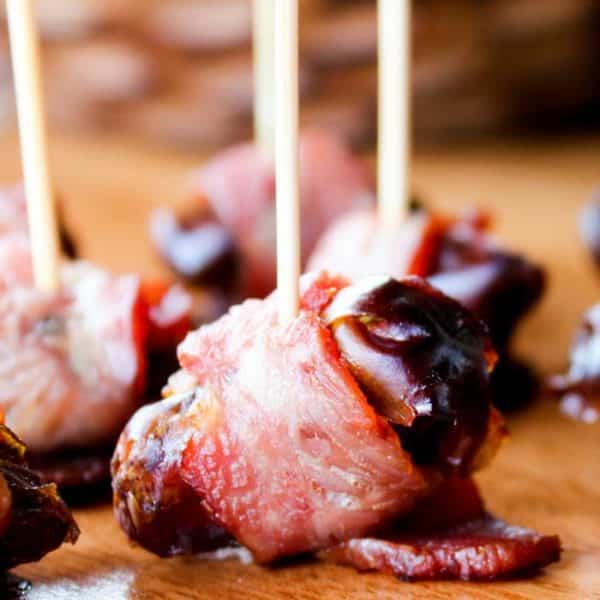 Turkey Bacon Wrapped Dates
These Turkey Bacon Wrapped Dates are naturally sweet, so very rich in flavor, and incredibly simple to make!
Ingredients
medium sized dates, about 1 1/2 inches long
turkey bacon
Instructions
Preheat oven to 425 degrees.

Cut each turkey bacon strip into fourths. Slice once vertically and once horizontally. This gives you bacon that will wrap perfectly around your dates and cook quickly. (Too much bacon will greatly increase your baking time.)

Wrap the cut turkey bacon around your dates. Place each wrapped date on a baking sheet. I like to line my baking sheet with a silicone baking mat to minimize mess and sticking but it's not necessary.

Bake for 15 to 20 minutes. Bacon should have some browning at the edges and be cooked through.

Remove from the oven and add a toothpick to the top of each. Serve immediately or store in a sealed container until you're ready to enjoy. (They'll still be delicious the next day!)
Made these? Awesome! If you share a photo on Instagram I'd love it if you'd tag me so I can check it out! I try to share lots of reader photos in my Instastories!