Kitchen Basics: Arrowroot Flour
Arrowroot flour (also know as arrowroot starch or arrowroot powder) is a grain free ingredient often used in Paleo, Whole30, gluten free, vegan, or just overall healthy cooking. We're going to talk about what it is and how to use it!
What is arrowroot flour made from?
Arrowroot flour is a starch extracted from the arrowroot plant, Maranta arundinacea.
Is arrowroot flour the same as cassava flour?
No, they are two different flours. Cassava flour is derived from the cassava plant and, like arrowroot flour, it's often used in gluten free, Paleo, and Whole30 cooking.
What can you use arrowroot flour for?
Arrowroot flour is my favorite alternative to cornstarch for thickening sauces, soups, and puddings. (I have an incredible healthy pudding recipe in my cookbook, Clean Paleo One-Pot Meals, that uses it.)
It can be used in gluten-free baking to help lighten the texture.
It can be used as an egg replacer in recipes. To replace one egg, whisk together one tablespoon of arrowroot, one tablespoon of vegetable oil, and 1/4 cup water.
Why use arrowroot flour?
Arrowroot is grain free, gluten free, Paleo, Whole30 (so long as it's not used in a dessert or baked good), and vegan.
Unlike cornstarch, it is not derived from corn, which some people choose to limit or avoid due to allergies or concerns over GMOs.
It's more easily easily digested than cornstarch.
It's less processed than cornstarch. Arrowroot flour is extracted from the roots of the arrowroot plant without any high heat or harsh chemicals.
It has less calories and carbohydrates than cornstarch.
What does arrowroot flour taste like?
Most people agree that arrowroot flour is completely flavorless. Very rarely I'll hear from someone who says they can taste it but honestly I think these people must have magical mutant tastebuds.
How do you use arrowroot flour?
Arrowroot flour can be used as an alternative to cornstarch at a 1:1 ratio. If a recipe calls for one tablespoon of cornstarch, you could use one tablespoon of arrowroot.
The most effective way to use arrowroot flour as a thickener is to the add it to your sauce or soup at the end of your cooking time. It does not require cooking so you should cook that sauce or soup first. Then, while it's still hot, stir in your flour slurry.
Heating arrowroot too long can make it lose it's ability to thicken. One minute your gravy is thick, and the next it could be thin again! That means you've gone too far.
Here are a few recipes you may want to try: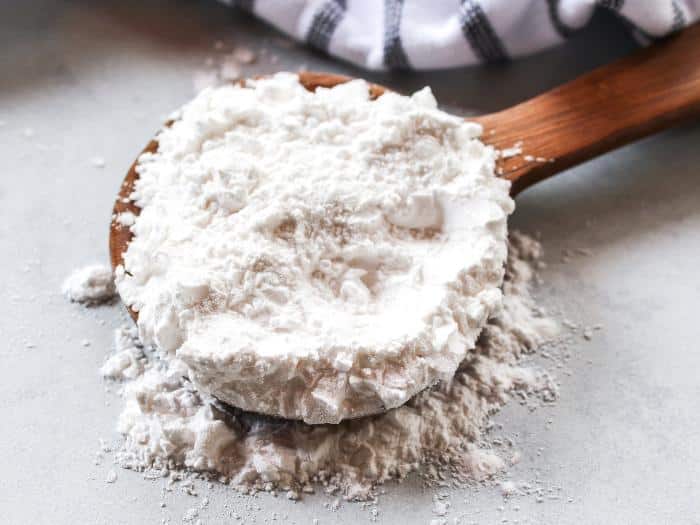 Arrowroot not thickening? What went wrong?
Arrowroot flour can be finnicky. Make sure you're carefully following recipe instructions if using this flour.
Most of the time when I use it I shake it with equal parts cold water and then add the slurry into the hot sauce or soup. This is the common preparation for recipes where there's a pretty high volume of liquid involved or if you want everything to thicken quickly. The good news about this method is that if it doesn't work for you immediately you can just create another slurry and try again without tossing out the food you've made.
In some recipes I whisk the arrowroot flour with butter or ghee first to create a paste and then add in the other ingredients and let them simmer. My Meatballs in Gravy recipe is a good example of this method. The only downside here is that it takes a few extra minutes for the thickening to happen.
Where can you find arrowroot flour?
You can find coconut aminos in your local healthy food store (I get mine at Whole Foods), higher end grocery stores, and online.
How do you store arrowroot flour?
Arrowroot flour should be stored in an airtight container in a cool, dry place. You can refrigerate it if you like.