Teriyaki Chicken and Broccoli
This Teriyaki Chicken and Broccoli is ready in only 15 minutes! Wait until you try the easy homemade sauce. So addictively delicious!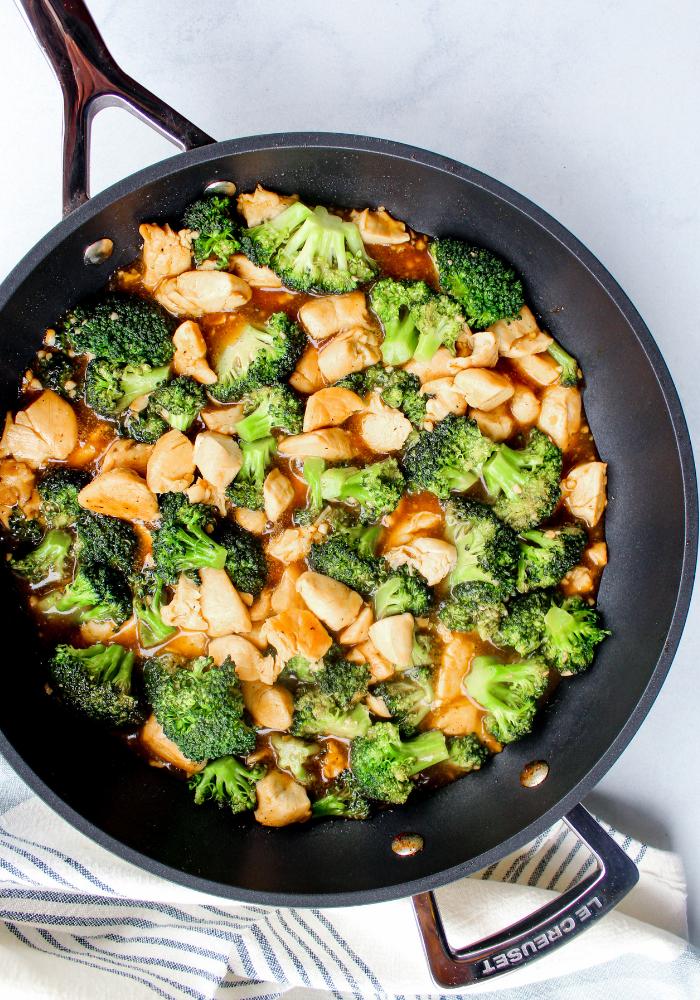 This is one of my fastest entrees and its so perfect for busy weeknight dinners.
Broccoli is the vegetable of choice here since it steams quickly.
We're chopping the chicken into smaller chunks so it also cooks fast. Plus this means each bite of chicken will be coated in more of the sauce which, believe me, we really want.
This recipe all comes down to the Teriyaki Sauce. I only use 5 simple and good for you ingredients. One of them is water. Doesn't get simpler than that, does it? A few healthy swaps make this much better than most you'll find. Soy sauce? Nope. Let's use Coconut Aminos. It tastes like soy sauce but includes far less sodium. Brown sugar or honey? Nah. Coconut Aminos give it plenty of natural sweetness. Cornstarch to make it thick? Pass. You know I'm going with tapioca or arrowroot flour as my thickener of choice. You're really going to be surprised and you'll love the end result!
And you heard that part about this being ready in 15 minutes, right? Because I think that's worth mentioning again.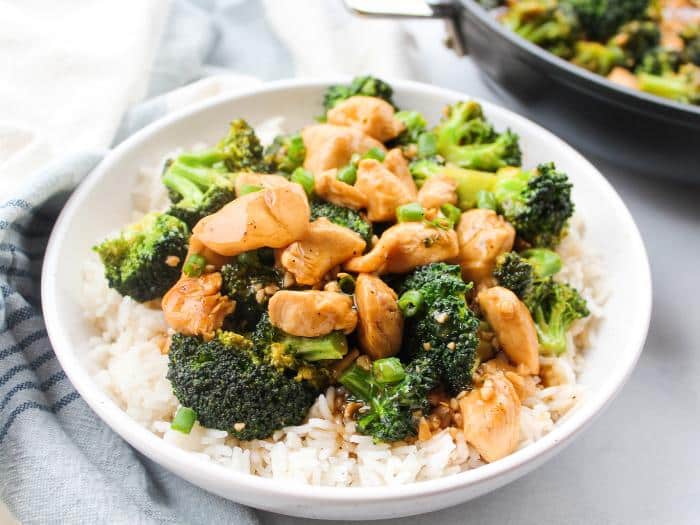 For this recipe you'll need (full ingredients list and instructions are in the recipe card below):
Olive or avocado oil
Chicken breasts
Broccoli
Coconut aminos
Minced garlic
Tapioca or arrowroot flour
Seasonings
The chicken sautés quickly on the stove. Then add fresh broccoli florets to the pan and steam them to bright green perfection. Once finished simply add the sauce ingredients. Whisk in a quick flour slurry. Now enjoy over rice. It's that simple!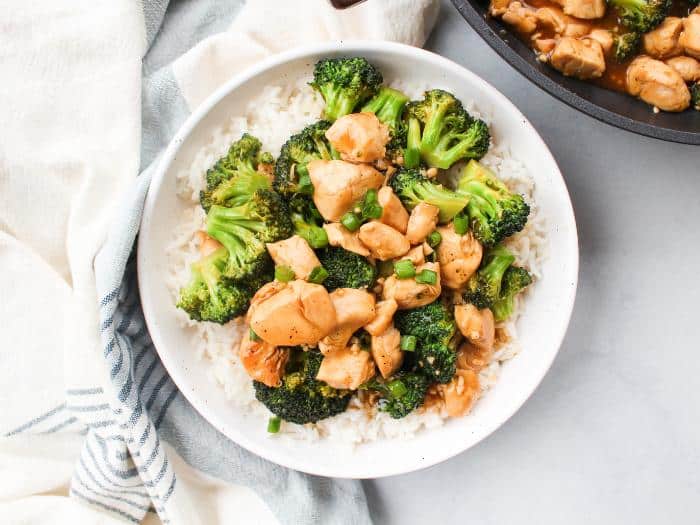 What is coconut aminos?
Coconut aminos is a soy sauce alternative that's similar in flavor but a little sweeter. It's gluten-free, vegan, Paleo, Whole30, and low-glycemic. It contains a wide range of minerals including vitamin C and 17 amino acids. It also has as much as 65% to 75% less sodium than soy sauce. That's a lot, right? Typically the ingredients are simply coconut tree sap and salt.
Can you sub soy sauce for coconut aminos?
Soy sauce is a lot saltier and has a much stronger flavor so while you can certainly use it it's not a 1:1 swap. I'd recommend starting with just 1/2 cup and giving the sauce a taste before adding more. Then add a little at a time until you've achieved the taste you desire. You may find that 3/4 cup is too much (if using soy sauce instead of coconut aminos).
How to serve this
Serve this over cauliflower rice or traditional rice for a complete meal.
Two Ways to Thicken the Sauce
Let's talk about 2 easy ways to thicken this sauce using healthy grain free flours:
Tapioca flour (also known as tapioca starch) is my preferred method. It's made from the roots of the cassava plant. It's also grain free, gluten free, and super easy to work with! To use it as a thickener I like to shake it in a small jar with equal parts water and then whisk the flour slurry into the sauce. This is the same way I use arrowroot flour but I've found that it holds its thickening abilities far better than arrowroot.
Arrowroot flour (also know as arrowroot starch or powder) is another grain free and gluten free thickener. It's made from the arrowroot plant, maranta arundinacea. To thicken with it I recommend creating a flour slurry (just as I mentioned above for tapioca flour), removing the pan from the heat, and then quickly whisking it into the sauce. While effective, arrowroot flour is a bit finicky though. It loses its thickening ability if you reheat the sauce and it can get clumpy if added to something that's on direct heat. You can absolutely use it, just know that it takes a little finesse.
More recipes like this:
Savory Skillet Chicken & Veggies
Chicken and Asparagus Stir Fry
Skillet Chicken and Brussels Sprouts
Easy Chicken and Broccoli Stir Fry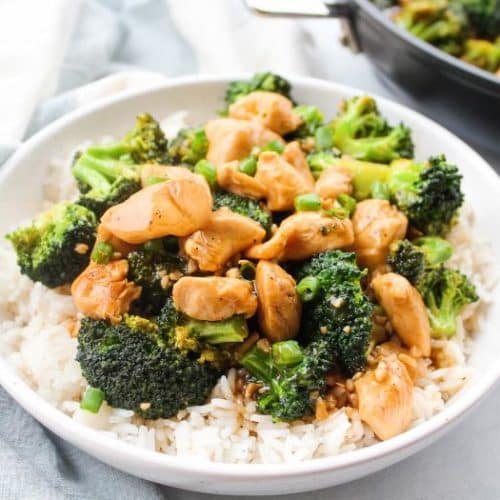 Teriyaki Chicken & Broccoli
This Teriyaki Chicken & Broccoli is ready in only 15 minutes and includes an addictively delicious sauce!
Ingredients
Chicken & Broccoli
1 tbsp olive or avocado oil
2 lbs chicken breasts, boneless and skinless
1/2 tsp salt
1/2 tsp black pepper pepper
1/4 cup water
12 oz fresh broccoli florets
Teriyaki Sauce
3/4 cup coconut aminos
1 1/4 cup water
1 tsp garlic, minced
1 tbsp tapioca flour or arrowroot flour
1 tbsp water
Instructions
Heat oil over medium heat in a large sauté pan. 

Cut your chicken breasts into 1 – 1 1/2 inch chunks. Place them in the pan with your oil. Sauté chicken until white and cooked through, flipping occasionally. This takes about 3 to 4 minutes.

Once chicken is cooked add 1/4 cup water and fresh broccoli florets to the pan. Stir it all together. Cover and let the water steam your broccoli for a few minutes. I prefer my broccoli softened but with a little crunch so I only let it cook for about 3 minutes. Water should be cooked out. (If you still see water in the pan leave it uncovered and give it a minute.)

To make the Teriyaki Sauce, in a small pot add Coconut Aminos, garlic, and 1 1/4 cup water. Stir and heat over medium heat. In a small container combine tapioca flour or arrowroot flour and 1 tbsp water. Shake. Turn off the stovetop heat. Pour the flour/water mixture into your sauce and whisk so it's thoroughly mixed in. You'll notice the sauce begins to thicken within a few seconds. If you want it thicker you can add another 1/2 tbsp flour + another 1/2 tbsp water (remember to shake together first). I wouldn't add any more than that though because it will get too gloppy. 

Pour finished sauce over chicken and broccoli. Stir. Serve! I enjoy this over cauliflower rice or traditional rice for a complete meal!
Notes
See above recipe card for information on tapioca flour vs arrowroot flour. Don't add the flour directly to the sauce. Make sure you shake it first with equal parts water and then pour the flour/water mixture into the sauce to achieve the perfect thick consistency. 
Nutrition
Calories: 372kcal, Carbohydrates: 17g, Protein: 51g, Fat: 10g, Saturated Fat: 2g, Polyunsaturated Fat: 1g, Monounsaturated Fat: 4g, Trans Fat: 1g, Cholesterol: 145mg, Sodium: 1604mg, Potassium: 1115mg, Fiber: 2g, Sugar: 1g, Vitamin A: 599IU, Vitamin C: 79mg, Calcium: 57mg, Iron: 2mg