21 Whole30 Comfort Food Recipes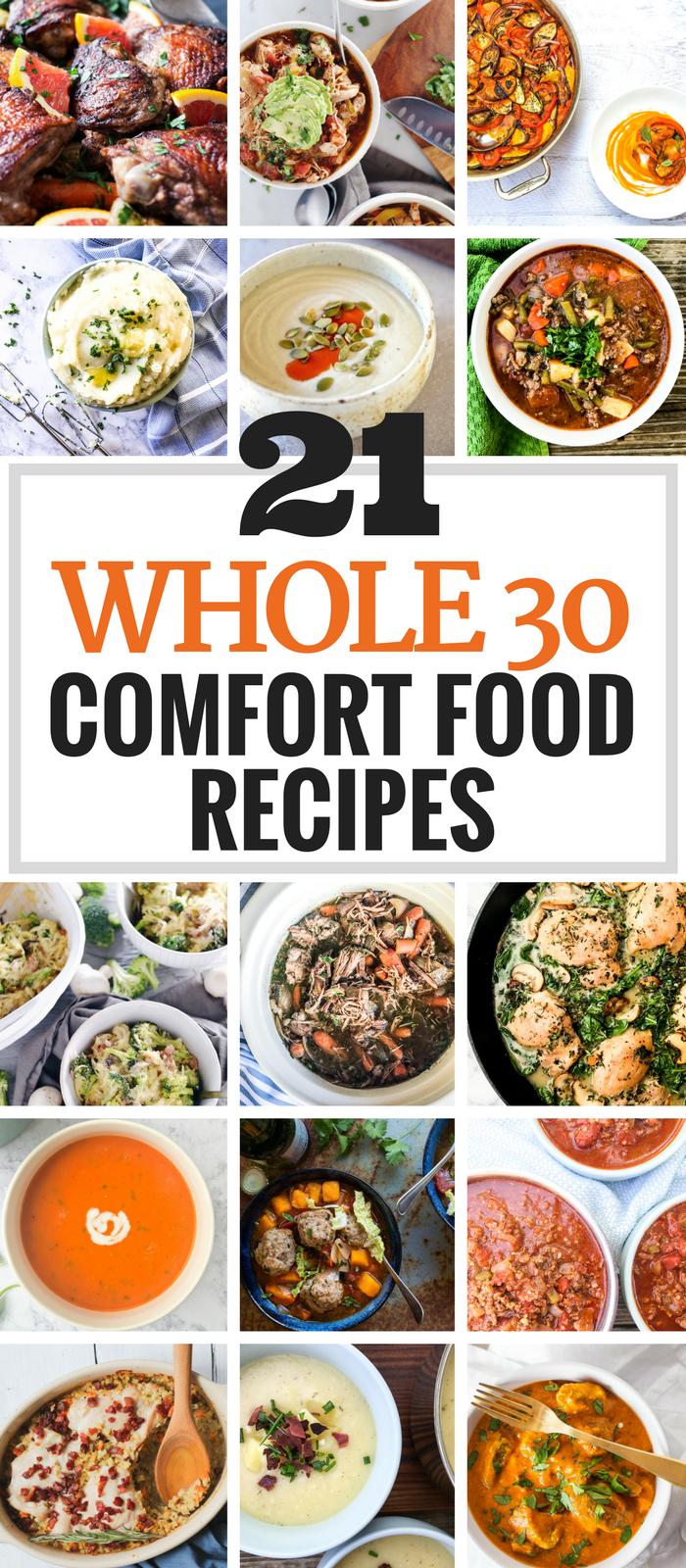 The mornings and the evenings are getting chilly in my neck of the woods. How about by you? Of course I'm in Arkansas so you never know what kind of weather you'll get. Yesterday the high was 74 degrees and today it's 44. I kid you not. The falling temperatures and impending holidays signal that it's time to whip up all my favorite comfort foods.
When I think of comfort food the first thing that comes to mind is hearty fare like chili and pot roast. Of course you can't forget soups of all kinds and flavorful casseroles. I think it's a bit more than that too, don't you? For me comfort food is anything that warms me up from the inside out. It makes me feel like I'm not deprived of anything (even if I'm avoiding dairy and grains). It's rich but it's not complicated. It's simple, good, and satisfying food.
Today I'm sharing some amazing comfort food recipes with you. But the very best part is that these classic dishes have been made a little bit healthier. You can feel free to enjoy them while on Whole30 or all the time (we do) because they will not compromise your healthy lifestyle. I am sure you're going to love them!
Friends, this is quickly becoming a favorite on my blog and for a very good reason. It's an amazing traditional chili that you can enjoy even while avoiding beans.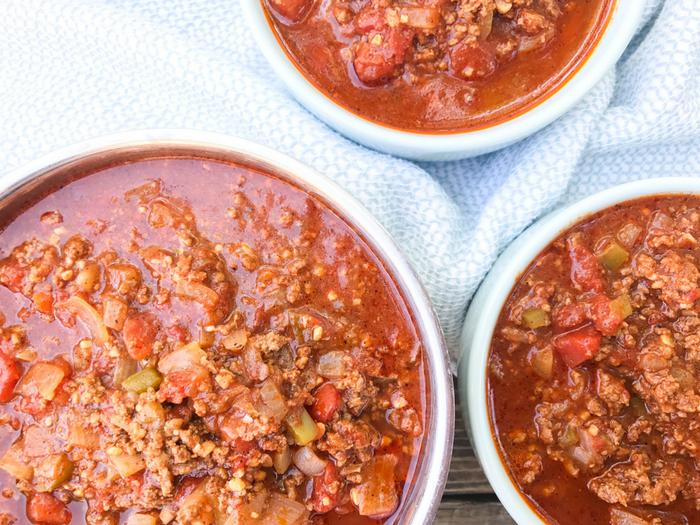 2. Healthy 30 Minute Hamburger Soup
This soup is loaded with vegetables and super easy to make. My kids gobble this right up. I'm always game for a dinner I know they'll eat and I can feel good about feeding it to them.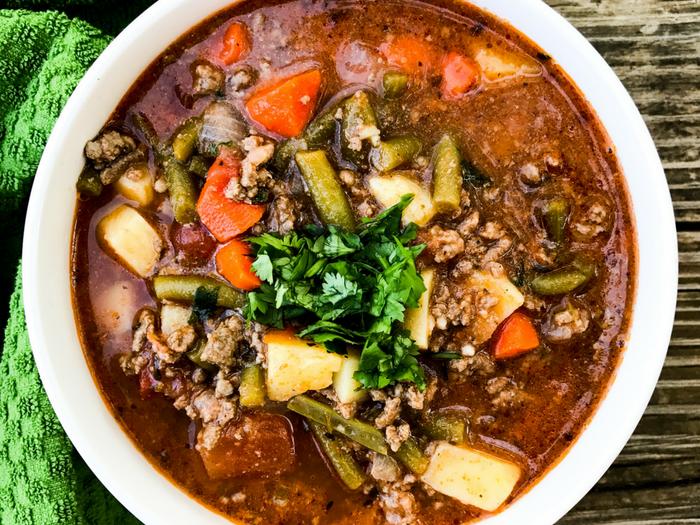 Confession time. My first introduction to a ratatouille was in the cartoon movie Ratatouille about a rat that cooks. I know. I know. But it's the truth. Ratatouille is a gorgeous French dish that I don't believe gets enough love in the United States. Dave and Ayngelina at Bacon is Magic have done a beautiful job crafting this completely approachable and stunning recipe so you can bring this French cuisine to your home.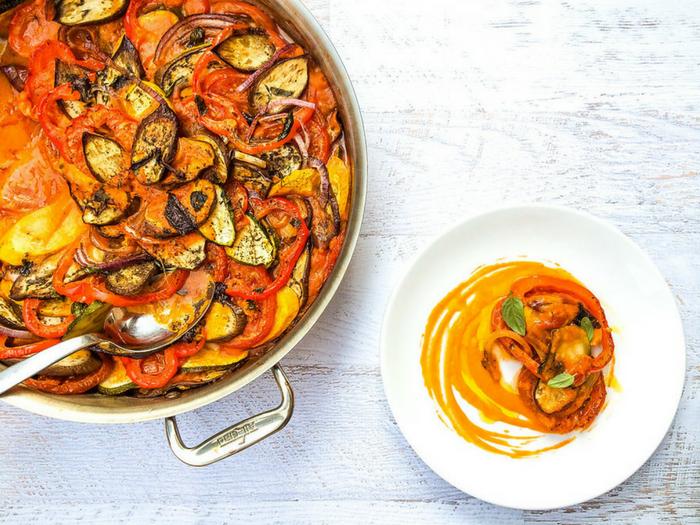 This glorious pot roast produces lots of gravy and you're going to want to serve the whole thing over mashed potatoes. (Don't worry, I have a Whole30 recipe for that just below.)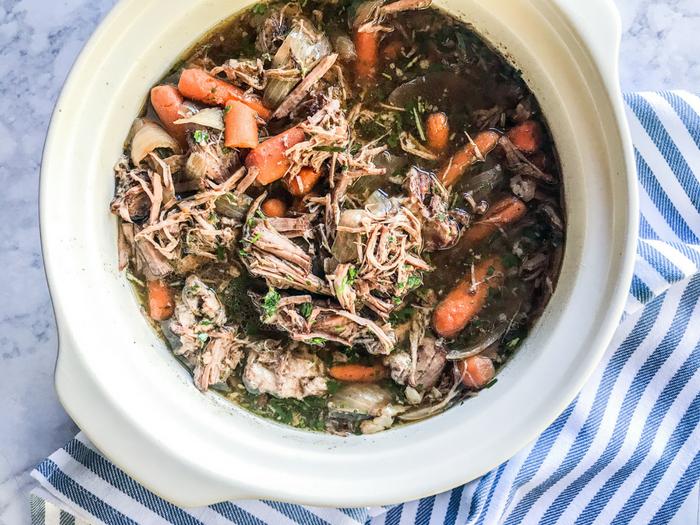 5. Light & Creamy Mashed Potatoes
You won't believe these mashed potatoes don't include milk or heavy cream. This is my favorite way to prepare mashed potatoes whether I'm doing a round of Whole30 or not.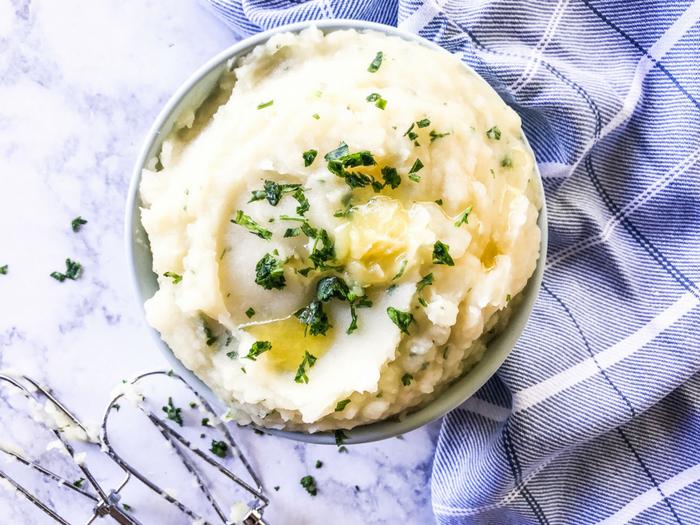 6. Smoky Chipotle Turkey & Sweet Potato Chili
I am loving this take on chili by Jenn over at Peas & Crayons. I will basically eat chipotle everything. Plus she's included directions for both the Instant Pot and stove top!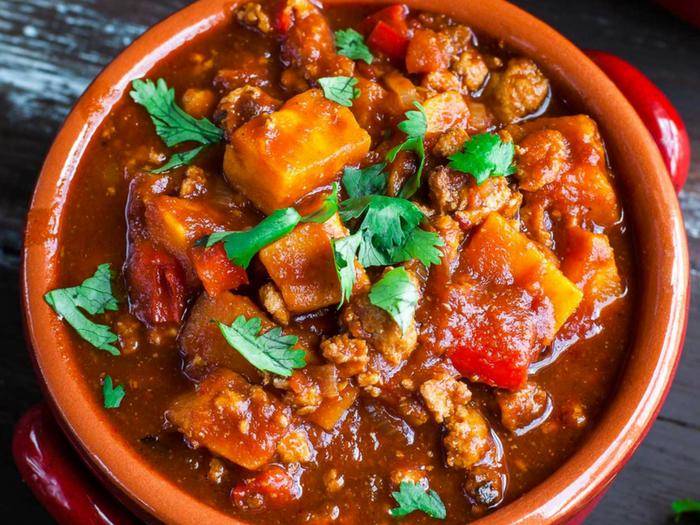 7. Roasted Cauliflower Soup with Chili Oil
Kelly at Tasting Page is sharing this roasted cauliflower soup (let's be honest, roasting veggies always makes them infinitely better) that has me drooling. The chili oil is a stroke of genius.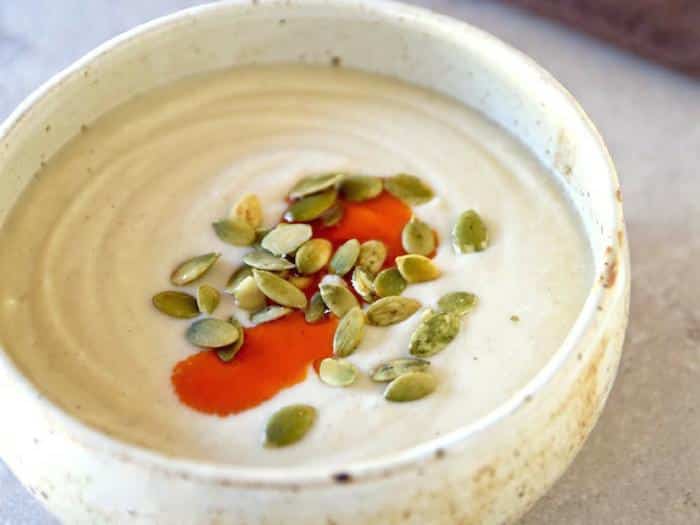 8. Creamy Herb Mushroom Chicken
This pan of yum is ready in only 30 minutes. The chicken simmers in a creamy garlicky sauce (yes, it's Whole30) along with mushrooms, spinach, and arugula. Do you need more than this? Nope.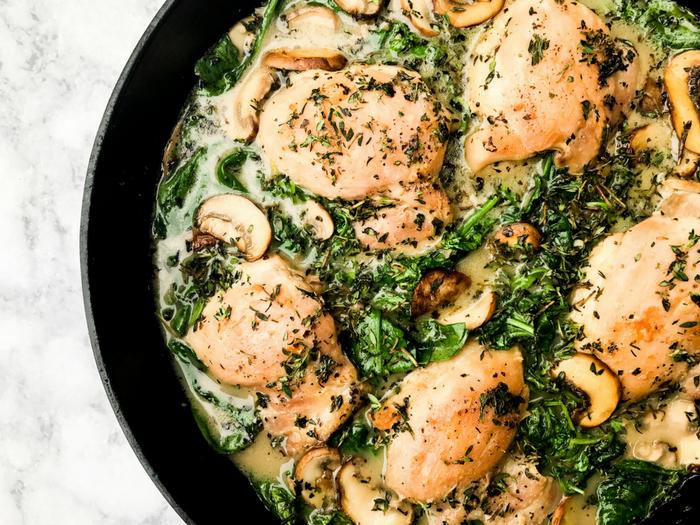 9. Paleo Chicken & Rice Casserole
Cauliflower rice is such a tasty substitute for regular ole rice. Jean at What Great Grandma Ate uses it splendidly in this casserole to create a healthy meal that will please even the pickiest eaters.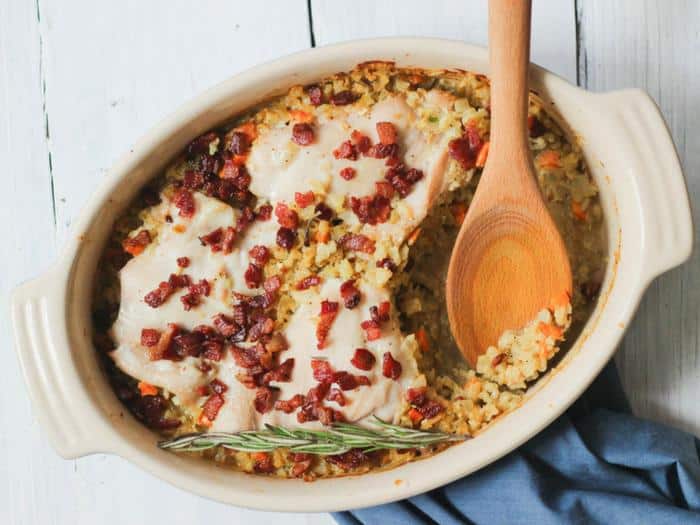 10. 30 Minute Dairy Free Tomato Basil Soup
Tomato soup has never been my favorite but this is the exception. It tastes like so much more than just tomatoes. It's like an amazing Italian sauce and I'm so very thankful I can slurp it up (just kidding, slurping drives me a little crazy) and go back for seconds. Because I always go back for seconds.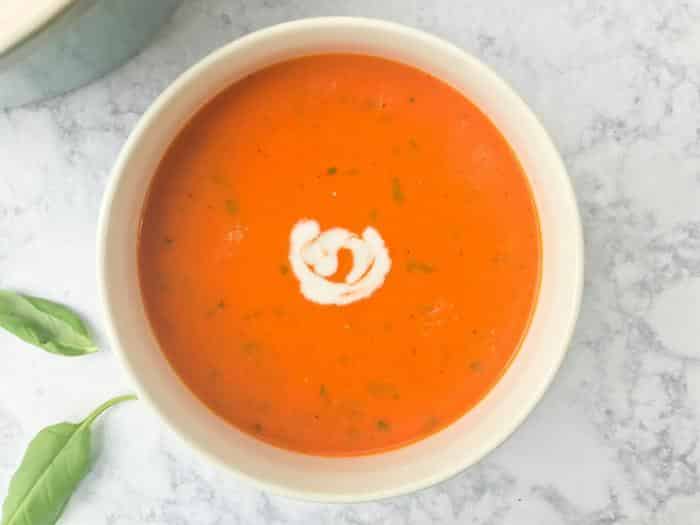 11. 30 Minute Dairy Free Loaded Potato Soup
This. This. THIS. It's so creamy and delicious I promise you'll think it was made with cheese and heavy cream like classic potato soup recipes. This is my sister's favorite recipe and I totally get why. It fills all those "I need to bathe in milk and cheese and everything I can't have" cravings without actually sacrificing your Whole30 experience.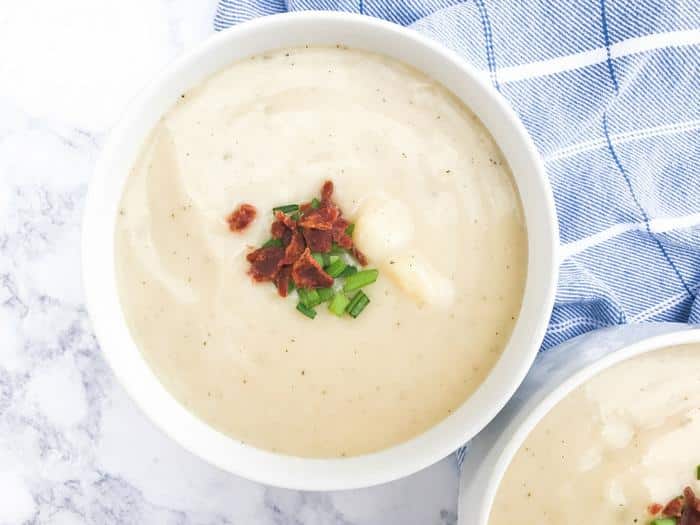 12. Creamy Garlic Spaghetti Squash Casserole
I love using spaghetti squash in place of traditional noodles in casseroles. This comfort food recipe from Justin and Erica at Real Simple Good does just that with a hearty dose of a creamy garlic sauce. Yep. Sign me up for some of that!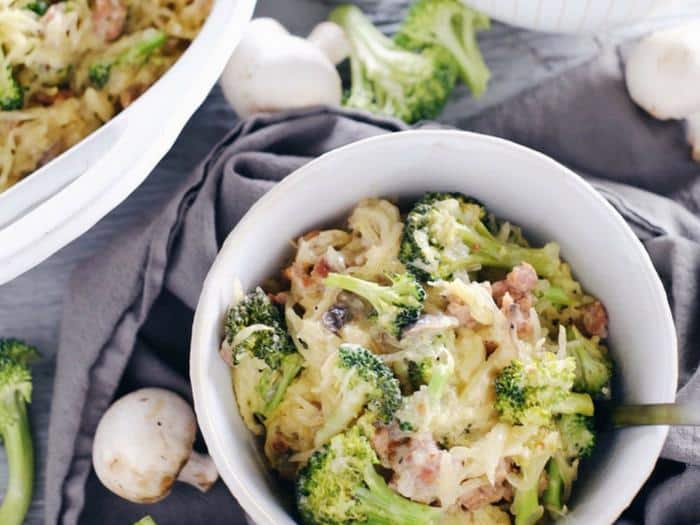 13. Restaurant Style Chicken Tikka Masala
Cheryl from 40 Aprons has created this and doesn't it look spectacular? If you've never had tikka masala before you're missing out and now is the time to remedy that.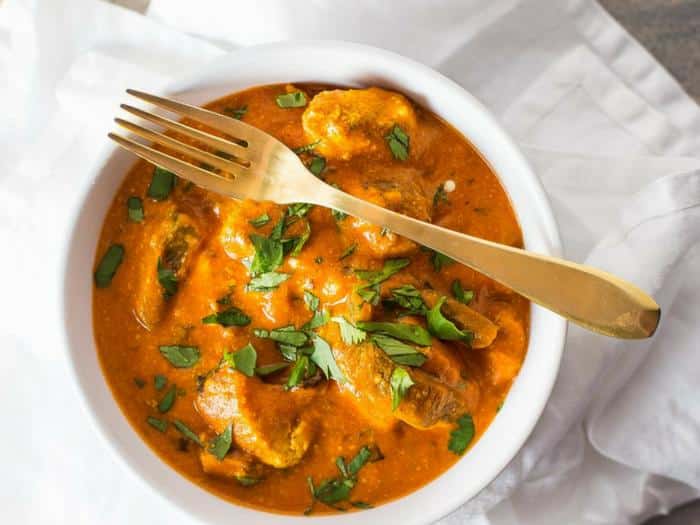 14. Mexican Meatball Soup with Butternut Squash
I am borderline obsessed with meatballs so meatballs in a soup? Yes please.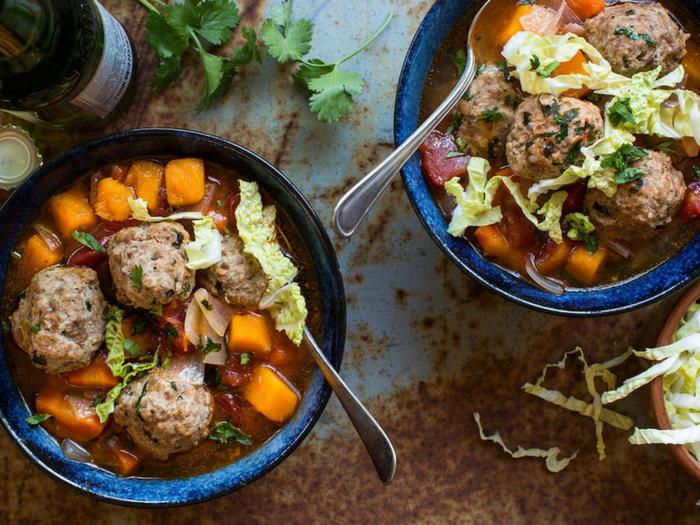 15. Buffalo Ranch Chicken Casserole
You won't believe this casserole is Whole30 compliant. My husband raves about this dish because it's really spicy and filling.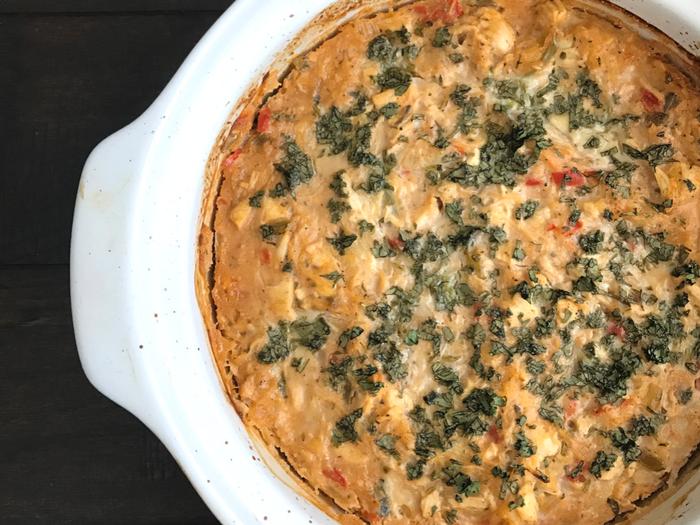 16. Crockpot Chicken Enchilada Soup
Justin and Erica from Real Simple Good will wow you with this soup that's definitely not short on flavor. You could probably put the word enchilada in anything and I'd eat it though.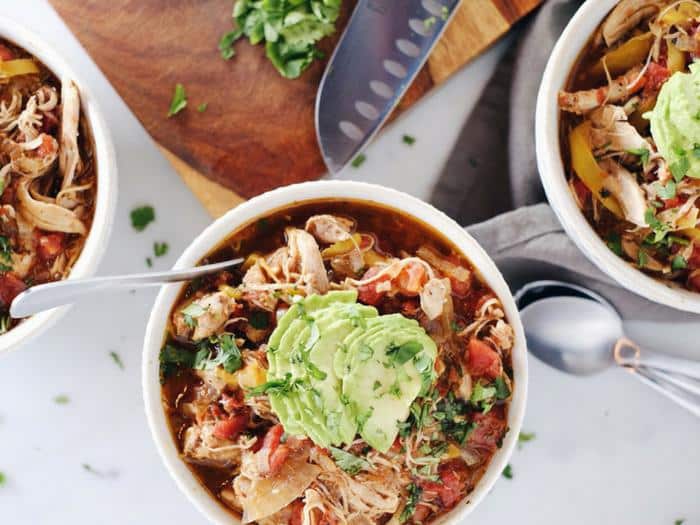 We eat a lot of brisket in my house because there are quite possibly a million ways to turn leftovers into other meals for breakfast, lunch, and dinner. Brittany's brisket recipe at Paleo Bee is a definite keeper with simple fresh ingredients.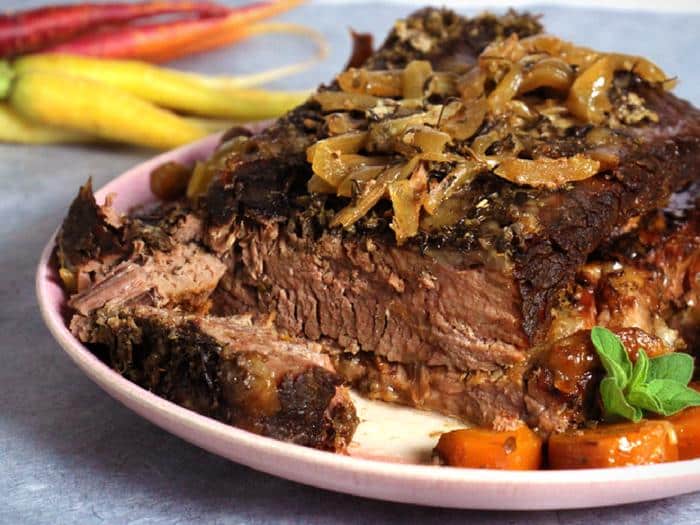 How lovely is this soup from Cheryl at 40 Aprons? Potatoes, sausage, bacon, a little heat… oh my!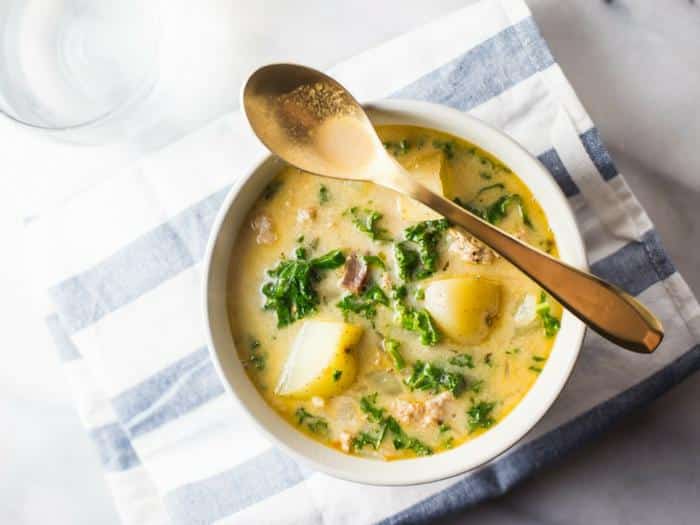 19. Sugar Free Oven Baked BBQ Chicken
Nothing comforts quite like barbecue chicken. This sauce it easy to make yourself so no need to hunt for a bottled variety that's free of sugar and ingredients you can't decipher. Baking the chicken in the sauce creates a very moist chicken you'll want to make again and again.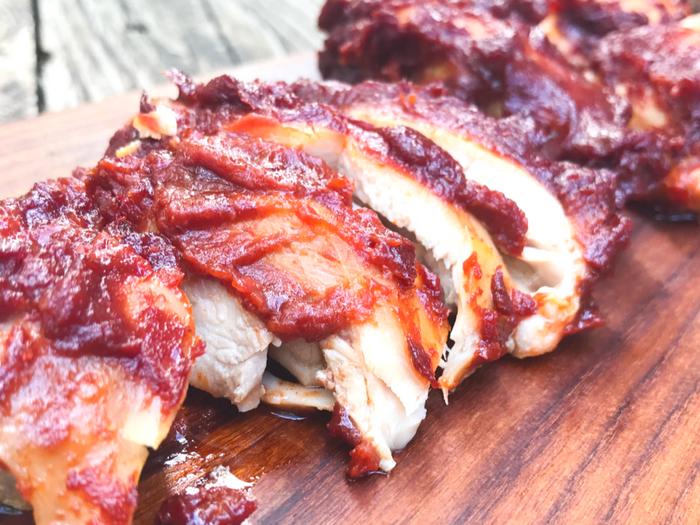 20. Orange 5 Spice Chicken Thighs with Carrots & Brussels Sprouts
Check out the gorgeous color of this chicken from Christine at Mid-Life Croissant. Wowza, right?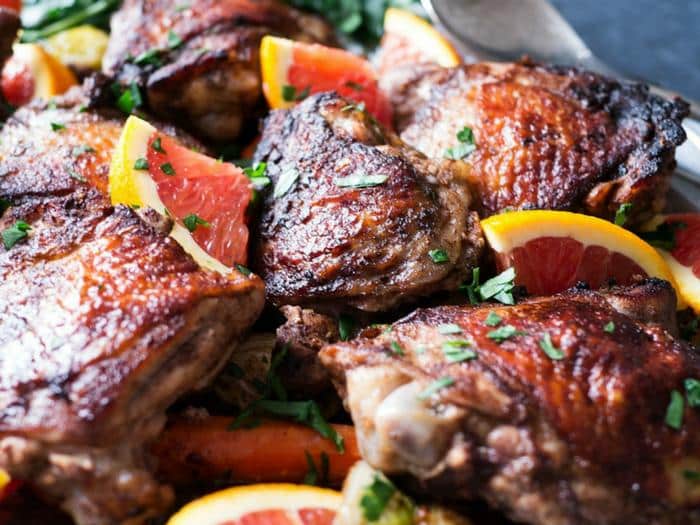 21. Broccoli Ranch Twice Baked Potatoes
This is not your ordinary potato. This potato has a salty skin that's loaded with a broccoli ranch mashed potato mixture. You can enjoy it as an entree or as a really spectacular side dish.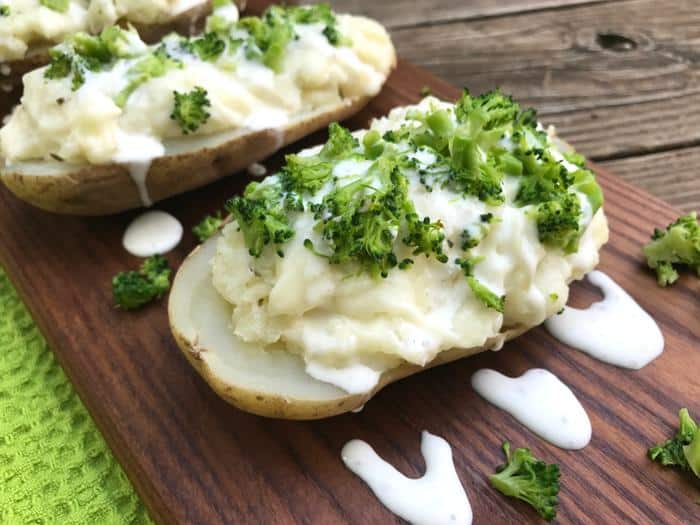 Want more Whole30 recipes? I have tons. Search the Whole30 category on the blog to see what else you may enjoy cooking!