Almond Crusted Ranch Chicken
Almond Crusted Ranch Chicken is flavorful thanks to plenty of seasonings and dried herbs in the breading!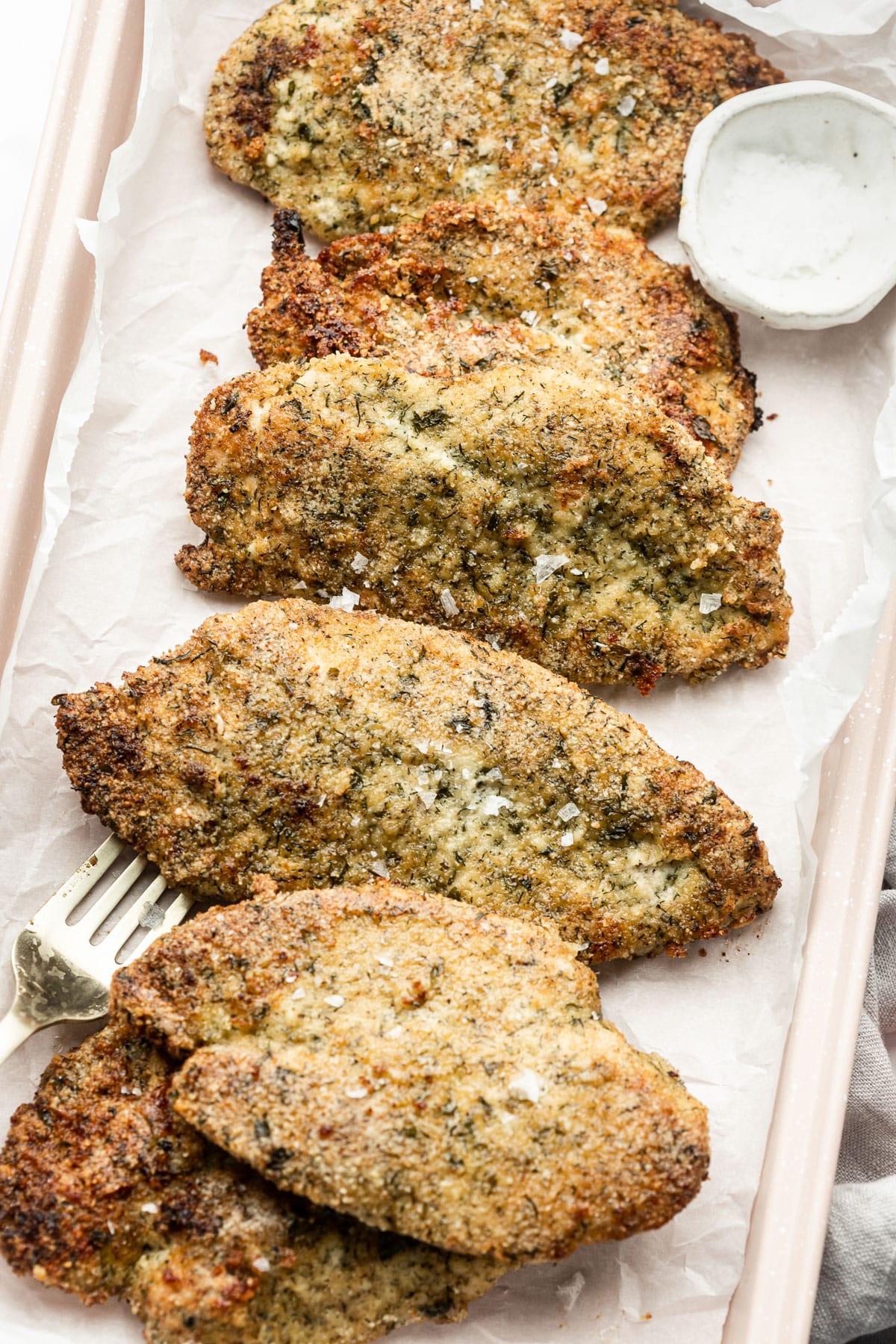 In this particular recipe I use the seasonings you find in a traditional ranch dressing. I'm talking about garlic, onion, salt, pepper, parsley, and plenty of dill. I think it's really the dill that makes anything ranch scream ranch.
Feeling a little wary because of the almond flour? Well let's just alleviate your fears, friend. Almond flour makes a beautifully golden brown baked chicken! To ensure you get that perfect crust the secret is in how you apply the breading. Let me show you how to do it.
Make sure you drip off any excess egg wash before dipping your cutlets into the breading mixture. Otherwise you may find that your egg wash will cause the breading to get wet and clump together.
Then lay your chicken in the almond flour mixture. Use your hands to gently press the almond flour into the top of the cutlet (the bottom will be coated just from sitting in the flour). That's it! No need to rub the chicken into the flour or flip it. This super simple method for breading your chicken ensures your chicken is well coated and your flour stays dry until the very end.
Once our chicken is seasoned and breaded just place it on a greased baking sheet. We'll bake these cutlets at a high temp and flip them about halfway through. That's it!
If you prefer to sauté your chicken you may enjoy my Almond Chicken Cutlets (that one cooks on the stovetop).
What kind of almond flour is best?
There are several great brands to choose from when it comes to almond flour. Two of my favorites are Bob's Red Mill and Nature's Eats. Just make sure you get blanched almond flour because that means the skin has been removed.
Almond Crusted Ranch Chicken
Almond Crusted Ranch Chicken bakes until it's golden perfection! Packed with parsley, dill, and seasonings!
Ingredients
Chicken
3 chicken breasts, around 1.5 to 1.75 lbs of chicken
2 tbsp olive oil, extra virgin
Breading
1 1/4 cups almond flour, finely ground, I use Bob's Red Mill
1 1/2 tbsp dried parsley
1 1/2 tbsp dried dill weed
1 tbsp onion powder
1 tbsp garlic powder
1 tsp salt
1 tsp pepper
Instructions
Preheat oven to 450 degrees.

Slice your chicken breasts horizontally to create 6 chicken cutlets.

Add your almond flour, parsley, dill, onion powder, garlic powder, salt, and pepper to a shallow dish. Stir to combine.

Crack your eggs into a separate bowl. Whisk until well combined.

Dredge each cutlet in the egg mixture and let the excess drip off (that's important). Then dredge each cutlet in the breading mixture.


Grease your baking sheet with olive oil or another cooking fat of choice. Place each breaded cutlet on the greased baking sheet. Bake for 13 minutes. Flip each cutlet. Bake for an additional 12 minutes. Remove from oven and serve!
Notes
The best way to add your breading is to lay your chicken cutlet on top of the breading ingredients. Use your fingers to cover the top of the cutlet with breading. Press it into the chicken. Breading will stick to the bottom of the cutlet while you do this. The end result is perfectly breaded chicken and you won't have clumpy flour (that can happen if you move the egg wash covered chicken around too much). 
Nutrition
Serving: 1cutlet, Calories: 336kcal, Carbohydrates: 7g, Protein: 31g, Fat: 20g, Saturated Fat: 2g, Cholesterol: 126mg, Sodium: 544mg, Potassium: 505mg, Fiber: 3g, Sugar: 1g, Vitamin A: 160IU, Vitamin C: 2.5mg, Calcium: 86mg, Iron: 2.2mg