Baked Almond Chicken Nuggets
Baked Almond Chicken Nuggets are crispy, easy, and perfect for grown ups and kids alike!
I recently shared my recipe for Almond Crusted Ranch Chicken and I got so many questions about turning them into nuggets that I decided to just go ahead and give ya'll a nugget recipe. BOOM. Here you go!
These nuggets use almond flour instead of white flour so they're going to be nutritious, high in protein, and low in carbohydrates and sugar.
When I use almond flour I like to cook my chicken directly in the cooking fat whether it's sautéed or baked in the oven. I don't use much and we're definitely not frying these. But just a bit of fat helps your breading brown beautifully without overcooking the chicken. And I do love that golden brown coloring!
There are several great brands to choose from when it comes to almond flour. Two of my favorites are Bob's Red Mill and Nature's Eats. Just make sure you get blanched almond flour because that means the skin has been removed.
I'm using simple seasonings to make these nuggets flavorful but still perfect for young children. Adults will want them too. Oh I sure do. The first time I tested this recipe I mowed through half the sheet pan myself. That's not a serving size, friends. I have no regrets.
Whether you decide to gorge yourself on them all by your lonesome (no judgment), whip them up for the family at dinnertime, or serve them as an appetizer to friends, they're sure to be a hit!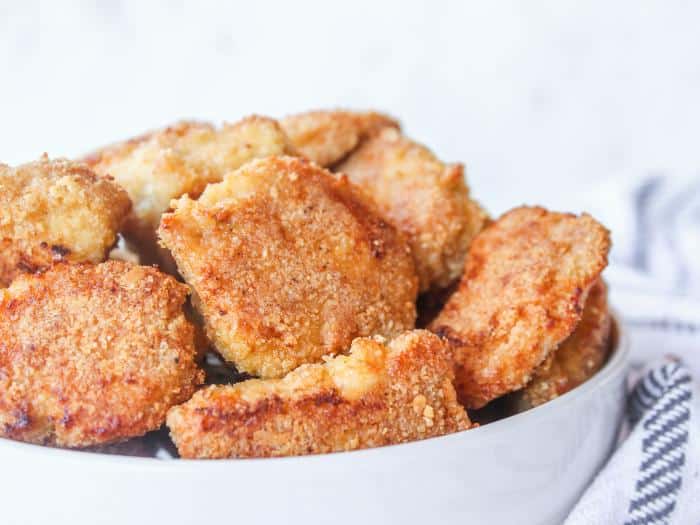 Interested in more almond flour recipes? Try my Almond Crusted Ranch Chicken and Almond Chicken Cutlets!
Baked Almond Chicken Nuggets
Baked Almond Chicken Nuggets are crispy, easy, and perfect for grown ups and kids alike!
Ingredients
1 1/2 lbs chicken breasts, approximately 3 – 4 breasts
1 1/4 cup almond flour, finely ground
1 tsp salt
1/2 tsp chili powder
1/2 tsp garlic powder
2 tbsp olive oil
2 eggs
Instructions
Preheat oven to 450 degrees.

Slice your chicken breasts to create nuggets.

Add your almond flour, chili powder, garlic powder, and salt to a shallow dish. Stir to combine.

Crack your eggs into a separate bowl. Whisk until well combined.

Dip each nugget in the eggs and let the excess drip off (that's important). Then dredge each nugget in the breading mixture.


Grease your baking sheet with olive oil or another cooking fat of choice. Place each breaded nugget on the greased baking sheet. Bake for 10 minutes. Carefully flip each nugget. Bake for an additional 10 minutes. Remove from oven and serve!
Notes
The best way to add your breading is to lay each nugget on top of the breading ingredients. Use your fingers to cover the top of the nugget with breading. Press it into the chicken. Breading will stick to the bottom of the nugget while you do this. The end result is perfectly breaded chicken and you won't have clumpy flour (that can happen if you move the egg wash covered chicken around too much). You can find photos of how I do that in my recipe for Almond Crusted Ranch Chicken.
Nutrition information is based on creating 36 nuggets and each serving size is 6 nuggets. The actual number of nuggets you make varies depending on how large you cut them and how you trim your chicken.
Nutrition
Serving: 6nuggets, Calories: 324kcal, Carbohydrates: 5g, Protein: 30g, Fat: 20g, Saturated Fat: 2g, Cholesterol: 127mg, Sodium: 543mg, Potassium: 439mg, Fiber: 2g, Vitamin A: 180IU, Vitamin C: 1.4mg, Calcium: 63mg, Iron: 1.6mg