Broccoli Ranch Twice Baked Potatoes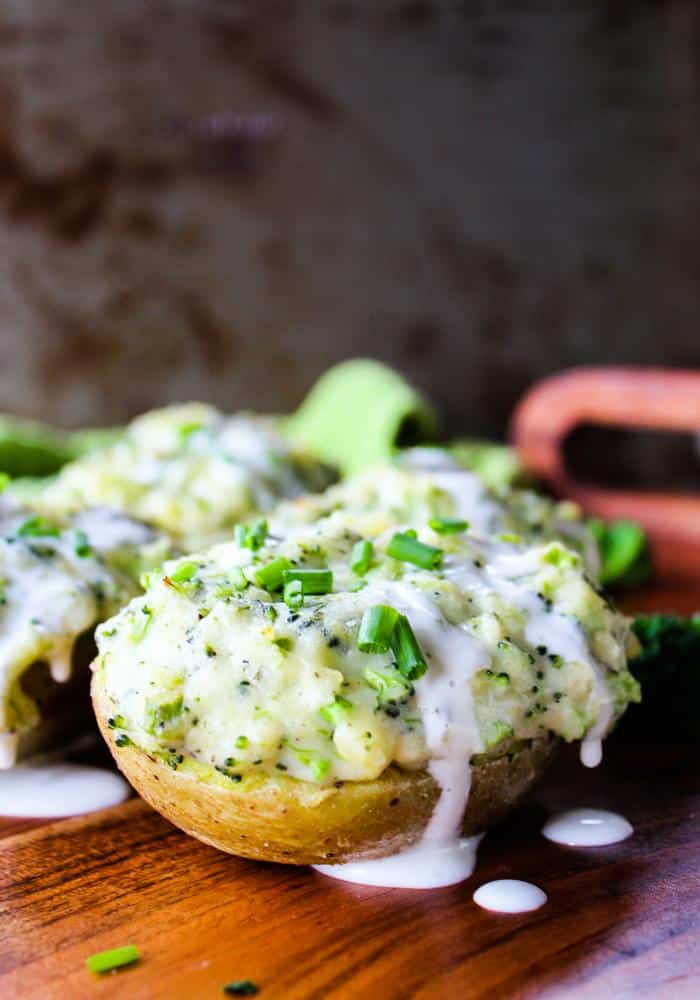 We eat a lot of potatoes in my house. They're so good for you and so very filling. In fact one of my very favorite lunches is a simple baked potato topped with ghee (clarified butter), broccoli, and salt/pepper.
That lunch influenced these Broccoli Ranch Twice Baked Potatoes. But I'm taking it to a whole other level.
The ingredient list is short and simple. Just the good stuff.
The ranch dressing I prefer is my Easy Ranch Dressing. It's dairy free, sugar free, Whole30 compliant, and takes less than 5 minutes to make. There's no junk in it so you can feel great feeding it to your family.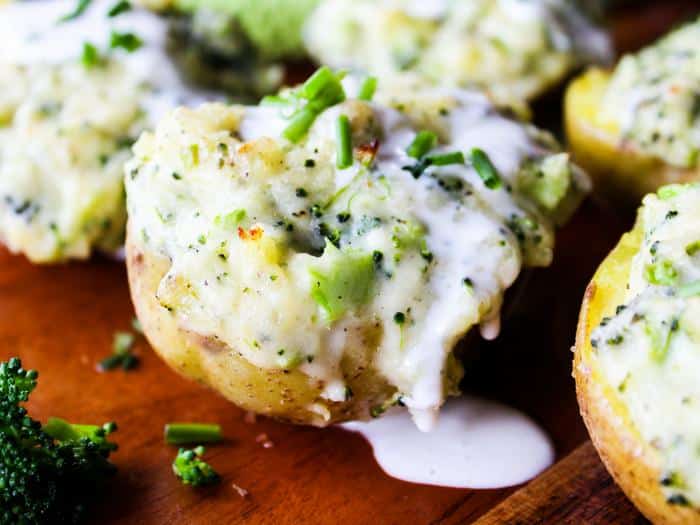 We bake these potatoes twice using olive oil and coarse salt to make the skin crispy and salty. Oh yes it is.
The inside is filled with super creamy mashed potatoes whipped with ranch and broccoli.
After baking twice they come out of the oven looking ahhhhmazing. And they are.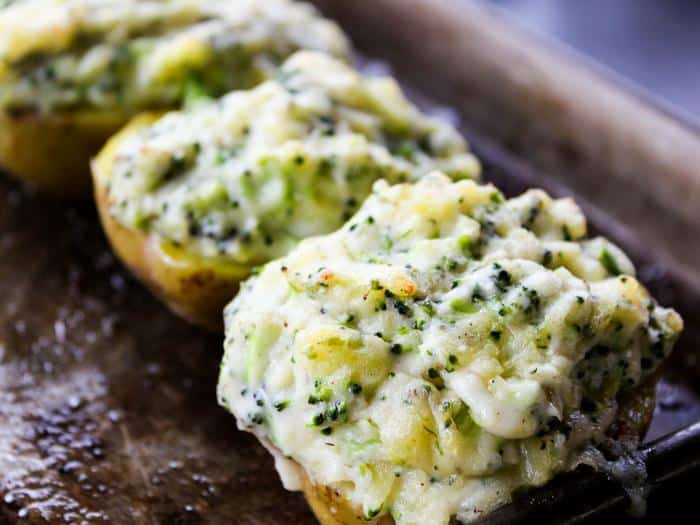 Do you need a minute to yourself to privately drool over the photo? That's cool. You can.
Drizzle a little extra ranch and some fresh chives on top to really make it all swoon worthy. Enjoy!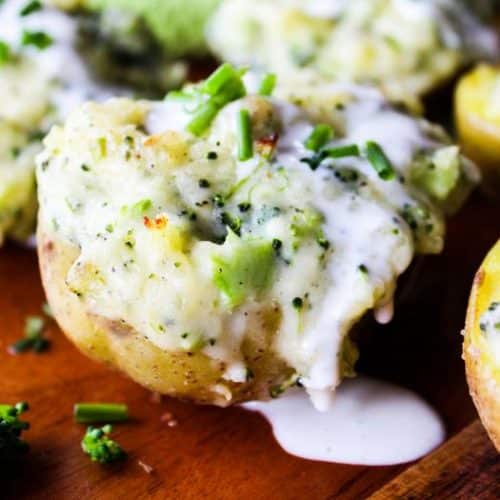 Broccoli Ranch Twice Baked Potatoes
These Broccoli Ranch Twice Baked Potatoes are unbelievably rich with a creamy mashed potato center and a crispy potato skin.

Ingredients
4 potatoes, medium to large
1 tablespoon olive oil
3/4 cup Easy Ranch Dressing
1 1/2 teaspoon salt
1/2 teaspoon pepper
1 cup fresh broccoli, chopped
1 tbsp ghee, can be omitted to keep recipe dairy free
Instructions
Preheat oven to 400 degrees.

Wash and dry your potatoes. Rub olive oil on the outside of each and sprinkle with coarse salt. I recommend about 1 teaspoon for the outside of the potatoes, reserving the remaining 1/2 teaspoon for the filling (which comes next).

Place potatoes on a baking sheet and bake for 1 hour. Potatoes will be crispy on the outside but soft and fully cooked on the inside. Remove from oven when done.

Slice each potato in half and scoop out the inside and place in a mixing bowl. You'll still leave some of the inside there to keep your potato skins from falling in.

In a bowl combine the insides of your potatoes with 1/2 cup Easy Ranch Dressing, salt, pepper, and melted ghee. Use a handheld mixer to whip your potatoes until you have a smooth consistency. Add more Ranch if necessary to get the creamy texture you're wanting. (Depending on how large your potatoes are you may find that you need up to 1 cup of Ranch.) These should look and feel like really lovely whipped mashed potatoes. Add additional salt and pepper to taste.


Give your broccoli a quick chop so they'll cook faster. Stir the chopped broccoli into your mashed potatoes.

Using a spoon fill your potato skins with the mashed potatoes. Place them on the baking sheet in the oven for 15 minutes.

Remove from oven. Top with extra broccoli, chives, or a drizzle of Ranch if you like. Serve immediately.

Nutrition
Serving: 1half potato, Calories: 125kcal, Carbohydrates: 14g, Protein: 3g, Fat: 6g, Saturated Fat: 2g, Cholesterol: 11mg, Sodium: 503mg, Potassium: 502mg, Fiber: 2g, Vitamin A: 90IU, Vitamin C: 23.2mg, Calcium: 43mg, Iron: 3.9mg
Made these and love them? If you share a photo of your potato on Instagram tag me so I can check it out!
Want another potato recipe? How about these Smashed & Roasted Italian Potatoes? They're crispy and tasty!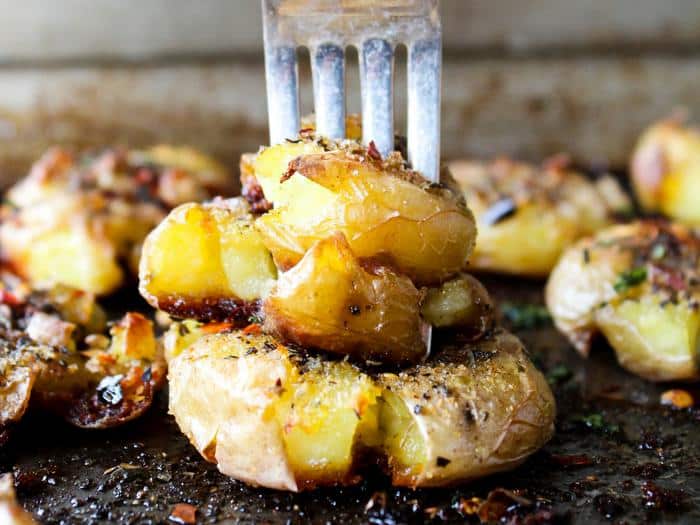 Save