Chicken Sausage & Peppers
Heading to the Farmer's Market early on a Saturday morning is my favorite way to start the weekend. Not only do I love supporting local farmers (and I do) but the atmosphere is so fun! There are musicians on every corner, food trucks, an assortment of flowers, and so much produce. Everyone is relaxed and happy. That's my kind of morning!
This week I found myself drawn to these gorgeous bright colored bell peppers. I didn't purchase them right away. I like to scope out every vendor's offerings before making my decision. We made a lap around to see what everyone was selling and grab some breakfast. (I had beef brisket with a fried egg on top. Oh dear it was so good.) Those peppers stayed on my mind the whole time. Right before we headed home I returned and made my purchase.
Can you believe these colors? God sure made some beautiful food for us, didn't He?
There was never any doubt what I'd be making with these beauties. Chicken Sausage & Peppers is a simple flavorful dish I often prepare at home. Surprisingly I haven't shared it here yet! It's certainly never been as pretty as it is with these particular peppers!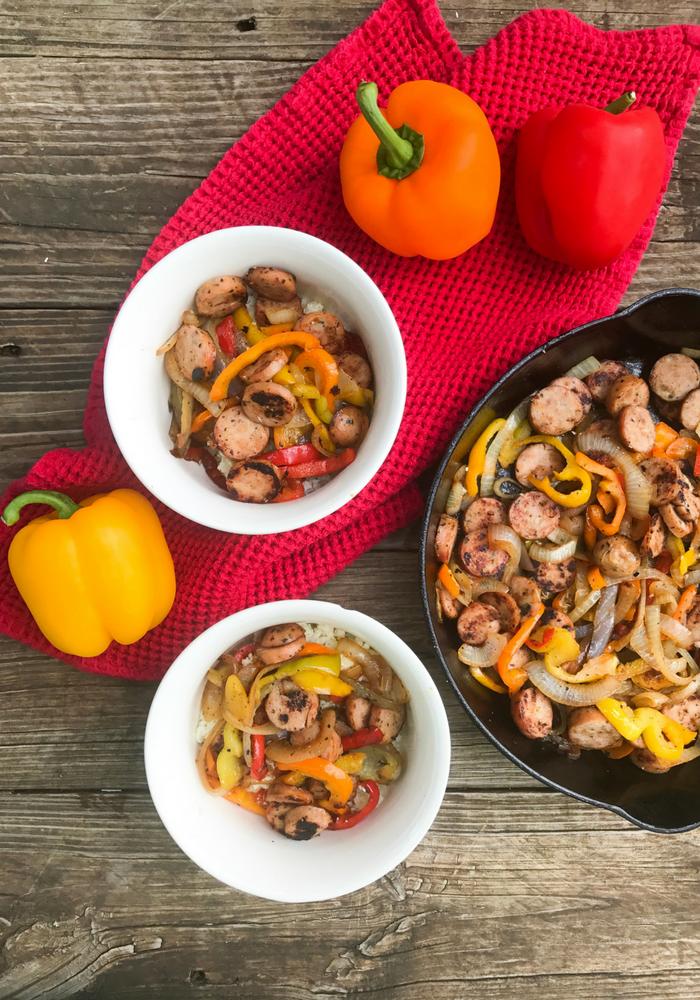 First I sliced and browned my chicken sausage. I didn't use any oil in the pan because I prefer a cast iron pan and I oil mine fairly regularly so food rarely sticks to it. Of course you know your pan. If you're concerned about sticking just coat the bottom with a bit of olive oil first.
Once the sausage was browned I removed it from the pan and set it aside.
I sliced my gorgeous peppers and 1/2 an onion. They go into the pan with 1 tablespoon of ghee (clarified butter). You can use regular butter if you prefer or another cooking fat like coconut oil or olive oil. Ghee is my choice because it has a hint of sweetness and anything sauteed in it is extra yummy.
When the peppers and onions are wilted it means they're finished. Chicken sausage goes back in the pan and you're ready to serve! I enjoy this over cauliflower rice, traditional rice, diced potatoes, a baked potato, or just leave it as is!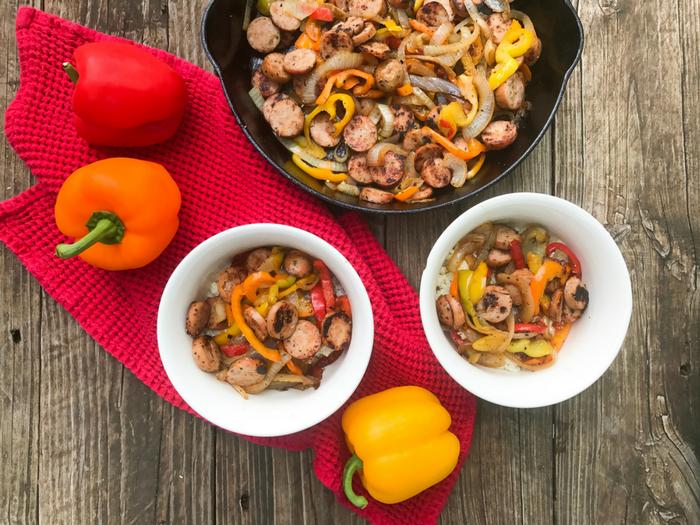 Chicken Sausage & Peppers
Chicken Sausage & Peppers cook in minutes which makes it the perfect weekday low carb meal!
Ingredients
4

chicken sausages

,

sliced

3

bell peppers of assorted colors

,

seeds removed & cut into strips

1

onion

,

sliced into strips

2

tbsp

cooking fat of choice

,

I use olive oil, ghee, or coconut oil.

salt & pepper to taste
Instructions
Add your sliced chicken sausage to the pan and heat to medium high heat. No oil is necessary unless your pan tends to stick. Brown sausage on both sides. This takes approximately 5-7 minutes. Remove from pan and set aside.

Add cooking fat of choice, peppers, and onion to the pan. Cover and let cook for 6-8 minutes or until peppers and onions are softened and wilted.

Salt & pepper to taste.

Stir the cooked chicken sausage into the peppers and onions.

Eat as is or serve over cauliflower rice or potatoes.