Chicken Sausage & Pepper Hash
This Chicken Sausage & Pepper Hash is a hearty meal that you can easily whip up in about 25 minutes! Perfectly crispy and tender potatoes, chicken sausage, bell pepper, and eggs. Enjoy for breakfast, brunch, or dinner!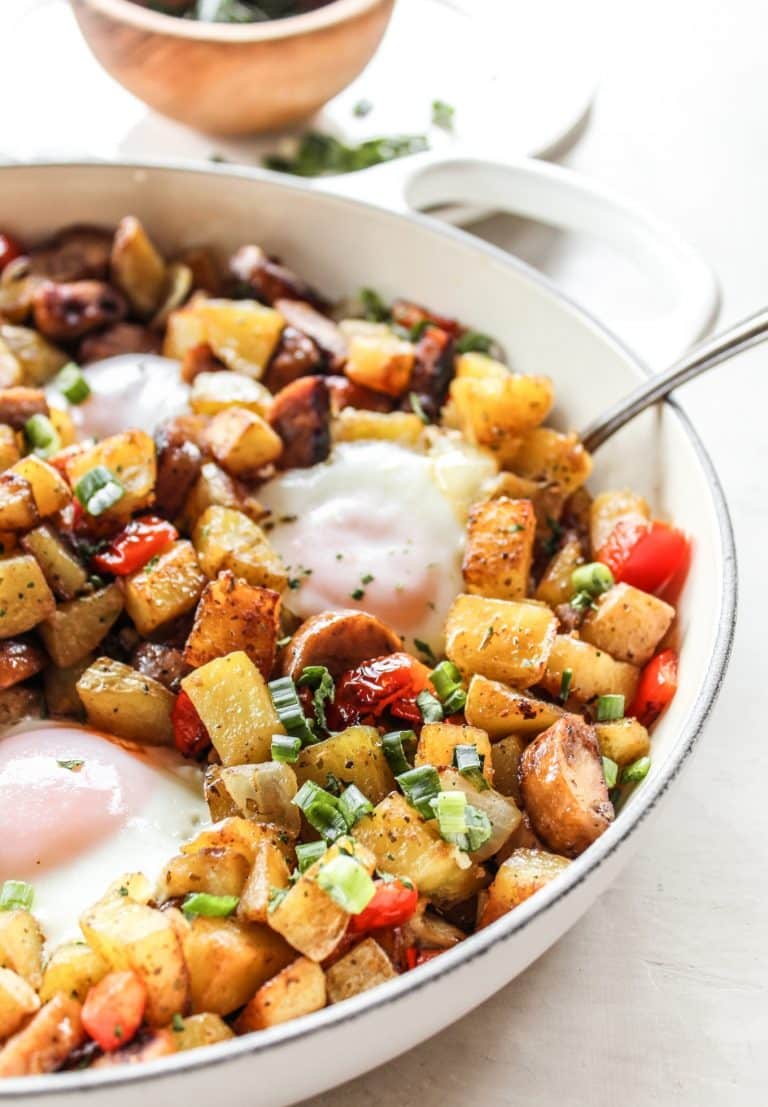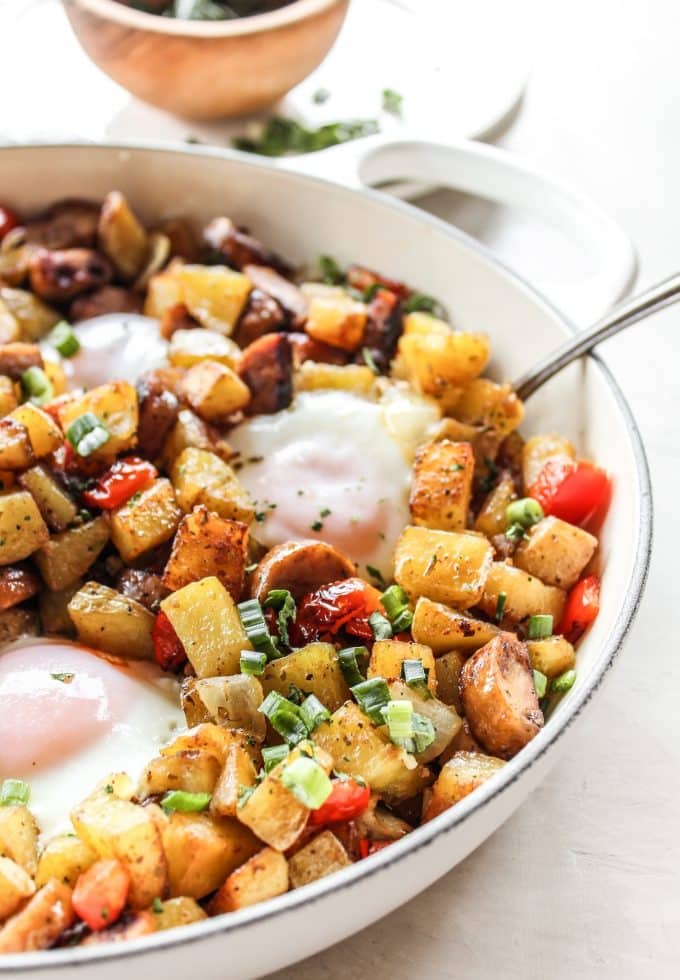 Update: This recipe was originally published in 2019 and has been republished with all new photos and updated recipe instructions.
We've probably already established that I love including potatoes as part of my breakfast routine. They help keep me full until lunch so I don't turn into that vile hangry person I occasionally become.
I truly make skillet potatoes several times a week. I love them so. My favorite way to enjoy them is in a hash and this Chicken Sausage & Pepper Hash has been my preferred vehicle for those potatoes. Gah, this is so good, friend!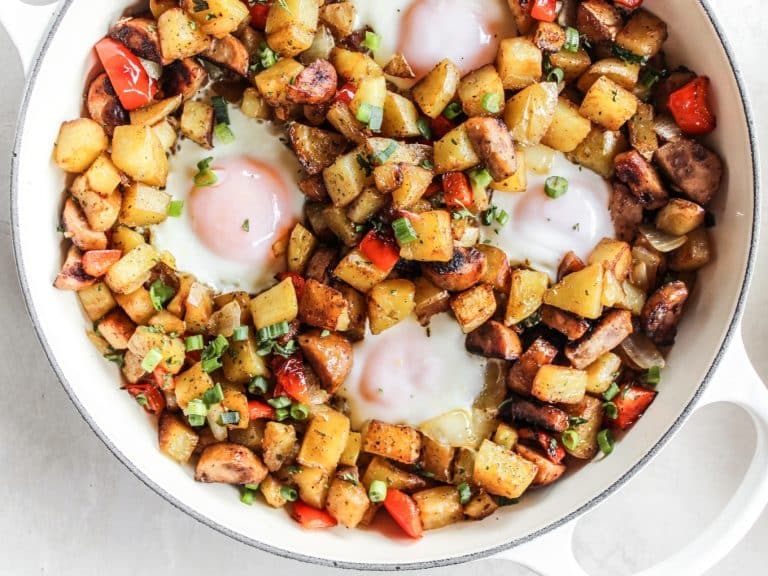 For this recipe you'll need (full list of ingredients and instructions are in the recipe card below):
Chicken sausage
Olive oil
Potatoes
Onion
Bell Pepper
Eggs
A few simple seasonings
We start by browning the sausage and then set it aside. Now it's time to sauté the potatoes, onion, and bell pepper. The goal here is to get a gorgeous golden color on those potatoes so they have just a little crispiness to them.
Once my potatoes have browned, toss that sausage back in the skillet. Give them a few minutes to warm up. Season everything.
Finally it's time to create a little room for the eggs, crack them in there, cover, and let it all cook until the eggs are just how you like them. I like firm whites with runny yolks but you can cook your eggs for less or more time until you've hit that sweet spot.
Psst I know this is traditionally a breakfast dish but I absolutely recommend making it when you need a quick lunch or dinner too. I do it all the time and nobody in my family complains! I mean we're talking about potatoes here. Who would complain about that?
Can you use a different sausage?
Absolutely. Feel free to use beef, turkey, or pork if you prefer. Just make sure you're using a fully cooked dinner sausage.
What potatoes are best in a hash?
I love and use all types of potatoes so feel free to use what you have. I prefer yellow or gold (you can tell by the color in the photos) because I enjoy their naturally buttery flavor.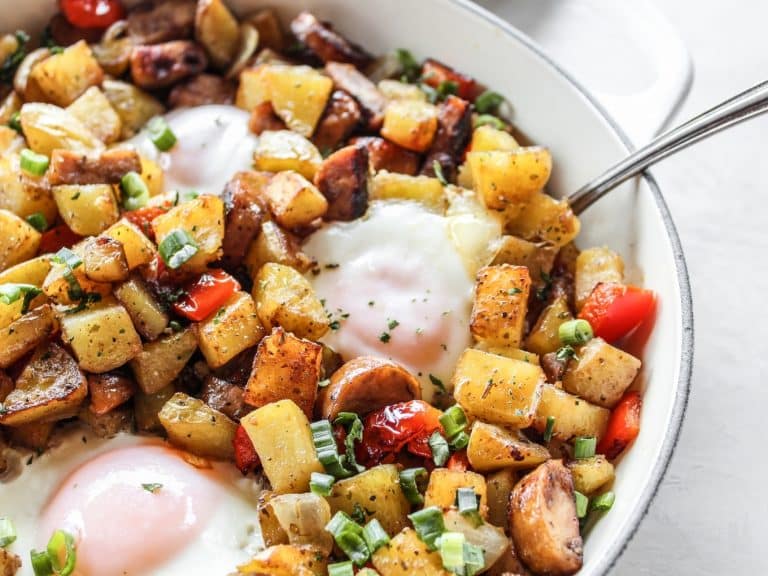 Tips to getting your potatoes tender in a hash
Occasionally I'll hear that someone is struggling to get their potatoes softened. 10 times out of 10 it comes down to a simple fix. Here are my tips for making sure you get that perfect texture!
Dice your potatoes so they're 1/2-inch or 3/4-inch. The larger your potatoes pieces the longer they'll need to cook so don't go too big.
Make sure you cut those potatoes all the same size. If some chunks are large they'll cook more slowly while your smaller pieces get overdone.
Use a large enough skillet so that your potatoes don't overcrowd the pan. You want as many potatoes as possible to touch the bottom surface of the skillet. I always use a 12″ nonstick skillet when I make a hash.
Don't flip your potatoes too frequently. You want the potatoes touching the bottom of the pan to have time to brown.
But DO flip those potatoes. While you can move the potatoes around too much, you can also move them around too little. Stir occasionally so that all the potatoes have a chance to rest on the bottom for browning.
Don't be afraid of a higher heat. I cook my skillet potatoes on medium-high heat. This temp is plenty high to brown my potatoes and get them tender fairly quickly. If you're cooking on medium or medium-low you'll find that your potatoes take a mighty long time to cook and they won't brown.
If all else fails you can cover your skillet with a lid to achieve that tenderness faster. Don't do this until the end though and only for a few minutes.
More recipes like this:
Steak & Sweet Potato Breakfast Hash
Sheet Pan Sweet Potato Hash & Eggs
Spinach & Arugula Breakfast Hash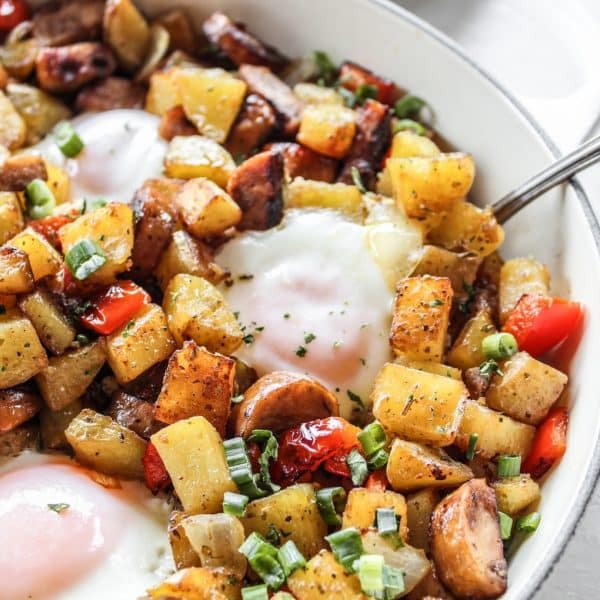 Chicken Sausage & Pepper Hash
This Chicken Sausage & Pepper Hash is a hearty meal that you can easily whip up in about 20 minutes! Perfectly crispy and tender potatoes, chicken sausage, bell pepper, and eggs. Enjoy for breakfast, brunch, or dinner!
Ingredients
2 tbsp olive or avocado oil
2 chicken sausages, cut into half circles
4 cups diced potatoes, You can use any potato variety you like. I prefer gold or yellow.
1/2 white or yellow onion, diced
1/2 bell pepper, any color, diced
3/4 tsp salt
3/4 tsp dried oregano
1/2 tsp garlic powder
1/4 tsp onion powder
1/4 tsp black pepper
4 eggs
Additional salt to taste
Instructions
Heat 1/2 tbsp of the oil in a large skillet on medium-high heat. I use a 12" skillet so that I have enough room to accommodate everything. (Your potatoes will take longer to cook if your pan isn't large enough.) Once oil is hot, add the sliced sausages. Sauté, stirring frequently for 3 to 4 minutes or until browned. Remove from pan and set aside.

Add the remaining oil plus diced potatoes, onions, and peppers to the now empty skillet. Sauté on medium high heat, stirring occasionally, until sides of potatoes have browned and potatoes are tender. This can take up to 10 minutes depending on your stove and the size of your potatoes. Don't move to the next step if your potatoes are still too firm.

Add your chicken sausage back to the pan. Season everything with salt, oregano, garlic powder, onion powder, and pepper. Use a spatula to stir so they're mixed in with the potatoes. Sauté for another 2-3 minutes to get the sausage heated through.

Use a spatula to create 4 holes in your hash. Crack one egg in each hole. Add salt to the tops of the eggs. Cover and reduce heat to medium. Cook until eggs are how you like them. Garnish with green onion (optional).