Chipotle Lime Grilled Chicken
This Chipotle Lime Grilled Chicken is tangy with a hit of chipotle seasoning that you're going to really taste! I bet you'll love the easy marinade!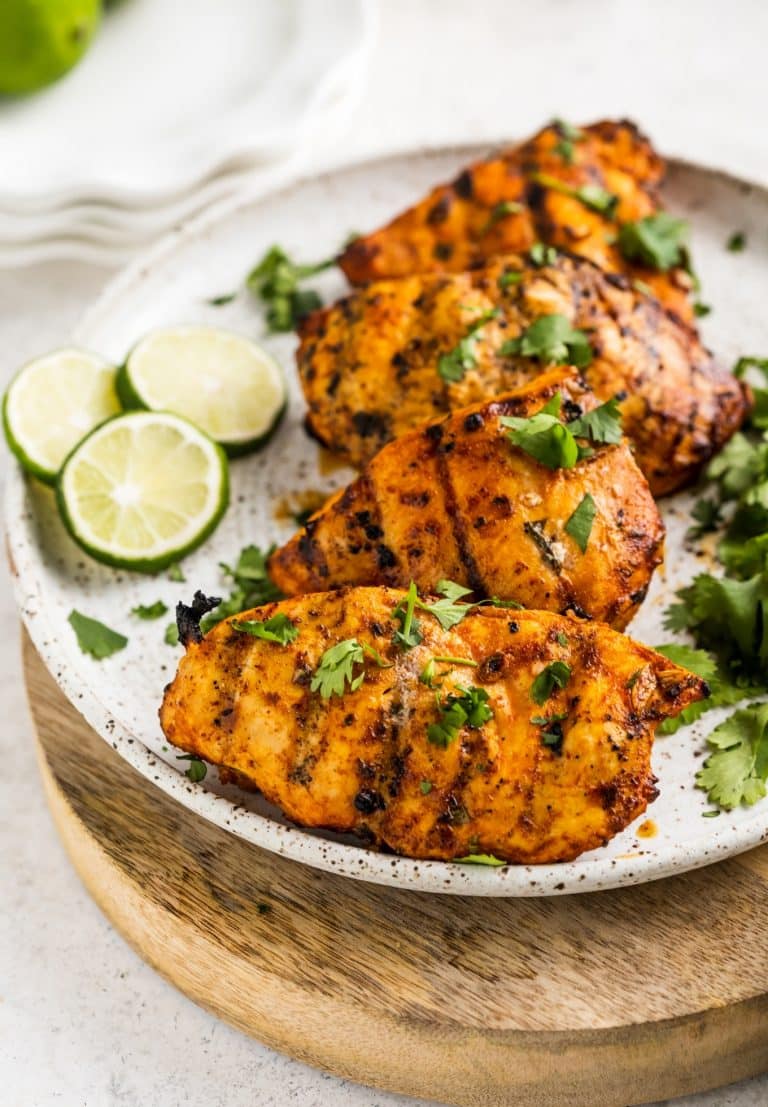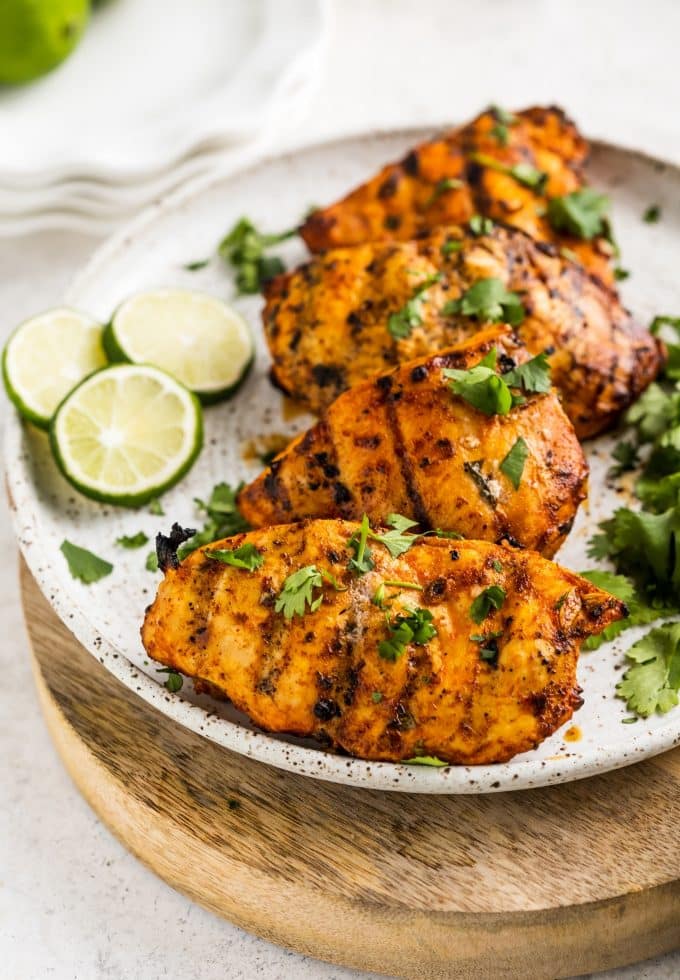 Update: This recipe was originally published in 2019 and has been republished with all new photos.
When it's warm outside you better believe you'll find me doing all my cooking on the grill. Back in my microwavable Lean Cuisine days (oh yes, I ate a lot of those) this gal still knew how to operate a grill. My husband and I would sit on the small patio of our townhouse and fire up some burgers or chicken several nights a week. These days you won't find me near a microwavable meal and our patio is bigger, but grilling is forever king.
Today I'm sharing Chipotle Lime Grilled Chicken. The lime juice gives it a tanginess. There's also chili powder, chipotle powder, and cumin. Oh yes.
Toss the marinade ingredients into a bag or covered dish with your chicken. Give the chicken time to absorb all the flavor and then throw it on the grill. So simple!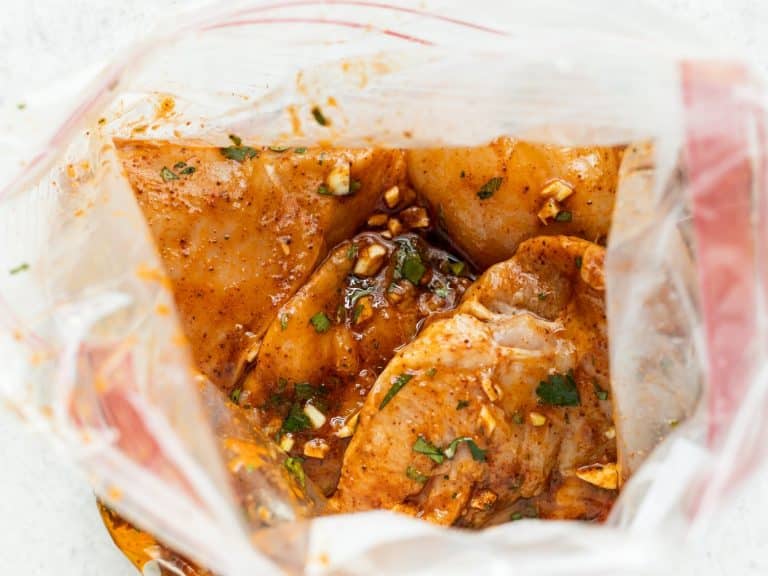 For this recipe you'll need (full list of ingredients and instructions are in the recipe card below):
Chicken breasts
Lime juice
Olive oil
Cilantro
Minced garlic
Seasonings
Add your chicken and all marinade ingredients to a bag or container. Marinate for at least one hour and up to 12 hours. Then grill and eat!
Will this marinade work well with other proteins?
Yes, the marinade is also delicious with steak, turkey, or pork.
How long should you marinate?
Since lime is a fairly mild flavor I recommend marinating for at least an hour and up to 12 hours. The longer you marinate the more pronounced the lime flavor will be. I don't recommend longer than 12 hours because your meat can start to breakdown and the texture changes if it sits in a marinade for too long. (That goes for any marinade.)
How can you prevent your chicken from sticking to the grill?
This marinade includes a lot of olive oil so you likely won't encounter that problem. When I'm grilling meat without an olive oil marinade I like to add a little olive oil to the outside of my chicken just before placing on the grill. If you try to flip your chicken and you notice it's sticking a bit just give it another minute before flipping and the chicken will usually release better then.
How to serve this
This chicken is delicious with grilled or roasted veggies and a simple salad. The chipotle lime marinade also makes this chicken a perfect fit for burrito bowls, rice bowls, and tacos.
More recipes like this:
Ultimate Marinated Grilled Chicken
Garlic Balsamic Chicken Kabobs
Tropical Salsa Grilled Chicken
Pesto Steak Kabobs with Blistered Tomatoes and Peppers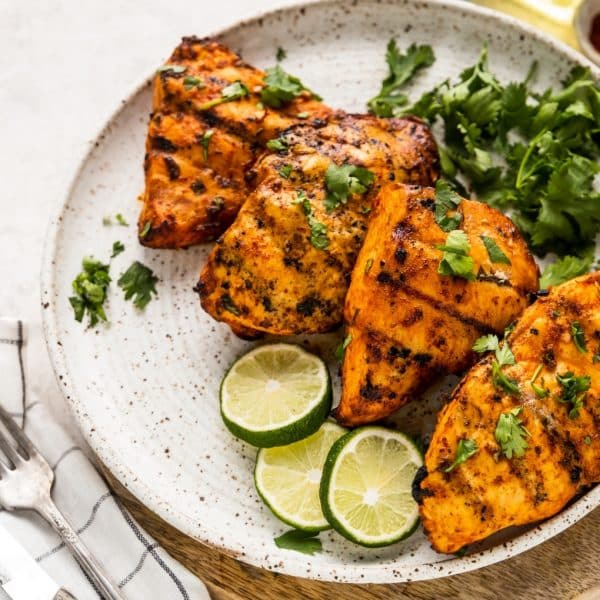 Chipotle Lime Grilled Chicken
This Chipotle Lime Grilled Chicken is tangy with a hit of chipotle seasoning that you're going to really taste! I bet you'll love the easy marinade!
Ingredients
6 chicken breasts, boneless and skinless
1/3 cup lime juice
1/4 cup olive oil, extra virgin
2 tbsp cilantro, chopped
1 tbsp garlic, minced
1 tsp chipotle pepper powder
1 tsp chili powder
1 tsp salt
1/2 tsp ground cumin
Instructions
In a gallon Ziploc bag or large covered bowl combine chicken and all marinade ingredients. Let marinade for a minimum of 1 hour or as long as 12 hours. (The longer the better to really bring out the lime flavor.)

Preheat the grill to medium high heat.

Add chicken to grill. Discard the remaining marinade. 

Cook the chicken, turning occasionally, until completely cooked through. This can take about 10 minutes but time varies depending on the thickness of your chicken.

Serve immediately. Garnish with a little extra fresh cilantro if you're entertaining and want to impress your guests!
Nutrition
Serving: 1chicken breast, Calories: 345kcal, Carbohydrates: 2g, Protein: 48g, Fat: 15g, Saturated Fat: 3g, Trans Fat: 1g, Cholesterol: 145mg, Sodium: 662mg, Potassium: 874mg, Fiber: 1g, Sugar: 1g, Vitamin A: 283IU, Vitamin C: 7mg, Calcium: 20mg, Iron: 1mg