Chocolate Chip Banana Oat Muffins
These Chocolate Chip Banana Oat Muffins are a delicious snack, dessert, or breakfast. They can easily be made dairy free and contain no white flour. Sweetened with honey instead of sugar!
Banana bread is a must have in my home. I make a few every month and we enjoy it for breakfast or dessert. Or fresh out of the oven at any time of day because let's be honest it's just plain yummy.
Given my love for it I knew I needed to create a muffin version that I'd feel good about feeding my family. That means I wanted to eliminate the flour, sugar, and dairy. I still wanted it to feel just as comforting and decadent as the traditional bread. Mission accomplished, friends. These Chocolate Chip Banana Oat Muffins are an absolute home run.
They're sweet. The banana flavor is pretty strong (as it should be because this is essentially a banana bread after all). The batter contains honey instead of refined sugar. We're not a completely sugar-free household but I do try to limit how much sugar we have. (It will never cease to amaze me how sugar is sneaked into essentially everything.)
And these muffins are loaded with oats. Have you ever tried an oatmeal muffin recipe before? Sometimes they feel a bit too much like oatmeal for my liking. To rectify that I've blended the oats so the batter texture remains completely smooth. In fact everything (except for the chocolate chips) just goes straight in the blender. I'm always in favor of a dish I can make with minimal prep!
Naturally I go heavy on the chocolate chips. Because if you don't want lots of chocolate chips we can't be friends.
When my six year old son took his first bite of one he squealed. Literally squealed. That's how I know it's a winner. Also I ate three. Another sure sign. Oh and we've made these maybe 297 times since I created the recipe. So yeah. We dig them.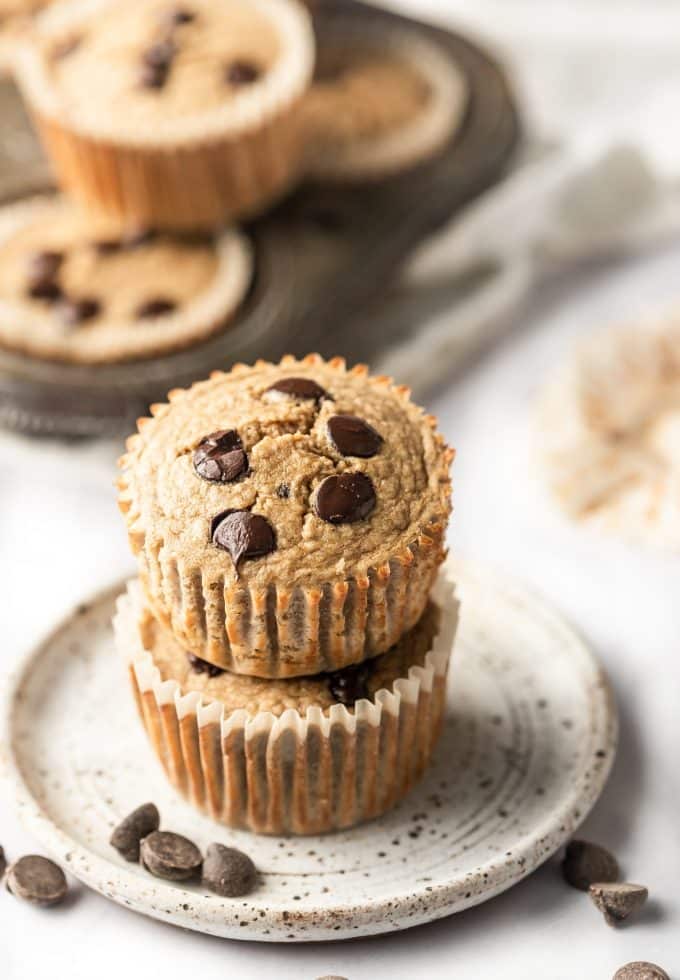 For this recipe you'll need (full list of ingredients and instructions are in the recipe card below):
Bananas
Eggs
Vanilla extract
Milk (unsweetened almond milk or cow's milk)
Baking powder
Cinnamon
Quick cooking oats
Chocolate chips
Add all your ingredients except the chocolate chips into a blender. Blend until batter is completely smooth and oats are finely ground. Fill your muffin cups to approximately 2/3 full (or just a bit more) with batter. Add chocolate chips. Bake for 15 minutes.
Are these muffins dairy free?
Yes these muffins can easily be dairy free! Just be sure to use almond milk (instead of cow's milk) and dairy free chocolate chips. Two yummy dairy free chocolate chip brands I recommend are Enjoy Life and the Simply Delicious line from Nestle Tollhouse. Both have a very short and straight forward ingredient list.
Are these muffins sugar free?
The chocolate chips I purchase do have sugar as ingredient. If you want to 100% avoid sugar here you'll want to buy sugar free chocolate chips.
Can you use steel cut oats?
No. This recipe has been tested with quick cooking oats. They work best because they blend easily and cook quickly. Steel cut oats will give you a dense gritty texture. I strongly recommend sticking with the quick oats.
Can you use maple syrup instead of honey?
You can. It will have a stronger flavor that you'll likely notice in the muffins but should work fine.
What chocolate chips are best in these muffins?
Semi-sweet chocolate chips are perfect in here because the honey adds plenty of sweetness to the batter already.
Of course you can absolutely use any chocolate chips you like. Semi-sweet, dark chocolate, and milk chocolate are all delicious. I grab whatever we have on hand!
Are these muffins good for meal prep?
Yes! Make a batch and enjoy them all week for a quick breakfast you can take with you in the car.
Do these muffins freeze well?
They sure do! Feel free to pop them in the freeze and reheat them in the microwave as needed.
More sweet oat recipes like this:
Dairy Free Pumpkin Oat Muffins
No Bake Chocolate Coconut Cookies
No Bake Chocolate Chip Cookie Balls
No Bake Honey Almond Butter Cookies
No Bake Chocolate Cashew Cookie Balls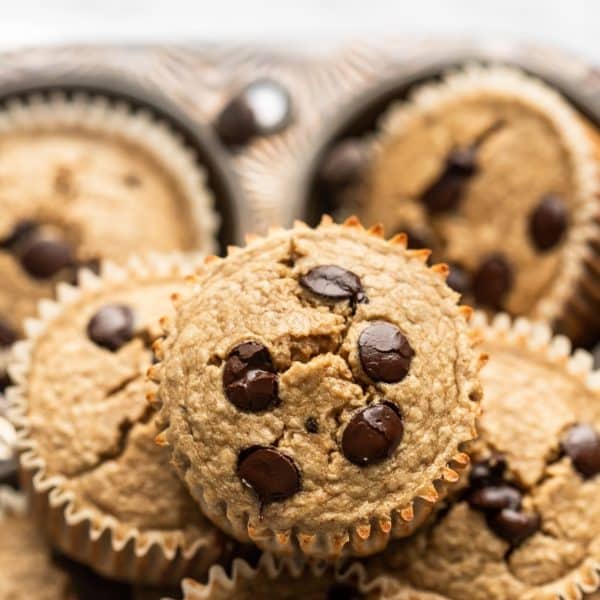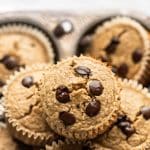 Chocolate Chip Banana Oat Muffins
These Chocolate Chip Banana Oat Muffins taste just like a decadent chocolate chip banana bread. You won't believe they're made without flour or dairy! Plus they're sweetened with honey instead of sugar!

Ingredients
2 ripe bananas
2 eggs
1/4 cup honey
1 1/2 tablespoon vanilla extract
2 teaspoons baking powder
1 1/2 teaspoon cinnamon
1 cup unsweetened almond milk or cows milk
2 cups quick cooking oats
1/2 cup semi sweet chocolate chips, dairy free versions work great too
Instructions
Preheat oven to 400 degrees.

Add all your ingredients except the chocolate chips into a blender. Blend until batter is completely smooth and oats are finely ground. (The batter will not look at all like it was made from oats at this point.)


Lightly grease a 12-cup muffin pan with olive oil or your favorite spray. You can also use paper muffin cups but I do recommend spraying the inside of those if you go that route.

Fill your muffin cups to approximately 2/3 full (or just a bit more) with batter.

Add chocolate chips to the top of each muffin.

Place in oven and bake for 15 minutes.

Remove pan from oven and set aside to cool for 5-10 minutes.
Notes
Just like with banana bread you'll want to use ripe bananas in this recipe. I always have super ripe bananas in the freezer that I thaw and use for these muffins. Of course if you have some bananas that are about to go bad hanging out on your kitchen counter they'll be perfection in here! Because the prep for these muffins is 5 minutes or less (seriously) I blend the ingredients right before I bake. You can blend your batter, cover, and refrigerate until the next day if you prefer. I did that recently with some leftover batter. It worked great! The batter will get a little darker and thicker while refrigerated but it doesn't affect the flavor at all. These muffins freeze well so if you end up with more than you need feel free to freeze what you like!
Nutrition
Serving: 1muffin, Calories: 151kcal, Carbohydrates: 24g, Protein: 3g, Fat: 4g, Saturated Fat: 2g, Cholesterol: 27mg, Sodium: 39mg, Potassium: 241mg, Fiber: 2g, Sugar: 11g, Vitamin A: 50IU, Vitamin C: 1.7mg, Calcium: 72mg, Iron: 1.4mg