Healthy Farmer's Sheet Pan Breakfast
This delicious recipe is sponsored by my friends at Happy Egg Co. As always, opinions are completely my own!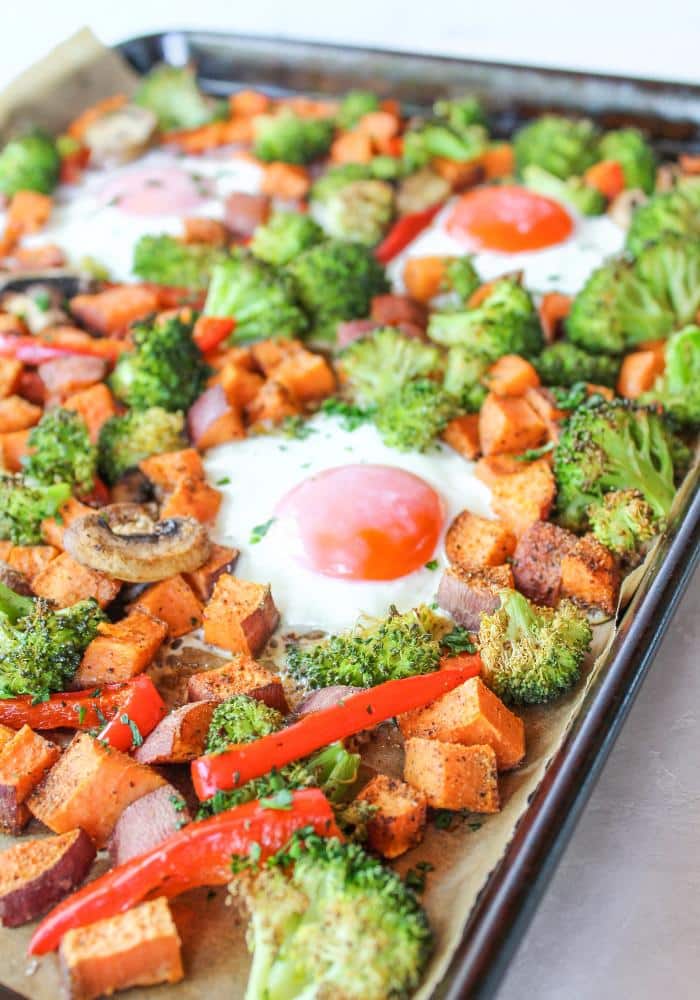 It's easy to skip breakfast, isn't it? Our mornings are busy. We have to get ready for work. We need to make sure our kids have food in their bellies and in their lunchboxes. I don't know about you but I spend an inordinate amount of time reminding my five year old what her next task is. I swear she forgets 30 seconds after being asked to do something. So, like you, my morning can be pretty full.
I do my best to make that first meal of the day a priority. Yes, even while reminding my daughter for the 59th time that she has to brush her teeth. Breakfast is a non-negotiable for me. I am honestly a better human with it and kind of a monster without it.
Since September is Better Breakfast Month, I'm bringing you this Healthy Farmer's Sheet Pan Breakfast. It's quick and easy enough that you can work it into your weekday routine.
All your ingredients bake together on a single sheet pan. That means minimal mess and minimal clean up, friends! Let the oven do all the hard work for you while you prepare for your day.
The pan is loaded with sweet potato, bell pepper, mushrooms, broccoli, and eggs. You're getting plenty of good carbs, fats, and protein in this one simple dish.
I'm using Happy Egg Free Range Blue & Brown Heritage Breed Eggs™ in this recipe. (Did you see how gorgeous and vibrant the yolks are?!) All Happy Egg hens are raised on small-family farms in the Ozark region of Missouri and Arkansas. They care about their hens' welfare and I really care about that.
These eggs come from two breeds of hens and I have seriously never seen more consistently beautiful yolks. That distinctive color comes from the feed these hens enjoy plus the fact that some of their diet comes from the 8 acres the hens are free to roam. If you live in Arkansas, you can find these beauties on the shelf at your local Walmart. Not in Arkansas? Check out the store locator at HappyEgg.co to see where you can get your hands on some.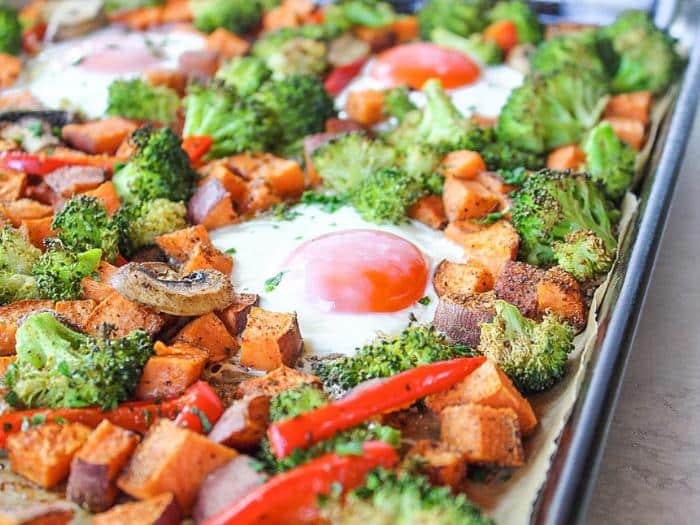 I can't wait for you to give this deliciousness a try! If you make it be sure to let me know what you think.
Healthy Farmer's Sheet Pan Breakfast
Healthy Farmer's Sheet Pan Breakfast is loaded with sweet potato, bell pepper, mushrooms, broccoli, and eggs. Everything cooks together for an easy meal!
Ingredients
2 cups sweet potatoes, diced into 1 inch cubes
12 oz fresh broccoli
1 red bell pepper, sliced into strips
1 cup sliced mushrooms
1 tsp salt
1/2 tsp pepper
1/2 tsp chili powder
1/2 tsp garlic powder
1/4 tsp crushed red pepper flakes
2 tbsp cooking fat of choice, I use extra virgin olive oil or avocado oil.
4 eggs
Optional: fresh herbs for garnish
Instructions
Preheat oven to 425 degrees.

Spread diced sweet potato, broccoli, red pepper strips, and mushroom slices in a single layer on a parchment paper lined baking sheet. (I recommend a 12×17.)

Drizzle olive oil over all veggies. Sprinkle with salt, pepper, chili powder, garlic powder, and crushed red pepper flakes.

Place baking sheet in oven and bake for 15 minutes.

Remove from oven. Use your spatula to create four little spaces for your eggs. Crack one egg into each hole. Sprinkle salt on eggs. Bake for 6 to 10 minutes or until eggs are how you like them.

Remove from oven and sprinkle fresh herbs on top. (Basil, cilantro, or parsley all work great.) Serve immediately.

Nutrition
Calories: 225kcal, Carbohydrates: 22g, Protein: 10g, Fat: 11g, Saturated Fat: 7g, Cholesterol: 163mg, Sodium: 718mg, Potassium: 692mg, Fiber: 5g, Sugar: 6g, Vitamin A: 11270IU, Vitamin C: 116mg, Calcium: 85mg, Iron: 2.1mg