Slow Cooker Hearty Chicken Stew
Slow Cooker Chicken Stew is rich, thick, and filled with tender meat and veggies. It's the perfect meal for chilly evenings and sure to become part of your regular weeknight dinner rotation.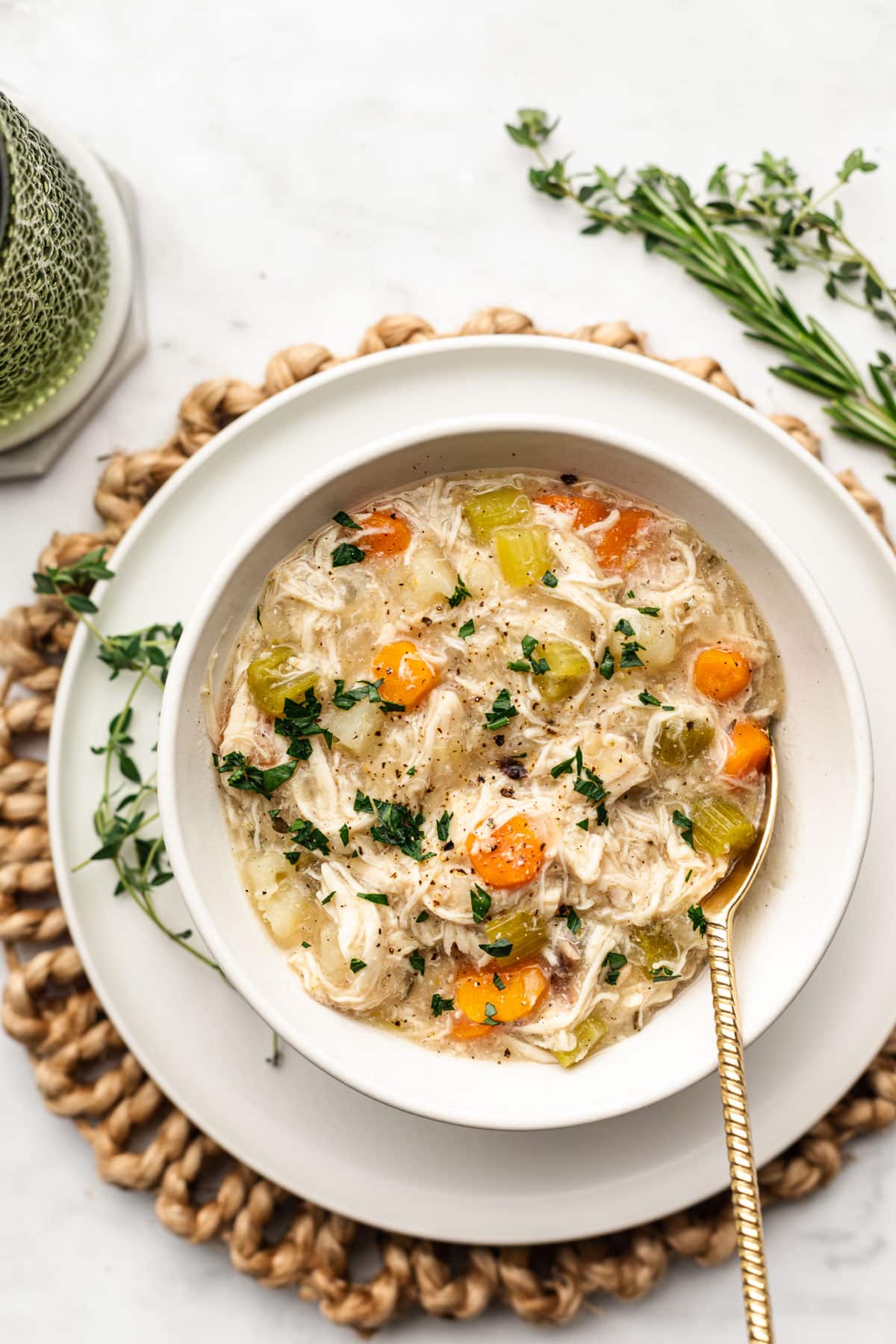 Update: This recipe was originally published in 2018 and has been republished with all new photos.
Some of you know that my husband contracted the alpha-gal allergy as a result of a tick bite in 2017. This means he can't eat red meat or dairy anymore. (It also means that I wait until he travels for work so that I can gorge on all the steak I can get my hands on.) Thanks to his allergies we're enjoying an abundance of chicken at Casa de Shoemaker these days, friend.
This easy chicken stew feels like a luscious hybrid of two of my favorite soups growing up, beef stew and my mom's chicken and dumplings. Hear me out. There's obviously no beef in it and no dumplings. This stew is every bit as rich and thick as both dishes. Plus its packed with whole ingredients and made in the slow cooker.
Most stew recipes involve simmering the ingredients in a large pot or large dutch oven on the stovetop. While this also yields delicious results, it means you have to stick around the kitchen as it cooks. With my version, your stew cooks while you work or play with your kids or run a marathon. (No marathons are happening here.) Just pop everything in the slow cooker and let it work its magic. This creates less work for you at the end of the day. What's not to love?
I hope you enjoy this delicious meal. I believe it's the very best comfort food and oh so satisfying on chilly evenings at home. It's the perfect time of year for this slow cooker chicken stew recipe.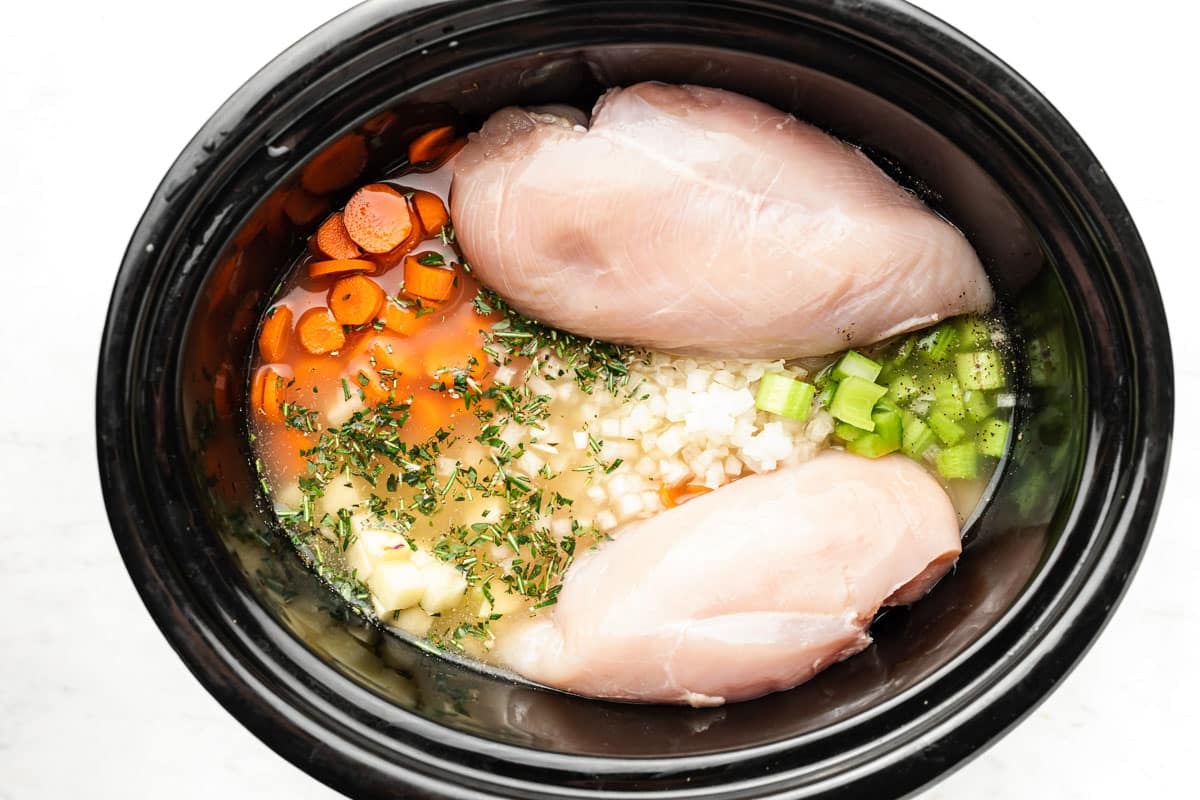 Slow Cooker Chicken Stew Ingredients
Chicken: Boneless skinless chicken breasts, boneless skinless thighs, or a whole chicken will all work.
Carrots: You can cut the carrots into small circles (my preference) or sticks.
Potatoes: Yukon gold potatoes, russet potatoes, baby potatoes, fingerling potatoes, or red potatoes work well. Yukon golds are my personal favorite. You can even use sweet potatoes for a different flavor.
Celery: Celery is considered an aromatic along with onion and garlic, meaning it adds aroma and flavor to dishes. The taste of the celery itself won't stand out, but it works with the other aromatics to add extra flavor that is especially appreciated in soups and stews.
Onion: White or yellow onion both work well.
Chicken stock or chicken broth: Both chicken stock and chicken broth can be used in this chili. Stock is typically made by simmering chicken bones for hours along with carrots, celery, and onion. Broth is made by simmering the whole chicken instead of only the bones.
Fresh herbs: Rosemary has a peppery woody taste and thyme has an earthy lemony taste. Both add to the richness of this stew.
Minced garlic: You can mince your own garlic or use a jarred variety.
Simple seasonings: We're using plenty of dried spices and herbs to beautifully flavor this crockpot chicken stew recipe. These should all be pantry staples you already have on hand.
All purpose flour, cornstarch, or arrowroot flour for thickening (can be omitted if you want a thinner consistency)
It's easy to whip this up at home. First, you'll toss the essentials into your slow cooker… chicken, carrots, celery, potatoes, chicken stock, seasoning, and herbs. You can use raw chicken breasts, thighs, or cut up a whole chicken. (That mixture of white and dark meat really amps up the flavor of your stock.)
Once the chicken is cooked you shred it with a fork and add the chicken pieces back to the slow cooker. Discard the skin and bones if using a whole chicken. At this point the chicken is literally falling off the bone on it's own.
To thicken this hearty stew I use arrowroot flour but all purpose flour and cornstarch also work great. Shake together equal parts flour and cold water to create a slurry. Then add this slurry to the cooked stew. Exact directions for how to thicken with each flour can be found below and in the recipe card.
When I'm serving this up I like to stir in fresh herbs to brighten everything up right at the very end. If you've hung around here long enough you know I do love adding a bit of gorgeous green to pretty much everything.
That's it! Simple. A delicious creamy chicken stew that is perfect for chilly nights.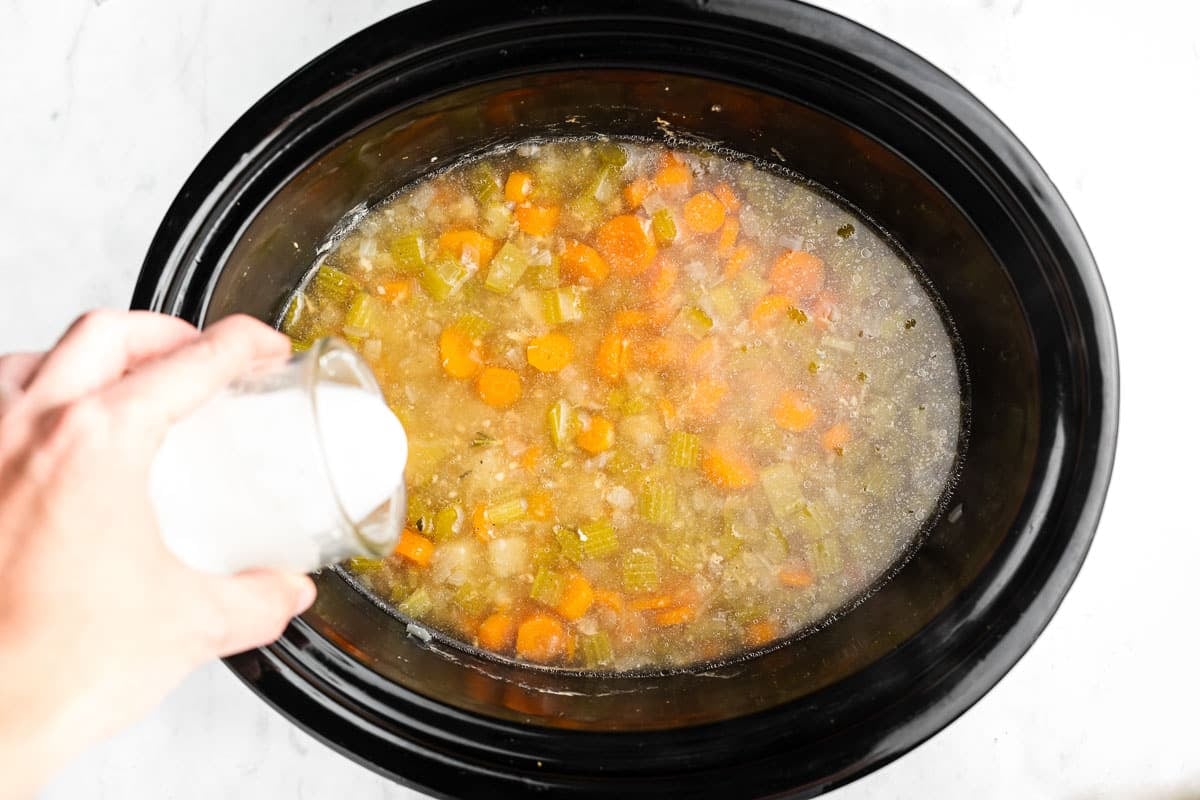 What chicken is best to use?
We're using boneless and skinless chicken breasts in this entree. You can also use boneless skinless chicken thighs if you prefer.
Can you use dried herbs instead of fresh?
I've tested this stew with both dried and fresh. Fresh is the clear winner (and I really don't often have a preference). But you absolutely can use dried here. As a general rule you'll want 1/3 less herbs if you're using dried instead of fresh. So for this recipe that means you'll use 1 tsp dried thyme and 1 tsp dried rosemary.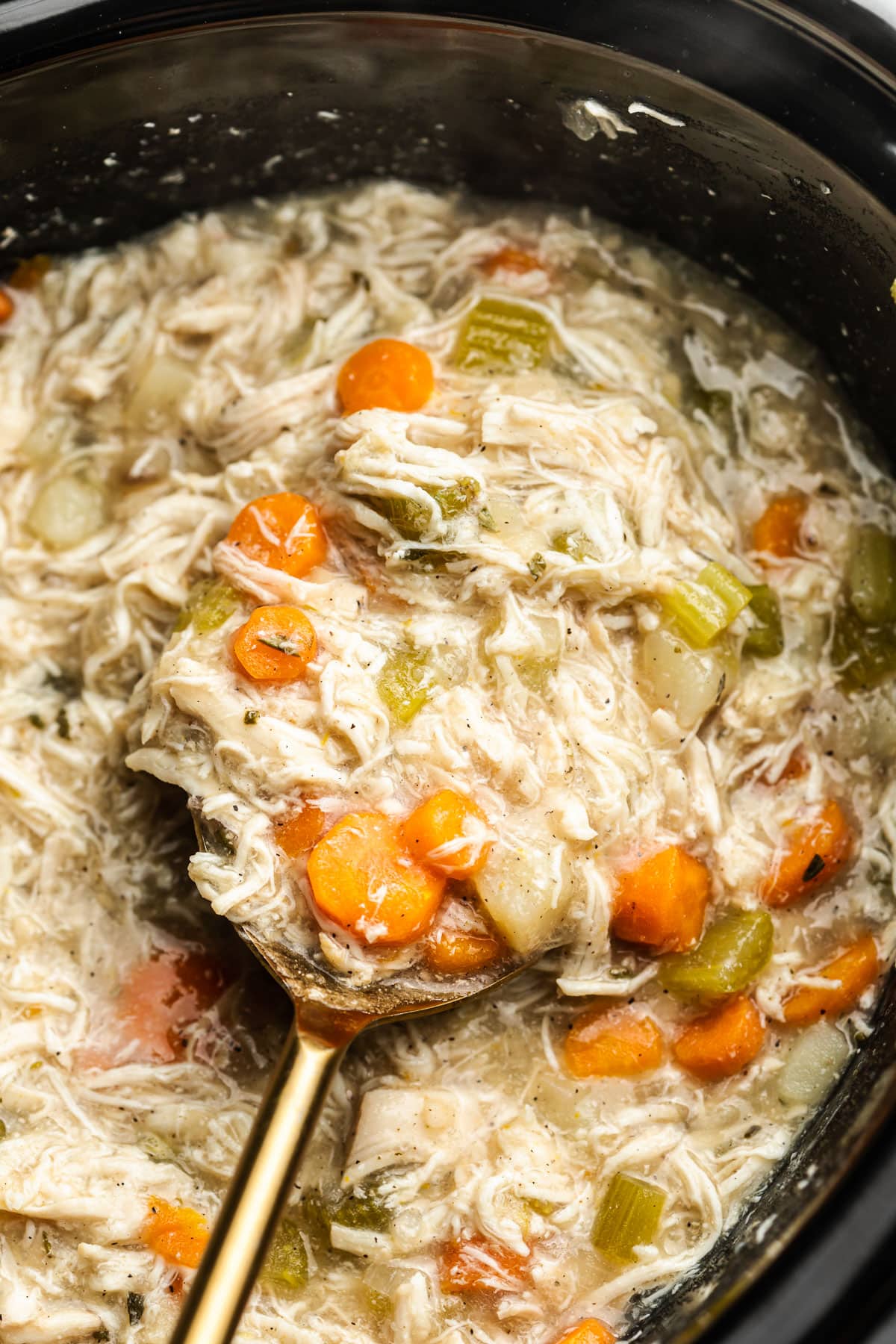 How to Thicken Stew in the Slow Cooker
My favorite way to thicken stew is to create a slurry and stir it into the stew close to the end of cooking time. You have three choices for thickeners:
How to Use Arrowroot Flour to Thicken Slow Cooker Soups and Stews
Arrowroot flour is an amazing thickening agent. A lot less processing is used to create it (versus all purpose flour) so it's an easy swap to make if you're trying to clean up your diet. Additionally, it thickens quickly, has no taste, and doesn't give your food a cloudy appearance. It's more expensive than white flour; however, a bag will last you a long time.
The most effective way to use arrowroot flour as a thickener is to create a slurry with it using equal parts water. It does not require cooking so you should cook the soup or stew first. Then, while it's still hot, stir in your flour slurry. You'll notice it start to work its magic immediately.
This particular recipe is made in the slow cooker but since arrowroot flour doesn't need heat to thicken the method described above can be used for any sauce, soup, or stew you're making. Just let it finish cooking and then stir in the slurry.
How to Use Cornstarch to Thicken Slow Cooker Soups and Stews
Cornstarch is made from corn and is known for its ability to thicken in cooking. It's also gluten free and a less expensive option than arrowroot flour. Like arrowroot flour, it doesn't turn what you're thickening cloudy (which is a common complaint about using all purpose flour to thicken).
To thicken with cornstarch you'll want to create a cornstarch slurry with equal parts cornstarch and water. Unlike arrowroot flour, cornstarch requires heat to thicken. So once you've made the slurry add it to the soup or stew and let it continue to cook on high heat (this is important because we need to see bubbles to activate the starch molecules in cornstarch) until it's reached your desired consistency.
How to Use All Purpose Flour to Thicken Slow Cooker Soups and Stews
All purpose flour is made from wheat. It's a mix of hard wheat, high in protein and gluten with a stronger elastic texture, and soft wheat, lower in protein and has less starch.
To thicken with all purpose flour you'll want to create a slurry with equal parts flour and water. Unlike arrowroot flour, all purpose flour requires heat to thicken. So once you've made the slurry add it to the soup or stew when its close to done. Let it continue to simmer uncovered until it's reached your desired consistency, about 15 to 25 minutes.
Can you omit the flour in stew?
Absolutely! It won't alter the taste at all. The only difference you'll see is that the stew won't get as thick.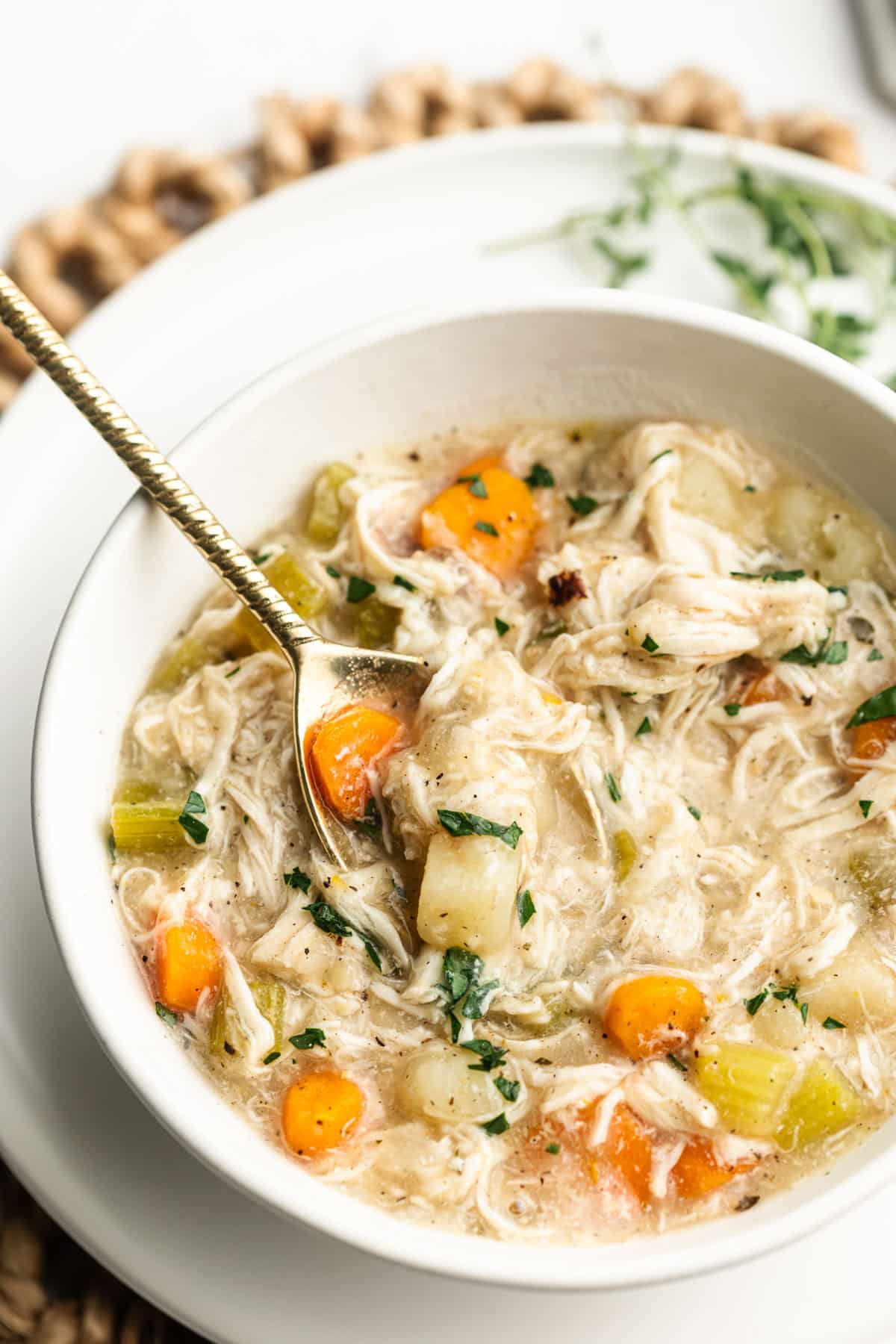 How to Serve Chicken Stew
The best part of making chicken stew is eating chicken stew! This stew is a healthy dinner and a complete meal so you don't need to serve it with anything at all. If you'd like to make it extra cozy you could pair it with crusty bread or biscuits.
How to Store Leftover Stew
Leftover chicken stew can be stored in an airtight container in the refrigerator for up to 5 days. Reheat on the stovetop on low to medium-low heat until warmed through.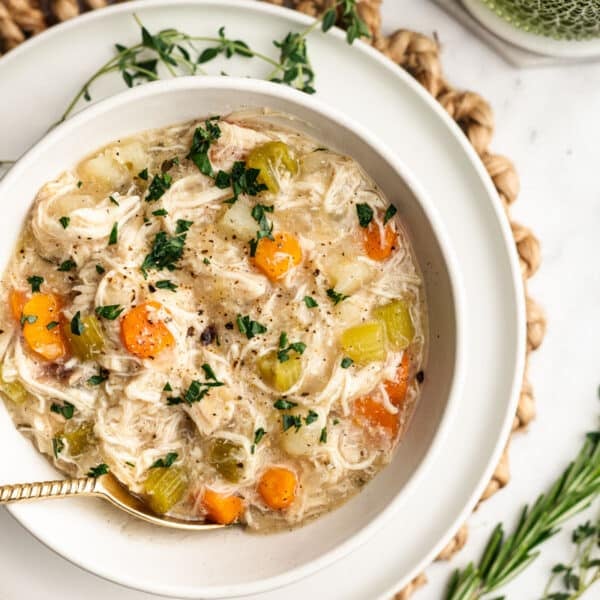 Slow Cooker Hearty Chicken Stew
This Slow Cooker Hearty Chicken Stew is rich, thick, and filled with tender meat and veggies. It's the perfect meal for chilly evenings and sure to become party of your regular dinner rotation. Plus it's dairy free, gluten free, and Whole30 compliant!

Ingredients
2 pounds chicken breasts, Can use boneless thighs or 1 whole chicken cut up into 8 pieces
1 pound carrots, cut into circles or into sticks
3 cups potatoes, peeled and diced
2 cups celery, about 4 celery ribs, sliced
1 white or yellow onion, diced
32 ounces chicken stock or broth
1 tablespoon fresh rosemary, chopped
1 tablespoon thyme, chopped
1 tablespoon minced garlic
1½ teaspoon salt
1 teaspoon pepper
1 teaspoon garlic powder
½ teaspoon onion powder
3 tablespoons all purpose flour, corn starch, or arrowroot flour
3 tablespoons cold water
Optional: Additional fresh herbs for topping after cooking (I use parsley)
Instructions
Add everything except the flour, water, and optional additional fresh herbs to your slow cooker. Cook on high for 4 hours.

Use tongs to take the chicken out of the slow cooker. Use a fork to shred meat into pieces. If you used a whole chicken, remove skin and bones from chicken and discard.

Place shredded chicken into the slow cooker. Stir.

To thicken, add flour and cold water to jar. Shake until well combined. This will create a slurry. Make sure you don't have any lumps, then pour into the slow cooker and stir. If using arrowroot flour the stew will start to thicken immediately. If you using all purpose flour or cornstarch you'll want to let the stew continue to cook in the slow cooker for 15 to 25 minutes, until stew has thickened.

Taste. Add extra salt and pepper if desired. (I like to add a little extra salt at the end but that's totally up to you.) Serve with optional additional fresh herbs.
Nutrition
Serving: 1cup, Calories: 191kcal, Carbohydrates: 21g, Protein: 20g, Fat: 3g, Saturated Fat: 1g, Cholesterol: 51mg, Sodium: 531mg, Potassium: 793mg, Fiber: 3g, Sugar: 4g, Vitamin A: 6446IU, Vitamin C: 17mg, Calcium: 38mg, Iron: 1mg