Slow Cooker Hearty Chicken Stew
Fill your evenings with the people you love and this satisfying Slow Cooker Hearty Chicken Stew made from simple and good for you ingredients.
Some of you know that my husband contracted the alpha-gal allergy as a result of a tick bite last year. This means he can't eat red meat or dairy anymore. (It also means that I wait until he travels for work so that I can gorge on all the steak I can get my hands on. And I do gorge. I really love steak.) Thanks to his new allergies we're enjoying an abundance of chicken at Casa de Shoemaker these days, friend.
Beef Stew was a staple in my childhood. So was my mom's Chicken and Dumplings. This Slow Cooker Hearty Chicken Stew feels like a luscious hybrid of both to me. Hear me out. There's obviously no beef in it and no dumplings. Yet this stew is every bit as rich, thick, and packed with vegetables as both dishes.
Now this could clearly be cooked on the stove top. But don't we all just want more slow cooker recipes? This mama sure does. I don't think I need to go into why. You get it, right? Cooks while you work or play with your kids or run a marathon. (No marathons are happening here.)
It's easy to whip this up at home. First, you'll toss the essentials into your slow cooker… chicken, carrots, celery, potatoes, chicken stock, seasoning, and fresh herbs. I recommend cutting up a whole chicken. That mixture of white and dark meat really amps up the flavor of your stock. You can always just use chicken breasts or thighs if you prefer. In the recipe notes you'll see my recommendations on that.
Once the chicken is cooked you shred it with a fork and discard the skin and bones. At this point the chicken is literally falling off the bone on it's own.
To thicken this stew I use arrowroot flour. If you're new to using it let me just encourage you to give it a try. It is ahhhhhhmazing and so much better for you than white flour. A bag of arrowroot flour is a little pricier but since I only use a few tablespoons at a time to thicken soups and sauces it basically lasts forever. Plus it doesn't alter the taste of your food and it doesn't make your soup/sauce cloudy like flour does. The brand I buy is Bob's Red Mill (not an ad) and I get it at Whole Foods.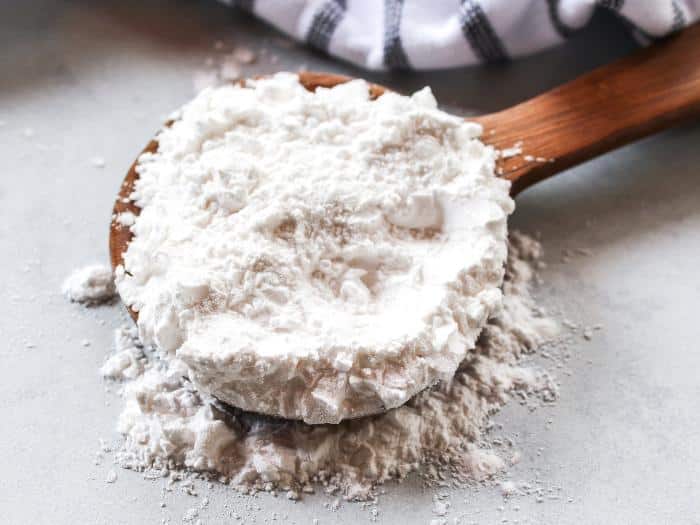 When I'm serving this up I like to stir in fresh herbs to brighten everything up right at the very end. If you've hung around here long enough you know I do love adding a bit of gorgeous green to pretty much everything.
That's it! Simple. Delicious. Perfect for chilly evenings.
I really hope your family loves this rustic dish as much as I do!
Made this recipe and loved it? If you share a photo of your finished dish on Instagram tag me so I can check it out and share it to my stories!
Slow Cooker Hearty Chicken Stew
This Slow Cooker Hearty Chicken Stew is rich, thick, and filled with tender meat and veggies. It's the perfect meal for chilly evenings and sure to become party of your regular dinner rotation. Plus it's dairy free, gluten free, and Whole30 compliant!

Ingredients
1

whole chicken

,

cut up into 8 pieces

3

cups

carrots

,

about 1 lb, cut into sticks

3

cups

potatoes

,

skin removed and diced

2

cups

celery

,

about 4 celery ribs, sliced

1

onion

,

diced

32

oz

chicken stock

1

tbsp

fresh rosemary

,

chopped

1

tbsp

thyme

,

chopped

1

tbsp

minced garlic

1

tsp

salt

1

tsp

pepper

1/2

tsp

garlic powder

1/2

tsp

onion powder

3

tbsp

arrowroot flour

3

tbsp

water

Additional salt and pepper to taste
Optional: Additional fresh herbs for topping after cooking (I use parsley)
Instructions
Add everything except the arrowroot flour, water, and optional additional fresh herbs to your slow cooker. Cook on high for 4 hours.


Use tongs to take the chicken out of the slow cooker. Remove skin and bones from chicken and discard. Use a fork to shred meat into pieces.


Add arrowroot flour and water to jar. Shake until well combined. Pour into the slow cooker and stir. (Skip this step if you're making this stew in advance. If you're not eating it until the next day you may not need the arrowroot flour as the stew will thicken quite a bit as it refrigerates overnight.)


Place shredded chicken into the slow cooker. Stir.


Taste. Add extra salt and pepper if desired. (I like to add a little extra salt at the end but that's totally up to you.) Serve with optional additional fresh herbs.

Notes
You can substitute 8 chicken thighs or 6 chicken breasts if you prefer. I personally enjoy using the whole chicken because it flavors the stew beautifully.
If you're planning to serve this the next day I recommend skipping the arrowroot flour and water. The stew will thicken quite a bit on it's own during the night in the refrigerator. If you find it's not as thick as you'd like the next day then add the arrowroot flour and water mixture to the stew after you've reheated it. Start with just 2 tbsp arrowroot flour and water though.
Nutrition
Calories:
447
kcal
,
Carbohydrates:
32
g
,
Protein:
31
g
,
Fat:
21
g
,
Saturated Fat:
6
g
,
Cholesterol:
99
mg
,
Sodium:
1551
mg
,
Potassium:
1171
mg
,
Fiber:
5
g
,
Sugar:
6
g
,
Vitamin A:
11075
IU
,
Vitamin C:
22.5
mg
,
Calcium:
98
mg
,
Iron:
5.5
mg