Orange Almond Cookies
These orange cookies are soft, made with almond flour, and have the perfect citrus flavor thanks to orange juice and orange zest. You'll love how simple these are! No mixer required!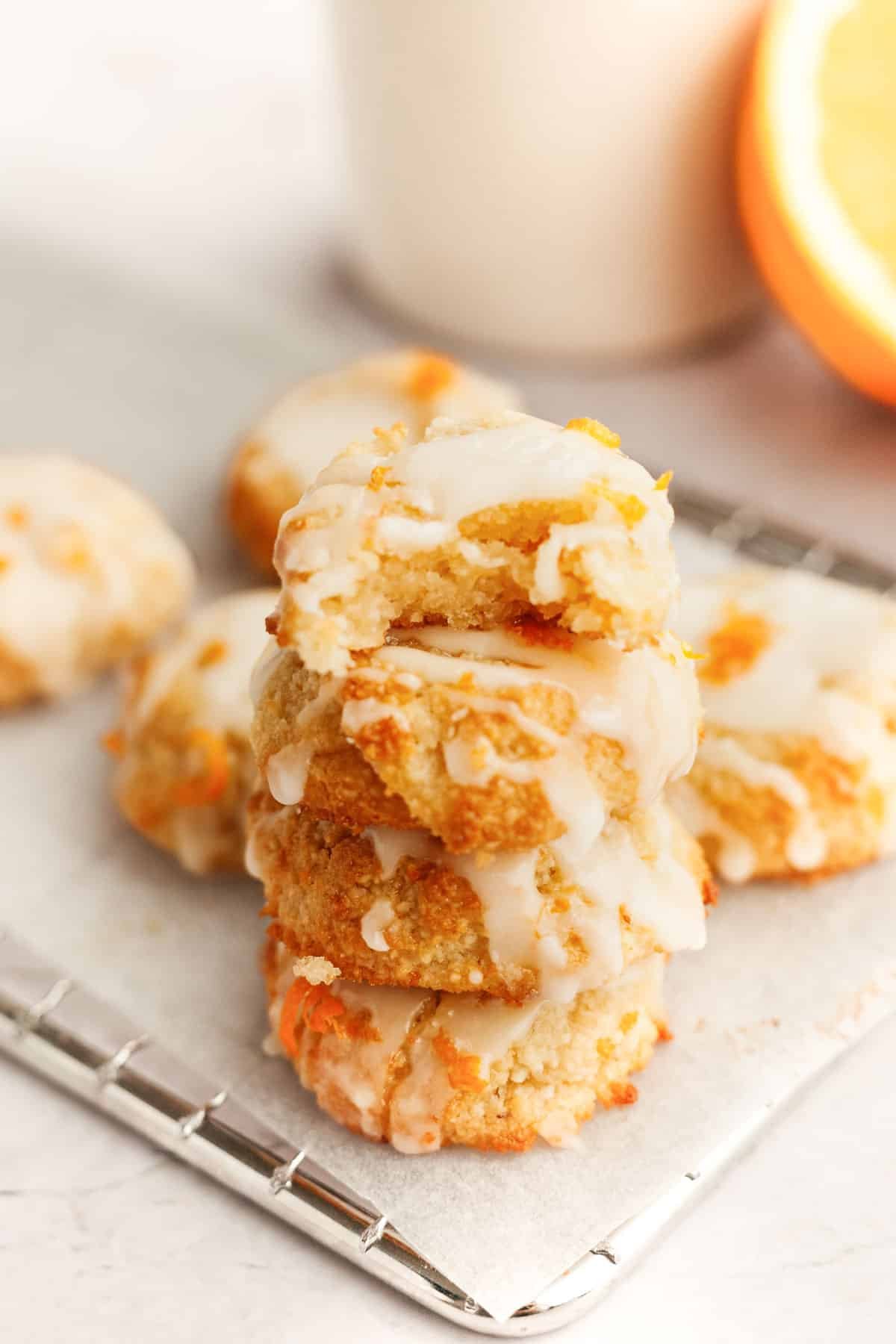 I'm someone who can take or leave dessert, but any citrus dessert is the exception to the rule for me. I just can't resist orange anything. So these Orange Almond Cookies are pretty much my dream cookie.
I love that these cookies are small. You can devour one in just two bites! They're buttery (although they require very little butter) and chewy. And they're covered in the easiest orange glaze (my very favorite part).
Whether you're whipping these up for the holidays, a baby shower, brunch, or just a regular Saturday, citrus lovers everywhere will rejoice.
For this recipe you'll need (full list of ingredients and instructions are in the recipe card below):
Almond flour
Pure maple syrup
Orange juice
Butter
Almond extract
Salt
Zest from one orange
Powdered sugar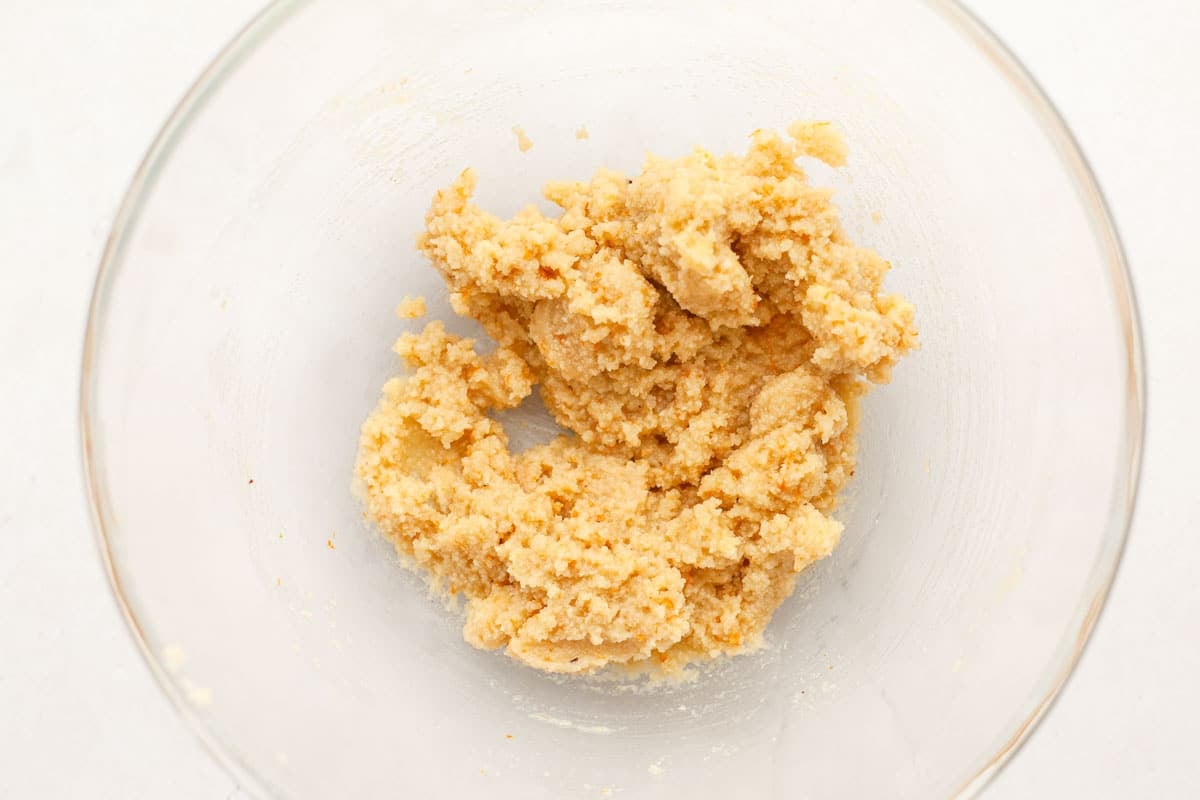 What almond flour is best to use?
There are several great brands to choose from when it comes to almond flour. Two of my favorites are Bob's Red Mill Super-Fine Almond Flour and Nature's Eats Almond Flour. Just make sure you get blanched almond flour because that means the skin has been removed.
Can you use coconut flour or another flour?
Please don't. Whenever I share a recipe with almond flour I receive questions about using alternative flours such as coconut flour instead. While I do enjoy coconut flour, it absolutely cannot be subbed for almond flour (or any flour) at a 1:1 ratio. It is incredibly absorbent so it can make your food dry and crumbly when not used correctly. This cookie recipe has been thoroughly tested with almond flour alone and I recommend sticking with the almond flour in this recipe.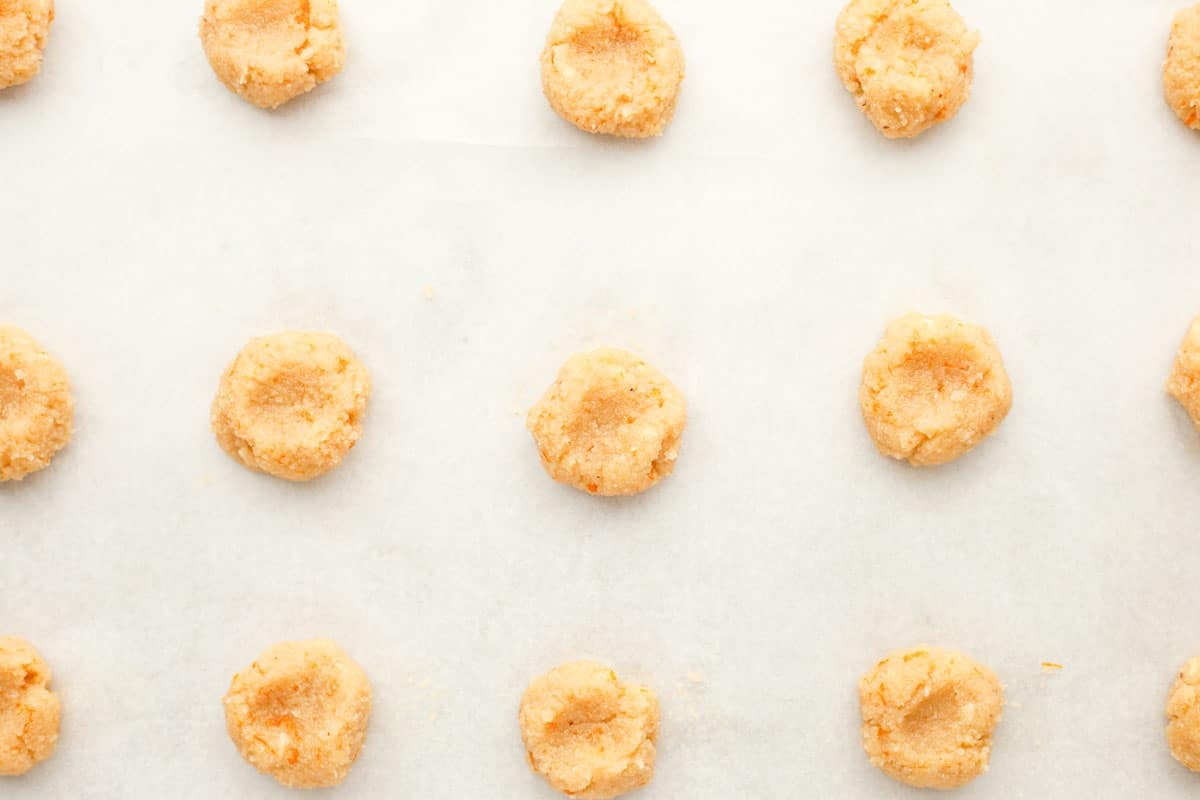 Does the orange juice need to be fresh squeezed?
No. Store-bought orange juice works great. (This question makes me think of that Ina Garten meme about how if you can't pick your own herbs from the mountainside of some far away country than store-bought is fine. I don't mean it that way. I use store-bought orange juice in these cookies and you should to unless you're just in the mood to squeeze your own.)
You will want the zest from an orange though to incorporate into the dough and to the tops of the cookies after they're iced.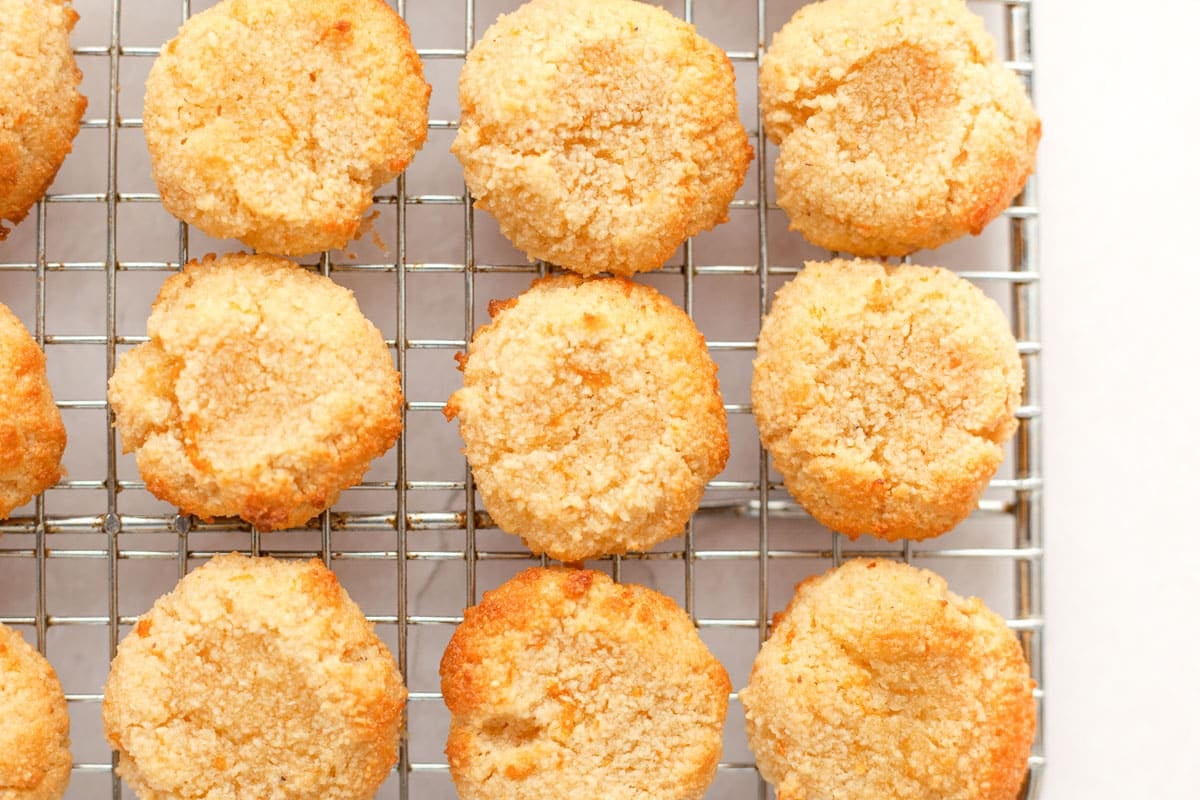 Are these cookies vegan and dairy free?
Yes, if you use a vegan butter like Earth Balance.
Tips for perfect orange almond cookies
The butter should be softened. It should not be hard but also not melted.
This is a fairly small amount of cookie dough and any changes in the amount of liquid vs dry ingredients can drastically change the end result. For this reason I recommend being very careful with your measurements. For example, when pouring your orange juice or almond extract into the measuring spoon, don't do it over your bowl of dough. It's easy to overfill both of these ingredients and any spillover will end up in your dough, causing you to have more liquid than needed.
These cookies are designed to be small so you'll want to use a small 1-inch cookie scoop or tablespoon.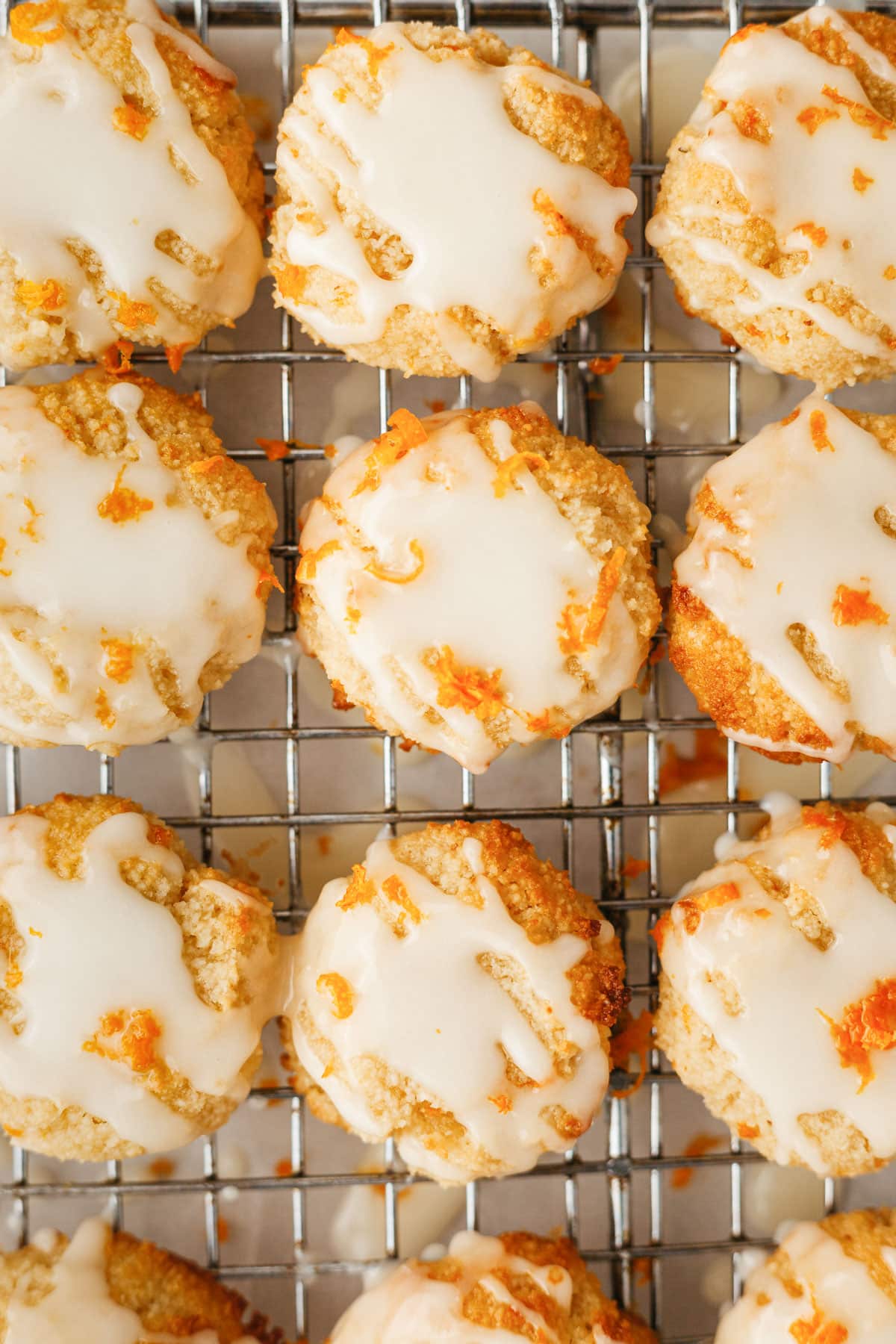 How to store these cookies
Store the cookies in an airtight container at room temperature (you can also refrigerate if you prefer) for up to one week.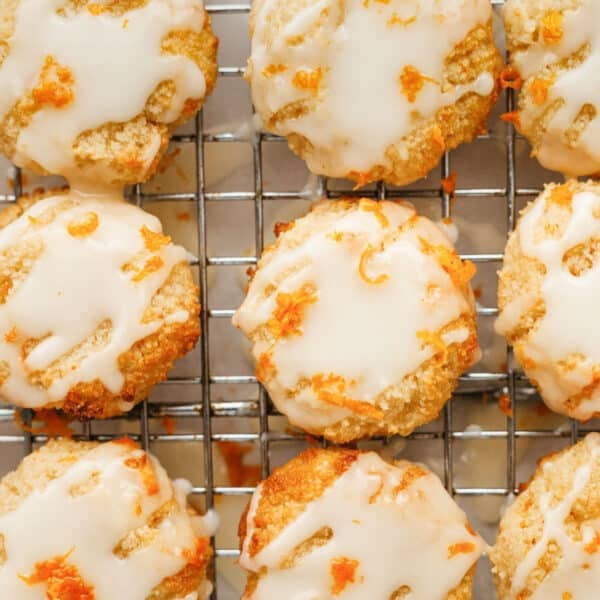 Orange Almond Cookies
These orange cookies are soft, made with almond flour, and have the perfect citrus flavor thanks to orange juice and orange zest. You'll love how simple these are! No mixer required!
Ingredients
1 cup almond flour
3 tablespoons pure maple syrup
2 tablespoons orange juice
1 tablespoon butter, softened (not melted), can sub a vegan butter or ghee
½ teaspoon almond extract
⅛ teaspoon salt
zest of one orange
Orange Glaze
½ cup powdered sugar
2½ teaspoons orange juice
Instructions
Preheat oven to 350 degrees.

Line a baking sheet with parchment paper or a silicone baking mat.

In a large bowl stir together almond flour, pure maple syrup, orange juice, softened butter, almond extract, salt, and zest from half an orange. (It will seem dry when you start stirring but a dough will form as you continue to stir.)

Use a tablespoon or 1-inch cookie dough scoop (this is a small cookie scoop) to measure out the dough. Roll each into a ball. You should have 15 total cookies. Place each ball of dough on the parchment paper lined baking sheet so they're not touching. Use your thumb, finger, or the back of a spoon (although this can be a little sticky so be gentle) to gently press the middle of each dough ball.

Bake for 10 to 12 minutes.

Remove the cookies from the oven. They will still feel soft. Let them sit on the pan to cool for 10 minutes. They'll continue to firm up while they sit.

While cookies are cooling, stir together the powdered sugar and 2½ teaspoons orange juice in a small bowl. It will form a thick glaze.

Once cookies have cooled, drizzle the orange glaze over the top of each cookie. Sprinkle remaining orange zest to the tops of the cookies. Let the cookies sit until the glaze has solidified.
Nutrition
Serving: 1cookie, Calories: 77kcal, Carbohydrates: 9g, Protein: 2g, Fat: 4g, Saturated Fat: 1g, Polyunsaturated Fat: 1g, Monounsaturated Fat: 1g, Trans Fat: 1g, Cholesterol: 2mg, Sodium: 26mg, Potassium: 16mg, Fiber: 1g, Sugar: 7g, Vitamin A: 30IU, Vitamin C: 2mg, Calcium: 21mg, Iron: 1mg