Dye Free Strawberry Cookies
These strawberry cookies are made with freeze dried strawberries and topped with a dye free (and perfectly pink!) icing.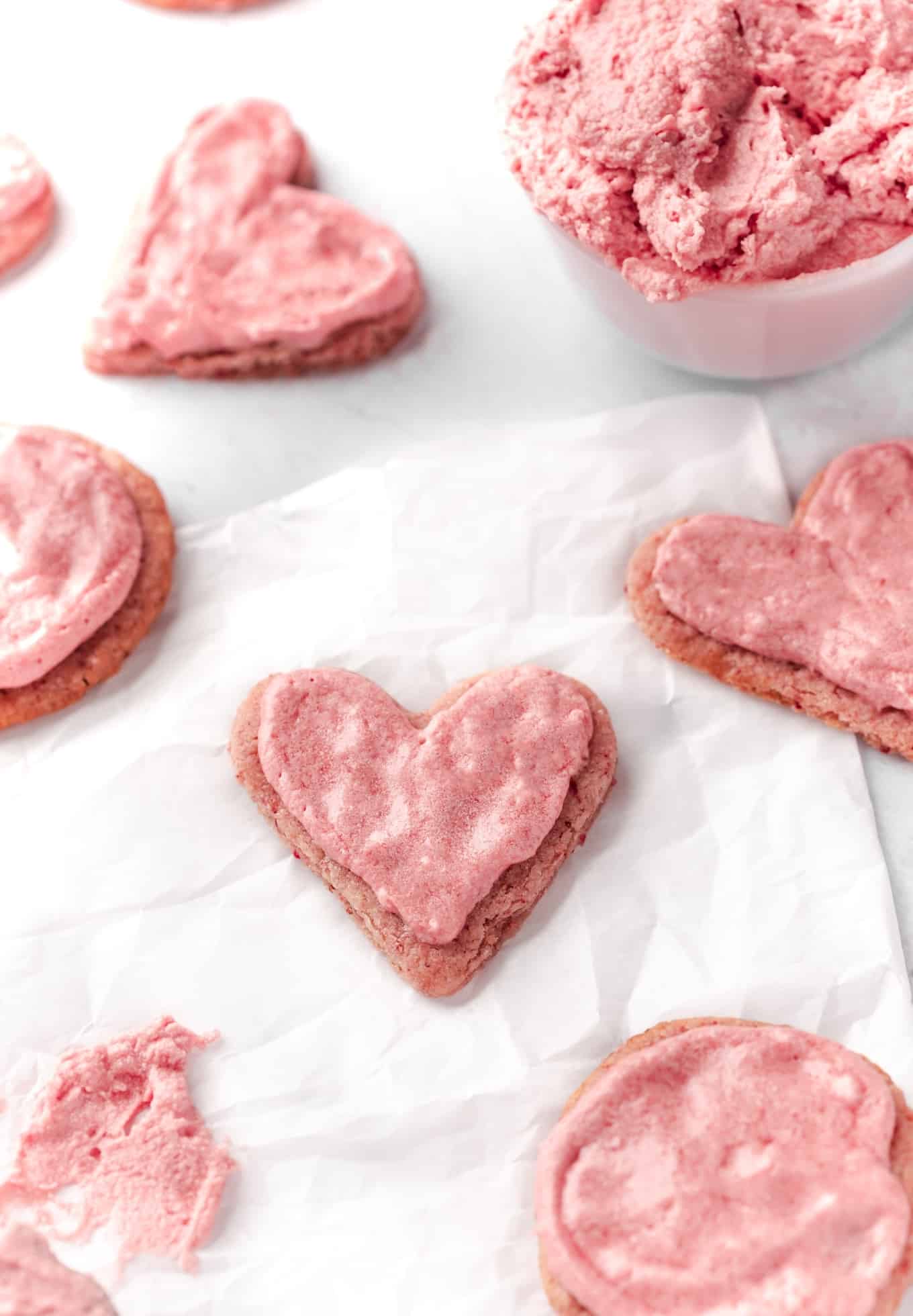 Update: This recipe was originally published in 2016 and has been republished with all new photos just in time for Valentine's Day.
Valentine's Day is right around the corner and these strawberry cookies are perfect for your sweetheart, school party, play date, or just to have around the house. Not only are they simply beautiful (and they truly are) but they are oh so very delicious. Other than a chocolate chip cookie, they are my absolute favorite tasting cookie. And that's saying something!
One thing you'll note is that I do use all purpose flour and sugar (plenty of it) in this recipe. If you've been here a while you know that healthy recipes are my specialty. So the flour and sugar might surprise you. But here's the other thing to know: I love really great tasting food and a not-made-healthy cookie is a-okay. 
So make the cookie. Eat the cookie. Enjoy the cookie.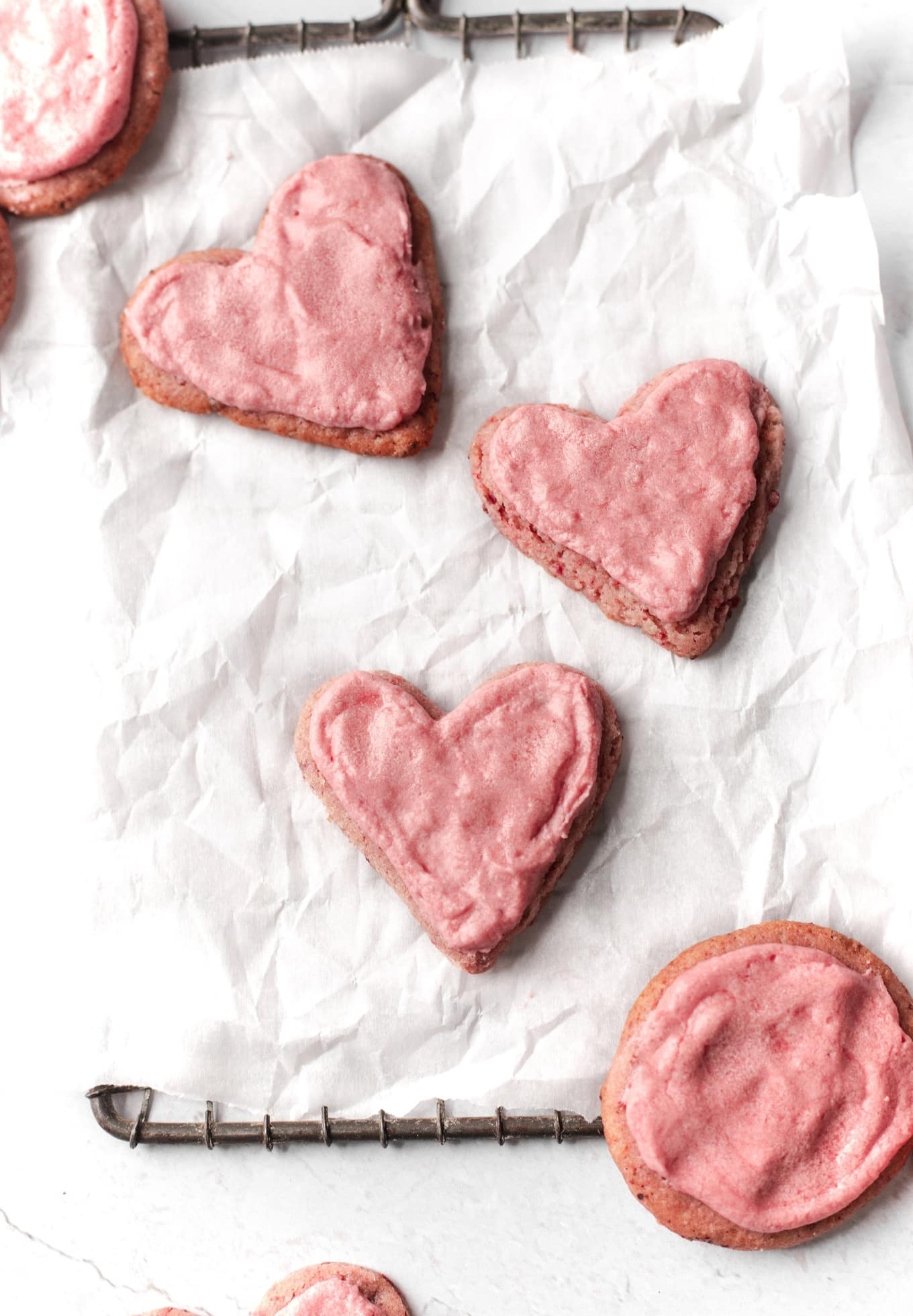 Alright, we've covered the flour and sugar situation. We're all on the same page there. But how about artificial colors?
I try to avoid artificial colors when possible. And good luck finding a pink cookie without them, right? I've got good news for you, friend. These beautifully pink cookies deliver all the color you could possibly want without any dye!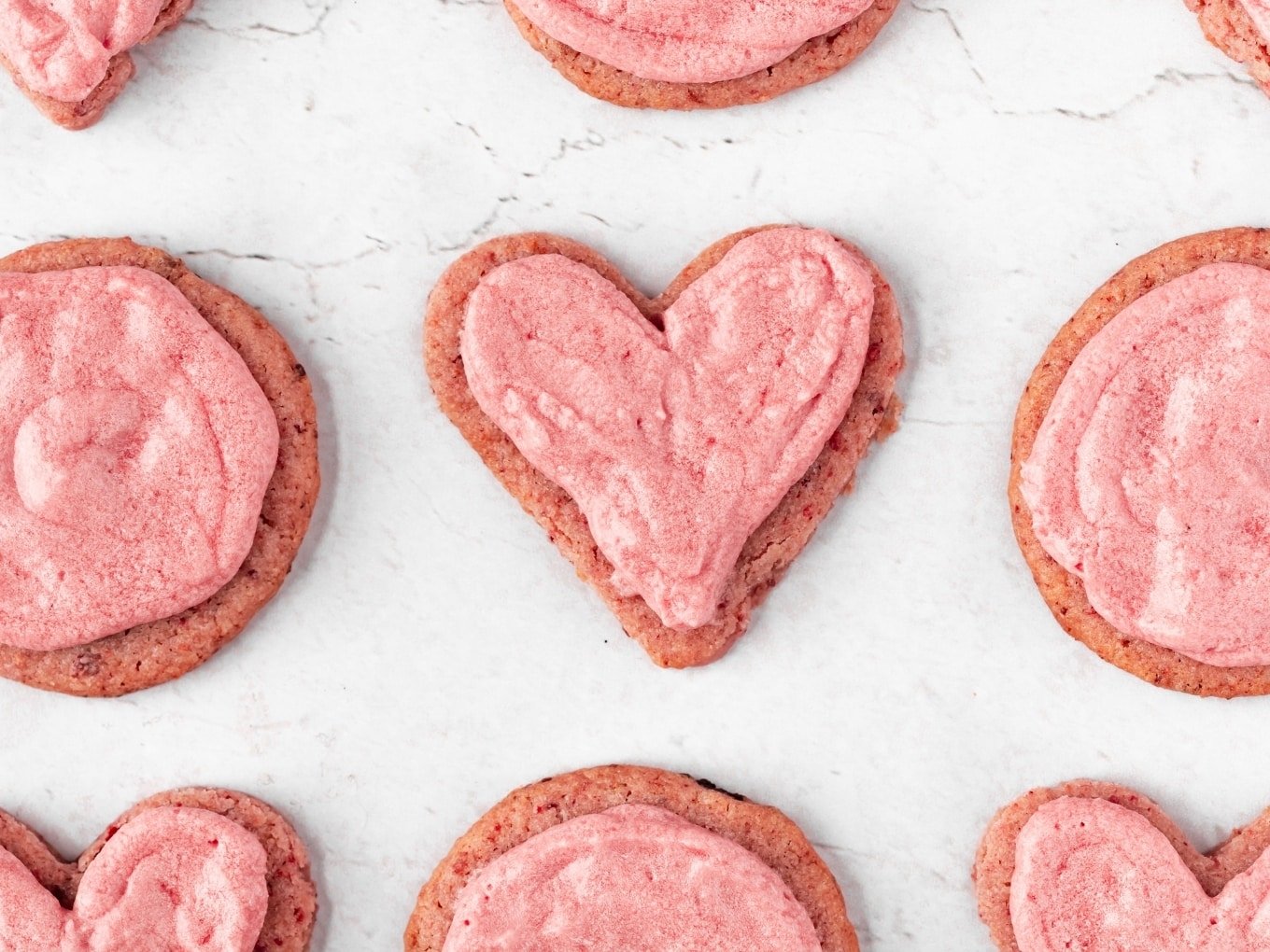 We're using freeze dried strawberries in the cookie batter here. Oh they make the batter pink and give the most delicious strawberry flavor! Gah, it's so very good.
For the icing we're using beet juice. It has no beet flavor when you use a small quantity. These cookies do not taste like beets, okay? Not even a little. With the beet we can achieve various shades of pink and red. Go for a light pink or go bold if you want! It's a perfect healthy way around the red dye dilemma and it's truly not hard.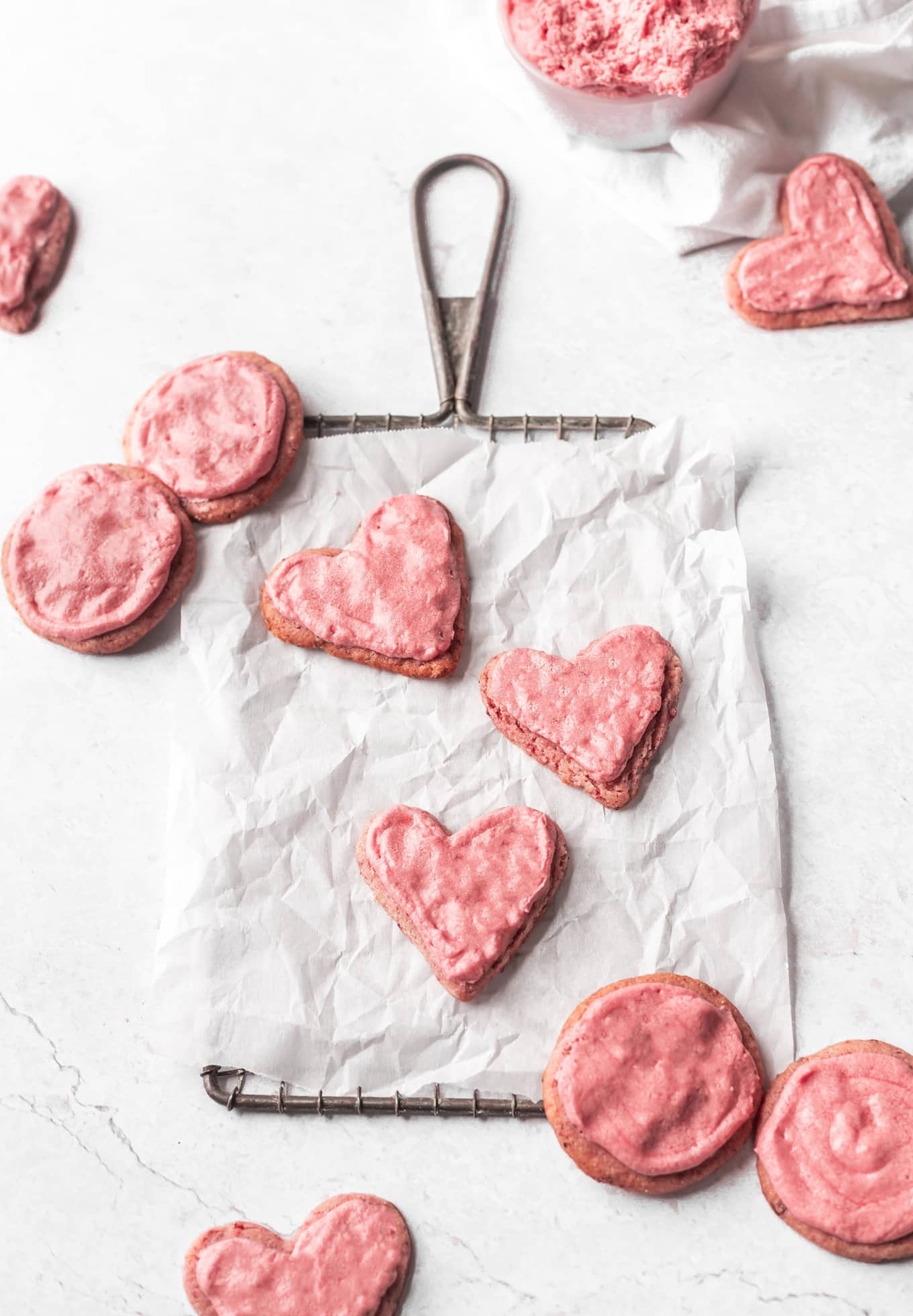 To make these cookies you'll need (full ingredients list and instructions are in the recipe card below):
Butter
Sugar
Baking powder
Salt
Egg
Milk
Vanilla
All purpose flour
Freeze dried strawberries
Powdered sugar
Where can you find freeze dried strawberries?
I purchase mine from Whole Foods but I recently discovered them at Target too.
Is dehydrated fruit the same as freeze dried fruit?
No, they're not the same. The dehydration process can strip the fruit of some of its nutrients and flavor. Additionally, freeze drying removes a lot of the moisture so you'll typically see less preservatives being used there than you'll find in packaged dehydrated fruit.
I'm not saying dehydrated fruit is bad! Hey, fruit is great. I'm just saying there are definite positives to going with freeze dried.
Does the icing taste like beets?
Not even a little bit. 
More sweet recipes:
Dairy Free Chocolate Chip Cookies
Chocolate Chip Banana Oat Muffins
Dairy Free Chocolate Espresso Mousse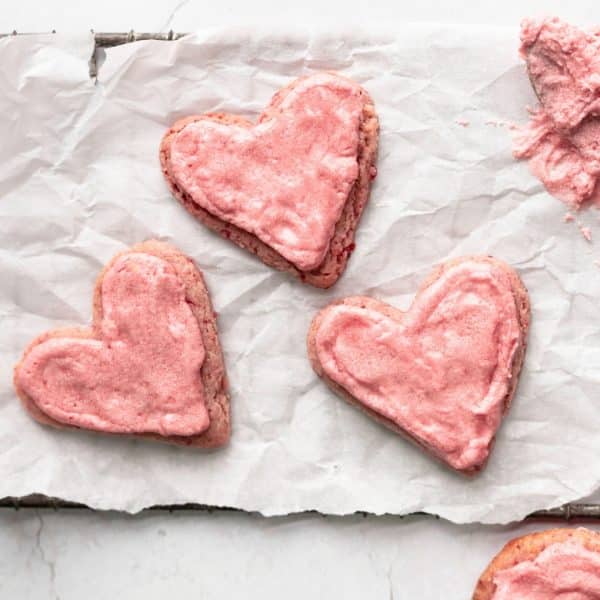 Dye Free Strawberry Cookies
These strawberry cookies are made with freeze dried strawberries and topped with a dye free (and perfectly pink!) icing.
Ingredients
Strawberry Cookies:
1 cup butter, softened
3/4 cup sugar
1 tsp baking powder
1/4 tsp salt
1 egg
1 tbsp milk
1 tsp vanilla
1 3/4 cups all-purpose flour
1 oz freeze dried strawberries


Pink Icing:
1 medium beet
8 tbsp butter, softened
4 1/2 cups powdered sugar
1/4 cup milk
1 1/2 tsp vanilla
Instructions
Strawberry Cookies:
Preheat oven to 350 degrees.

In a large mixing bowl beat butter with an electric mixer for 30 seconds on medium to high speed.

Add your sugar, baking powder, and salt. Beat until all combined.

Beat in egg, milk, and vanilla.

Beat in flour.

Crush your freeze dried strawberries until they are a fine powder. I do this in a sealed ziplock bag. Add your crushed dried strawberries to your cookie batter. Stir until completely mixed.

Store the finished dough in your refrigerator for 20 minutes. (You can store it longer if needed, you'll just need to work a little harder to roll the dough after.)

Divide dough in half. The dough you're not using at the minute should go back in the fridge.

On a lightly floured surface roll half the dough until it's approximately 1/8 inch thick. Using your preferred cookie cutter shape (I used a heart) cut dough. You can also use a cookie scoop if you prefer a round cookie! Place on a parchment lined cookie sheet.

Bake for 8 to 10 minutes.

Remove from the oven and transfer to a wire rack to cool.
Pink Icing:
Peel the beet and cut into 4-6 pieces. Place in a small pot with 1/2 cup - 3/4 cup of water. Bring to a boil then reduce heat to medium. Cover loosely so a little steam can escape. Cook until your beet is soft when pierced with a fork. This can take 5-10 minutes. Once soft, remove it and set aside. You should have 2 - 3 tbsp of glorious dark red beet juice. Place your juice in the freezer just for a few minutes so that it cools. You do NOT want to freeze it. You want it to be lukewarm before we add it to the rest of our icing.

In a mixing bowl beat butter with an electric mixer for 30 seconds on medium to high speed.

Add sugar, milk, and vanilla. Beat until well combined.

Add 1 tbsp of beet juice. Mix. You can add more to achieve the shade of pink you desire just be sure to add it a little at a time.

Spread your icing on the cookies once the cookies have completely cooled.
Save