Poached Eggs & Garlic Spinach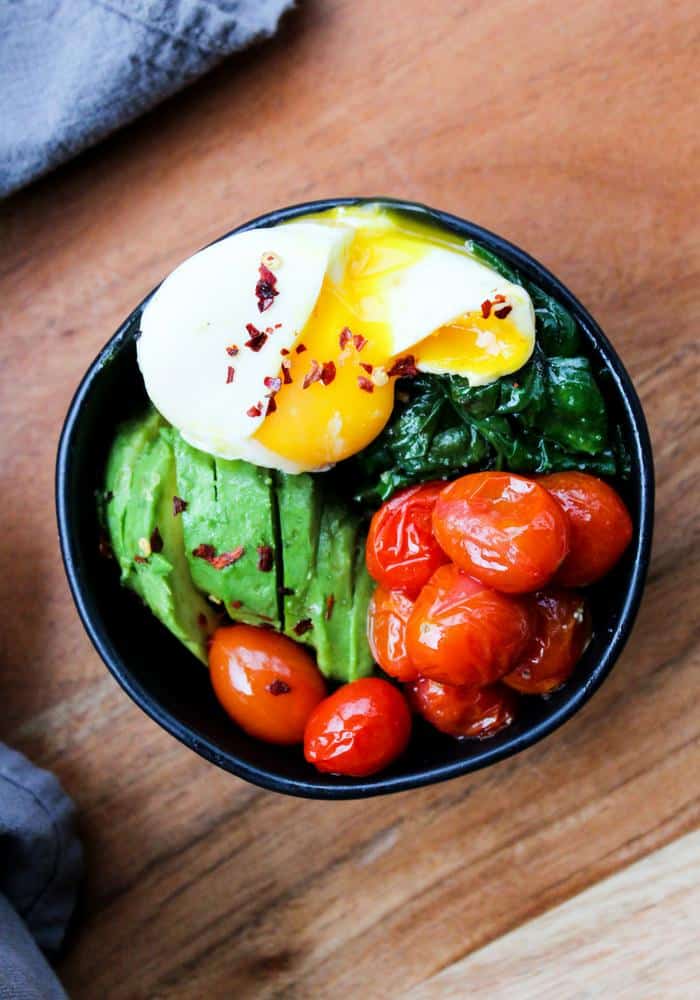 Sometimes I just want a light breakfast. (Sometimes I want something big, heavy, and spectacular like my Whole30 + Paleo Mexican Breakfast Casserole but that's not what we're chatting about today.) Today it's all about these Poached Eggs & Garlic Spinach.
Light. Colorful. Delicious. Won't make you feel disgusting. Need I say more?
Eat it for breakfast, lunch, or dinner. Why the heck not.
If you've never poached an egg before you might be feeling a little hesitant. Friend, it's not hard to do. I'll walk you through the steps in the recipe below.
The spinach we're making is sauteed in a little olive oil with minced garlic and salt. Mmm. It's hands down my favorite way to prepare spinach. Plus you've got to love that it cooks in less than 5 minutes, right?
I've paired the poached eggs and spinach with 1/2 an avocado and a few roasted tomatoes. Roasting tomatoes is simple but produces big flavor! It's always worth the very little effort required to pop them in the oven. I recommend roasting a lot at one time so you'll have extras to use in eggs and pasta (zoodles if you're on Whole30) throughout the week.
The end result is a completely good for you breakfast that's as tasty as it is beautiful. I hope you agree!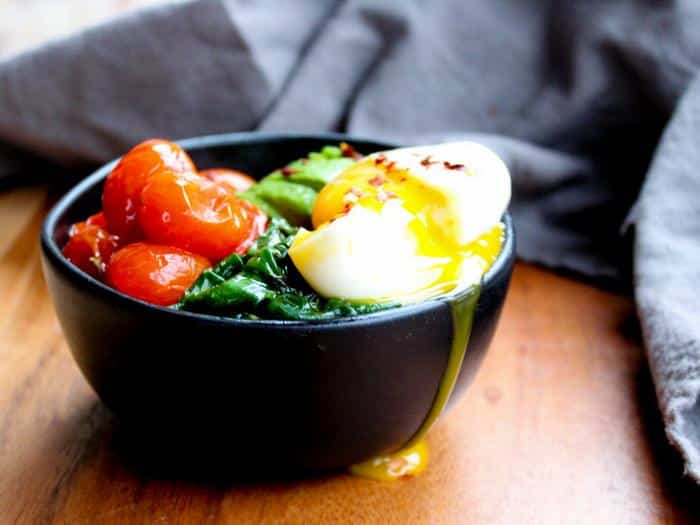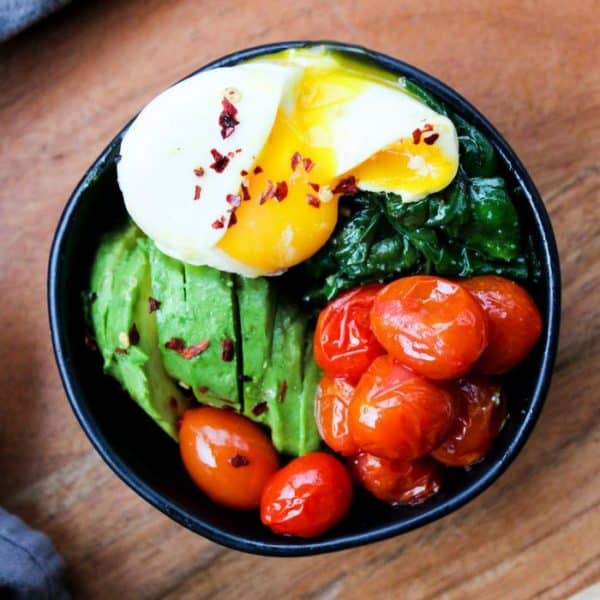 Poached Eggs & Garlic Spinach
This dish is light, colorful, and delicious. It's a healthy way to start your day that will leave you feeling great. Plus it's Whole30, paleo, gluten free, and dairy free!
Ingredients
Handful of grape or cherry tomatoes
1 or 2 eggs, (Fresh is best for poaching.)
1 tablespoon + 1 teaspoon olive oil
2 1/2 oz fresh spinach
1/2 teaspoon minced garlic
1/2 avocado
crushed red pepper flakes
Salt & pepper to taste.
Instructions
Heat oven to 350 degrees.

Roasted Cherry Tomatoes
Spread your tomatoes on a baking sheet, drizzle with 1 teaspoon of olive oil, and roll the tomatoes in the oil so they're all coated. Sprinkle with salt. Bake for 15 to 20 minutes. (15 minutes works perfectly or me.) You'll know they're done when you see the skin crinkles and separates some from the tomato flesh.

Sauteed Garlic Spinach
Add 1 tablespoon of olive oil to a small skillet. Heat to medium heat. Add spinach leaves, garlic, and a sprinkle of salt. Stir the spinach and remove from heat once the leaves wilt. This can take 2 to 3 minutes but usually not more.

Poached Egg
Fill a small pot with 2 to 3 inches of water. Heat on high until water is boiling. Then adjust heat so you have a gentle simmer.

Crack each egg into a small bowl or cup (only one at a time). Do not break the yolk. Carefully slip the egg into the water. (Bring the bowl close to the water when you do this so you're not dropping the egg in from a great distance.) Cook until your whites are set and yolks start to firm up just a bit. They should still have some jiggle to them but not be hard. This can take 2 1/2 to 5 minutes. (2 1/2 to 3 minutes gets me a runny yolk every time.) Carefully remove the egg from the water using a large slotted spoon. Place the egg on a plate or paper towel. Trim any white strands that formed.
Combine:
Assembly
Layer your garlic spinach and roasted tomatoes in a bowl or plate. Add 1/2 an avocado, sliced. Top with your poached eggs. Sprinkle with salt, pepper, and crushed red pepper flakes for a little heat.
 Made it and love it? If you share a photo on Instagram I'd love to see it! Just tag me so I can check it out!
If you're looking for other Whole30, gluten free, and dairy free breakfast ideas check out my Whole30 + Paleo Mexican Casserole. It's hearty and oh so yummy!