Roasted Balsamic Tomatoes & Asparagus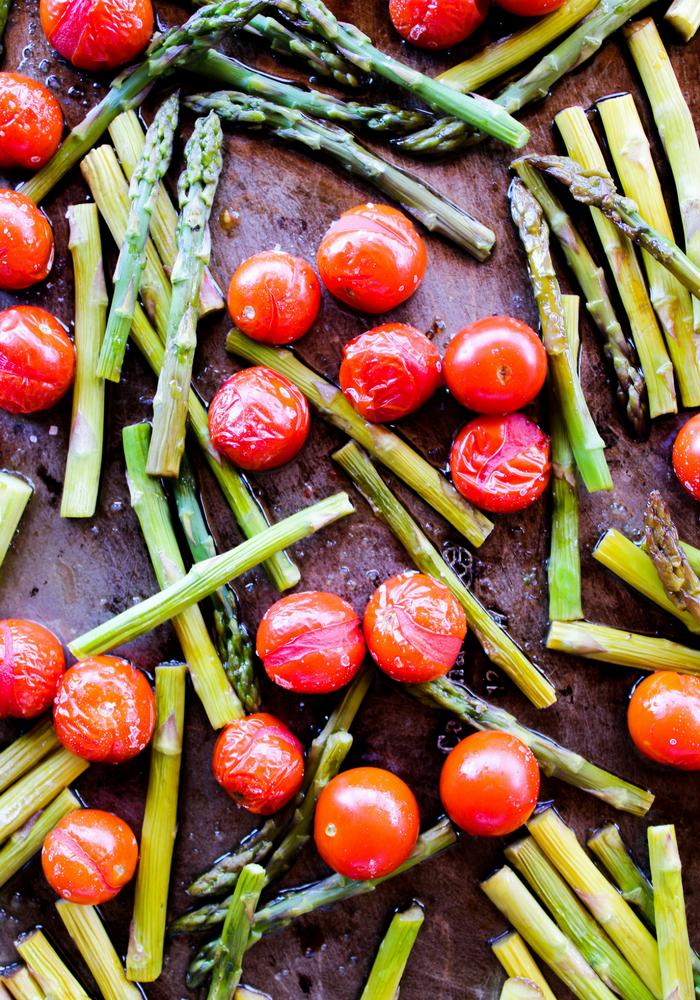 I love roasting every vegetable ever created. Roasting brings out so much more flavor than other cooking methods. Let's just roast all the things.
These Roasted Balsamic Tomatoes & Asparagus cook quickly. We can all appreciate that, can't we? They require only fifteen minutes or less in the oven, making this side dish an extra easy way to add fresh vegetables to dinner even on a busy weeknight.
Plus the preparation just can't get any easier. Give the asparagus a few chops with a knife and just throw everything on the pan. Boom. You're ready for the oven.
Have you grilled or roasted tomatoes before? If you use grape or cherry tomatoes they'll soften up fast and the skin will burst just a bit. The heat makes them taste infinitely more flavorful than when they're left uncooked.
Asparagus, like tomatoes, don't require much cooking time. In fact they cook so fast that the biggest mistake people make with them is overdoing it. Don't do that. With too much heat they become mushy, stringy, and the texture is just blah. You want your asparagus to have a little crunch left. When they do you'll find they're just perfect and a yummy complement to the softened tomatoes.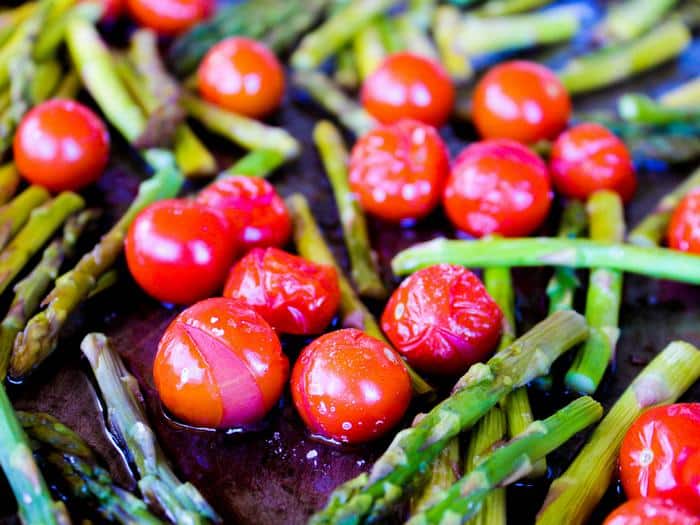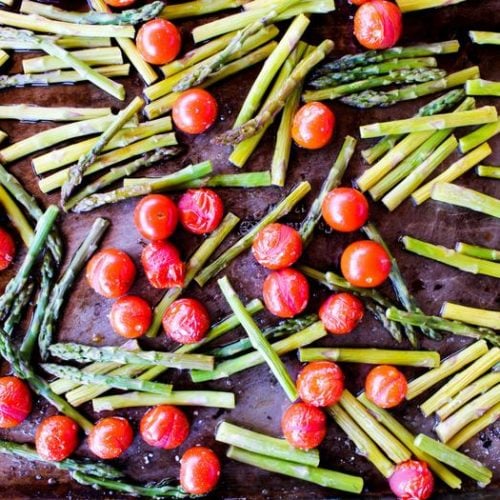 Roasted Balsamic Tomatoes & Asparagus
Roasted Balsamic Tomatoes & Asparagus are an easy and flavorful side dish. They cook in fifteen minutes or less!
Ingredients
1 bunch fresh asparagus spears
1 pint grape or small cherry tomatoes
2 tablespoons olive oil
2 tablespoons balsamic vinegar
3/4 teaspoon salt
Instructions
Preheat oven to 350 degrees.

Cut off the end of the asparagus spears and discard.

Cut asparagus into thirds. Spread evenly on baking sheet.

Add tomatoes and spread evenly.

Drizzle olive oil and balsamic vinegar over the vegetables.

Sprinkle with salt.

Bake for 10 - 15 minutes.

Vegetables are done when tomatoes are soft but asparagus is still a bit crunchy.
Nutrition
Calories: 74kcal, Carbohydrates: 6g, Fat: 4g, Sodium: 300mg, Potassium: 329mg, Fiber: 1g, Sugar: 4g, Vitamin A: 950IU, Vitamin C: 23.8mg, Calcium: 27mg, Iron: 2mg
Want to try other roasted recipes? Try my Roasted Parsley Carrots, Smashed & Roasted Rosemary Garlic Potatoes, Roasted Red Cabbage, or my Roasted Brussels Sprouts.