Roasted Lemon Asparagus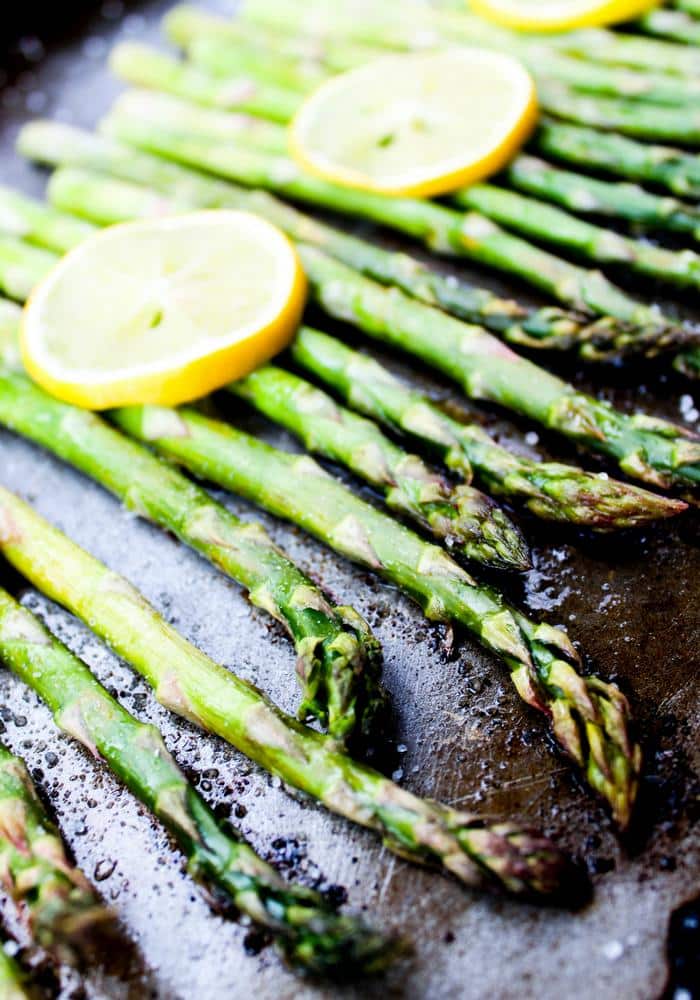 It's time for a super easy side dish. Today I'm sharing my Roasted Lemon Asparagus.
I love it because it's fast and the preparation is next to non-existent. Any dish that frees up my time for everything else is a win for me.
This one is so simple it requires only 4 ingredients.
It's perfect for those evenings when you're scrambling to put a little green on everyone's plates but you don't want to spend an hour in the kitchen. Can I get an amen?
Let's talk about the right way to prepare asparagus. Chances are you've had it overdone before. It's easy to overcook asparagus because it cooks so quickly. No matter what any asparagus recipe says the cooking time varies drastically based on the thickness of the stalks you're using. So watch that oven! Finished asparagus should not resemble a sad little noodle. A little crunch can be a good thing.
On it's own asparagus has a very mild flavor. There's a lot you can do with it! I love to pair asparagus with just a bit of lemon. It's not overpowering so I add an extra squeeze of lemon juice at the end to make it more pronounced.
Check out the recipe below and let me know if you make it! If you share it on Instagram be sure to tag me and I'll come check it out!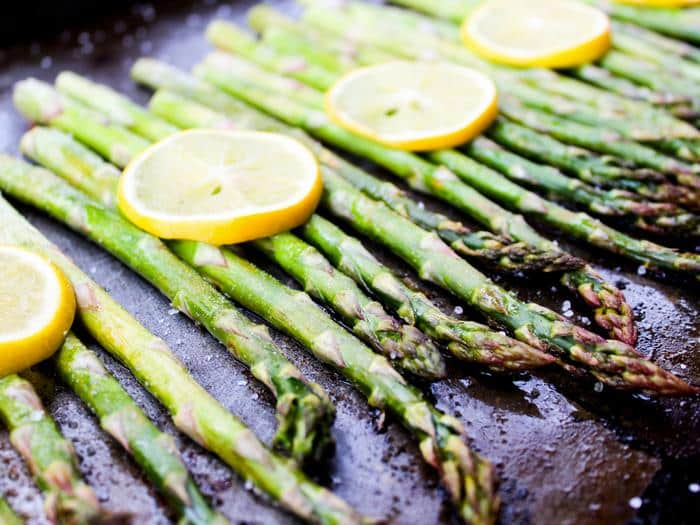 Roasted Lemon Asparagus
Roasted Lemon Asparagus is a simple side dish you can make in 15 minutes. It's a delicious addition to any meal!
Ingredients
1

lb

fresh asparagus

2

teaspoons

olive oil

1/4

teaspoon

salt

1

teaspoon

lemon juice + additional for topping
Optional: thin slices of lemon
Instructions
Preheat oven to 425 degrees.

Rinse the asparagus. Pat dry with a paper towel. Trim off the end pieces (approximately 1-2 inches).

Lay your asparagus in a single layer on a baking sheet or baking dish. (Both work great.) It's important that it's a single layer as it allows your asparagus to cook quickly and evenly.

Drizzle olive oil over your asparagus. Give your asparagus a little flip to get olive oil on both sides. (You do not want them completely coated. The 2 teaspoons of olive oil is plenty.)

Sprinkle with salt.

Drizzle lemon juice on top. Optional: add a few thin slices of lemon.


Bake in the oven for 7-10 minutes. If you like your asparagus a little more firm you'll take them out around the 7 minute mark. 8-10 minutes will produce a more wilted stalk. The time also varies based on how thick your asparagus is so you'll want to keep a close on eye on them.

Remove from oven and serve immediately.

If you like (and I do) drizzle a little extra lemon juice on top.
Nutrition
Calories:
40
kcal
,
Carbohydrates:
4
g
,
Protein:
2
g
,
Fat:
2
g
,
Sodium:
147
mg
,
Potassium:
229
mg
,
Fiber:
2
g
,
Sugar:
2
g
,
Vitamin A:
855
IU
,
Vitamin C:
6.8
mg
,
Calcium:
27
mg
,
Iron:
2.4
mg