Skillet Blueberry Almond Cobbler
This Skillet Blueberry Almond Cobbler is easy, dairy free, gluten free, and refined sugar free. You'll love every scoop of this delicious dessert!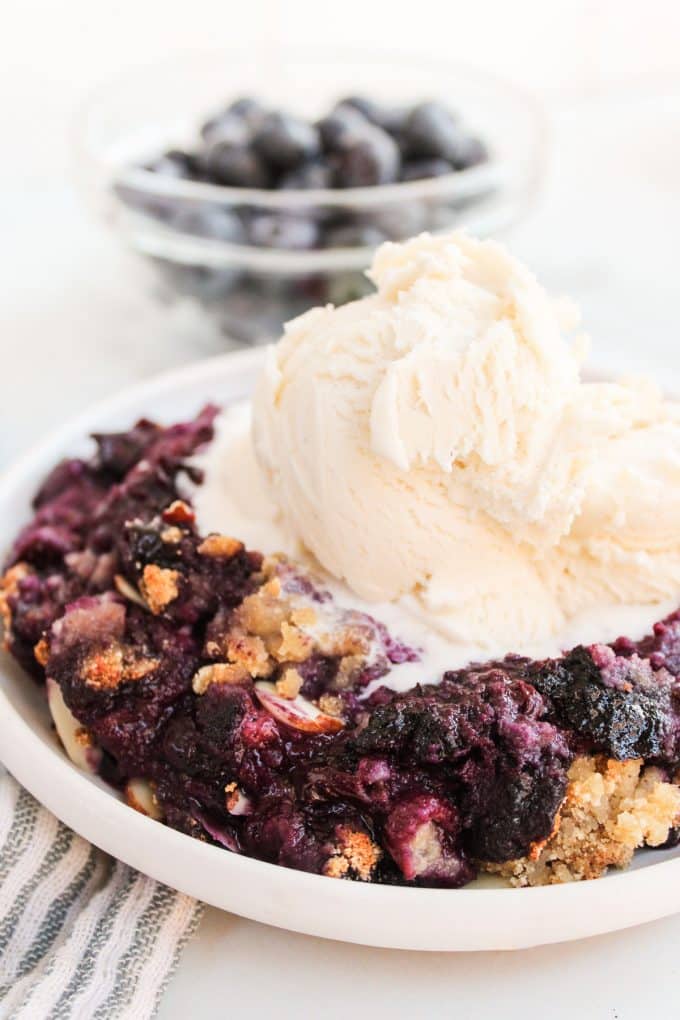 Stop what you're doing. Stop all the things you're doing. Yes, that. This is better than that. That can wait. Put that down. You're really going to want to give your full attention to this Skillet Blueberry Cobbler.
I've been making blueberry cobbler for years and I've played with lots of variations. I think where I've landed is really something special.
Of course I've made it a bit healthier. I bet you knew that. But you will not know it when you eat it. That's a promise from me to you.
Now about the blueberry filling. This is where all the magic happens. Fresh blueberries, orange juice, orange zest, almond extract, honey, and a pinch of salt.  Pour it all into your 10 inch cast iron skillet.
For the dough I've used almond four and coconut flour instead of white flour. Those plus a few simple ingredients create the yummy breaded topping. Stir them together in a large bowl (no need to use a mixer). Then use your hands to crumble it up and spread it over your blueberry filling. Top with sliced almonds. Now you're ready for the oven.
When this Skillet Blueberry Almond Cobbler is done baking your blueberries will be bubbling, the topping will be beautifully browned, and your kitchen will smell like heavenly almond extract.
Let it sit for a few minutes. And then… Oh my.
Did you notice the sugar in this recipe? Nope. That's because there is zero refined sugar. This cobbler is still perfectly sweet thanks to honey or maple syrup in the blueberry filling and that apple sauce added to the dough.
Maple Syrup vs Honey
This cobbler is simply sweetened and you can use either maple syrup or honey. Both work beautifully. One truly isn't better than the other here so take your pick.
Can you use frozen blueberries?
You can but the filling will be more liquidy if frozen blueberries are used.
Can you sub a different flour?
No, you can't. Flours can rarely be subbed 1:1 so I do not recommend a flour substitution here. If you're looking for a cobbler that uses a different flour I recommend googling for one that's been tested with that specific flour.
How to store leftovers
Store any leftovers in an airtight container in the refrigerator for up to 4 days.
How to serve this cobbler
Enjoy this dessert as is or top it with your favorite ice cream or whipped cream. Anyway you serve it you'll have a lot of happy eaters asking for seconds.
Skillet Blueberry Almond Cobbler
This Skillet Blueberry Almond Cobbler is dessert perfection and seriously swoon worthy! You won't believe it's dairy free, gluten free, and sweetened with honey!

Ingredients
Blueberry Filling
4 cups blueberries
1/2 cup honey or maple syrup
2 tbsp orange juice
2 tsp almond extract
1/8 tsp salt
zest from one orange
Dough
1 cup almond flour
1/2 cup coconut flour
2 tsp baking powder
1/2 tsp cinnamon
1/8 tsp salt
1/2 cup apple sauce
1 tsp almond extract
Instructions
Preheat oven to 375 degrees.

Add all blueberry filling ingredients to a 10 inch cast iron skillet. Spread into an even layer.

In a large bowl stir together all dough ingredients. The final texture should be clumpy.


Use your hands to crumble the dough on top of the blueberry mixture. Gently press it into the filling.

Bake at 375 degrees for 15 minutes.

Remove cobbler from the oven. Reduce oven temperature to 350 degrees. Sprinkle sliced almonds on top of cobbler. Return to oven and bake for another 15 to 20 minutes or until top is golden brown and the edges of your cobbler should be bubbling.

Remove from the oven and let it sit for 15 minutes. Serve warm or at room temperature. Scoop into bowls and enjoy as is or topped with vanilla ice cream.

Notes
I recommend using fresh blueberries; however, you can use frozen blueberries. Be sure to thaw and drain them first.
Nutrition
Calories: 273kcal, Carbohydrates: 40g, Protein: 6g, Fat: 12g, Saturated Fat: 2g, Polyunsaturated Fat: 1g, Monounsaturated Fat: 2g, Trans Fat: 1g, Sodium: 197mg, Potassium: 143mg, Fiber: 7g, Sugar: 28g, Vitamin A: 53IU, Vitamin C: 10mg, Calcium: 116mg, Iron: 1mg