Sticky Candied Pecans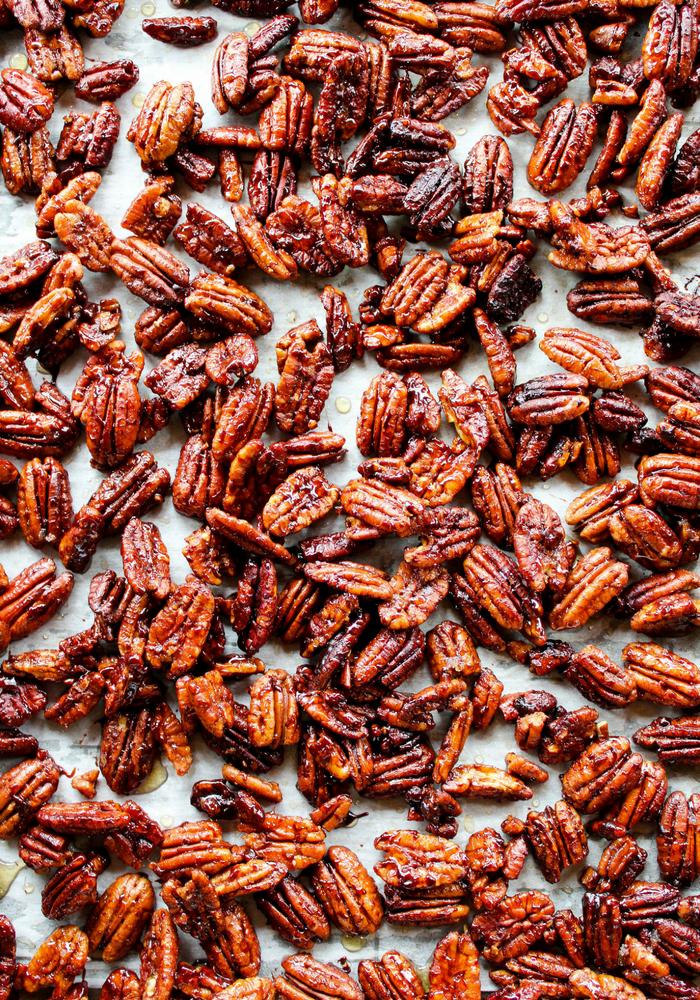 A few months ago my husband was in the grocery store and noticed a small container of candied pecans in the bakery section. He brought it home and we quickly wolfed them down. Since then he's purchased them on several occasions and it's basically a family competition to see who can eat the most the fastest. Our three year old and six year old are serious contenders for the prize.
Given how much money we were quickly forking over for them he challenged me to create my own version which I'm calling Sticky Candied Pecans.
What we enjoyed about the store bought version is the crunch and the sweetness. What we didn't enjoy was the price, the small package size (like I said, we're devouring them), and the very complicated ingredient list. .
This pecan recipe requires only 4 ingredients. Ahhh oh how I love a nice little list like this one. No sugar. No weird sugar substitutes. (I'm looking at you, Splenda. No, thank you.)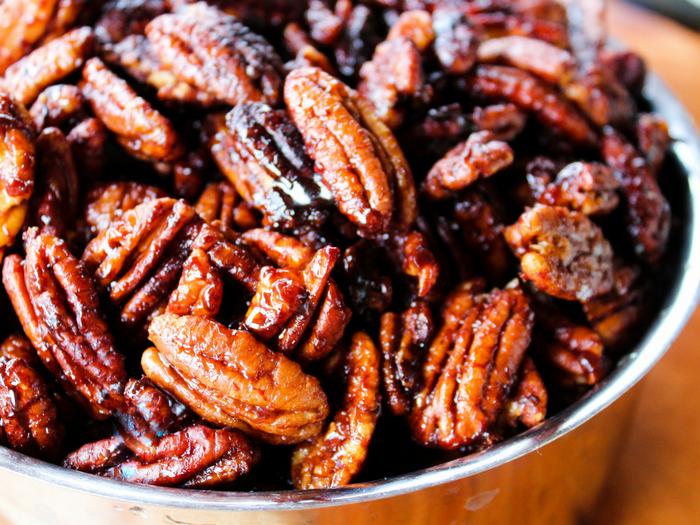 The final product is delectably sweet and crunchy. The baking really cooks in the flavor to produce an addictive treat that you won't feel guilty about enjoying or feeding your family.
Look at how sticky these babies are!
Plus they're less expensive than what you could find the store and you get more. (You're going to be really happy about that last part.)
Confession: I am not even a nut person. There. I said it. But I love these. As in I basically had to pry the pan away from my fingers so that I could take a photo for you. That was hard. You're welcome.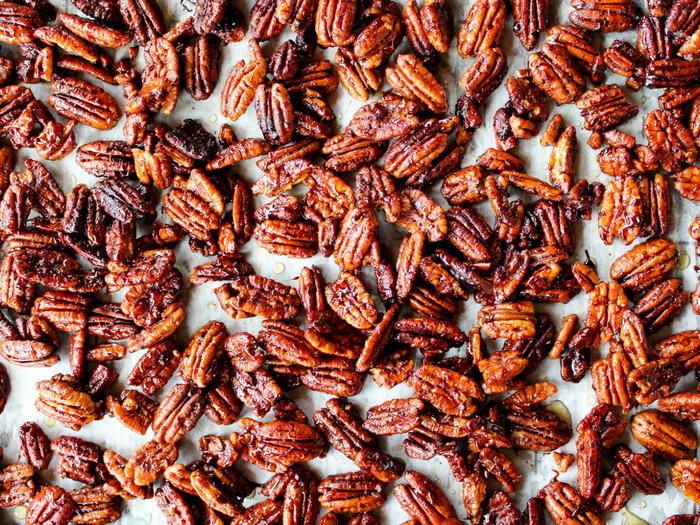 Enjoy them by the handful or top them on salads or ice cream to really make them special.
Want to add these to a salad? I bet you'll love my Blueberry Dressing or Strawberry Basil Dressing. Both are crazy yummy and pair beautifully with these sticky treats!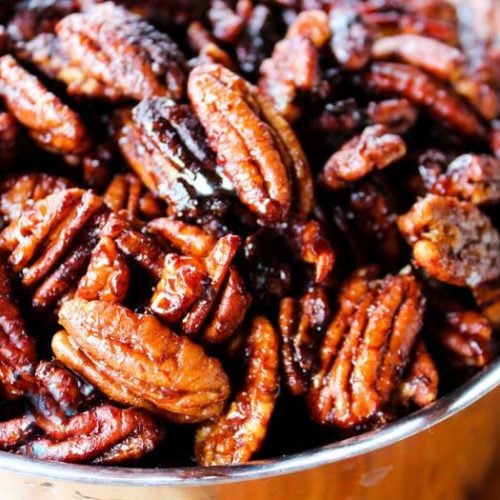 Sticky Candied Pecans
Satisfy your sweet tooth with these Sticky Candied Pecans. Only 4 ingredients. No sugar or weird sugar substitutes. Your whole family will be addicted (in a very good way).
Ingredients
1 lb pecan halves
4 tablespoons ghee, Regular butter also works great.
4 tablespoons honey
2 teaspoons ground cinnamon
Optional: additional 2 tablespoons of honey to drizzle after baking
Instructions
Preheat oven to 350 degrees.

Add your ghee (or butter) and honey to a small pot on the stove. Melt over low or medium-low heat.

Stir. Add the cinnamon. Stir again until well combined. Remove from heat.

Place your pecan halves in a large bowl. Pour the syrup mixture over your pecans. Stir until well coated. (I don't recommend trying to mix them up on the sheet pan. I find that the pecans don't get very well covered that way and you end up wasting a lot of the syrup.)

Spread the coated pecans in a single layer on a parchment paper lined baking sheet.

Bake for 15 minutes.

Stir the pecans. You can add an extra drizzle of honey if you want them super sweet.) Let them continue to sit on the baking sheet until cool. They'll get less sticky as they cool.

Gobble them all up! Woops, I mean serve. Serve them to others and eat some too. But not all of them. I guess that would be rude. (No judgment if you do that.)
Nutrition
Serving: 1oz, Calories: 237kcal, Carbohydrates: 8g, Protein: 2g, Fat: 23g, Saturated Fat: 3g, Cholesterol: 7mg, Sodium: 25mg, Potassium: 118mg, Fiber: 2g, Sugar: 5g, Vitamin A: 105IU, Vitamin C: 0.3mg, Calcium: 23mg, Iron: 0.8mg