Baked Spaghetti (Squash) Casserole
This Baked Spaghetti Casserole is the way comfort food should be. It's hearty and rich but you won't feel lethargic after. Or maybe you will if you eat the whole pan. There's no saving you then.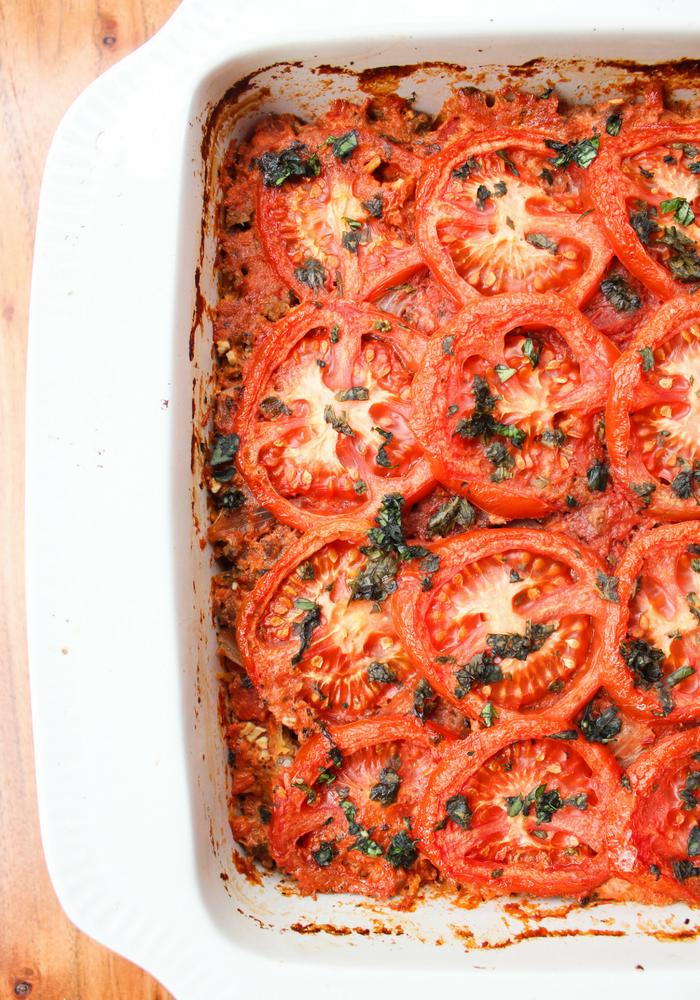 I love a good traditional spaghetti. I was raised on it and can still shovel in a plateful today. But when I'm done eating it I need a nap and a few hours to reevaluate my life decisions. Anyone else?
My version has the flavor of traditional spaghetti. And yet… No noodles. No parmesan or mozzarella. Have I sufficiently frightened you yet? Bear with me, friend.
Instead of regular noodles I use spaghetti squash. My husband approves and he's a seriously picky eater so he's my barometer for whether it works or not. He says it does.
The meat sauce in this casserole is homemade. It's full of seasonings and herbs you probably already keep on hand.
Eggs are added to bind the meat sauce to your spaghetti squash making this dish feel like a casserole (versus just adding meat sauce on top of spaghetti). It also causes the casserole to thicken in order to create a more satisfying dish.
A layer of thinly sliced tomatoes and fresh chopped basil finishes this off. Plus it just makes the whole thing pretty.
Serve up big slices and pair it with veggies like my Garlic Green Beans for dinner. Now that's one Whole30, dairy free, and gluten free meal I can really get behind.
Made it and enjoyed it? If you share a photo of your finished product on Instagram I'd love to see it! Just tag me!
Interested in another healthy casserole? Bet you'll love my Buffalo Ranch Chicken Casserole.
Baked Spaghetti (Squash) Casserole
Baked Spaghetti Casserole is a light way to fill that spaghetti craving. Spaghetti squash and a yummy homemade sauce make this dish a winner! Plus it's Whole30 compliant, gluten free, and dairy free!
Ingredients
Noodles
1

small to medium spaghetti squash

salt & pepper
Meat Sauce
1

lb

lean ground beef

1

medium onion

,

(white or yellow)

2

tbsp

minced garlic

28

oz

canned crushed tomatoes

14.5

oz

canned diced tomatoes

,

(I prefer the fire roasted kind when available.)

1

tsp

garlic powder

1

tsp

dried oregano

1

tsp

dried basil

1/2

tsp

onion powder

1/2

tsp

crushed red pepper

3/4

tsp

salt

1/2

tsp

pepper
Toppings
3 - 4

medium tomatoes

,

(sliced into thin circles)

1/4

cup

chopped fresh basil
Instructions
Preheat oven to 400 degrees.


Slice your spaghetti squash in half length wise. Scoop out the seeds and gooey center. Sprinkle with salt and pepper. Lay cut side down on a baking sheet. Bake for 40 minutes. You'll know it's done because the skin will give a little under pressure and the cut side (with the noodles) will have some browning. While your squash is baking move on to the next step. Once your spaghetti squash is cooked remove from oven and reduce oven temperature to 375 degrees.


Add ground beef and diced onion to large saute pan. Cook over medium to medium high heat until beef is browned. Once browned turn off heat. Add remaining meat sauce ingredients. Stir until well combined.


Scoop out 1 1/2 cups of the finished meat sauce and set aside.


In a separate bowl whisk the eggs thoroughly.


Pour your whisked eggs into the meat sauce remaining in the pan and stir until the eggs are completely mixed in.


Brush olive oil along the inside of a 9 x 13 baking dish to prevent sticking.


Use a fork to pull the spaghetti squash out of the skin and add to the baking dish. You want them to be noodle-like so if they clump together some just separate with your fork.


Add your meat sauce/egg mixture (remember you should still have 1 1/2 cups of the meat sauce without any egg set aside). Stir together with your squash using a fork or spoon. Spread in your baking dish.


Pour the 1 1/2 cups meat sauce you set aside over top and spread.


Add the sliced tomatoes in a single layer. Sprinkle with salt and chopped fresh basil.


Place in the oven and bake at 375 degrees for 1 hour. Remove from oven and let sit for 5 to 10 minutes before cutting. (Any additional moisture on the top should absorb back into the casserole while it sits.)

Notes
When you're picking out your spaghetti squash select a smaller size. I've used a large squash once and it made the finished product a bit drier than I like it. A small to medium size squash works perfectly every single time even though you'll think you don't have enough noodles when you spread them out in the baking dish. The sauce binds to them and fills out the casserole beautifully.
Sauteing the ground beef and onion together means the grease from the beef helps quickly cook the onion and prevents sticking in the pan. Adding oil, butter, or another cooking fat is not necessary and I wouldn't recommend it.
I use a very lean ground beef so I don't have any excess fat to drain. If you find that you have a lot of grease in the pan after browning your beef drain it before adding your garlic and seasonings.
Nutritional information is based on cutting your casserole into 8 slices.
Nutrition
Serving:
1
slice
,
Calories:
190
kcal
,
Carbohydrates:
20
g
,
Protein:
17
g
,
Fat:
5
g
,
Saturated Fat:
2
g
,
Cholesterol:
96
mg
,
Sodium:
507
mg
,
Potassium:
769
mg
,
Fiber:
4
g
,
Sugar:
9
g
,
Vitamin A:
585
IU
,
Vitamin C:
18.2
mg
,
Calcium:
104
mg
,
Iron:
4
mg