Broccoli Potato Cakes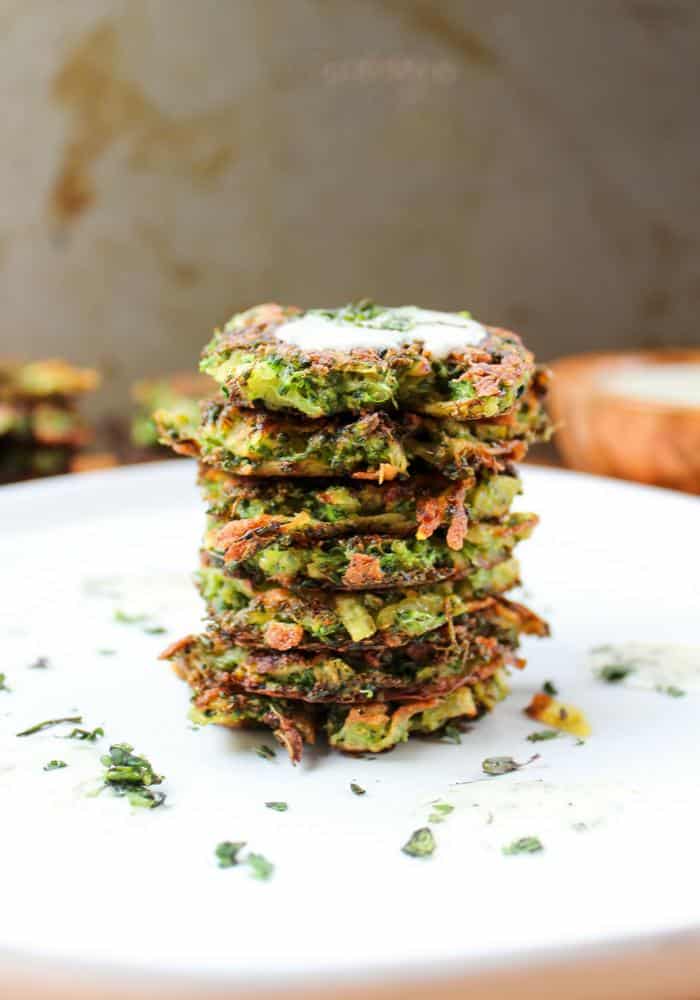 These Broccoli Potato Cakes are a fun and healthy side dish. You get all the crunch you love in hash browns made from shredded potatoes plus the added bonus of some good for you broccoli!
Plus, unlike traditional potato latkes, these include no flour or baking powder. Just the good stuff, friends. These are gluten free, dairy free, and Whole30 compliant!
You can serve them as a side, appetizer, or snack. I like to dip them in ranch dressing. If you're looking for a dairy free version I recommend my Easy Ranch Dressing. It's easy to whip up and so tasty!
A few tips for you:
Chopped broccoli can be a bit too big. These cakes cook fast so your broccoli needs to be small in order to cook quickly too. I find that popping the broccoli in the blender gets it the perfect texture!
You want to make these cakes small so they can get nice and crispy. If they're too large they'll cook unevenly because the inside won't get enough heat on it. I use a cookie scoop to place them in the pan. It's maybe a little larger than a tablespoon. Then I take a fork or spoon and press each cake flat. Once smashed each cake is around 2 inches in diameter.
I shred my potatoes myself using the large holes in my cheese grater. It's really easy to do! You can definitely use a store bought bag of shredded hash brown potatoes. Just check the ingredient list. You only want potatoes.
That's all you need to know. I hope you enjoy this fun dish as much as we do!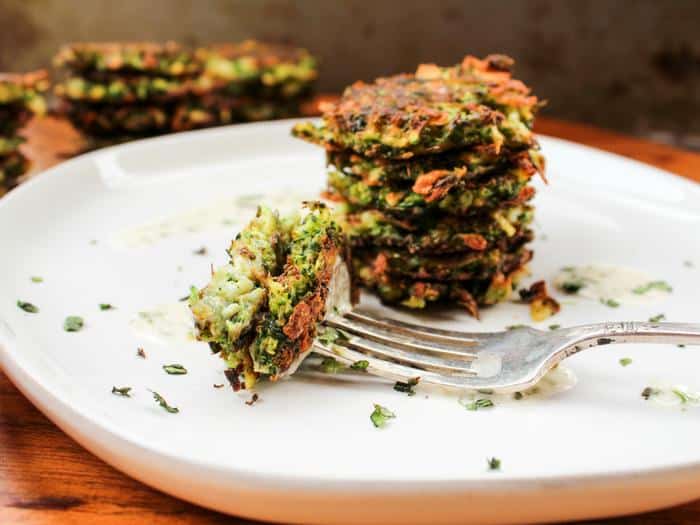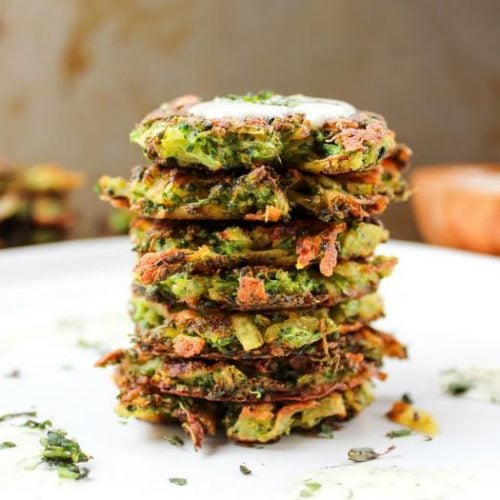 Broccoli Potato Cakes
Broccoli Potato Cakes are a fun and healthy side, appetizer, or snack! They give you the crispiness of hash browns with some good for you broccoli! Serve with ranch dressing to make them extra special.

Ingredients
12 oz fresh broccoli
2 cups shredded potatoes
3 tbsp fresh parsley, chopped
3/4 tsp salt
1/2 tsp pepper
1/2 tsp chipotle chile pepper
2 eggs
4 tbsp cooking fat of choice, ghee, olive oil, coconut oil, etc
Instructions
Add your broccoli to a blender and give it a quick blend. You want your broccoli to be nice and small so you won't have any big chunks in the potato cakes.


Add broccoli to a large bowl with shredded potatoes, parsley, salt, pepper, chipotle chile pepper, and eggs. Stir together until well combined.


Heat 2 tablespoons of cooking fat of choice over medium high heat. Use a small cookie scoop to drop your broccoli potato cake mixture into the hot pan. Press down on each cake with a fork or spoon to flatten them. Cook for 4 to 5 minutes on each side or until browned.


Remove from pan and set aside on a paper towel lined plate. Repeat above step until all cakes are cooked. (Add an additional tablespoon of cooking fat if needed as you cook.)
Notes
This recipe makes approximately 40 broccoli potato cakes if you're using a small cookie scoop (around 1 1/2 tablespoons) like I do. Once smashed each cake is about 2 inches in diameter. For nutritional information I considered a serving size 6 cakes. You should not be deep frying these. In the ingredient list I've included 4 total tablespoons of cooking fat but do not use all of that at one time. You'll notice that in the instructions I have you adding 2 tablespoons for the first batch. You can add an additional tablespoon or two as you do more batches to ensure your cakes don't stick and that they get plenty of browning.
Nutrition
Serving: 6cakes, Calories: 187kcal, Carbohydrates: 16g, Protein: 5g, Fat: 11g, Saturated Fat: 8g, Cholesterol: 81mg, Sodium: 363mg, Potassium: 419mg, Fiber: 2g, Sugar: 1g, Vitamin A: 630IU, Vitamin C: 58.8mg, Calcium: 49mg, Iron: 1.6mg